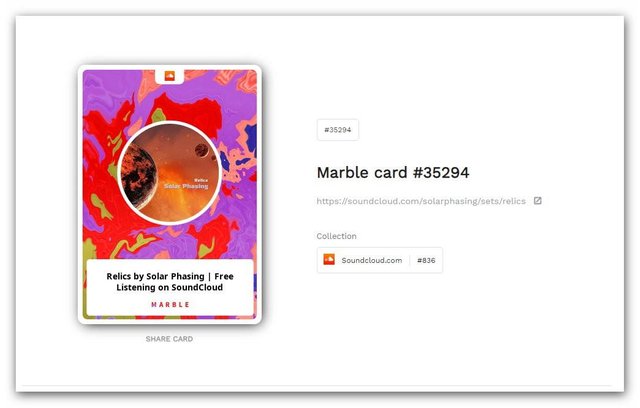 Hello Music Lovers,
Today I created My First MarbleCard. It's a special one because it's my first one, but it's also the MarbleCard of my very first EP called "Relics".
I like the idea that someone can own a very unique item from an artist, etc.
MarbleCards are Digital Crypto Collectibles Cards and each are unique.
Whether someone acquires it or not, it will remain a unique digital item on the blockchain era. This one is a collector! From my Heart. :0)
At the same time, it's a first experience on Marble.Cards and his marketplace.
Marble Card #35294
Soundcloud Serie #836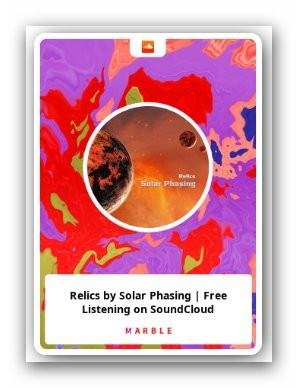 Take the opportunity to listen to this first EP. Space Drift is beautiful Space Opera, for example.
Hope you are all enjoying your week. :0)
Thank you so much for your support.
See you soon!
Listen Relics on Soundloud
More Music: https://choon.co/artists/solarphasing/
Spotify Me: https://open.spotify.com/artist/0FarK4tJsP9D043gqpMCzN
You can buy my music on Bandcamp: https://solarphasing.bandcamp.com
Juan, @SolarPhasing
http://solarphasing.com
Make a donation to support my music art:
ETH: 0x074425f23064c2a97bb29e5882028135cc2b4396
BTC: bc1qlguj83ztxm6r356kz78d56sazeycdxara9dd43
---
#Indie #Creative #Life #Ambient #Electronic #Electronica #Minimal#Drone #Space #Scifi #SpaceOpera #Orchestral #Soundscape#Atmospheric #Drone #EDM #Dance #Techno #Blockchain#BlockchainMusic #Crypto #Cryptocurrencies #Cryptocurrency