So I was a little bored recently and started playing with some graphic software and creating some animated GIF's. I couldn't resist the chance to merge the graphic editing with my favourite game at the moment - Splinterlands.
The end result was a pretty cool spinning "globe" with the splinterlands logo on, situated on a Splinterlands backdrop. It is 800 x 450 pixels.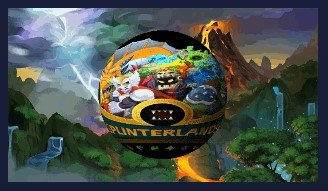 NFT Artwork
I couldn't resist trying to make this into an NFT and sharing it with the community. The reason I say "try" is that I haven't created any NFT's before.
I headed over to the WAX network, and used AtomicHub to create the NFT series.
Why WAX and AtomicHub? Well, I am used to the WAX network, but you can also purchase Splinterlands cards on AtomicHub. I do this from time to time after I have mined a bit of TLM and converted it to WAX, but beware - the price is upwards of 120% of the price of a Splinterlands card from Peakmonsters!.
A few attempts later on AtomicHub, and voila! ... I had created my very own NFT's that were then minted.
Freebies!
I have now "minted" 40 (out of a max 1,000) of these. I'm keeping the first ten of them. I have no idea how much people pay for NFT's, so I have put them on at various WAX prices to start off with.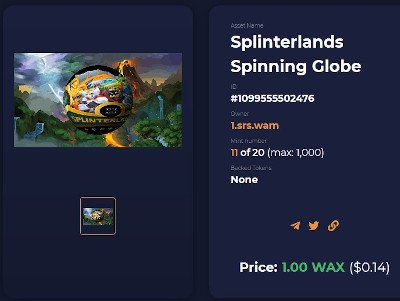 BUT, I want to give away some for free. I have previously seen free "drops" on AtomicHub.  I tried to do this, but ended up in a bit of a mess.  I think some were minted and given away (within the 40 total that have been minted so far) but I couldn't see them on my links.  I'm not sure if I put enough "wax" into the atomicdropsx account (those of you who have dabbled with drops will know what I mean), or if i had enough CPU, etc... but the URL ended up not working as it displayed a blank "drop".
Instead, I thought that I would do a small giveaway on the Publish0x group. If you have a WAX account, and want to be in with a chance of winning my free NFT, just leave your wax username in the comments section and I will select some random winners.
In case you want to see more details, the link to the NFT is here : https://wax.atomichub.io/market?collection_name=splinternfts
I hope that you like my creation!