The recent days were CRAZY on the crypto world! Tesla invested 1.5 Billion in Bitcoin and said that they might start accepting BTC as a payment method. This means you can buy parts or even the whole car with your crypto.
There are words that even Apple might join the crypto world, more specific the Bitcoin Marathon.
Day by day crypto is being more recognized and the trust is becoming solid!
Anyways, my favorite trio just had some good days! (I'll be making another update on Wave, KCS and Nexo soon).
STELLAR
In my last update Stellar was struggling to break above 0.322 and I expected a bullish run if this zone breaks.
Now, price broke above our previ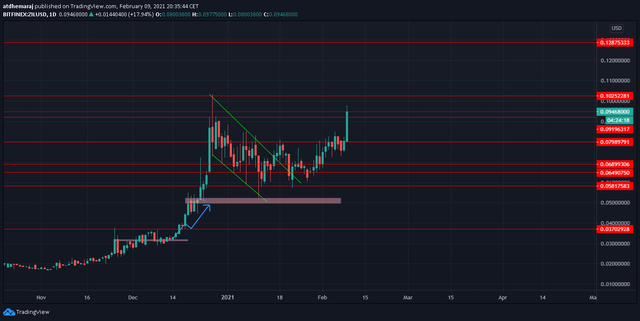 ous resistance which was turned to support!
The previous Highs gave us quite a few reactions but we finally broke above it as well and it seems that 0.389 is holding quite well!
What are my expectations!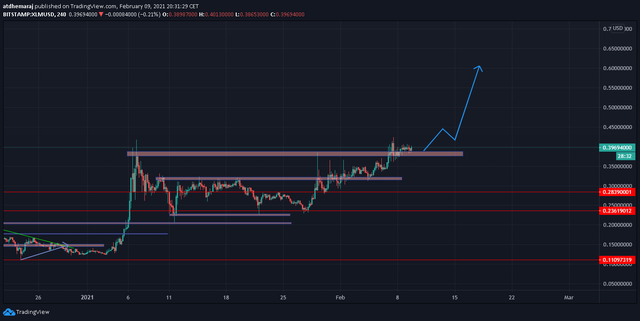 I expect another retest on 0.415 area and then another bullish push which will send us to the 0.60$ area.
ZILLIQA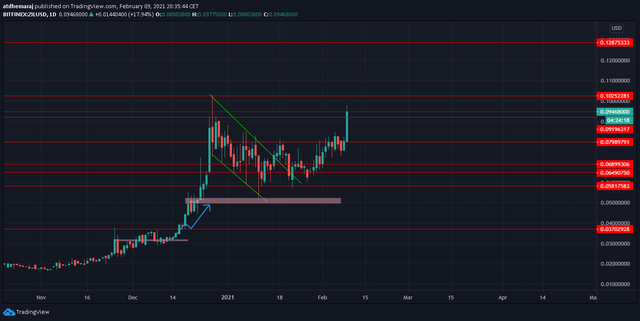 I was waiting for todays huge push on Zill for quite some time. Today alone Zill pushed more than 20% almost completing the bullish flag pattern.
What are my expectations!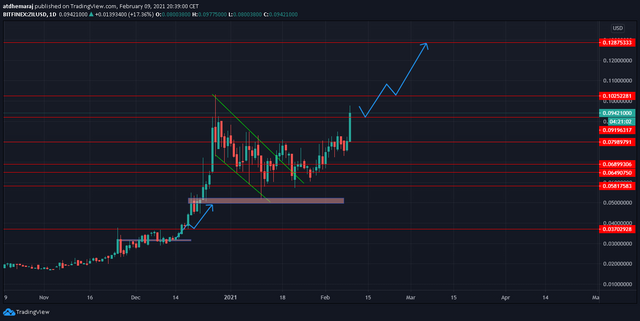 Zill is in the long bullish run now! I expect nothing but more highs to be reached. Anyways we have to see how this daily candle closes! In the next days I'll expect a slight drop before we complete the bullish flag pattern, after that I'd expect to see a new high at 0.128$ area.
TRON
While many are saying that this big bullish movement is just a pump from Justin Sun and soon Tron will plummet...I still think that we just started the bullish journey with Tron.
We had quite some reactions in the 0.03 and 0.039 area, I did though expect a break above 0.039 area and that happened.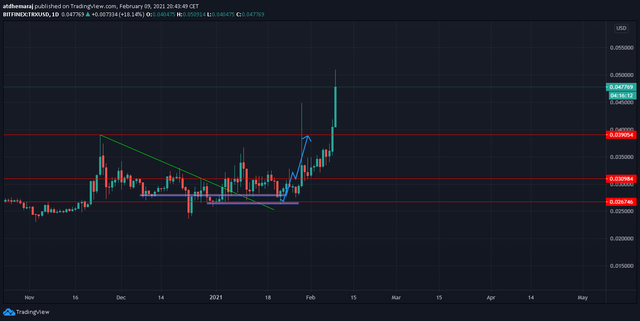 We went up for more than 20% on Tron as well.
What are my expectations!
Before we see any new highs I do expect price to come back and find support on the 0.0453 area! This will give confirmations that price will go higher.
After the retest I'd expect to see something like this!
What do you expect on my famous Trio?
theatdhe!