img source
Oh we do love BTC on it's bull runs, but oh we hate it when it pulls back.
Every bullish move that BTC does, almost every media, trader and a random human being starts talking about the new price BTC reached. It is crazy how fast everything positive disappears when BTC experience a correction on it's price. It's a no brainer, everybody starts talking trash and how BTC is just a fugazi.
This very same phenomenon happened also when BTC's price when at ATH.
Anyhow, I'm about to show what technical analysis say for BTC's fate. Reminder for every new trade, don't look price actions as you want them to go...price action is so beautiful and easy to understand, it's an open book, just read it and it will give you all it's secrets. Remember, when you read a book, you don't call for other people and their tools to help understand your book...you just sit back, relax and start enjoying the book...it's so smooth and relaxing and you get to understand everything.
DO THE SAME WHEN YOU TRADE!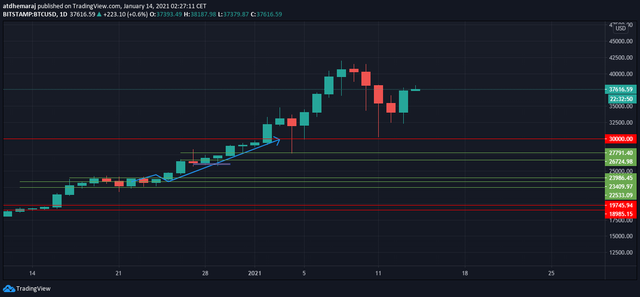 I've been posting articles with technical analysis in BTC and other coins for quite some time now. You can see on the chart the previous analysis that I've made! But that's just history now...let's see what price is telling us now.
First things first!
Yesterdays candle closed so beautifully. That candle is what we call Bullish engulfing. And hey, that is on Daily TF.
But I always like to drop down to smaller TF to see and enjoy the details.
I always say, perfect things are perfect because every single detail is taken into consideration.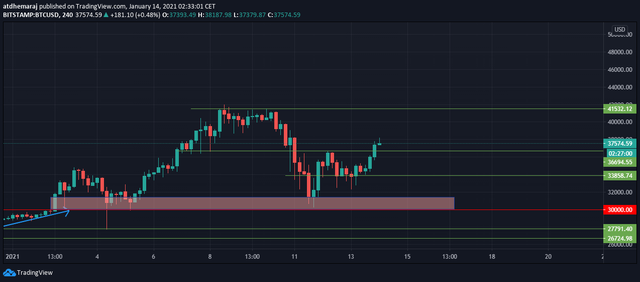 41532 area showed has shown a quite strong resistance.
In 4hr TF we can see that we did test the 30k area once more. This gave us a double bottom and now price continued on it's bullish run.
Right now price is in between zones. It broke above a minor resistance zone @36694.
What I expect is without a doubt a break above the 41532 and a retest!
But, for now there are two possible scenarios!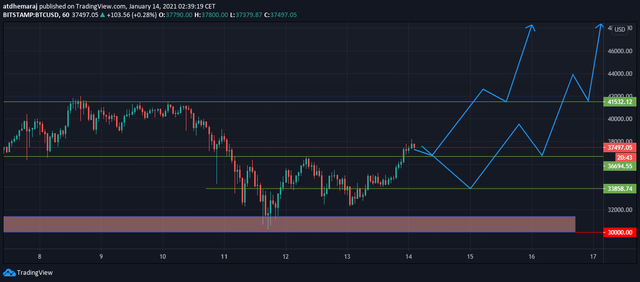 First!
Price finds support on 36694 and moves higher! But for this we have to see some confirmation that this zone is holding strongly.
Second!
36694 Fails to hold and then price drops down to 33858 to get more buyers and then it gets higher breaking through the same zones as I've illustrated.
Conclusion!
Higher prices on BTC and other altcoins this year are inevitable! If you are going to enter a trade or invest in something...always do your own research! Remember, you can take as much advices and suggestions from others as you want...but it should be you in the end who decides.
Take my analysis with a dose of doubt! Or even better, take them as a template or a suggestion but always do trade when you have done your analysis and when you feel most comfortable to.
If trading becomes unwanted, or a bad experience...take some time off! Markets provide new opportunities for those who wait for the right moment!
What is your strategy or plan? If you have any question about trading or similar, feel free to ask on the comment section!
theatdhe!
Catch with me on Leofinance!