We've integrated a new token, our first DeFi token - Ampleforth ($AMPL)! To celebrate this, we're holding a meme creation contest with $400 worth of AMPL in prizes!
#AMPLMeme Contest Details

Prize Pool: $400 in AMPL Rewards
Start: Tuesday, 24th of November
End: Monday 7th of December
We will reward 20 submissions with $20 in AMPL each! And if there are submissions that stand out, we will reward those with extra prizes. :)
#AMPLMeme Contest Topic and Rules.
Topic: Be creative! Create a meme about earning AMPL on Publish0x.
Or if you prefer, you can create a short funny video, or an crazy song (uploaded on Youtube or LBRY and embedded and published as a post on Publish0x), a creative story (published on Publish0x) or wherever your creative juices take you!
Feel free to submit as many entries as you like into this contest.
How to Participate in #AMPLMeme Contest?
Share your creation on Twitter, use the hashtag #AMPLMeme, and tag @Publish0x so we don't miss your entry.
In order to be considered for a reward, you need to be following @Publish0x on Twitter.
NOTE: If your submission is a meme (as in, an image), all you have to do is submit it on Twitter, use the hashtag #AMPLMeme, and tag @Publish0x so we don't miss your entry... There's no need to publish a post on Publish0x, although you can and the entry will be accepted. But, if you are submitting a post on Publish0x, please tag it with the tag AMPLMeme.
Can you share an example of a meme? Sure - here's one idea.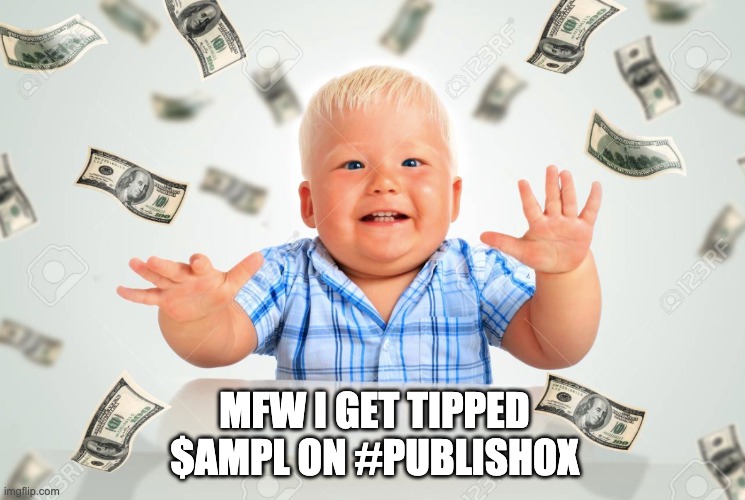 Here are some interesting memes from previous contests that Ampleforth has held - these might help get your imagination on the right track. :)
NOTE: These would NOT work for this meme contest, though, as the theme is different.
How Will You Choose and Pay the Winners?
We will choose the winners a few days after the submission deadline (Monday 7th of December). We will select the best memes and reward them accordingly. In my mind, quality submissions are memes, posts, songs, or other form of creative work that:
Is your own original work.
Follows all of the contest rules.
Please note that you are more likely to win if your post is about a topic that isn't selected by many other authors. Originality does count!
That's all!
Note: In case you win a prize in the Twitter contest and your usernames are different on Twitter and Publish0x, don't worry. In that case, we will simply send you a DM on Twitter asking your for your username on Publish0x, and then you will get the reward!
What if I'm Not an Author?
If you'd just like to create a meme - you don't need to be an author on Publish0x. Simply share the meme on Twitter, use the hashtag #AMPLMeme, and tag and follow @Publish0x.
But if you'd like to publish a post on Publish0x, we need to approve you as an author. To get approved faster, simply let us know that the reason for the application is to take part in the #AMPLMeme contest when you're applying for authorship at https://www.publish0x.com/become - we will make sure to check (and hopefully approve) your authorship request.
I can't wait to see what you come up with. :) Good luck in the contest!
Cheers,
Igor