Hello guys !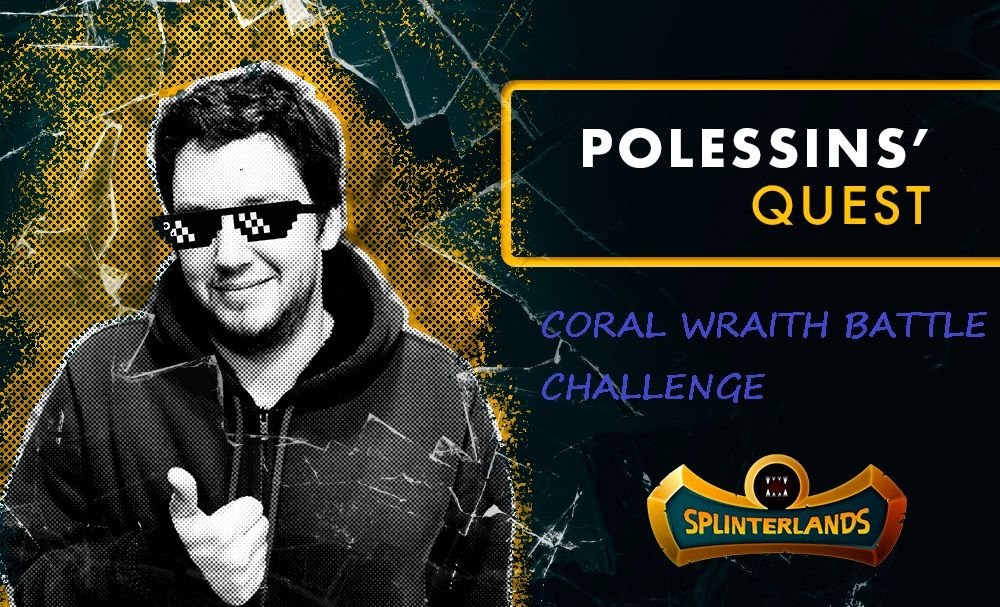 Wanted to share with you this amazing @splinterlands battle with CORAL WRAITH.
Water Splinter has always been one of my favorites, and the main reason is.. VALNAMOR.
Valnamor in my opinion is one of the strongest summoners in this game. he can buff the 3 main stats for any magic monster.
Usually when i see the rule ARMORED UP, i am almost sure that water splinter is gonna be !
So lets first take a look at the battle stats :


RULES :
ARMORED UP (+2 ARMOR TO ALL MONSTERS)
EQUALIZER (ALL MONSTERS WILL HAVE THE SAME HP BASED ON THE MONSTER WITH THE HIGHEST ONE)
MANA CAP : 38
SPLINTERS : DEATH, WATER AND LIFE
At this point i was not sure what to do. This season i went for Fire, Water and Life rentals and it seemed to me a good match for some armor REPAIR UNITS with life splinters. But.. meh let's just go with King Beast Amazing VALNAMOR.
so here are my Water leased cards :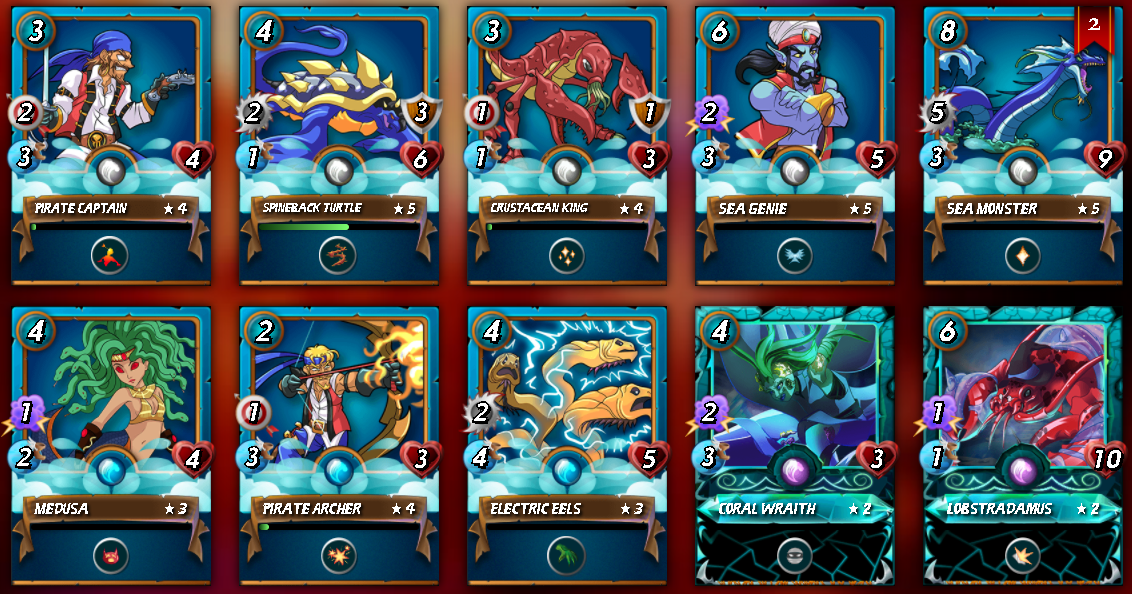 and my Neutral leased cards (yes that's all i have for neutral lol) :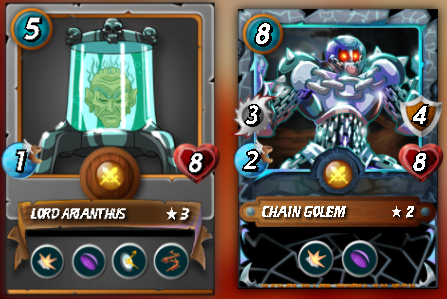 THE TEAMS :
After crushing my head, really wondering all the possible outcomes from this match... i ended up with a different strategy that i tought at first. i sent my LORD ARIANTHUS to last position, hoping he would reflect some damage, and used the Chain Golem in first position to tank as much as possible, while my magic units burn the enemy team.
Enemy team went with a different strategy, he built an enormous wall in front of my team and went for a lot of heals (best strategy for EQUALIZER RULE in my opinion). I was pretty much sure i would lose.

MY TEAM :
VALNAMOR LVL 2
CHAIN GOLEM LVL 2
RULES OF THE SEAS LVL 1
CORAL WRAITH LVL 2
CRUSTACEAN KING LVL 4
CAPTAIN'S GHOST LVL 1
LORD ARIANTHUS LVL 2
ENEMY TEAM :
ALRIC STORMBRINGER LVL 6
GELATINOUS CUBE LVL 8
PEACEFUL GIANT LVL 8
SAND WORM LVL 8
RULER OF THE SEAS LVL 3
CRUSTACEAN KING LVL 6
WATER ELEMENTAL LVL 6
---
THE BATTLE :
https://splinterlands.com?p=battle&id=7e02df008301564bb4d1f9cb0d11d69fc08fbad5&ref=polessins
IT WAS A 23 ROUND BATTLE.
At first glance you can say i already lost, but watch as ghost's captain affliction abilitiy start's to change the battle outcome.
i can say this battle was won by Chain Golen, Ruler of the seas, Crustacean King and Captains ghost.
My Coral Wraith had some problems while fighting water elemental.
Lord Arianthus did a great job holding Sand Worm while i was killing Gelatinous Cube and Peaceful Giant.
Chain golem was the MVP, resisting trough the whole battle like a true champ.
Captains Ghost was the main reason i was able to win, he simply negate all heals for the enemy tanks.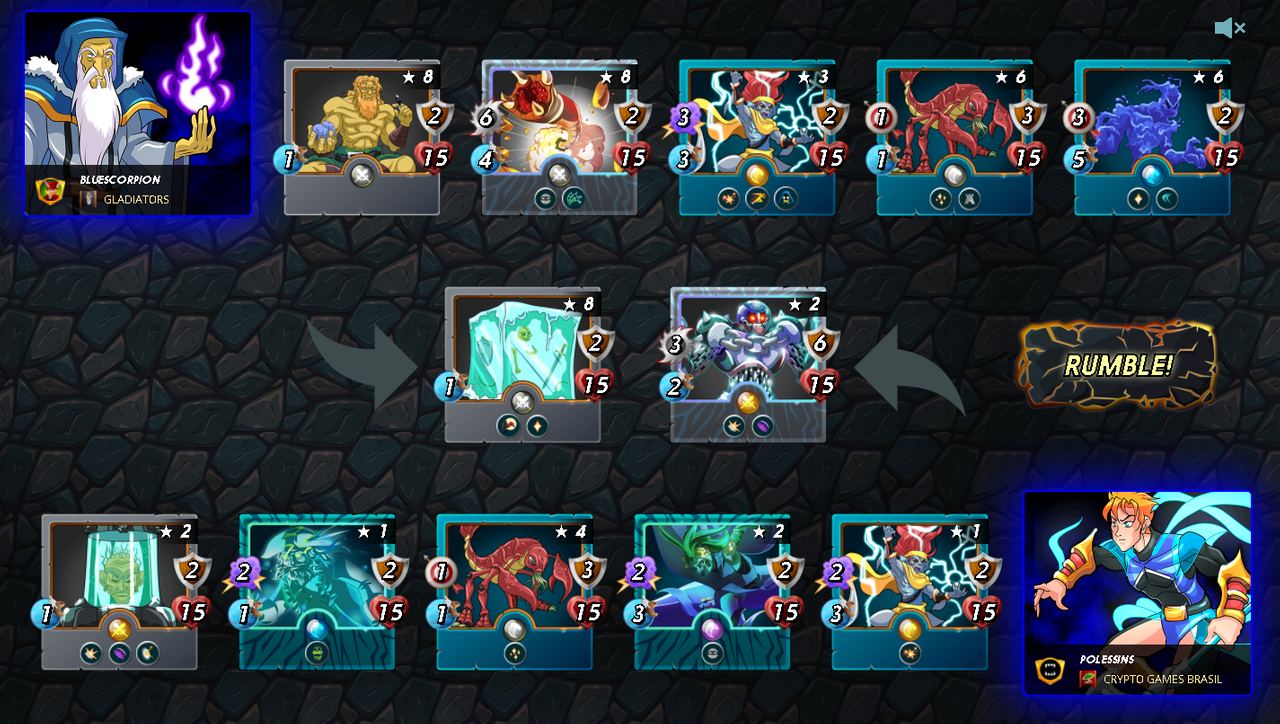 ---
CONCLUSION :
Even fighting a much stronger enemy, you will always be able to win, or at least have a small chance of doing it if you play the rules right !
its amazing how one simple ability can change the whole battle.
ill keep looking for best strats.
I am still learning, but everyday i discover something new to use on my next battles !
JOIN SPLINTERLANDS FOR FUN AND PROFITS : https://splinterlands.com?ref=polessins
FOLLOW @SPLINTERLANDS TO KEEP UPDATED OF VERYTHING !