There is a life outside Hollywood… I mean, there are movies that are not made in the USA… And they can be good, as a matter of fact, they are usually better, but will less marketing and exposure, they do not get to famous. The movie The Man Without Gravity comes from Italy (but one part is filmed in France) and it has an interesting story and will touch a lot of hearts… When a gift can be a curse...
When he was born, nobody didn't believe his eyes… The baby flew out from the mom's belly! Oscar doesn't obey the law of gravity. Anyways, the family has decided to keep that as a secret and to protect the child from awkward looks. When he has become an adult, he decides on his own to say the whole world that he is "The Man Without Gravity"…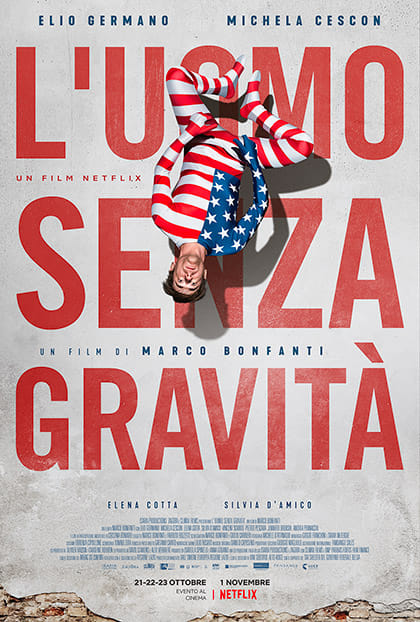 image by imdb.com
The director of the movie is Marco Bonfanti, in Italy known for his documentary and short movies as The Last Shepherd (2012), Ordeal (inside me) (2009) or Bozzetto non troppo (2016). The story of the movie is also written by him and he had help with writing a screenplay from Giulio Carrieri.
In the main roles are Elio Germano (My Brother Is an Only Child (2007), Leopardi (2014), Nine (2009)), Michela Cescon (Piazza Fontana: The Italian Conspiracy (2012), First Love (2004), Vincere (2009)), Elena Cotta (A Street in Palermo (2013), Looking for Alibrandi (2000)), Silvia D'Amico (The Place (2017), Don't Be Bad (2015)), Vincent Scarito (Half a Chance (1998), Two Brothers (2004), The Count of Monte Cristo (1998)) and others.
Take a look at the official trailer for the movie The Man Without Gravity:
The movie The Man Without Gravity will come to Netflix on November 1.
Movie URL: https://www.themoviedb.org/movie/636698-l-uomo-senza-gravita