Welcome to my latest Hive Goals review, it has been 7 days since my last update. Time is flying by and the rollercoaster ride that is crypto continues. Bitcoin continues to hover in the 28-32k range and looks like it is waiting to decide which way it will go. So far it seems very bearish to me, but that may just be wishful thinking so I can scoop up some extra crypto at bargain prices! :)
The deeper focus seems to be on stable coins with 2 stablecoins crashing and burning recently. Tether seems to be the primary focus and investors are getting nervous. This looks like it could spread to the exchanges with lots of FUD being spread now about Tether having loans from Celsius. This is another early warning to make sure to keep your assets in your own wallet.
Let's look at the table this week:

Just a steady growth in my Hive Power this week of 49. I am closing in on 10,000 HP with just 29,2 HP to go. That should cross over this week. My next power-up is planned at the end of the month for PUD or if there is a nice move down in Hive, I may bring this forward.
I really need to work to increase my stack of LEO. It's not growing as fast as I would like. When I next power-up, I will look to buy some extra LEO.
My CTP goal looks like it hasn't moved, that is because I have been moving all CTP over to ListNerds to increase my voting count. I will continue with this strategy for the next few weeks. The price of CTP is very strong right now. I have a buy order in the market, but it's not getting filled at the price I want to pay! This is directly a result of ListNerds causing an increase in demand IMO. Having a strong voting power on ListNerds is essential.
This brings me to my star performer of the week... yes ListNerds has totally smashed it and I have basically doubled my stake in a week. If the demand and price for ListNerds remain steady, that equates to an increase of 637,5 Hive in a week!!! (Based on 1.5 Hive bid price in Hive Engine). Therefore you can understand why I am seriously considering the Enterprise upgrade and increasing my focus here.
If you are not on ListNerds, it's still early to get in and boost your stack, engagement and promote yourself on Hive! Use my link below.
Here is the growth in the last 7 days from Hivestats.io: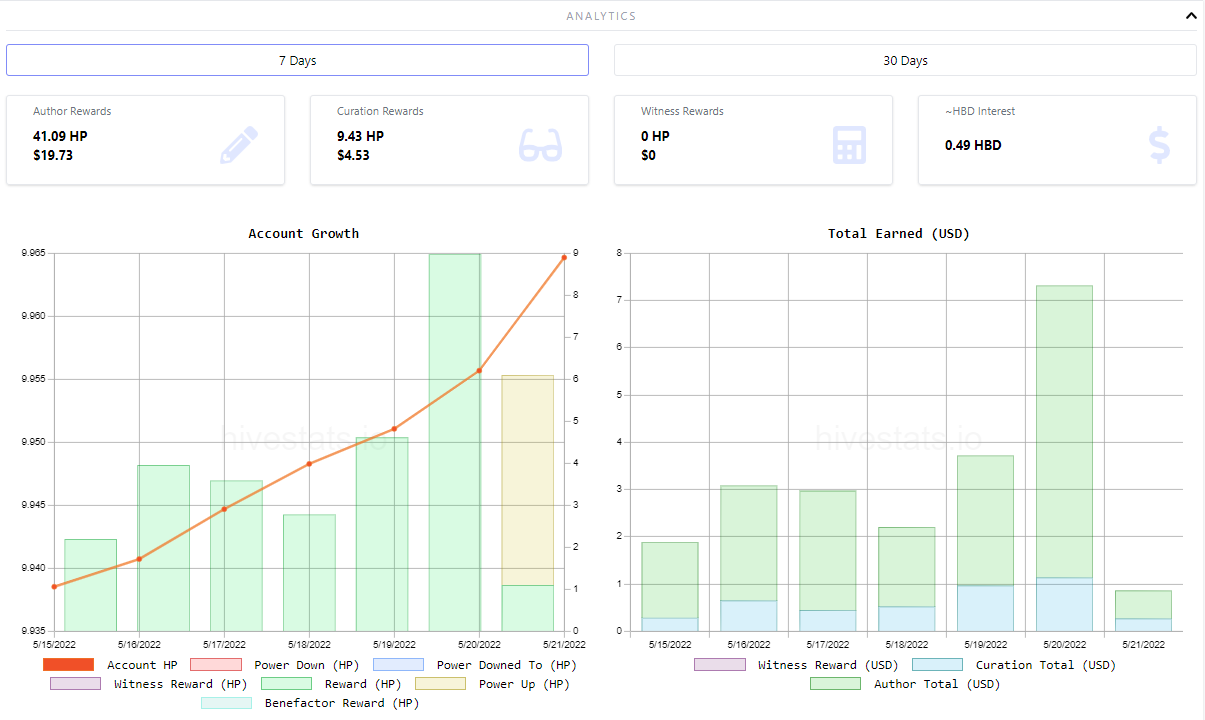 Here we can see my author rewards were 41.09 HP which is up slightly from last week, but still not at the levels of the previous weeks. My curation rewards continue to rise in line with my increase in HP. This week is 9.43 HP which is more than double the previous week.
As a rough guide for my curation rewards, my benchmark is that I should earn at least a 10% ROI as this I could earn easily in other investments with lower risk. This would be approximately 21 HP a week currently based on my total HP. The current curation reward of 9.43 HP works out at roughly 4,9% ROI. My next week's curation reward is estimated at 15.31 HP, so it is moving in the right direction and would work out at roughly an 8% return. I will see if I can work out a good way to track this going forward.

A check on HiveBuzz shows that based on reputation I have increased to place 12,498. This is up from 13,992 last week. With Hive Power rankings, I am still in place 1162.
In future updates, I hope to add some more details about income from Hive liquid pools, Hive engine passive income tokens, delegations and of course play2earn. Stay tuned!
That's it for this week, but before I go, be sure to check out the @eddie-earner or @susie-saver accounts for more details about the Saturday Savers Club or click below.

Resources:
Hivestats.io
Canva
HiveBuzz
Disclaimer
This is not investment advice, please do your own research before investing.
Affiliate Links: