After the drop since 19 Nov 2019 the bear leg is completed coz this is the point where the Cypher pattern is completed and now we are in the potential reversal zone of this pattern.
On 27 of Nov we had a very long bear spike which has hit the bottom of potential reversal zone but the power of Cypher did not let the priceline to breakdown this support.
At this point we have four different supports whom did not let the price action move more down and now they are pushing the price action up.
Simple moving average with time period of 50

Bollinger bands support where the price action has hit after Sep 2019

The Ichimoku cloud support

And the most powerful support above all is the potential reversal support of bullish Cypher pattern
The channel has been changed:
Since April 2019 the priceline of Basic Attention Token was moving within a down channel but after hitting the lowest price $0.14660 in Sep 2019 now the priceline has changed its channel and now it is forming an up channel and at the moment the price action is getting bounced from the support of this channel.
If we keep hold the token then this channel can lead the price action to $0.50 between 3 to 6 months, but crossing the 50 cents resistance can lead the price action to $2 before the end of 2020.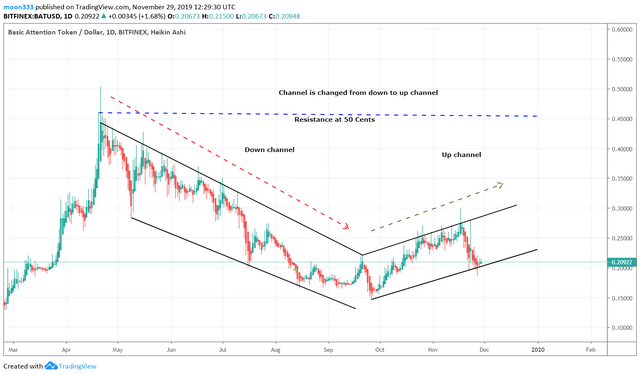 https://www.tradingview.com/x/rU4qTnwb/
However for short term trade we can buy within PRZ area of this bullish cypher pattern and sell between 0.382 to 0.786 Fibonacci projection of C to D leg of this Cypher pattern as below:
Buy between: $0.21094 to $0.18625
Sell between: $0.23047 to $0.27724
Regards,
Atif Akbar (moon333)