The CheckBook App on SmartBCH is a DApp that was inspired from paper cheques and implements airdrop tools and blockchain adoption. SmartBCH users and projects can write a check to others users based on various criteria, and even revoke expired checks that were not claimed.
The CheckBook App system evolves the airdrops, as the tokens are sent through cheques and must be accepted. No more scam airdrops sent to your wallet, and no tokens are wasted as the sender can take back the tokens from expired cheques. The DApp is free to use in the smartBCH infrastructure/
Any SmartBCH user can write a check and send SEP-20 tokens to one or more individuals by adding the wallet address. The CheckBook App was an unique function to facilitate airdrops - the automatic addresses extraction from text. Users can simply paste a long text and the system will extract the addresses from it, simplifying the airdrop process and removing manual curation.
The "Donate" tab cab be used to set complex airdrop events. CashCats ($CATS) is the first project that will used the CheckBook App for promotion, donating a large amount of $CATS tokens for distribution. 
The CheckBook App will airdrop a $CATS check with the value of $5 to each qualified account from Ethereum and Binance  Smart-Chain that will connect to the SmartBCH chain for the first time! Set the chain to your Metamask and see if you can redeem $5 worth of  $CATS.
Another event that involves $CATS airdrops is linked to the transfer of  Bitcoin cash onto SmartBCH through bchcc.cash. Every user that transfers more than 0.0002 BCH will receive a random check with a maximum amount of 2000 CATS. The check can be obtained once a day.
The $CATS checks will expire in one day, and the value is totally random. I received an airdrop for both transfers I've done, firstly 8 CATS and 5.42 CATS the second time.
My first interaction with CheckBook was when 500 CATS and 2.08 EBEN were sent to every user that interacted with Ben Swap. Was a nice gift for those that joined SmartBCH early, and a nice way to introduce Blockchain Cheques into the Cryptoverse. I then received 1180 BPAD for having 2500 BPAD when the snapshot for holders was taken.
CashCats airdrops were distributed to those that sent Bitcoin Cash to the SmartBCH chain through Wagon.Cash. The bridge was an early method of transfer, working only one way, while bchcc.cash can send Bitcoin cash to and from SmartBCH.
The wagoncash airdrop was more lush, receiving 105.51 CATS for my first transfer and 75.94 CATS for my second transfer. The number of CATS tokens was more generous as the value was still low.
I also received a gift from a friend, 100 MIST for being a $LOVE holder. We can only learn to love by loving! If you never interacted with SmartBCH, feel free to add the chain and then check CheckBook to see if you received $5 worth of $CATS. A very small amount of Bitcoin Cash is required to claim the airdrop.
SmartBCH spotlights will try to raise awareness and present the sBCH projects that stand above and beyond, and more important - platforms that I personally tried.  To set up SmartBCH on Metamask follow this steps:
Settings > Networks > Add Network than Network Name: SmartBCH

RPC URL: https://smartbch.fountainhead.cash/mainnet or https://smartbch.greyh.at

Chain ID: 10000 with Currency Symbol: BCH

Block Explorer URL: https://www.smartscan.cash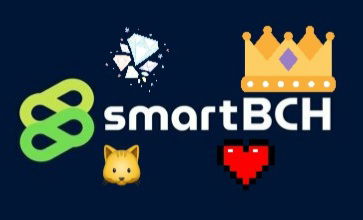 $CATS total supply is 1,000,000,000 tokens. The token SmartBCH Contract Address is: 0x265bd28d79400d55a1665707fa14a72978fa6043
2. BCHPad - Secure IDO on SmartBCH
BCHPad is a decentralized IDO protocol built on the SmartBCH chain, creating a simplified method to invest in new SEP20 tokens or to raise capital and to kickstart projects. The IDO will run in a permissionless and decentralized method but with an extra level of security. 
The AxieBCH gaming guild will have a simple business model and a provision for players to create a play2earn source of income. The transparent assets structure is given by the public blockchain and an unlimited growth potential. The token total supply is 100,000,000 AxieBCH tokens and the contract address is: 0x3d13DaFcCA3a188DB340c81414239Bc2be312Ec9
4. SmartBCH Spotlights : BlockNG & LAW Punks
The BlockNG platform is powered by the $LAW token, which can be used to buy LAW Punks NFTs. The token total supply is 21,000,000 LAW and is currently 7th on Market Cap Cash when ordered by Liquidity. 
Residual Income:
DeFi bounty at CakeDeFi with $30 DFI for new users
The fountains: PipeFlare ZCash,  GlobalHive ZCash  &  Get.ZEN
Publishing bundle: Publish0x,  ReadCash,  LBRY & Presearch