Tired of seeing annoying ads or worried about your privacy online?
You're right to be concerned!
Google has dominated the space of search, constantly trying to track whatever you do on the web.
They collect and store all the data about you- your age, gender, birthday, weight, income, interest, career, your family members, all the places you've ever been, details about your favorite apparel, food and travel destinations…the list goes on.
They could possibly know you better than anyone else.
That's why both big corporations and small businesses are more than willing to pay Google to know more about you, to show you all the ads and convince you to buy their products or services.
This gatekeeper of search has massive influence. They sculpt public perceptions and opinions. They make billions of dollars by selling our personal data.
So what can you do?
No matter which web browser you're using right now- Google Chrome, Firefox, Internet Explore or Apple Safari, probably it's the first application you open when you turn on your laptop.
Choosing the right web browser can significantly improve your daily browsing experience- whether your main priority is faster speed, better security or even monetize your content online.
Here's the good news…
Gone are the days of Google or Facebook tracking our every move and trying to sell our personal data to anyone.
Now, you can take back that control with Brave browser.
What is the Brave web browser?
Brave is an open, decentralized search engine that rewards content creators and readers with its Basic Attention Token (BAT).
Founded by Brendan Eich, the inventor of Javascript and co-founder of Mozilla, this Ethereum blockchain-based search engine raised over $35 million in an ICO early 2017.
Similar to your standard browser, it allows you to surf the web, navigates websites, run web apps and perform all the kinds of things you can do in other web browsers. But Brave is much more than a browser. It aims to revolutionize the browsing and advertising experience as well as the way web works today.
As a die-hard Chrome user, it took me some time to finally give it a shot. Who likes changing something like their browser?
What makes Brave different from other browsers?
Like no other browser, Brave browser acts as a shield that protects you against ads, pop-ups, trackers, cookies and malware. Brendan strongly believed that it's your device, it's your time and so it's your Internet. With Brave, you can browse faster by blocking ads and trackers that violate your privacy.
Through the new attention-based reward system, both Brave users and publishers will be able to earn rewards in the form of crypto tokens. You can also support your favorite websites automatically. Whether you're a blogger, YouTuber or everyday web user, you should check this out!
Undeniably, it's a better, faster, more secure and private browser than its competition. It's a true game-changer in this ever-expanding web market.
To get started with Brave, download it for Free here.
Why You Should Switch to Brave?
1. Blocks ads and trackers

Designed with a built-in ad and tracker blocker, Brave provides an ad-free browsing experience that you'll definitely love. Although you can choose to use ad blocker extensions on your Chrome browser, it might hurt the content creators (and yourself) in the long run.
Imagine if everyone is using ad blockers on the sites when they visit, those sites will make less and less revenue from ads displayed. No ads= no revenue. Without much profit, there's no way to sustain a good-quality website.
Soon, this will put those stores out of business Or you'll be asked to pay a monthly membership fee to access the content. In this case, Brave offers a win-win-win solution to keep your favorite site producing high-quality content with its Basic Attention Token (BAT). I will talk about this later.
2. More Secure
This is another great feature that I like about Brave Browser- secure site upgrades. Whenever you visit a site with HTTP, Brave will automatically upgrade it to secure HTTPS.
This is especially important when you're making online transactions or buying something from e-commerce sites. You want to make sure that your payment information and credit card details are safe and secure from hackers.
With Brave, you can be assured that every site you're visiting is on HTTPS. Also, Brave comes with default settings that will automatically block all unwanted content, plugins, malware, phishing and malvertising.
3. Browse Faster
Without all the pop-ups and ads, Brave browser can speed up the page loading times and significantly improve user experience. Brave claims that the browser can loads popular sites up to 8x faster than Chrome/Safari on mobile and 2x faster than Chrome on desktop.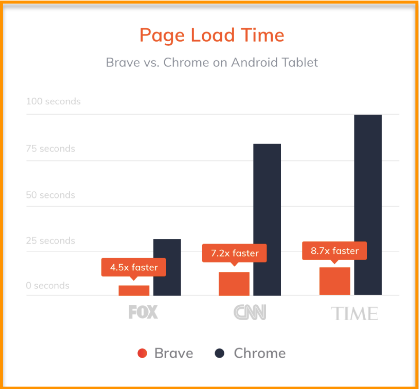 After using it for weeks, Brave becomes my #1 web browser on my Mac and iPhone.  Most of the sites are loading much faster. It greatly increases my productivity and saves my time from staring at the loading pages.
4. Save Money
Can you really save money with Brave browser?
Absolutely yes!
Did you know that the average browsers pay approximately $23/month in the mobile data usage bills just to download redundant ads and trackers? That's a whopping $276 a year.
With Brave, you can cut down all the unnecessary expenses on your cell phone bills. Honestly, I don't see any difference in the data charges since I first used Brave browser. But for me time is more than money.
With faster performance and great user experience, Brave allows me to focus on doing what matter most and increase my daily output. From this aspect, Brave definitely save more time and money (time=money) than other browsers out there.
5. Earn Rewards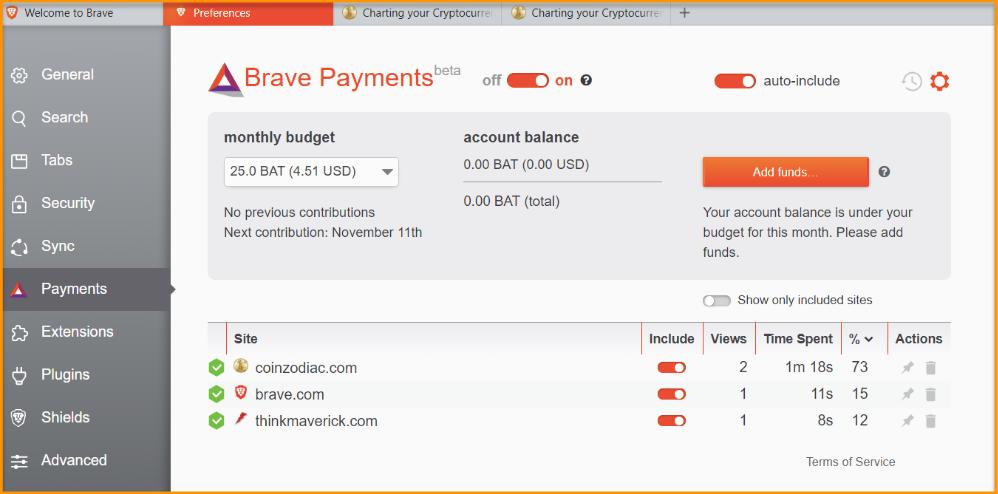 Advertising is a gigantic business. And Brave seeks to remove the middleman in the digital advertising industry. Without the middleman who reaps over half of the ads revenue, Brave would be able to reward browsers as well as content creators handsomely with the Basic Attention Token (BAT) micropayments.
Ultimately, it'll replace the need for fund-raising through sites like Patreon and other membership websites.
Here's how it works…
It's quite simple. Basically, there're two main options for users to choose from:
With ad replacement mode- If you choose to turn on the ads option, you'll be served with non-intrusive ads that are native to Brave. In return of viewing the ads, you'll earn a portion of the ads revenue in BAT crypto coins.
Ads free – This is the Brave default setting, where you can browse seamlessly without any ad.
By activating the Brave Payments, you'll be able to support your favorite sites and content creators with the BAT tokens.
So if you're a blogger, writer, creator, vlogger or Youtuber, here's your chance to become one of the first movers' to take advantage of Brave.
6. Control your privacy
Brave never see, store or has any access to your browsing information. All your browsing data stays private on your device until you decide to delete it.
This means that you have full control of your privacy and Brave won't be able to sell your data to third parties. In addition, Brave browser will block the software that tries to track you.
There's also a dashboard where you can monitor how many ads, trackers and scripts blocked, HTTPS upgrade and more.
7. It's FREE
The best part- You can now browse faster, more secure and even start earning rewards with Brave Browser for absolutely Free!
How to get started?
Brave browser is available on Windows, macOS, Linux, Android and IOS.
Once you've downloaded the browser, simply click on the "lion head" icon, and explore the Brave Shields. In the settings, you can choose which sites to block and many other options.

Conclusion
In short, Brave truly has users' interest at heart. Considering all the awesome features, it's by far the best web browser that I've ever used (and you should too!). With Brave, now everyone can browse faster and safer without worrying about being watched by someone.