Hello HODLers!
A couple of days ago I shared with you an Airdrop and a Public Sale of a LaunchPad project built on Solana blockchain that in my opinion has potential.
It's called Solanium and it's a decentralized fundraising platform on Solana, so basically a LaunchPad built on Solana. For all information on the project visit the link: https://docs.solanium.io/
But the amazing thing is that you can receive some Solanium for free just by taking part in the Airdrop before May 14th.
This is the link to access the Solanium airdrop and the public sale: https://solanium.io/?code=zQ7zK9mv
Starting from May 7th at 12:00 (UTC) it is possible to register in the whitelist which will allow users to get the Airdrop and take part in the Public Sale.
The Solanium team has made a small change in the whitelist sign-up flow so i will explain you now how to participate in the airdrop and public sale:
The whitelist will be open for 7 days so we have time until May 14th to access the airdrop. The allocation mechanism isn't FCFS (First-Come-First-Served) based, so there's no need to rush.
Public Sale Info:
1000 users will have access to the Public Sale and each attendee will be able to purchase up to $1000 worth of Solanium (SLIM) each (i.e. an individual limit of $1000 USD of SLIM). There will be a lottery after the whitelist is closed in which the participants will be selected. The Public Sale price is $0.20 per SLIM token.
Airdrop Info:
Due to the huge interest in the public sale and the limit of 1000 attendees, not everyone will be able to participate in the Public Sale. For this reason, in order to reward all early supporters, there will be an airdrop. This is a guaranteed airdrop for every participant. The total airdrop will be 1,000,000 SLIM tokens and will be distributed to ticket holders (the ticket is obtained by registering in the whitelist) in relation to the ticket number held by each participant.
For example: you have 10 tickets and there is a total of 1000 tickets. This means you receive 10,000 SLIM Tokens.
5 steps to access the airdrop and public sale: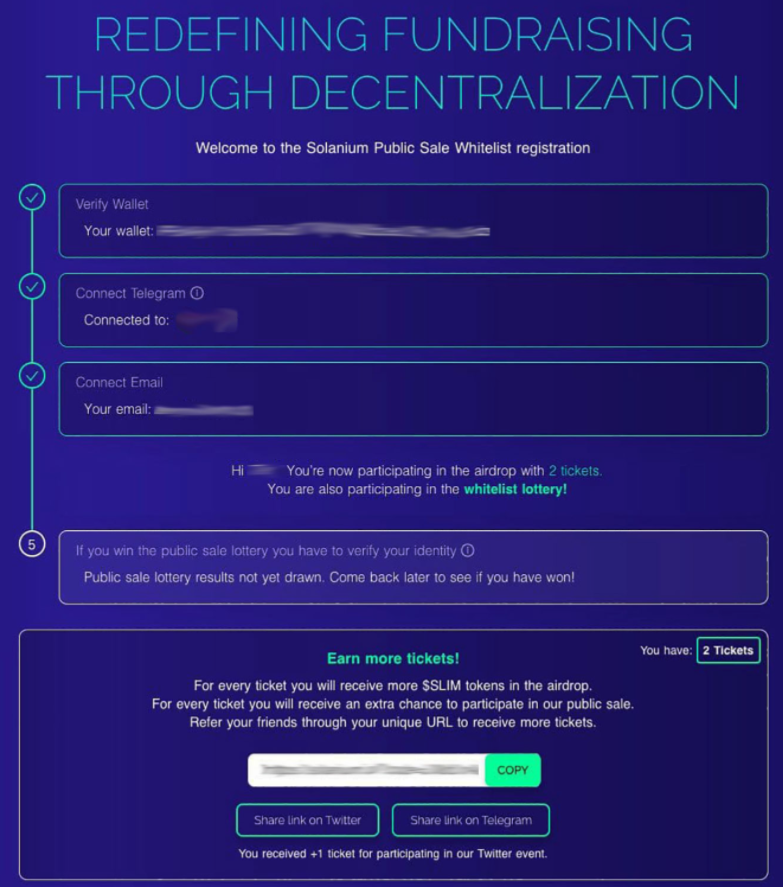 1. Connect your wallet
Sollet is the only supported wallet for now. New wallets will be added soon. If you don't have Sollet wallet yet, you can create one at this stage. I didn't have a Sollet wallet but in 30 seconds I created a new one.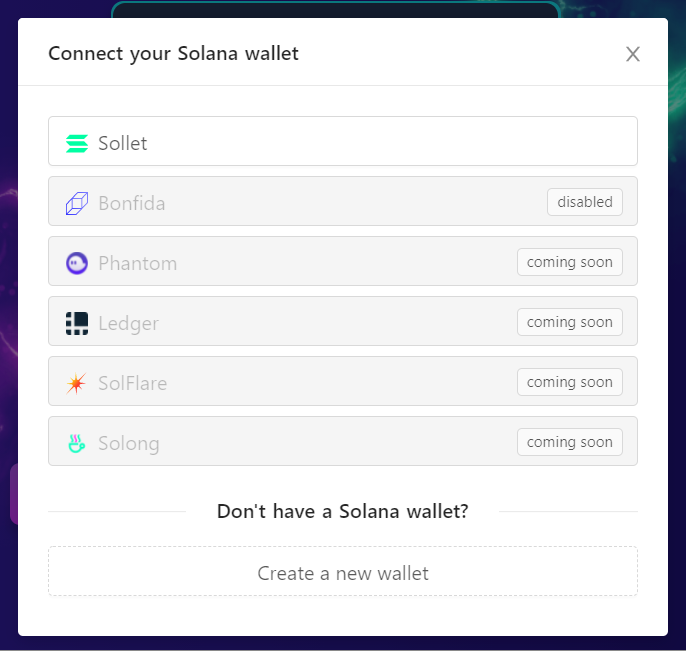 2. Verify your wallet
This operation is very simple and quick.
3. Connect your Telegram
4. Connect your email
If you complete the first 4 steps you are participating in the airdrop and in the public sale lottery! If you have a winning lottery ticket you have to verify your identity.
In the meantime you can try to increase your tickets by sharing your unique referral link.
5. Verify your identity
If you have a winning ticket you have to verify your identity through the KYC provider. It can take some hours to get approved. You will receive status changes about your verification through Telegram.
This is the link to access the Solanium airdrop and the public sale: https://solanium.io/?code=zQ7zK9mv
Earn crypto engaging in a crypto-centric social network:
Join Torum, the first social media platform built for cryptocurrency communities around the world, and earn XTM (XTorum) rewards for your daily and weekly engagement. XTM is the BEP-20 utility token of Torum ecosystem and will be listed on exchanges in May 2021. Read Torum Whitepaper to figure out XTM token use-cases and the potential of the platform: https://whitepaper.s3.us-east-2.amazonaws.com/torum-whitepaper-V3.0-EN.pdf. Sign up using my referral link and earn 35 XTM airdrop after email and phone verification: https://www.torum.com/signup?referral_code=makeitreal