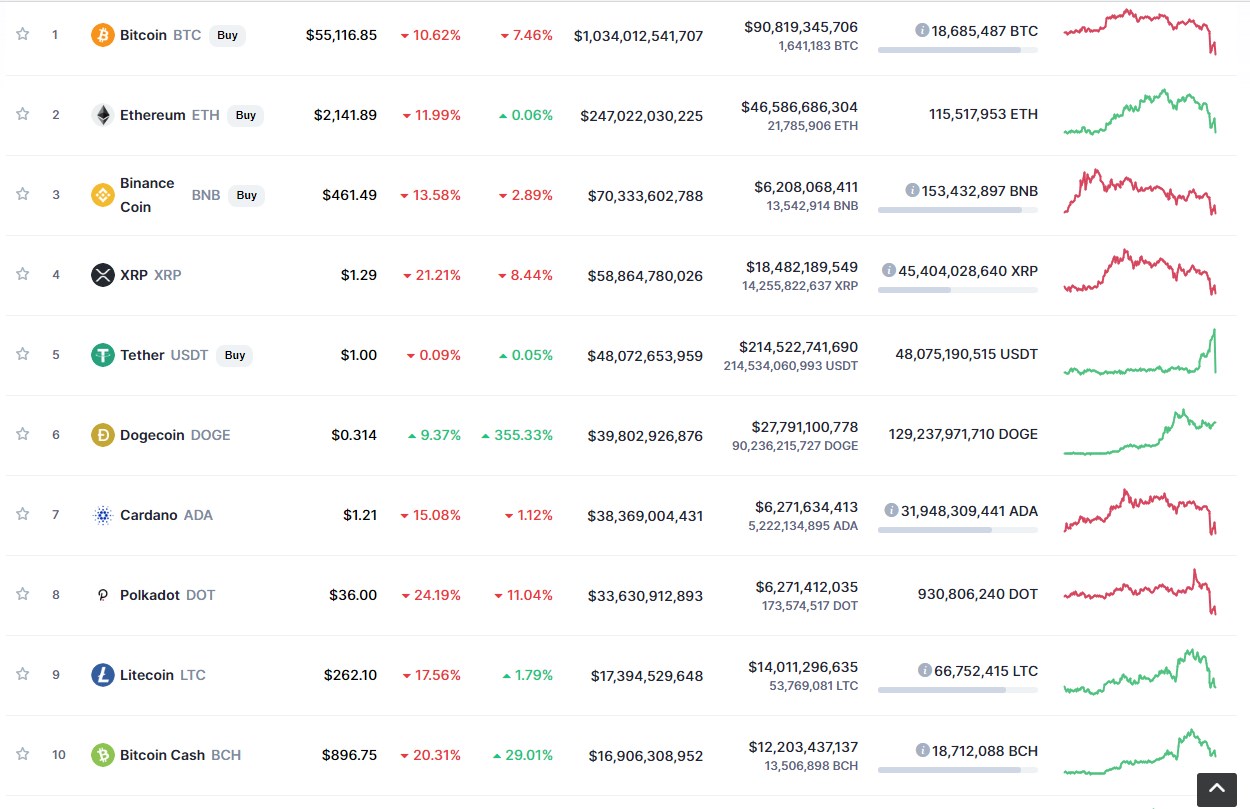 They will be back in no time.
So here it is, the much anticipated, super-bullish post of the day is out now, just to remind you all of the fact that the market has grown by more than 400% over the last 6 months. That's right, the total cryptocurrency market capitalization was swinging around the $360 billion mark six months ago. The crypto space has been blowing up over the last few months, and there are many reasons why it will probably keep doing so in the following months.
Amazing, isn't it? All this spectacular growth, and yet here we are, worrying about what seems to be a healthy correction that will only set the market on track for another amazing run towards the end of Q2 2021, only to be followed by another one etc. Lather, rinse, repeat; this is exactly what has been going on since the very beginning. This is exactly how the market behaves. We need to learn to deal with it.
I've been watching the crypto market on a daily basis over the last 4 years or so, and it all feels so familiar. I remember panicking and hitting the sell button in an effort to save what can be saved and reinvest at a lower level, and guess what, it was always the wrong move. This time around I'm just sitting back, watching my holdings grow and doing everything possible to grab more at a discount whenever the opportunity arises.
It feels great to be able to just hold without worrying about the USD value of my assets, as I do not need those funds in order to cover my life expenses. I'm in the crypto business for the long haul, stacking and staking as much as possible, and always looking for new opportunities to improve my position in some of my favourite projects at a discount. It goes without saying that a day like this is a good day if you're still in accumulation mode.
The crypto game has been drawing major attention lately, with more and more powerful players entering the fray, looking to claim a bigger piece of the crypto pie, and thus, laying the groundwork for further adoption that will inevitably be followed by dramatic growth. The ever-growing internet economy has the potential to completely reshape our lives for the better by enabling humanity to generate and distribute more wealth than ever before, and crypto has a significant role to play in this shift.
The fact that all these payment giants and corporations seem to have realized this means that we have now entered a new era in the crypto game. The institutional era has now begun, and crypto is no longer just a very profitable hobby for the technical folks who have been around since the very beginning and managed to make insane profits. Institutional interest has already taken the crypto game to the next level, and this leads me to believe that bull runs will become a more frequent phenomenon in the years to come.
Adoption works exponentially. The cryptocurrency industry has shocked the world multiple times over the last decade, and the best part is that the crypto game is just starting to go mainstream. This basically means that all those major BTC and altcoin explosions of the past are nothing compared to what's coming in the following years, considering that we now have extremely powerful entities buying in, removing liquidity from exchanges and making positive public statements.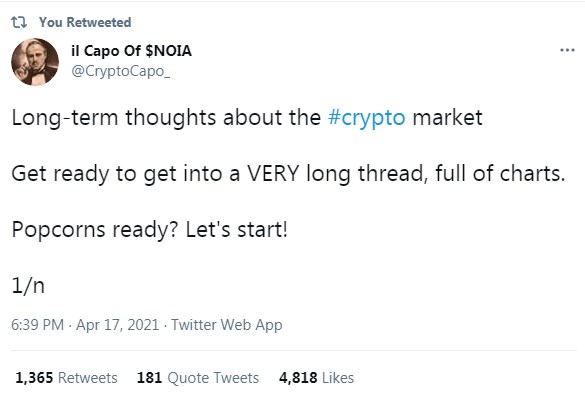 If you find yourself FUDing hard due to the ongoing correction, I would recommend checking out this super-bullish thread by @CryptoCapo_, who is one of those crypto-oriented accounts on Twitter that you need to keep an eye on. We are talking about a long thread, full of charts. But trust me when I say that it's definitely worth your time. As a matter of fact, it's all you need on a red day like this.
There are way too many technical reasons why 2021 is going to be a spectacular year for the crypto space. A healthy correction is necessary evil, but those invested for the long run can't be phased. We buy red and sell green, so a good correction is nothing but a great chance to accumulate more at a discount while we still can. Personally, I am in accumulation mode, so red days work for me.
What about you?
Thank you for your attention.
Alright guys, that's it for now. Thank you for taking the time to read these lines.
Just my two cents. This is by no means financial advice. Just sharing my personal views and experiences. Please do not take my word for your investment choices, and always do your own research.
Stay safe and have a good one,
@lordneroo
---
---
Best Faucets to Earn Crypto with Zero Risk (Affiliate Links):
Best Exchanges to Trade Crypto (Affiliate Links):
Best Platforms to Earn Crypto for your Content (Affiliate Links):
Connect with me Here: