Don't dump what you can't buy back.
It is true that the crypto game offers amazing possibilities to generate income and make easy profits. The blockchain technology has provided us with numerous ways to accumulate wealth, and as the game keeps attracting major attention, the rate at which new opportunities arise is growing at a high pace.
As a result, there are way too many new, promising projects coming into existence almost on a daily basis, to the point that it's literally impossible to keep up and stay tuned with the latest developments. There's so much going on in crypto these days, that the fear of missing out can be very difficult to handle. However, the early bird catches the worm as they say, therefore it pays to keep an eye out for fresh information.
That's why following folks like TrueCrypto28 on Twitter is one of the keys to success in the crypto game. This guy provides valuable insights into the market on a daily basis, talking TA and indicators. However, this time around he shared a tweet that struck a chord and make me stop and think for a second.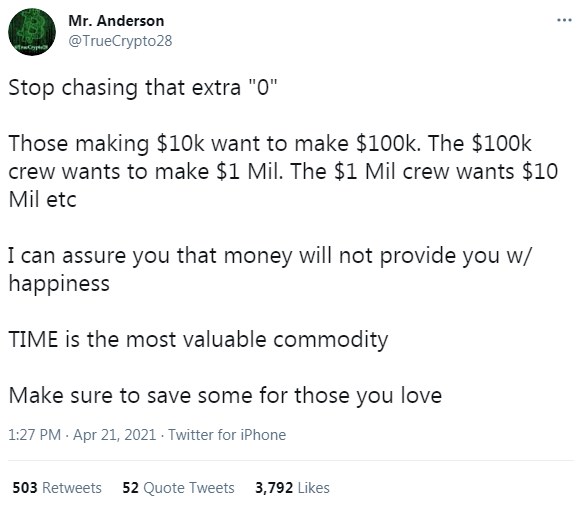 The problem is our time is limited, and there's only so much information we can consume. Thus, we may end up wasting our time on Earth working overtime, sitting in front of a computer screen all day long instead of spending more quality time with friends and loved ones, roaming around outdoors and enjoying nature. The law of sacrifice is real, and you can't have it all.
Pick your top priorities.
I do realize that working overtime in a bull market can prove to be a very smart decision, and it certainly feels so as far as I'm concerned, but I also realize that it's all a matter of priorities, which tend to change drastically as we grow older. Time is the most valuable resource, and we humans tend to realize this fact the moment we figure out we are slowly running out of it.
Some would say that killing another zero in your asset balance is well worth sacrificing a few months, especially considering how crypto has the potential to explode and reach new highs in the following years, and I can't argue with that. However, what I would like to point out is that no amount of zeros is ever enough to satisfy personal greed. In the beginning it's all about earning money to improve one's standard of living, but it quickly starts to become an addiction.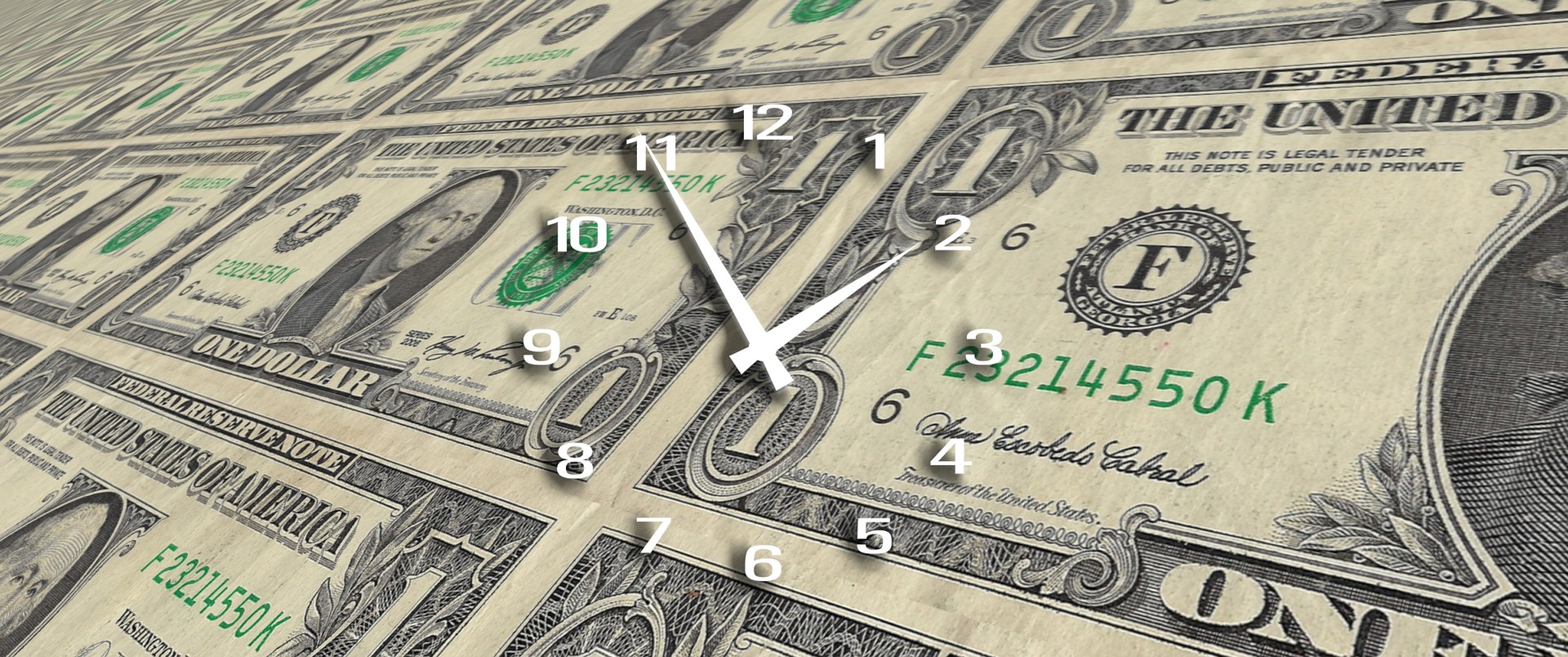 It's a game we're getting better at, and instant gratification is making us perpetually impatient. Thus, we may end up chasing more and more zeros, which in itself is not necessarily a bad thing, but consumes precious time. Time we could never buy back. This young version of myself believes it's a smart move to spend most of my time indoors, hustling for more crypto and chasing fresh information on the internet, but I'm afraid an older version of myself may regret it all.
It's human nature.
Usually, we tend to focus on the things we want but don't have, instead of being grateful for everything we do possess and have been blessed with. If you don't have money, you can sell your time and earn. Whatever it is you're looking for in life, you can set your mind to it, devote time and get it. However, you can't get more time. No matter how rich and powerful you may be, and even though quality of life and healthcare can increase your life expectancy, you can never have those younger days back.
I'm relatively young and take care of myself, but I do miss the younger, more energized version of myself. I've been playing the crypto game since 2017 and it's already making a difference in the way I live, but I haven't made it yet. This means that I still have to sell my time in order to be able to cover my life expenses without having to sell crypto, and the FOMO is so strong that I can't hit the sell button. It's so intense that I sleep less in order to have time to blog, curate, chase aidrops, take advantage of fresh opportunities, acquire precious info and so on.
I'm convinced that it's going to work, that's why I feel so inclined to remain productive and keep devoting more time to my crypto hustling activities. However, I have realized that it's all about balance, and thus, spending quality time with loved ones is now one of my top priorities. The crypto game has been exploding lately, and considering that it's still quite early in the game, I'm sure there will be many more hot opportunities down the road. It's almost guaranteed. However, time is running out and there's no way I will ever have more than I currently do.
That's why I'm planning to HODL it from now on. What about you? Do you find yourself spending too much time following the crypto business? Do you spend quality time with family and friends in social and recreational activities? Or are you so caught up in your investment-oriented activities that you tend to forget about the truly important things in life? I would love to hear your thoughts in the comments below.
---
I appreciate your attention.
Alright guys, that's it for now. Thank you for taking the time to read these lines.
Just my two cents. This is by no means financial advice. Just sharing my personal views and experiences. Please do not take my word for your investment choices, and always do your own research.
Stay safe and have a good one,
@lordneroo
---
---
Best Faucets to Earn Crypto with Zero Risk (Affiliate Links):
Best Exchanges to Trade Crypto (Affiliate Links):
Best Platforms to Earn Crypto for your Content (Affiliate Links):
Connect with me Here: