The Japanese retail giant has integrated its crypto wallet with its payment app.
It's safe to say that last week's announcement is great news for users of Rakuten Pay accounts and the cryptocurrency ecosystem in general, as they are now able to use their cryptocurrency holdings of Bitcoin (BTC), Bitcoin Cash (BCH) and Ether (ETH) to load up their accounts in order to use the mobile payment app.
After the news about Visa piloting a suite of APIs to offer BTC services, and Mastercard planning to allow merchants to accept payments in crypto , it's great to see another giant stepping up to the challenge and looking to claim a piece of the pie. The cryptocurrency game is still in its infancy stage, and some big players seem to realize this.
Tokyo, February 24, 2021 – The Rakuten Group companies Rakuten Payment, Inc. and crypto asset (virtual currency) exchange business operator Rakuten Wallet, Inc. announced that starting today, users will be able to charge their Rakuten Cash balance, an online e-currency provided by the Rakuten Group, with Bitcoin and other crypto assets.
Source: global.rakuten.com
The announcement made on February 24, 2021 is big news for the crypto space, as it is the first time a service in Japan provides users with the possibility to utilize crypto assets as a source of payment with no handling fees.
More and more people are getting interested in the crypto game as the days go by, and with cryptocurrencies also accepted at Rakuten Pay and Rakuten Point Card-affiliated businesses across Japan, I think it's safe to assume that there's going to be an increase in demand in the coming weeks/months.
In case you didn't know about Rakuten Pay:
Rakuten Pay was introduced in 2012 for primarily small and medium-sized businesses (SMEs) who did not have a point of sale (POS) system. It enables easy credit card payments (pay in store) at a low cost to merchants using the consumers' mobile device.
Source: global.rakuten.com
Rakuten is known for its interest in the cryptocurrency game and had already offered its customers the option to convert their Rakuten Group loyalty points to crypto back in 2019, but now they have decided to take things to the next level with the integration being implemented, which can potentially lead to crypto spending at a wide range of retailers, fueling further adoption.
This service supports Bitcoin (BTC), Ethereum (ETH) and Bitcoin Cash (BCH), all of which can be used with Rakuten Wallet's spot trading services. The amount of Rakuten Cash chargeable using crypto assets ranges from a minimum of 1,000 yen to a maximum cumulative total of 100,000 yen per month.
Source: global.rakuten.com
All three cryptocurrencies are regaining lost ground in spectacular fashion today, demonstrating growth of more than 10% over the last 24 hours and driving the total cryptocurrency market capitalization above the $1.5 trillion mark again after the recent correction. Let's hope we can explore new highs this time around.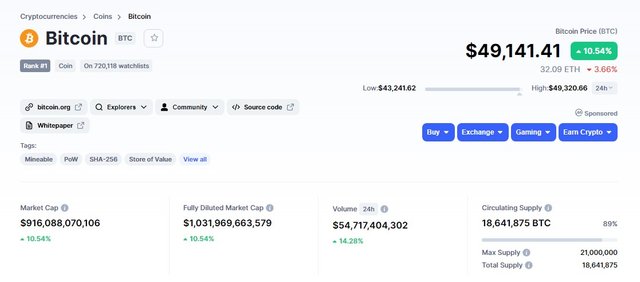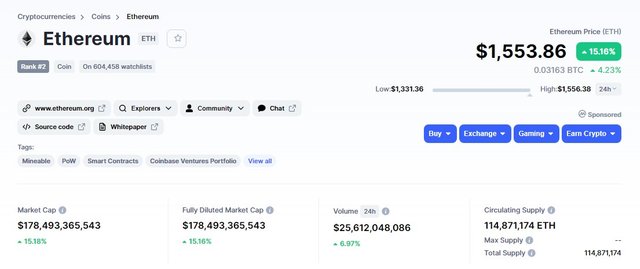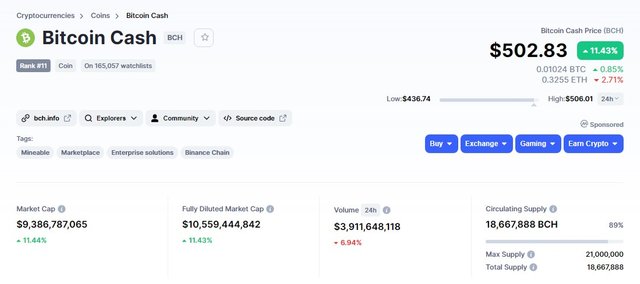 Rakuten members only need to have a trading account set up for Rakuten Wallet in order to use the services provided by the integration, and the best part is there are no conversion fees between fiat, e-money and crypto holdings. There is also a bonus of Rakuten points offered by the company to incentivize users.
We have been getting tons of bullish news lately, and it feels like one has to quit sleeping these days in order to be able to catch up with all the positive announcements and developments being made. It certainly feels like the world is starting to realize the cryptocurrency industry is here to stay and reshape the way we communicate value to each other.
I can't help but think there is a lot more to come in the near future with all the attention we have been drawing lately. All the noise being made is starting to cause a domino effect of awareness and adoption, and those invested in the game will soon reap the reward of their efforts.
2021 is proving to be a wonderful year for the space, but we haven't seen anything yet. Fill and hold your bags, sit tight and enjoy the ride.
---
Thank you for your attention
Alright guys, that's it for now. Thank you for taking the time to read those lines.
Just my two cents. This is by no means financial advice. Just sharing my personal views and experiences. Please do not take my word for your investment choices, and always do your own research.
Stay safe and have a good one,
@lordneroo
---
---
---
Best Faucets to Earn Crypto with Zero Risk (Affiliate Links):
Best Exchanges to Trade Crypto (Affiliate Links):
Best Platforms to Earn Crypto for your Content (Affiliate Links):
Connect with me Here:
Posted Using LeoFinance Beta