Let's get farming.
If you have been following my blogging ventures and daily ramblings here, then you already know that dCrops is one of my favourite #play2earn games hosted on the Hive blockchain. The game is as simple as it gets, doesn't take up too much time, and offers the ability to earn magic internet moneys just by gathering in-game assets and selling harvested crops for shares.
There's a lot more to come for dCrops this year. We are expecting the release of Beta packs in the folowing months, as Alpha packs have sold out and new players looking to enter the fray will therefore have to buy cards from the market in order to get started for the time being.
I invested some funds and bought me a bunch of Alpha Packs for $2 each months ago, and I've been planting and harvesting like there's no tomorrow since then.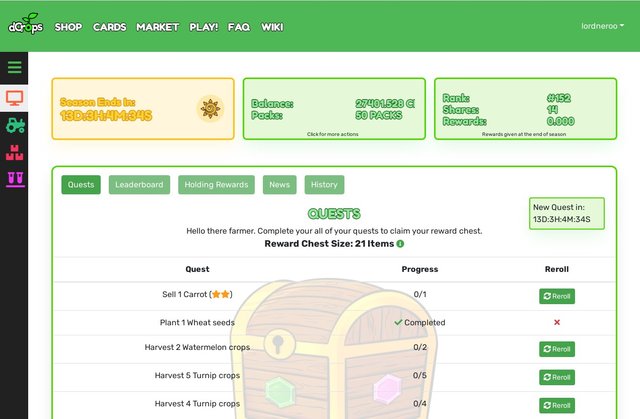 Currently holding 27.4k $CROP earned through harvesting and selling goodies for shares, which is worth approximately $93.2 as we speak and can be sold any time on hive-engine for swap.hive. However, I'm not interested in dumping those tokens. In fact, I plan to accumulate as much $CROP as possible, as it increases my CROP Power, which brings in passive $HIVE income paid directly to my wallet on a daily basis.
My in-game assets translate into 127k CROP Power, which currently brings in 0.291 $HIVE per day. It's not much but it's honest ''work'', plus those figures may rise significantly once people start flocking in here. No need to explain what happens if $HIVE gets the recognition it deserves. There's serious upside potential.
More information about Holding Rewards can be found here.
Let's go, Summer season is here, and this time around I've got some lands sitting idle doing nothing. Oh well, it is what it is. I will just wait patiently for the land rental feature to be rolled out.
Here's a close-up look of my busy farm:

And here's the real deal: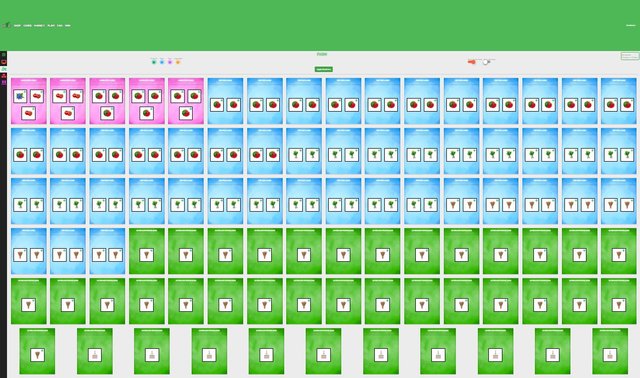 Such wow!
Summer is not my best season to be honest, as I only own 1 Legendary, 5 Epic and 45 Rare summer seeds. I also got 10 Average farmlands doing nothing, so I may have to hit the market and buy up some summer seeds to keep those farmlands occupied and productive.
Besides, cards are quite cheap at the moment, so it may be a good chance to grow my $CROP factory.
Summer season breakdown:
1 Legendary, 5 Epic, 45 Rare and 86 Common seeds combined with some Speed-Gro is my gunpowder for this season. Not great, not bad. The truth is I do hold another 50 unopened Alpha Packs which may be hiding some more Legendaries and Epics inside, but those packs account for 100k CROP Power.
Furthermore, a dCrops Alpha Pack currently costs 4.98 $HIVE ($6.8), and depending on a number of factors, the price may rise significantly once the sale of Beta Packs commences. As of today, this is expected to happen before the end of Q2, 2022.
I'll just pass.
Lands:
5 Awesome (Epic)
46 Fertile (Rare)
40 Average (Common)
Seeds (S):
Blueberry (Legendary): 1
Tomato (Epic): 5
Watermelon (Rare): 45
Wheat (Common): 46
Turnip (Common): 40
Base selling price (B):
Blueberry: 4
Tomato: 7
Watermelon: 24
Wheat: 7
Turnip: 14
Quantity produced (Q):
Blueberry: 5
Tomato: 2
Watermelon: 1
Wheat: 2
Turnip: 1
Expected share rewards (E) (minimum):
E = Σ[Si x Bi x Qi], n = 5 =>
E = (1x4x5) + (5x7x2) + (45x24x1) + (46x7x2) + (40x14x1) = 2,374
It is worth noting that this is the mimimum amount; I will bag more shares if I get lucky and harvest some 2-star and 3-star quality crops. Based on the number of seeds I have planted, I would say it's highly likely.
Regardless, last season's loot was much better, but summer is still going to be a good season for my farm.
Final thoughts.
The play-to-earn frenzy is taking over our lives. It was never easier to earn money from home, and I have a feeling that we have seen nothing yet. We are just starting to take the first steps.
The Hive blockchain, backed by a strong community of driven, hard-working, talented individuals, is hands down the best candidate when it comes to hosting such applications effortlessly. There's a bright future ahead.
That sums it all up for now!
---
Join the fun.
Haven't tried dCrops yet? You can sign up using my referral link - it's mandatory! xD
Want to stay tuned with the latest developments? Follow the game's official blog on the Hive blockchain.
Looking for more info? Join the game's official discord server.
---
Never forget!
NFA - DYOR
---
Have a good one everyone!
@lordneroo
---
Best Faucets to Earn Crypto with Zero Risk (Affiliate Links):
Best Exchanges to Trade Crypto (Affiliate Links):
Best Platforms to Earn Crypto for your Content (Affiliate Links):
Best Blockchain-Based Play-to-Earn games (Affiliate Links):
Connect with me Here: