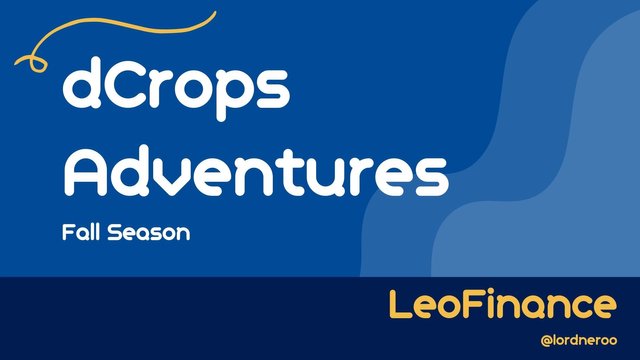 Back fresher than the harvest
Officially back in business with another @leofinance blog post after quite some time and I have to admit that I missed y'all. I spent the last couple of weeks working on a massive assignment and literally feeling exhausted all day every day, but now it's a wrap and it was all well worth it.
The market remains boring to say the least, but now is a great opportunity to work hard and fill those bags with relatively cheap crypto. Considering everything that has been going on in the world as of late, I think the crypto space has been demonstrating surprising strength. I don't really see a bear market to be frank.
Anyway, even though I haven't been actively participating with blog contributions, I've been curating and powering up all earnings. This game is a marathon so I've already decided I'm here to enjoy the ride. Been trading a bit as well, and also running all my online p2e hustles as always.
dCrops is still one of my favourites
The game is constantly getting better and there's a lot in the works at the moment. As of today, players will also be receiving NFTs as part of their quest rewards:
These NFTs will be in the form of ores and materials. These materials will be crucial to building processing plants, equipments and buildings that will be introduced in the BETA expansion and other future editions.
You can read the official announcement here if you're looking for the deets, and here is the official Twitter announcement:
https://twitter.com/d_crops/status/1529522703614775296
Spread the word and show some love. HIVE is an entire universe and we need to let the world know what they have been missing out on. The #play-to-earn frenzy is no joke, and this blockchain has the potential to be a key player in this industry. dCrops is another amazing project that came into existence thanks to HIVE and deserves massive support from the community.
It sure has the potential to drive significant traffic to the platform. The game is simple, well-thought-out and as passive as it can get. I've been earning $HIVE and $CROP on autopilot for months now, and we are just getting started.
Let's get down to business
Fall season again, and I still have some average farmlands sitting idle doing nothing. Been watching the market closely and I'm currently looking for the right time to buy some more epic NFTs, but I'm quite happy with my collection to be honest. I can wait a bit more.
Still holding 50 Alpha packs which I'm not planning to open or sell any time soon. I'm also keeping some funds on the side in order to buy up as many Beta packs as possible. Not sure when they will be rolled out, but I have a feeling we are getting close.
After bagging 2,524 $CROP in season rewards, I'm now officially holding more than 50k tokens, which add to my daily HIVE dividends. It goes without saying that I'm not planning to sell a single $CROP token. 100k $CROP, here I come.
Here's a close-up view of my crop factory: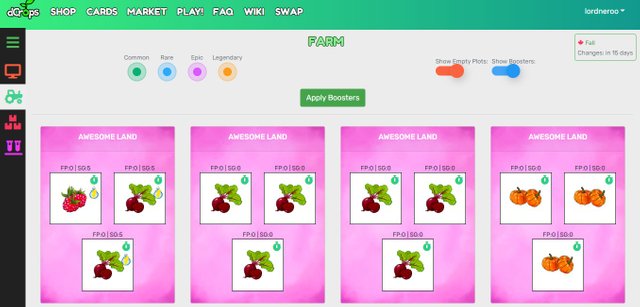 And here's the actual size: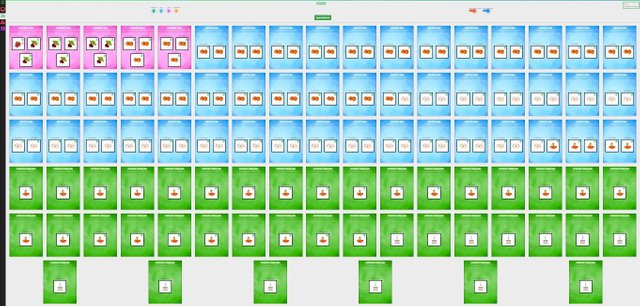 We will never starve, fear none.
I'm using a lot of Speed Gro on the first plot this time around, as I'm looking to make the most of my legendary seed's properties. I also only need to sell 3 one-star Raspberry crops to claim another 22 reward chests, so fresh boosters will be available in less than 3 days as far as I'm concerned: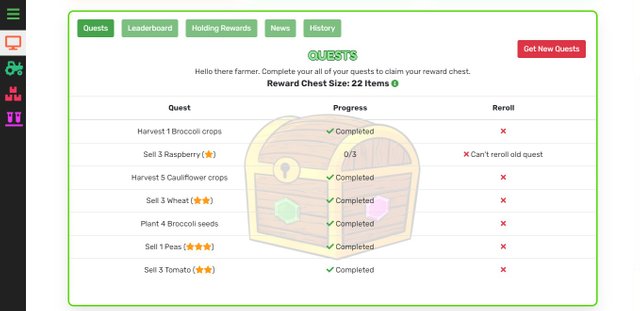 Fall season breakdown:
1 Legendary, 8 Epic, 51 Rare and 74 Common seeds is what my arsenal consists of. It's going to be another productive season.
Lands:
5 Awesome (Epic)
46 Fertile (Rare)
40 Average (Common)
Seeds (S):
Raspberry (Legendary): 1
Beetroot (Epic): 8
Pumpkin (Rare): 51
Carrot (Common): 32
Garlic (Common): 42
Base selling price (B):
Raspberry: 7
Beetroot: 14
Pumpkin: 24
Carrot: 14
Garlic: 7
Quantity produced (Q):
Raspberry: 4*5 = 20
Beetroot: 5
Pumpkin: 1
Carrot: 1
Garlic: 2
Expected share rewards (E) (minimum):
E = Σ[Si x Bi x Qi], n = 5 =>
E = (1x7x20) + (8x14x5) + (51x24x1) + (32x14x1) + (42x7x2) =>
E = 2,960
As always, this is the mimimum amount of shares to be earned; I will bag more shares if I get lucky and harvest some two-star and three-star quality crops. Plus my Beetroot seeds have a +25% chance of producing multiple crops on harvest. Not to mention the boosters applied.
Final thoughts
The play-to-earn realm is here to stay. It was never easier to earn money from home, and if it weren't for all the problems the world is currently faced with, we would be witnessing massive growth right now. Hive has all it takes to boss this field, so let's just keep building and pushing forward.
That sums it all up for now.
---
Join the fun.
Haven't tried dCrops yet? You can sign up using my referral link - it's mandatory! xD
Want to stay tuned with the latest developments? Follow the game's official blog on the Hive blockchain.
Looking for more info? Join the game's official discord server.
---
Never forget!
NFA - DYOR
I'm just a random guy with opinions. This is by no means financial advice. Just my personal thoughts and experiences.
---
Have a good one everyone!
@lordneroo
---
Best Faucets to Earn Crypto with Zero Risk (Affiliate Links):
Best Exchanges to Trade Crypto (Affiliate Links):
Best Platforms to Earn Crypto for your Content (Affiliate Links):
Best Blockchain-Based Play-to-Earn games (Affiliate Links):
Connect with me Here: