Financial Affirmations for Sunday February 7th, 2021
Enjoy these affirmations to align your subconscious with a positive outlook and mindset on money and finances. Writing and reading these is a part of my weekly routine, so please enjoy!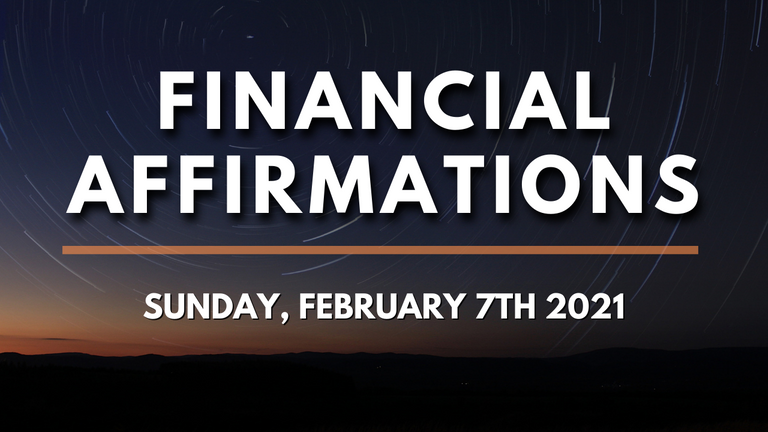 ---
My wealth is a manifestation of my beliefs, attitudes, and perspectives.
I have flipped the coin from scarcity to abundance.
I know that I am fully taken care of and never have to worry about money or finances again.
I retain my wealth by investing a percentage of every dollar I earn, and thus create a safety net as well as a wealth machine that grows everyday.
The amount of money I earn does not correlate with tenacity or difficulty, but instead with my allowance of receiving it into my life, and my desire to provide more positivity and opportunity to society.
There is nothing holding me back from receiving amounts of wealth I've never experienced before.
There is nothing monetary that I truly need other than shelter, food, and transportation. Anything else is not a necessary need, but a desire. I know those desires will always outweigh my ability to fulfill them, so instead I save and invest my extra money and invest my time into peace, love, and family.
The more money I earn, save, and invest, the more I can decrease my exposure to the survival mindset, and feel more comfortable with my reality of abundance.
Instead of increasing my spending as I grow my wealth and income everyday, I keep my spending the same and instead invest more and more of my time into my passions and what truly brings me joy.
More money will not change anything about me, but only will amplify what and who I already am.
Money is not the root of all evil, it is the root of all that is me. If I become wealthy and am an evil person or a loving person, it's not the money, it's me.

I choose to earn money from sharing my gifts, talents, and passions, and will not do work that I don't align with just to earn money.
---
Much love and thanks for reading,
Bryan