Well, it's not every day that a government expresses support for a cryptocurrency project, but on March 16, 2022, that is precisely what the Prime Minister of the Southern Pacific Island nation of Vanuatu did. Yes folks, that's what the Honourable Bob Loughman, Prime Minister did by way of the following letter: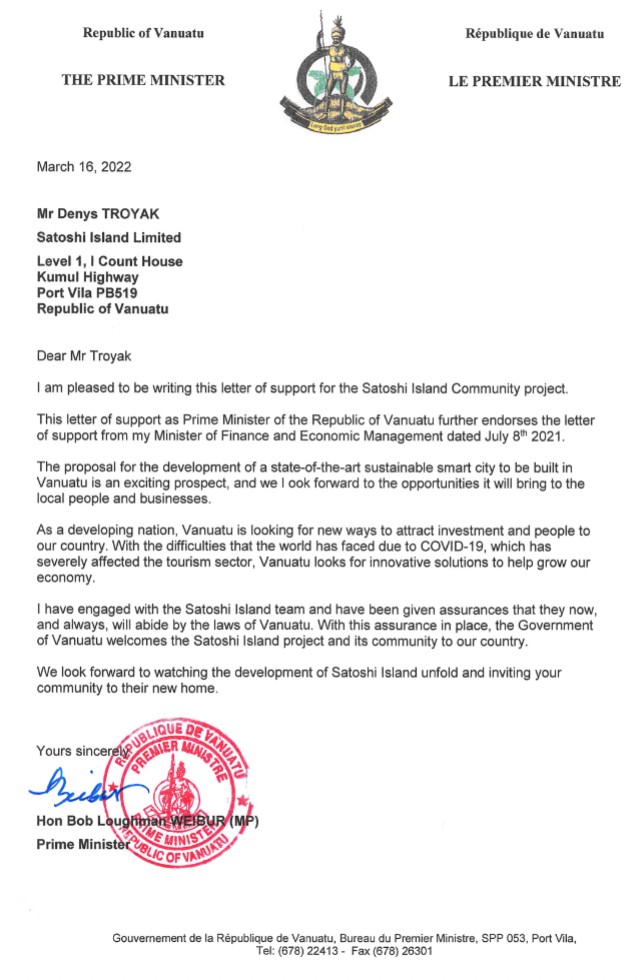 Photo Source
Satoshi Island has very ambitious goals. The project contemplates the completion of a megaproject cryptocurrency utopia in the Oceania geographic area: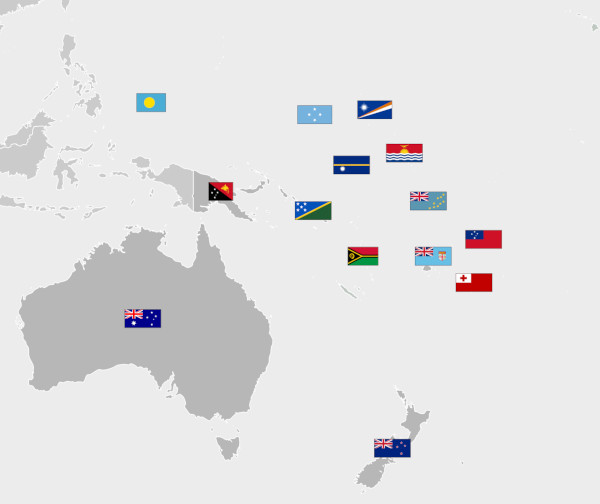 Photo Source
With a more specific pinpoint location for Satoshi Island being:

Photo Source
The Satoshi Island team was rightfully excited to receive this endorsement. In a release posted to Medium, the Satoshi Island team wrote:
Last year we received a letter of support from the finance minister which was an amazing step to help show the crypto community that Satoshi Island was really happening but now, with this full enforcement from the Prime Minister, we can even more confidently show everyone that Satoshi Island is as real as it gets and the kind words of the PM inviting our community to their home could not be a stronger welcome!
[Satoshi Island. Satoshi Island Receives Endorsement From The Prime Minister Of Vanuatu. (Accessed March 25, 2022).
So what is intended by this project. Turning to the projects official website:
Satoshi Island is a 32 million square foot private island, located in the tropical paradise of Vanuatu, tucked between Australia and Fiji. The island, which is owned by Satoshi Island Holdings Limited, is intended to become home for crypto professionals and enthusiasts, with a goal to be considered the crypto capital of the world. After years of preparation, a green light from the Vanuatu Ministry Of Finance and all approvals in place, Satoshi Island is now ready to be developed into a real-world crypto economy and blockchain based democracy.
[Satoshi Island. Welcome to Satoshi Island - About Satoshi Island. (Accessed March 25, 2022)].
Sounds like a wonderful tropical paradise and "anyone can own a piece of Satoshi Island by purchasing Land NFTs. Buy a whole block and build a property for yourself or for rental purposes, or buy with others and decide together what to do with the block [Satoshi Island. Welcome to Satoshi Island - Opportunities for you and your business. (Accessed March 25, 2022)]. Additionally, the project is open to receive cryptocurrency projects looking to establish a base on the Island (from a simple satellite office to a full blown headquarters campus). As well, the project seeks to host either new or existing blockchain events.
The timeline for this project is likewise ambitious and may be found by clicking here. If you are interested in this project, you will find a review of this timeline quite intriguing.
Suffice it to say that the receipt of the Prime Minister's endorsement was a boon to the project. Since that time, over 50,000 citizenship NFT applications have been submitted for Satoshi Island, and only 21,000 citizenship NFTs will ever be minted.
AUTHOR'S NOTE: This article was originally published on Leo Finance and several other tribes on the Hive blockchain.