First Thoughts
The Red Fox Labs blackpaper explains this project as follows:
RFOX's vision is to be the global leader in immersive metaverse experiences focused on retail, media, gaming, and rewards, where the RFOX token is the multi-chain digital asset that fuels the RFOX ecosystem. RFOX is building the digitally inclusive future of work through empowering people around the world to advance to new digital frontiers. The company is focused on unlocking the true market value of the global digital economy for high-demand consumer services such as e-commerce, e-media, finance and e-sports/gaming.
[Red Fox Labs. Blackpaper v3.0. (Accessed January 19, 2022)].
The RFOX project seeks to achieve empowerment of its users to play, create and earn in a borderless metaverse. So, let's take a few minutes and examine this interesting project in greater detail.
The RFOX Ecosystem - What Makes Up this Metaverse?
RFOX VALT
"RFOX VALT is a fully immersive, virtual reality-driven retail and entertainment experience in the metaverse that combines gaming elements, bringing together the best-in-class of crypto through NFTs and real-world applications of e-commerce, gaming, entertainment, and more." [RFOX. INTRODUCING METAVERSE FOR RETAIL AND ENTERTAINMENT. (Accessed January 19, 2022)]. On its own, RFOX VALT will be a standalone metaverse experience but at the same time it will be multi-chain compatible and fully interoperable.
RFOX VALT brings together the world of cryptocurrency through its use of NFTs and merges it with real world gaming, entertainment and e-commerce. Through its utilization of NFTs to evidence Shop ownership as well as other metaverse assets, RFOX VALT provides its users unique opportunities to earn, create, and interact. All of the various ventures created within the RFOX ecosystem will interact with the RFOX VALT component. As such, RFOX VALT is the central solution for the entire ecosystem.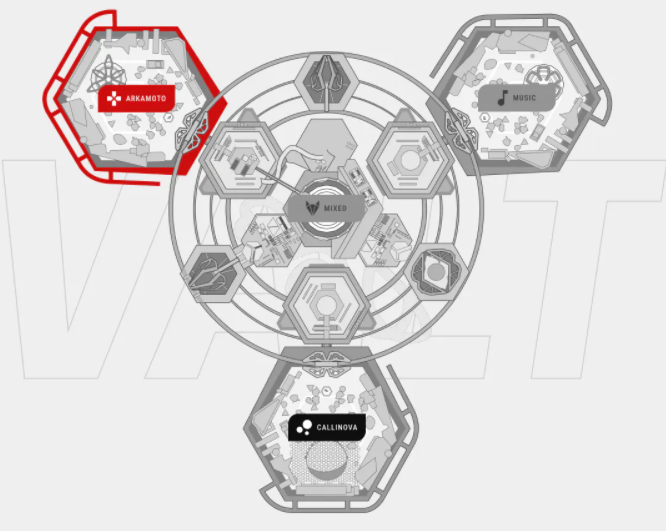 Accordingly, the RFOX VALT consists of five main sections which include the four Quarters:
The Central Hub
"The Central Hub acts as a point of origin for people new to the RFOX VALT. From here users will be able to use Sky Trains to access the 3 detached quarters. This hub also offers educational resources that make it easier for people to jumpstart their journey into the RFOX VALT. Beneath the hub is the fourth quarter, which makes it extremely unique as it is the only quarter below the main surface" [Blackpaper, supra.].
Arkamoto Quarter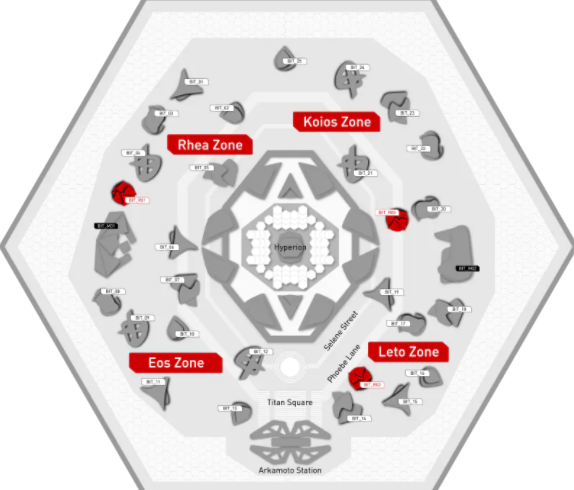 Photo Source
The Arkamoto Quarter is in essence gaming inspired, but despite this fact, this Quarter is suitable for businesses from any industry.
Callinova Quarter
"Callinova is a quarter inspired by art. Although any type of digital business can exist here, there may be a higher focus on events pertaining to art exhibitions and celebrations of the arts and science, such as a Planetarium that will house space exhibitions" [Id.].
Music Quarter and Entertainment/Technology/Open Quarter
These two Quarters at present are unnamed. Within the Music Quarter will be dedicated spaces for live music performances and other music related performances. The Entertainment and Technology Quarter is located below the main hub and when complete will include a race track, a roller coaster, and more adventures.
RFOX NFTs
RFOX NFTs provides users an "end-to-end whitelabel creation, website, marketplace, and shared liquidity pool platform that allows businesses to simply create NFTs without significant technical understanding." [Id.]. Due to the burgeoning growth and innovation in the NFT arena, RFOX intends to continue its search for more NFT growth catalysts for inclusion into its ecosystem.
RFOX GAMES
"RFOX Games is a gaming ecosystem platform that supports the KOGs (Keys to Other Games) NFTs. Each NFT (non-fungible token) is an interoperable game piece that can be used across a number of games, as entry to tournaments, access to select skins, weapons, upgrades and early game access" [RFOX. RFOX Games Litepaper v1.1. (Accessed January 19, 2022)].
RFOX Games presents a gaming economy framework for the entire RFOX Games ecosystem. [The RFOX token] will power the economy for the initial game built on an EOSIO implementation, and for all subsequent games, will act as the main currency for tournaments, purchases (secondary markets to be implemented), trades and new asset creation.
[Id.].
It is RFOX GAMES intent to revamp past arcade favorite games all with a view to making them tournament and esports compatible. Rewards for users engagement and participation are available through RFOX's adoption of a Play-to-Earn model. Multiple methods to execute Play-to-Earn are available and RFOX will implement its model through: Tournaments and Competitions; Leaderboard Prizes for Gaming Outcomes & Initiatives; Trading Competitions and Collection Goals; Badges and Level Awards; Superfan and Community Awards; Referrals and Hosting Tournaments; and, LPs for $RFOX Pools.
"$RFOX or $RFOX-backed tokens will act as the main currency for tournaments, purchases (secondary markets- to be implemented), trades and new asset creation" [Id.]. It is important to note that an allocation of 50 million RFOX tokens have been reserved for use solely by the Gaming Community.
RFOX MEDIA
RFOX MEDIA is an "online media venture building solutions and platforms that allows users to earn rewards for creating content, playing games, and earning through participative contribution" [RFOX. RFOX MEDIA. (Accessed January 19, 2022)]. Within this section you can find the RFOX Academy (a collection of articles archived by RFOX MEDIA) and RFOX TV (which is not yet available and no information is available on the official websites).
RFOX FINANCE
RFOX FINANCE provides its users the ability to easily invest in or invest with the RFOX token. Available mechanisms within RFOX FINANCE are: an Exchange for trading; a Farm to stake Liquidity Tokens in RFOX-ETH; and Pools for the staking of tokens.
The RFOX Token
The RFOX token powers the RFOX VALT and the entire RFOX Ecosystem, acting as a form of payment and utility. It is used for trading fees, liquidity pools, transactions, digital economy formation on RFOX VALT, and the creation of NFTs. The RFOX token is the main currency for RFOX ventures. The single log-in system, additional payment provider integrations, and additional wallet integrations will mean that RFOX can be used for more payment settlements across more chains.
[Blackpaper, supra.].
RFOX Token Utility
Within the RFOX ecosystem the RFOX Token has the following uses:
VALT: it is used to pay for transactions within the metaverse, whether in hosted shops or otherwise.
NFTs: it is used for the purpose of payment for NFTs (KOGs, etc.) as the method of payments.
GAMING it is used for payment for KOGs or other in-game items, and is also the earnings vehicle for gaming rewards and prizes.
MEDIA: it will be used as the payment medium for content such as images or videos once the MEDIA section is launched.
FINANCE: it is the earnings medium for participation in the RFOX DeFi products.
Tokenomics
Note, at present, RFOX is available on both the Ethereum and Binance Smart Chain blockchains.
Per CoinMarketCap, at the time of the writing of this article (January 19, 2022 at 17:45 EDT) there is a circulating supply of 1,310,000,000 RFOX. With the current price of $0.07891 the market capitalization of RFOX (RFOX) is $103,528,822. There is a total supply of 2,000,000,000 coins authorized yielding a fully diluted market capitalization of $157,414,619. Presently, RFOX (RFOX) is ranked No. 416 by CoinMarketCap.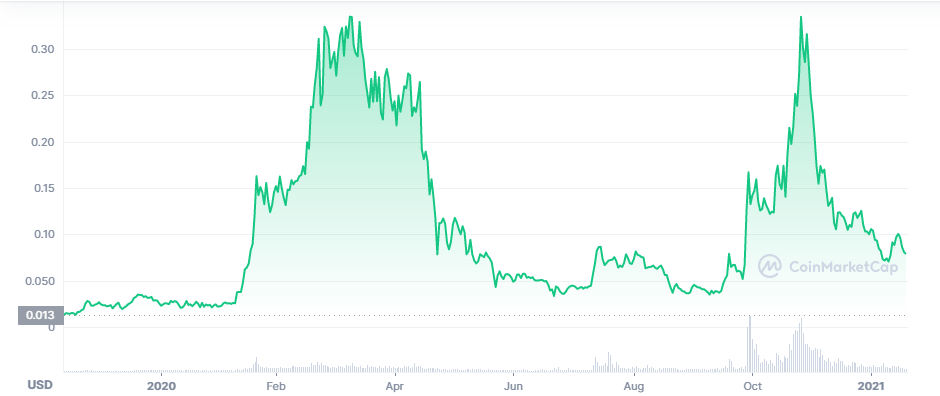 Photo Source
A brief look at the price chart covering the period of the life of this project displays a high degree of volatility. Although the RFOX token is well off its ATH, it presently is significantly above its ATL.
Several Reasonable Price Predictions for RFOX
WalletInvestor has prepared a graph depicting its price prediction for RFOX through January 2023 as follows: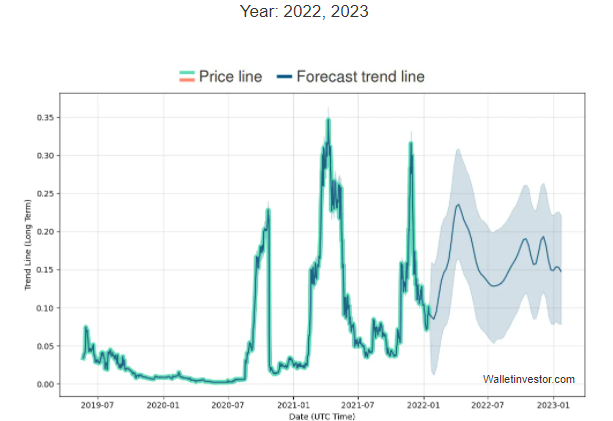 Photo Source
A longer term prediction is presented in chart form by DigitalCoinPrice through 2029 as follows:


Photo Source
And finally, one of the more optimistic predictions for RFOX is presented in table format by TechNewsLeader as follows: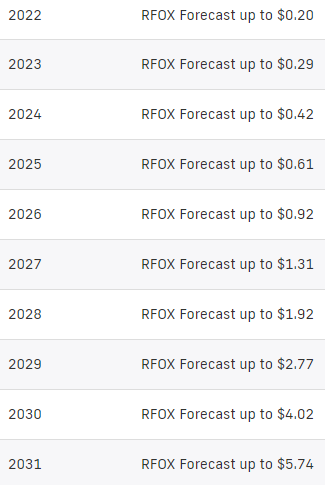 Photo Source
Please keep in mind that while these price predictions paint a rosy future for RFOX (RFOX) as an investment, they are just that - predictions. No one has a crystal ball that can predict and guarantee future price performance and potential returns. As such, if you are a potential investor, you may take the prediction for what it is, as the same is no guarantee of future price performance of RFOX (RFOX) due to the volatility of the cryptocurrency markets.
Some Final Thoughts
RFOX is intended to be a huge metaverse project when fully launched. However, at this time the project remains in its early infancy stages but appears to be moving forward toward fruition.
If you are looking to invest in a metaverse project and do not wish to invest much capital, RFOX is a worthy project for your attention. But please, if you are seriously thinking of including RFOX in your portfolio, do not treat this article as gospel - do your own diligent research on this project before cracking your wallet for it. Be warned the blackpaper/litepaper/and various websites are difficult to follow to discern the important information from the fluff.
This project should be viewed as high risk and accordingly do not invest more than you can afford to lose.
Good Luck!
AUTHOR'S NOTE: This article was originally published on Leo Finance and several other tribes on the Hive Blockchain.