I often use CoinMarketCap to see the market prices, to collect 'diamonds' or to participate in their Learn and Earn campaigns.
I still have not earned anything, but for a little while I will continue to try. The main difference between Coinbase Earn and CoinMarketCap Earn, is that in the first case - as long as you reply correctly, the funds are sent to your account immediately.
Have you ever earned anything from CoinMarketCap? If yes, what wallet do you provide? Which tokens have you earned? Let's exchange some more information :)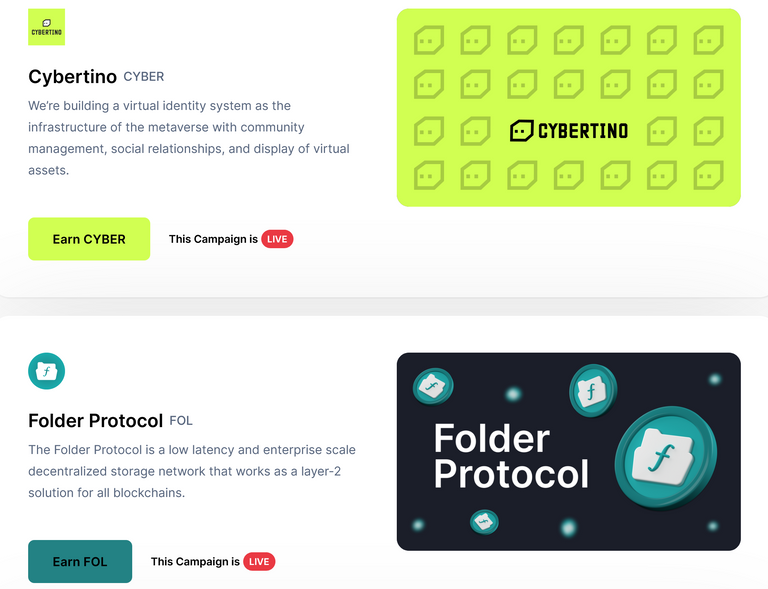 Today I noticed that there are 2 campaigns live. You can watch the videos and check out the information about each one and then get ready to answer the quiz questions.
What you will need before answering:
Have a binance verified account. If you do not have one already, you can use my referral where we can both earn 10% Create a BINANCE ACCOUNT
Have your binance user id (found in the dashboard)
You need to have signed up for an account at CoinMarketCap (only an email is needed)
You will also be asked to provide the link to your public watchlist - so be ready to put both (all) the tokens in your watchlist and have the link ready!
I will not share the answers with you here, because some of you may wish to give their own try.
My answers though agree with these one:
And just to make it a little bit easier for you with less clicks..
Here is the link for the CYBER
https://coinmarketcap.com/earn/project/cybertino
And here is the link for the Folder Protocal
https://coinmarketcap.com/earn/project/folder-protocol
I hope that this is a useful post, I think that we are all happy today because we just witnessed a 46K BTC and we wait to see it stabilize and move forward :)
Have a lovely day and thanks for visiting!
Posted Using LeoFinance Beta