The online World is full of ways from where you can earn a good amount that can be daily, weekly, monthly, and yearly. And there is a lot of competition in the online industry, it is not an easy task to grab the audience's attention on your platform. Investors and guardians are becoming smart and smart day by day so do the platforms they do offer really good discounts and many more things to greet the investors on their platforms.
Hive seems to be one of that, there are so many ways from which you can on a good handsome amount of money daily.
There are many ways to earn money if you are a game lover then sure you can play and on a good amount sure you do have to invest in the game at the beginning but slowly you will get a good return on your investment. And those who are here for a long time sure they all do play a game called Sprinterlands, darling is really good for sure I have her that many of the users have made homes and many more things for them from this game the earnings are really good sure you to have to invest money on the game to all and that is obvious.
---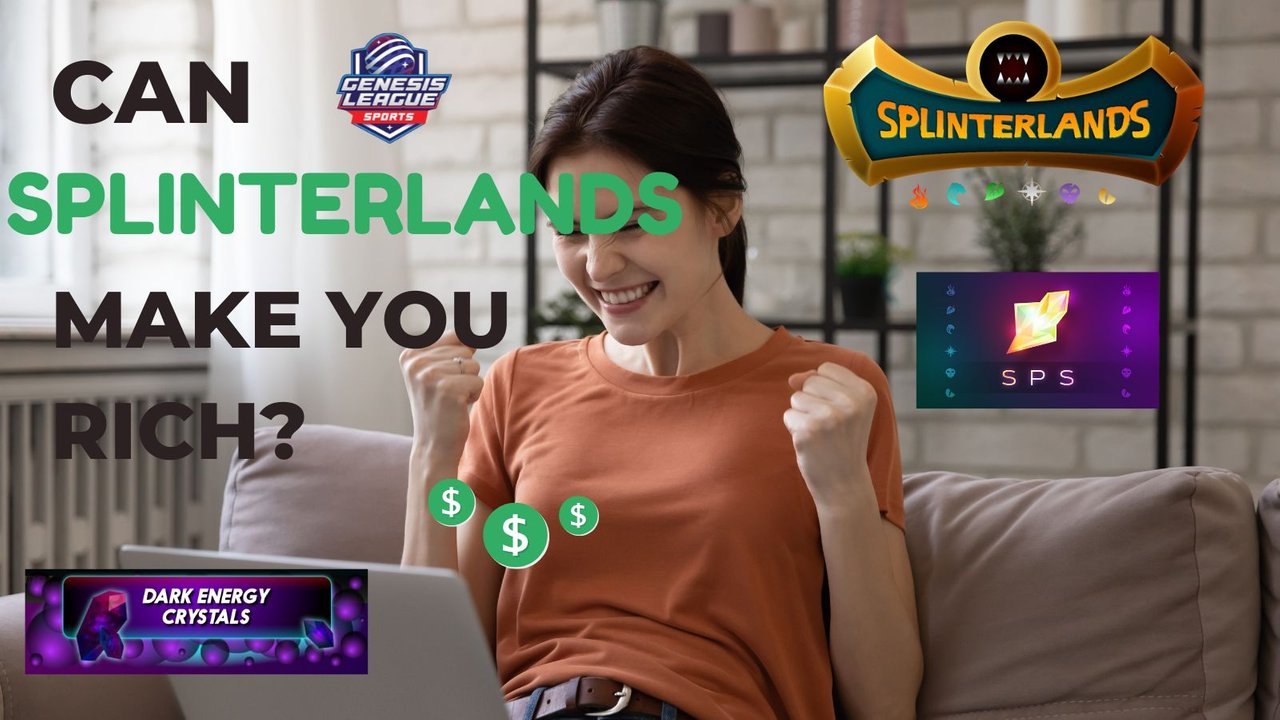 ---
There is nothing for free, if there is something then surely there must be something hidden. Sprinterlands seems to be very promising in terms of returns there are many ways to invest in splinterlands you can buy SPS, dec, credit, license, packs, and cards. The thing is if you do invest in any of them and sure you will get a done after investing in them. If you do love to play card games then Sprinterlands is the best game you should try. You do have to invest a good amount at the beginning but as you do understand the game you will start earning a good amount from that.
Let's say you have invested 5000 USD on the game, you have to buy dec or credit or buy cards if you want to purchase packs you can buy that from hive engine or you can buy that from the official website by using dec. The early days are sure hard for you to understand the gameplay. I have already made the post about that I hope will be informative for you. There are so many YouTube channels and hives that will explain to you how to play at the start and there are several websites from which you can learn the ability and common things about the game.
As you understand the game you can buy cards directly that you think are good for you. If you have invested in cards then that will give you a power by which you can enhance the league on the game. And as you go up on the leagues, the rewards and better (and is so obvious). I have seen many lucky users get really good cards and a good percentage of SPS on their daily reward chests.
As you play daily then you start building your own customized decks to play. We all do have our own strategy to play the game. If you understand the game properly then surely you can manage to kick up very fast for that sure you do have to invest a good amount to buy any good cards as much as possible.
If you play daily you will get daily SPS, cards, positions, and merits in your daily rewards chest. You will also get a seasonal reward chest. The more you can push yourself in the league the better you are rewarded will be. If you Play the game continuously sure you will start getting good rewards and you will understand the game better. You will get a decent amount of SPS when you win a battle and you can get SPS on your daily reward chest.
You can stake that SPS and get a good apr on that. If you will stake SPS you will get a new token that is GLX. Show the process is really amazing. Even if you have invested a good amount in the game and now you don't have enough time to play you can even rent your cards on the market and get daily a passive income from that. You can invest in different pools to get daily rewards from the pool. So basically the investment in the sprinterlands game is really worth it. If you can invest in the game then sure every time is the right time if you do have a good strategic plan with you.
There are daily new players joining the game and to be honest, they are really good, I am sure an old player but it is really hard for me to win continuously back to back on a game. Sometimes I do feel sad about myself but the thing is I don't play with my own account I am really great full to my mentor who teach me how to play his Splinterlands and he gave me his own account to play with. I do learn things daily from my battles should I don't invest many hours in playing the game I do only invest mostly one hour daily in the game. But still, I do think that I am earning well from that, and in my personal account, I am earning daily Dec,sps, and GLX which is good I guess. So if you can invest in games then sure sprinterlands is the best in my opinion so what are you waiting for do check out this game and start earning