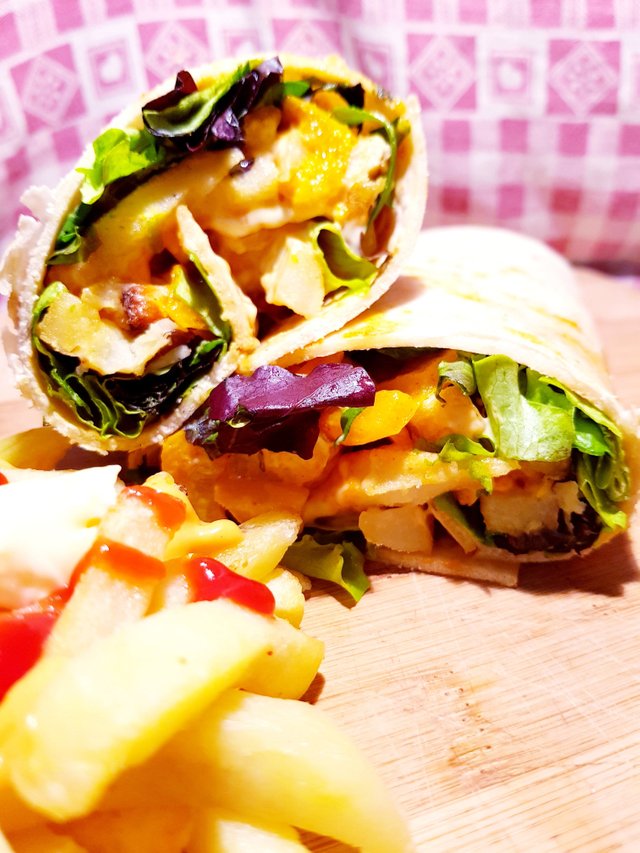 [ITA]
Ciao a tutti! Quest'oggi voglio darvi un'idea su come preparare una favolosa piadina.
In dispensa avevo delle piadine solitarie, quindi ho pensato di creare una ricetta strabuona in poco tempo.
Questa "piadina bomba" è davvero deliziosa e mooolto sostanziosa.
Chi è a dieta non continui a guardare la ricetta! 🤣. Scherzo ovviamente, ogni tanto ci si può concedere qualche sfizio 😄.
Vediamo insieme come prepararla...
ENG]
Hello everyone! Today I want to give you an idea on how to prepare a fabulous wrap.
I had some solitaire wraps in my pantry, so I decided to create a recipe that was very delicious and fast to do.
This "wrap bomb" is really delicious and so substantial.
Those on a diet do not continue to look at the recipe! 🤣. I'm kidding of course, sometimes you can give you some itchs 😄.
Let's see together how to prepare it ...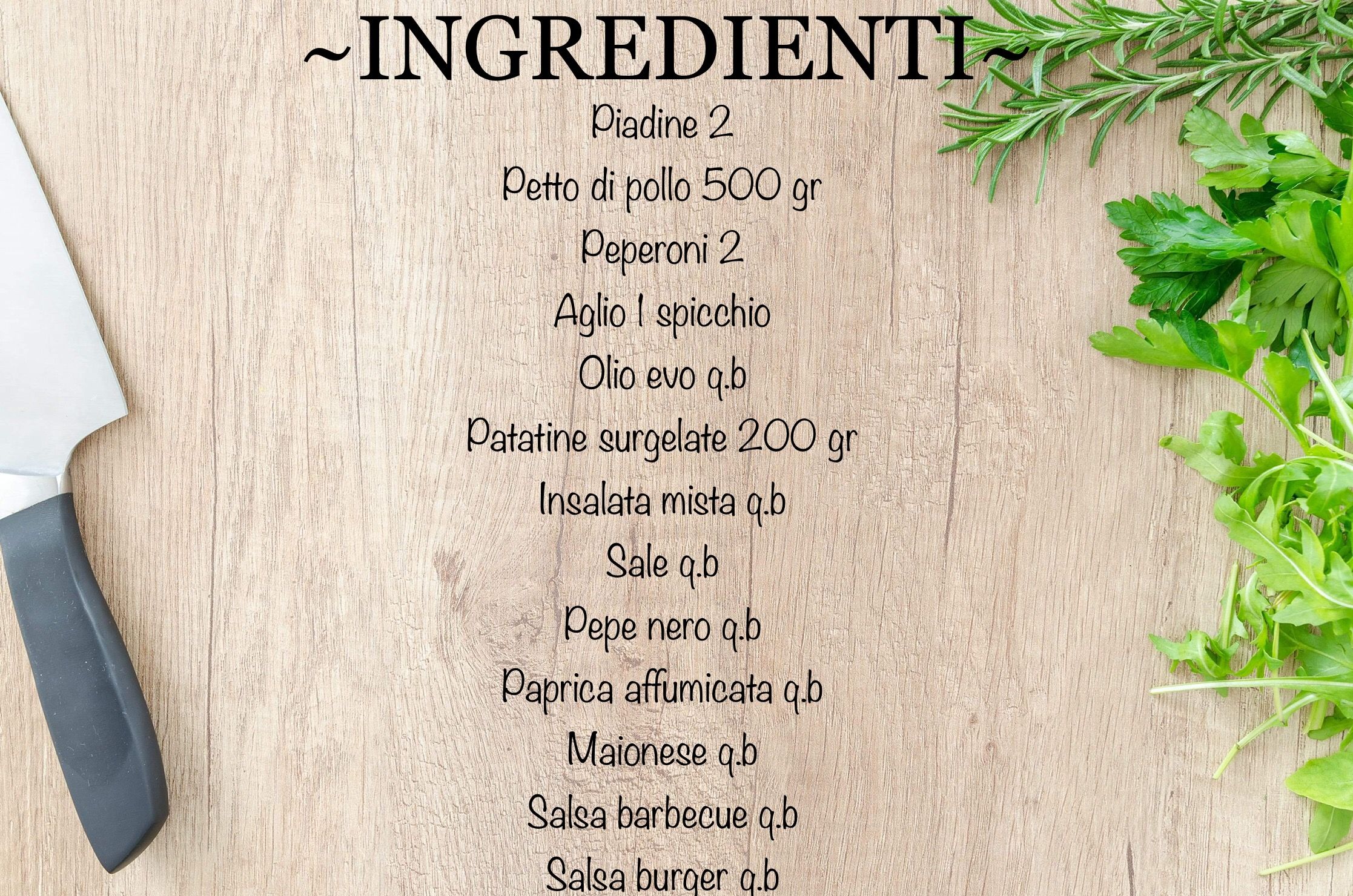 [ENG]
:INGREDIENTS:
wrap 2
Chicken breast 500 gr
Pepperoni 2
Garlic 1
Extra virgin olive oil to taste
Frozen chips 200 gr
Mixed salad to taste
Salt to taste
Black pepper to taste
Smoked paprika to taste
Mayonnaise to taste
BBQ sauce to taste
Sauce burger to taste
PREPARAZIONE
[ITA]
1... Iniziamo a tagliare a cubetti piccoli i peperoni e il pollo.
[ENG]
PREPARATION
1 ... We start to cut the pepperoni and the chicken into small cubes.

[ITA]
2... In una padella versiamo l'aglio tritato con un filo di olio, facciamo soffriggere pochi minuti. Successivamente adagiamo i peperoni, il pollo, il pepe, sale e la paprica affumicata, versiamo un bicchiere di acqua. Continuiamo la cottura fin quando il tutto sarà cotto.
[ENG]
2 ... In a frying pan pour the chopped garlic with a little oil, let it fry a few minutes. Next, add the pepperoni, chicken, black pepper, salt and smoked paprika, pour a glass of water. We continue cooking until everything is cooked.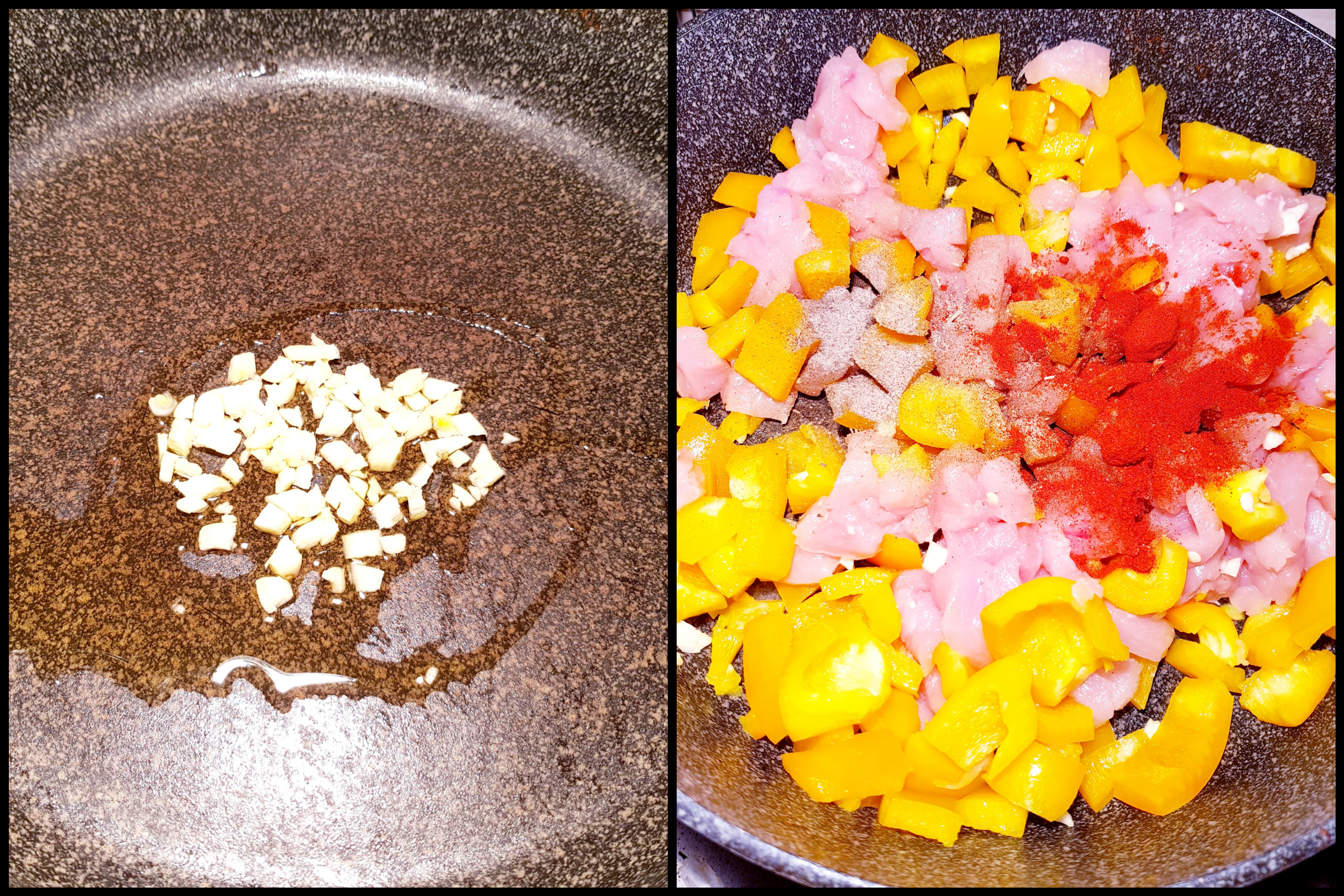 [ITA]
3... Nel frattempo possiamo mettere le patate surgelate sulla teglia da forno rivestita di carta forno a cuocere in forno preriscaldato a 200 °C per 30 min circa.
Se volete potrete friggerle, saranno più buone.
[ENG]
3 ... In the meantime we can put the frozen potatoes on the baking sheet lined with parchment paper to bake in preheated oven at 200 ° C for about 30 min.
If you want you can fry them, they will be better.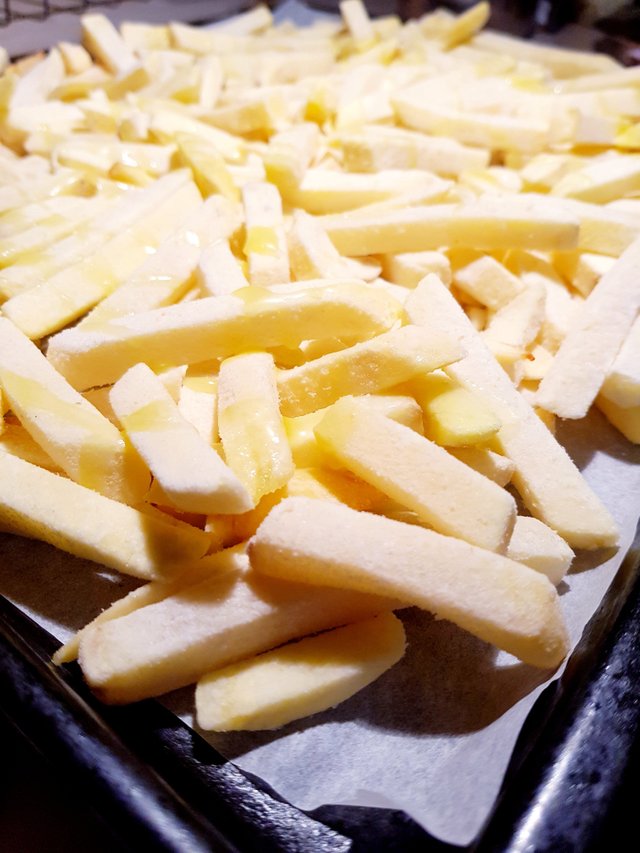 [ITA]
4... Nella padella dove abbiamo cotto i peperoni con il pollo possiamo cuocere la piadina per renderla più saporita. Cuociamola 2 min per lato.
[ENG]
4 ... In the pan where we cooked the pepperoni with the chicken we can cook the wrap to make it more tasty. Let's cook it for 2 minutes on each side.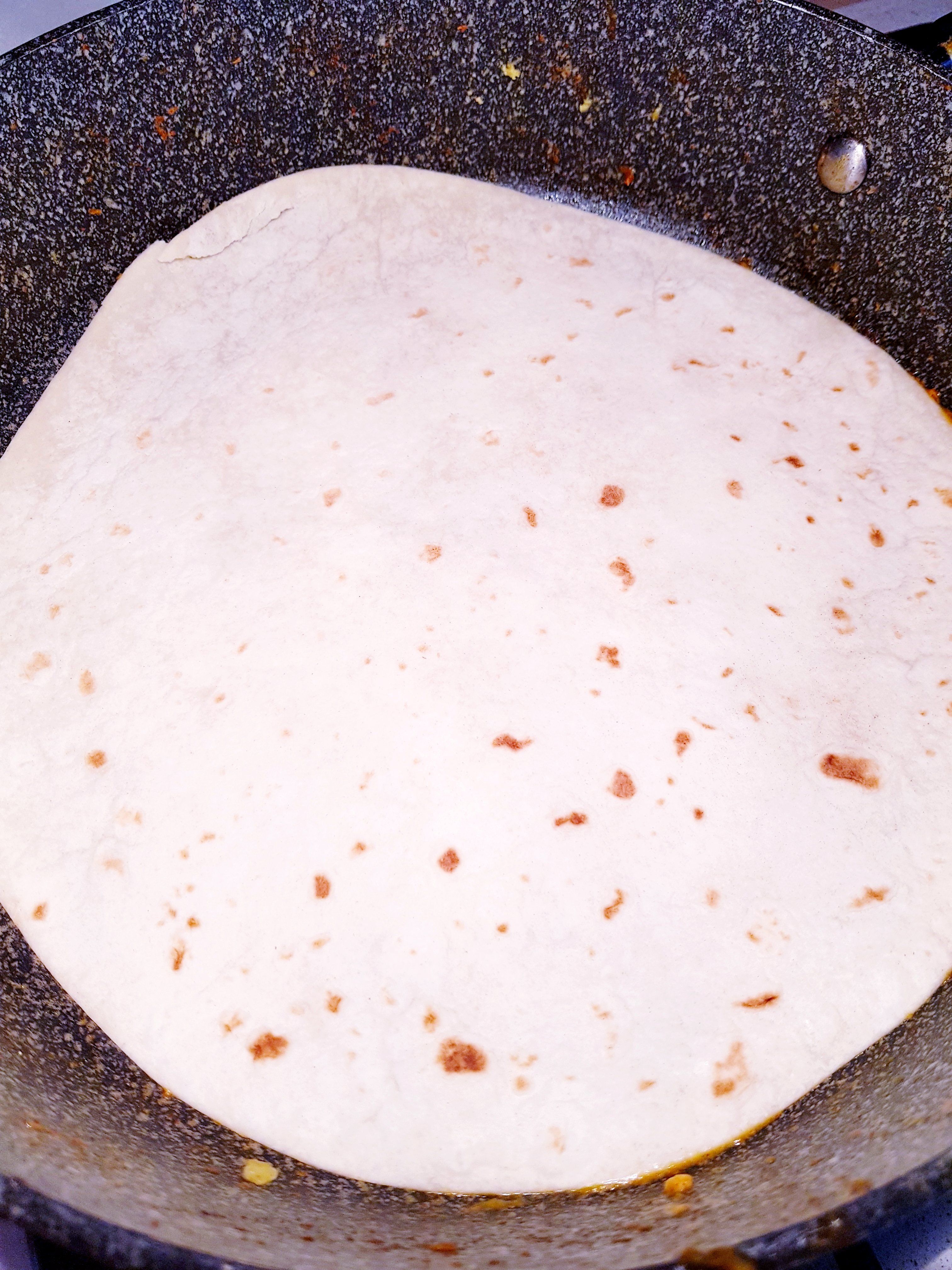 [ITA]
5... Ora mettiamo su un piatto la piadina cotta e iniziamo a farcila. Adagiamo l'insalata mista, pollo, peperoni, patatine e le salse.
[ENG]
5 ... Now we put on a plate the cooked wrap and start to stuff it. We lay the mixed salad, chicken, pepperoni, chips and sauces.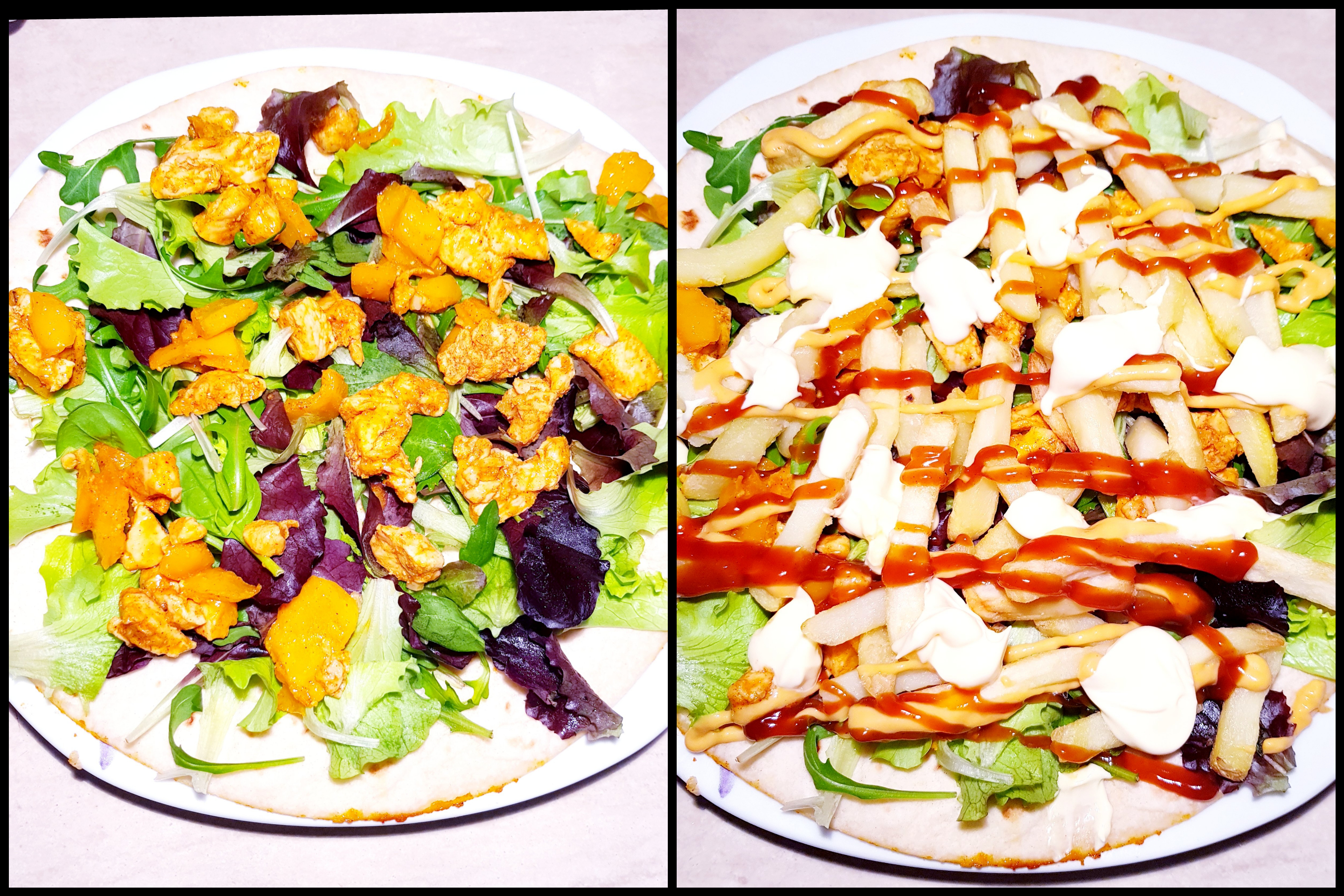 [ITA]
6... E per finire arrotoliamola su se stessa.
[ENG]
6 ... And finally roll it up on it self.

[ITA]
Il risultato è questo!
[ENG]
The result is this!
[ITA]
Niente male direi 😋
[ENG]
Not bad I would say 😋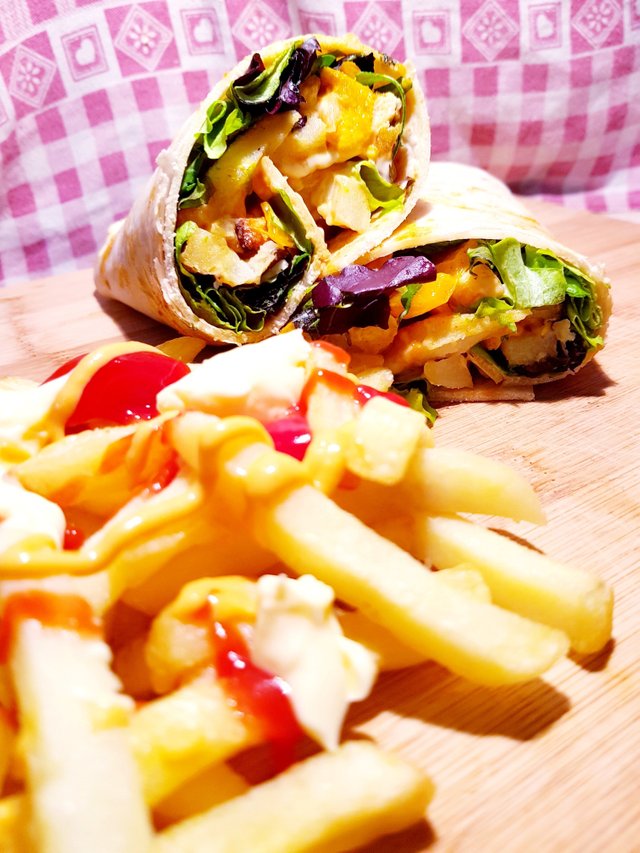 [ITA]
Alla prossima ricetta...
[ENG]
See you next recipe ...
[ITA]
N.B
Tutte le foto sono di mia proprietà.
[ENG]
N.B
All photos are my property.
[ITA]
Questo articolo è stato pubblicato da me prima su Steemit e potrebbe trovarsi anche su altre piattaforme con il mio username.
[ENG]
This article was first published by me on Steemit and could be found on other platforms with my username.