As a Navy Water Survival Instructor, I ran the Helicopter Underwater Egress course using the U.S. Navy's 9D5 (aka the helo dunker).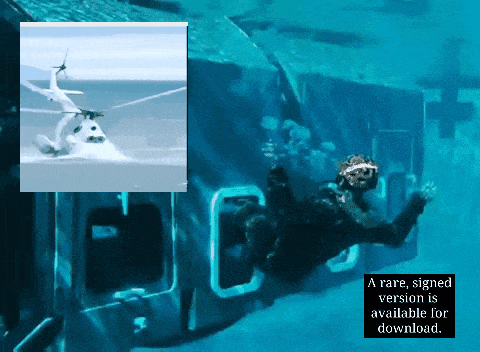 "9D5" 3D.gif
*A rare, signed, higher resolution and non-watermarked version of this image is available for download at: https://creary.net/digitalart/@jaichai/water-survival-training
Funny story.
During helo dunker training, one marine student panicked when the device inverted underwater - like all ditched, top-heavy helos do in real life.
While I was extracting him from the trainer, he actually but my hand!
Afterwards, when he was safe, dry and calm, he apologized and begged me "make things even"; that is, he wanted me to bite him back.
Lol!
May you and yours be well and loving life today.
In Lak'ech, JaiChai
(Source image before animation courtesy of Us Defense Story. Crash.gif from Gify )
JaiChai 21 Apr 2022. Simultaneous multi-site submissions posted. All rights reserved.