Introduction
Blockchain is a decentralized general ledger. It is a computer network that has an identical copy of the database and changes its status (records) to a common agreement based on pure mathematics. All this means that there is no need for any central server or any entity we trust (e.g. central bank, notaries, banks, Paypal, etc.). The blockchain is the technological basis for all cryptocurrencies, whether Bitcoin, Ethereum, Hyperledger, etc.
An important part of the blockchain is the smart contracts, a piece of code that is stored in the blockchain network (in each participant's database). It basically defines the conditions to which all parties using the contract agreement. Therefore, if the required conditions are met, certain actions are executed. Because the smart contract is stored on all computers on the network, everyone must run it and get the same result. This way users can be sure that the result is correct.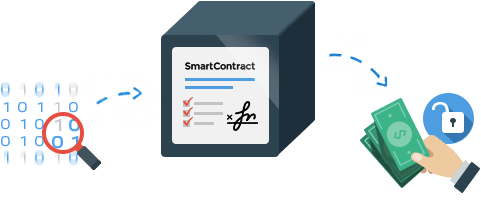 Blockchain and Smart Contracts open many doors to new decentralized businesses and eliminates the need for expensive third parties. Many new companies are now working on this technology, and large companies are testing it in closed networks to collaborate directly with each other without the need for intermediaries.
For that reason, there is a lot of projects that are starting to use this new technology. However, not all of them are worth it. We have to read well what each project is dedicated to, what is its whitepaper, its qualified advisors, etc. As I said, blockchain technology has gained popularity due to the hype about cryptocurrencies which has shaken many startups to launch their own cryptocurrencies even without convincing fundamentals. This trend has emerged because new entrants have been more agile in adopting emerging technologies compared to incumbents who are hampered by legacy systems. However, this competitiveness and this advantage enjoyed by the new players may be short-lived, as no economies of scale are taken into account. Besides, the Cryptocurrency industry is vast and is highly secured using cryptography. This secure lock disables the possibility of any double- spends or counterfeit under any circumstances. While Cryptocurrency seems ideal for transactions, the major hurdle in the cryptocurrency market originates from a paucity of security when transactions are being made. This results in unrecoverable and untraceable losses.
Moreover, the robotics industry is unlocking endless possibilities, especially at a time like the COVID-19 pandemic, when industries are exploring the deployment of service robots for real-life use cases for security.of employees. For this reason, the project I'm going to present you is Megatron (https://nextprotocol.tech/), i am gonna present you the NEXT protocol project created to build and collaborate with next-generation robots and its application to real-life use cases for problem solving such as Covid scenarios, designer robot games, and robot NFTs.
Definition
In more detail, NEXT (https://nextprotocol.tech/) is a company based in the United Arab Emirates, with a presence also in the United States, that actively reprograms and adapts popular robotic platforms such as corobots, to assist humans in commercial and retail workplaces. The NEXT protocol allows you to easily publish robot services using our robots (NEXTiBOTs) and other OEM robots, allow robots to work with their own tokens (deploy and mint business-specific ERC20 robotic tokens), and sell these robot services in the markets. The profits from each robot are shared between the token holders, who will put their robot tokens into play and earn returns.
Goals
With the primary mission of accelerating the benefits of next-generation technology through human-centered design for everyday life, the NEXT goal is to change the world by integrating robots into everyone's everyday life to achieve a more smart.
How it works
The main technology is the NEXTiBOT robot, a world-class robot that doesn't skimp on style and substance. With their unmatched rhythm and fluidity of movement, NEXTiBOTs offer optimal efficiency and technological excellence wrapped in a new design.
Benefits
Meet and greet visitors
Present the company, interact and educate people about security
Guide visitors to their designated place
Check the temperature of the visitors and make sure they are wearing their PPE
Monitoring of attendance and maintenance of employee safety
Contactless delivery of documents, medications and essential items
Disinfection and sterilization of the facilities with UVC, ozonator and chemical nebulization nebulization
Features
Bounty program
The project gives the opportunity to earn NEXT protocol tokens performing some social media tasks and doing simple steps from the bounty program explained into the following Bitcointalk Thread here (BTT_Thread_NEXTprotocol), where you can access the link in order to see what are the conditions to become an early NEXT contributor and start acquiring tokens.
For more information about the project, you can visit and read their WhitePaper available here (NEXTprotocol_WP). You can also stay tuned in their official Telegram Channel (NEXTprotocol_tg). I hope you liked the post and soon I'll send you new ones.
Token details
NEXT protocol token, which symbol is NEXT, is an ERC-20 Token based on Ethereum Network smart contracts that provides token holders with a simple, intelligent, and user-friendly method to move early into the burgeoning Robo economy.
NEXT Token allows:
Developers build their Robot application with their custom tokens on the market for businesses and enterprises to consume and deploy.
Companies can upload and deploy the Robot with their pre-built applications. They can float projects for developers to build new functionality as well.
Players can build Robot games on ROS and run them on Hexacore processors and play and compete in events.
Holders of Robot tokens by betting on NEXT Tokens can obtain partial returns (50%) of the income of Robot applications that are being used in business scenarios through the Blockchain Portfolio Node (tracker) for each Robot.
Roadmap
Social Media Links
Whitepaper: NEXTprotocol_WP
Facebook: NEXTprotocol_fb
Twitter: NEXTprotocol_twt
--------------------------------------------------------------------------------------------------------------------------------------------------
Author Details
Email: [email protected]
Bitcointalk username: adriaparcerisas
Bitcointalk profile link: https://bitcointalk.org/index.php?action=profile;u=1870482
Ethereum wallet: 0x3e10d9Cb6a5af372C00563aA19FEE3122A5C0Cd4