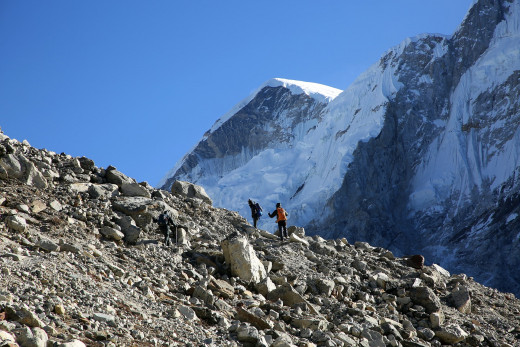 Trekking in Nepal | Source
Trekking is a sports activity that takes you to the mountains and hills on foot. Lately, trekking has been everyone's favorite sport when it comes to travel. Trekking refreshes your mind and soul and takes you a bit far from the daily hassles. Nowadays everyone is busy earning money and they completely forget about their own happiness or compromise on it. But trekking brings you close to nature and give enough room for your self-discovery.
When it comes to trekking, many of us remember Nepal as a popular trekking destination. Nepal is home to 8 tallest mountains in the world out of ten. Being a mountainous country, Nepal gives you enough space for trekking and hiking. Every year around 2 Million tourists visit Nepal to see the majestic mountains and enjoy Nepal's cultural diversity.
Lately, COVID-19 had a huge impact on the tourism industry and every one of us was forced to stay at home. I cannot just explain how bored I was staying in a room for about 6 months completely. Every one of us must have had that feeling of trekking and hiking to the mountains with cool air kissing your cheeks.
As of now, Nepal has opened doors to international trekkers to explore and enjoy their vacation in Nepal. However, a PCR report is a most while trekking in Nepal. Trekking and different mountaineering activities are being carried out with the utmost safety and precautions. So, you might also want to know what the best treks in Nepal are and why is it called so. To answer this question, have listed the top 5 best treks in Nepal based on the reviews and popularity. So, here are my top 5 best treks in Nepal.
Everest Base Camp Trek
Everest Base Camp Trek is a high-altitude trek in Nepal, that takes you to the base camp of the world's highest mountain. EBC Trek opens a door to the spectacular views of the majestic mountains that are over 8,000 M tall. Along with the eye to eye contact with the tallest mountain in the world, Everest, you will see some breathtaking views of the other high mountains such as Makalu (8486 M), Lhotse (8,516 M), and Cho Oyo ( 8,188M).
Along the route to Everest Base Camp, you stroll alongside wonderful grand towns, forests, national parks, religious communities, and some more. You traverse the Dudh Kosi and Imja waterway, strolls on the glacier rocky and elusive pathway; and excellent landscape while traveling. Every one of these highlights of the Everest area makes this trek exceptionally energizing and essential.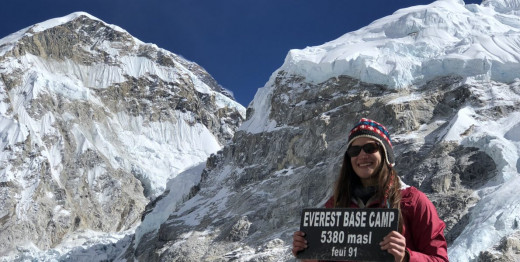 Everest Base Camp Trek | Source
Annapurna Base Camp Trek
Annapurna Base Camp is the most visited trekking route in Nepal. It takes you to the base camp of the mighty Annapurna Mountain, the tenth highest mountain in the World. You will pass some of the Gurung Villages and get a chance to indulge yourself with the local culture. The trails are covered with the Rhododendron trees making the way more colorful and intriguing. If you are a beginner trekker, you must go for an Annapurna Base Camp Trek.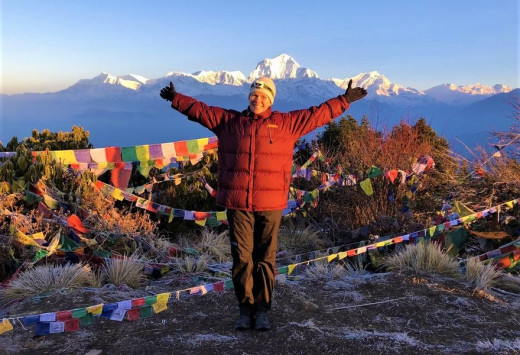 Women posing for a photograph in Ghorepani Poonhill | Source 
Ghorepani Poonhill Trek
Ghorepani Poonhill Trek is the best short trek in Nepal. If you have a limited number of days for your holidays, then this can be the best option for you to go on trekking to the Himalayas. This trek takes you to the Ghorepani Village and to the Poonhill which is a vantage point to watch sunrise and sunset in the Himalayas. The sun rays peeking through the mighty Annapurna will surely blow your mind away.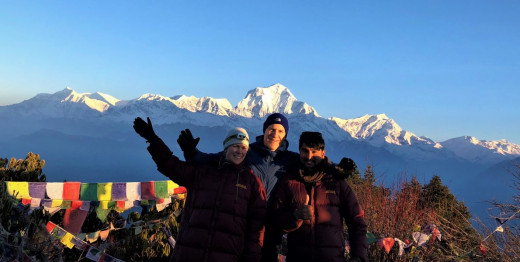 Trekkers Posing for a photograph in Poonhill | Source 
Annapurna Circuit Trek
Annapurna Circuit Trek is a long off the beaten trek in Nepal. It is also considered the longest long-distance trek in the world. It takes you to the high mountain passes like Thorang La Pass and takes you to the deepest George of the world, i.e. Kali Gandaki George. If you have enough days and are fond of long-distance trekking, then you need to try Annapurna Circuit.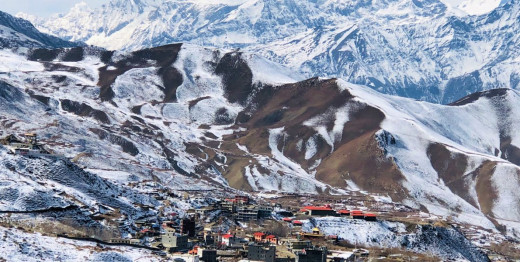 A snow valley in the mountains of Nepal | Source
Mardi Himal Trek
Mardi Himal Trek is another short trek in Nepal. It is a low altitude trek, and you will not feel any altitude sickness on the way to the Mardi Himal Base Camp. It is a virgin trail and you do not have to repeat the path while you are trekking. Upon reaching the base camp you will feel yourself being on the top of the sky, you will see the mountains floating in the clouds. The cold wind that blows will bring a different odor of the Rhododendron flowers on the way. If you need short distance trek and is trekking for the first time, then you must go for a Mardi Himal Trek.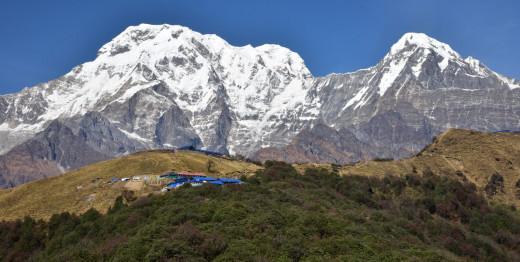 Beautiful Annapurna range captured during Mardi Himal Trek | Source
So, these are the top 5 best treks in Nepal. I hope you enjoyed reading about them. If you have any queries or concerns about trekking in Nepal do not hesitate to message me.