Hello Dear Witches...!
Adding some vegetables in the preparation of breads, brings to this flavor and also the nutritional benefits that this may have, likewise is one of the best alliances we can make when we have children who are not very friends of the same, as is the case of My Mathias, literally hates the pumpkin, I think I gave him too much of this when he was younger, and now abhors it.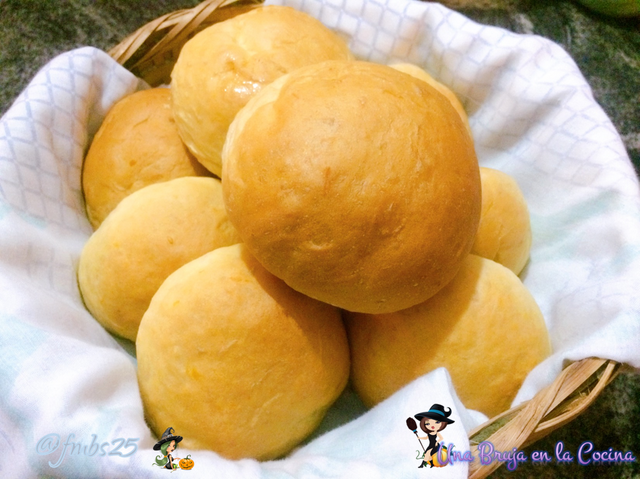 And good since the evil is done, it only remains to solve things, and always look for ways to integrate this type of food into your diet, and one of the easiest and most delicious ways is with bread, which is one of your favorite foods. Making these breads is really very easy, and the truth is that the result is the best, has just the right touch of sweet and salty, which make it ideal either to accompany a good coffee or prepare a delicious sandwich.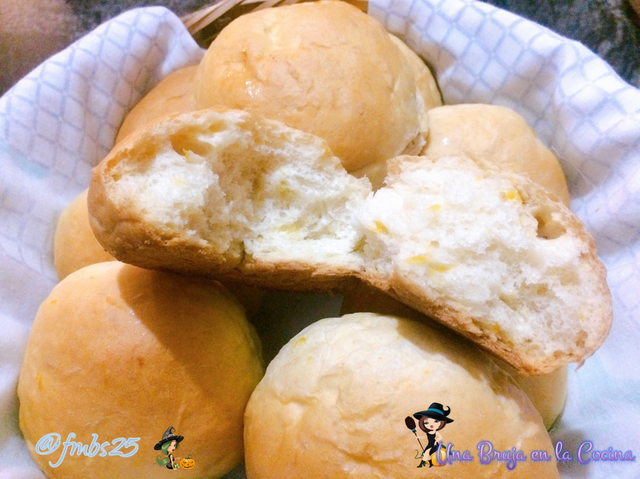 A soft crust bread, and a very rich, spongy crumb, which you use to make delicious hamburgers, that was the result of this recipe. But come with me and I'll show you how easy it is to prepare it. Enjoy!

Ingredients
1 Kg of all-purpose wheat flour.
2 eggs.
16 g dry yeast or 50 g fresh yeast.
150 g sugar.
150 ml of water.
300 gr pumpkin puree.
140 gr of melted butter.
1 tsp common salt
Preparation
.
Difficulty Level: Medium
Preparation time: 120 Minutes
Baking time: 30 Minutes
Yield: 22 Portions.


Whenever I prepare bread, I start with the pre-ferment, this besides minimizing the time of leavening of the bread, it helps me to know if the yeast is in good condition, to do so we put the warm water in a cup, add the yeast and mix, continue adding three tablespoons of sugar (of which we will use in the preparation) plus another three tablespoons of wheat flour, mix everything very well and cover, leaving it inside the oven off for about 15 minutes.



On the other hand we add to the wheat flour the sugar and the salt and we mix, we continue making a hole in the center and adding the mashed pumpkin and the butter mixed with the eggs.



Add the pre-ferment, and it's time to get our hands dirty for a while, integrate as much as we can the mixture into the bowl and then turn over an allowance, to continue kneading between 10 and 15 minutes, until we get a smooth and uniform dough. We have it inside a bowl that we can previously spread with some oil, and we cover it to take it to the oven turned off for one hour, until it doubles its size.



After this time, our mass has already doubled its volume, we proceed to degasify and turn again on the table, where we fold it on itself to make a cylinder of mass, and thus get the portions.



We make portions of 80 gr approximately and form our buns, to arrange them then in a greased tray, which we then cover with a rewinder to let leaven again for 30 minutes and take them to a preheated oven at 180 ° C for about 30 minutes.



If you want you can paint the breads with beaten egg and milk, to obtain a more golden color, however I use only water with a little vanilla because I wanted them just as they were, in addition that gives me a soft crust, as I said before, the result was a success, both in flavor and texture I leave enchanted, and what worried me most, My Mathias loved it! I think I will experiment more often with this type of bread, a good sweet potato bread would be great, we have to try, see and you Which vegetable do you recommend me to experiment with these breads?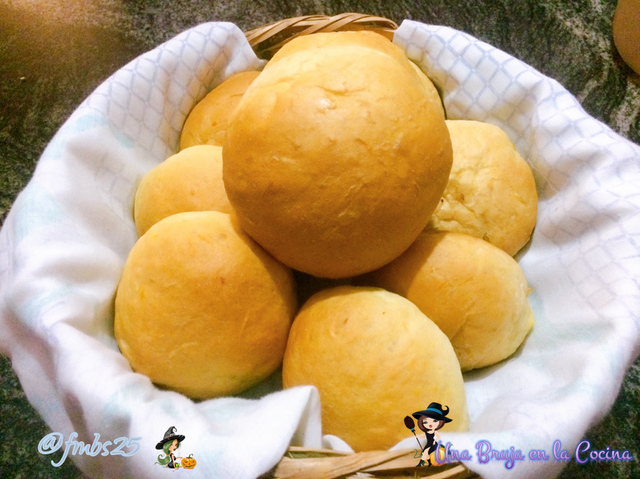 Images of my property, taken with the camera of my iPhone 5s and edited with PowerPoint 2013


Thank you for taking the time to read this publication, if you have any questions, criticisms or suggestions, I would appreciate it in the comments box, and remember, you can also do magic in the kitchen!