At the blockchain gaming dapp Splinterlands, the Dice update is shaking up team strategies once again. It comes with five new amazing legendary cards with the arrival of Dice. I have my opinion of which one is the best. Do you agree? Why, or why not?

---
The best Dice legendary is... OAKEN BEHEMOTH
Just to clear things up, I am thinking of general use. I understand each card has a more specific benefit than others, but I can't help considering OAKEN BEHEMOTH as my favorite! It's good in every situation, no matter what. For starters, even though it doesn't have void or magic repel, it will still tank thanks to dodge and void armor.
But it gets better: it's good in super sneak as the last monster, it's good as the 2nd position in standard ruleset, and of course, it's great as a front line tank. Too bad you can't pick it in the melee only rule set.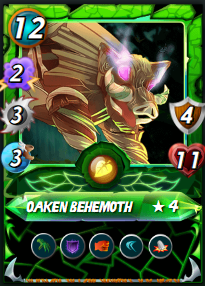 But why use him as a tank? Because you can, not because it's the most efficient card. You'll be able to heal him right up and even repair his armor without worries, as long as you focus on destroying their tank too. That's why knockout is on this card after all. Also, let's not forget how useful he is in 99 mana battles.
This is such a good general use card at all card levels. It might not be your first pick when you're in a tournament, but it should probably be in your team in every 25+ mana ranked battle.
What about you? What's your favorite... And why?