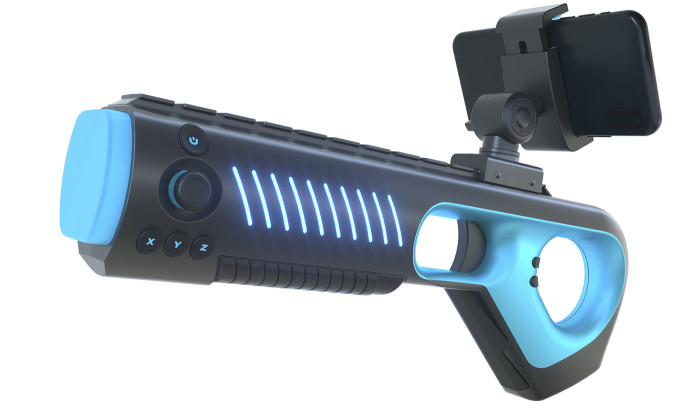 The Arkade Blaster is like VR for shooter games. It is designed with the intent to make mobile gaming easier, more competitive & more immersive. The blaster's buttons can be programmed to make it better for you & has holder for your phone so you don't have to hold it yourself. You aim by "looking" around with the blaster & fire by, obviously, pressing the trigger. Such a cool device!
Get yours NOW at Indiegogo using my referral link! If you can help me be one of the top 10 referrers, I will win a golden blaster. I appreciate your help SO much! https://igg.me/at/wBirxQ3kuaY/emal/20713659
Can it only be used for mobile gaming? NO! It is cross-platform so you can use it with your PC, iOS or Android device as well as Geforce Now & Steamlink. Guess what else? If playing on your PC, you can use your mobile device as an extended screen! This means you can play your PC games in full 360 degrees mode! No need to sit down & stare straight at the screen anymore, get up & feel like you're actually in the game by physically aiming & pulling that trigger! And yes, you can still fully control other parts of the game, including movement & other interactions, just with the blaster. Since you can program the buttons as well, you customize it to your liking. The blaster works for both left & right handed people.
VR too expensive? The Arkade Blaster is a (comparatively) cheaper option to get into VR.
What games are supported?
ALL OF THEM (pretty much) Seriously. If the game exists, you can use the blaster for it.
Obviously, the blaster is designed for shooter/FPS games, so those will give the best experience. This device is FREAKING AWESOME & an innovative new addition to the world of VR.
If you are planning to get one, please consider using my referral link to do so. It would mean the world to me because this will be the first time I can get into any sort of VR stuff. Plus, if you wanna watch gameplay videos with someone using it, I'll be recording videos playing with the blaster on my YouTube channel! It will be such a cool new thing & I am super excited for it! Thanks so much!!