Monday Challenges from D.Buzz
>> Round 77 << | >> Win 10 HIVE tokens <<



Hello friends.


It's Christmas week. Hohoho. One of the aspects of Christmas that we like is the Christmas tree!


The Christmas tree is about being comfortable with who you are and how you feel, about being open to sharing your experiences with others. The Christmas tree is about the joy of connecting to others and doing so with a sense of humor and gratitude. In many families, when the Christmas tree is brought in it's a time when the family gathers around the tree and shares their joys from the past year. The Christmas tree is a time when family bond, when it's okay to argue, but when the arguments happen it turns into a silly discussion about what happened in a funny way. It's a time when you can say anything and people will still love you for who you are because they know you love them back.


The symbolism of the Christmas tree goes back a long way, to around the time of Rome and Egypt when the pyramids were being built. Some people believed that pine bows would even ward away evil spirits and witches in the Middle Ages. In more modern times, it's a tradition that is linked with family. You can read about the history of the Christmas tree HERE.


You pull out a box of ornaments you have collected throughout the years, then adorn the tree with these symbols of the past, remembering the times when you got them, joking and telling stories.


That all brings us to this Christmas week's Monday challenge. Let's have some fun with Christmas trees.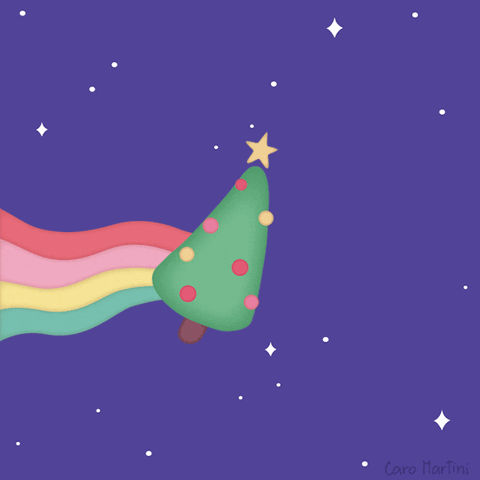 Nyan tree in space? OHHHH Heck yea!
---

Today's challenge


Let's chop down a Christmas tree and toss some ornaments onto it.


There are 2 ways you can complete this holiday challenge.


Option 1 : Post a photo of your Christmas tree and tell us a little about it.

Option 2 : Use the supplied image below and decorate this tree with any ornaments that you like.


Both option 1 and option 2 are acceptable and will be considered valid.


Here is the tree we cut for you to use. We hope you like it. :D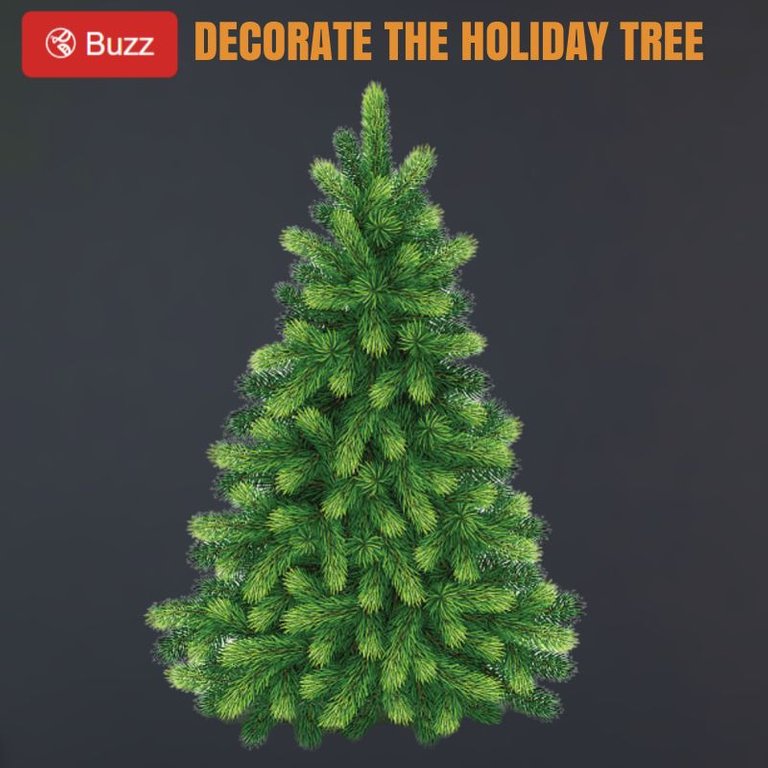 ---

This week's challenge


At some point in the next 6 days...


In a post on D.Buzz, make a post with your Christmas tree (The one you have now, or use the supplied image )


Tell us why you enjoy it so much.


Hashtag that post with #dbuzzholdaiy.


Post a link to your buzz on a comment below.


Use the Buzz to Twitter for an extra high-five from us! ;)


---

Thank You



Rules:


After seven days (Next Monday, at some point), we will select a winner from all valid entries.


We will then make an announcement post on the following Monday and tag you.


The prize will be sent to the winner soon after the winner is announced.


No, follow, or upvote required to join.


---

What is the prize?


The prize is 10 HIVE tokens sent to you.


---

Last Week's Winner!

By random draw, the winner of last week's challenge is...


Who posted this Buzz:
https://d.buzz/#/@blitzzzz/c/bepsaluj8mlzsrroltgvoh


That cake looks SO amazing, wish we could reach into the screen and grab it. :D


Congratulations on winning!


You will receive the prize from our rewards account shortly. :)


---

Thank you for playing!



Questions? Concerns? Comments?


Just comment below.


---

D.Buzz is...


A censorship-resistant short-form microblogging platform that empowers you to share your thoughts in 280 characters or fewer.


Censorship-resistant and built for the community with love.
---

We strive to have a fun and neutral stance on topics. If you have any concerns with the content, please contact @jacuzzi who writes and generates the content for our articles, or the @dbuzz team for clarification.



D.Buzz online at:
Join us on Discord at https://discord.gg/BKg5Ptg9ss