Bi-weekly Development Updates for D.Buzz - Today :
Profile Editing and Long-Form Content!



Hello, fans and friends of D.Buzz!


If you're a blogger, social media influencer, or business owner, you know that the pitch is everything, and while you may be tempted to focus on your product or service, you'll be better off if you focus on your audience.


Today for D.Buzz, we rolled out the solution to empower you to craft the perfect profile and description! Along with this, we are also ready to start Alpha testing on the much anticipated, long-form Enhancement D.Buzz for, Blog.D.Buzz.


Profile Settings.


A strong profile and description can increase your engagement with fans and followers on social media and blogging platforms. To increase your engagement, you need to come up with a compelling profile and description.


The profile is the bio section of your social media account, your profile should be personal and unique to you, while your description should be concise and actionable. Up till now, you had to edit your Profile on a 3rd party platform, however, with today's update you can now edit this all in-house on D.Buzz!


To find your edit options, go to your profile and you see a new button.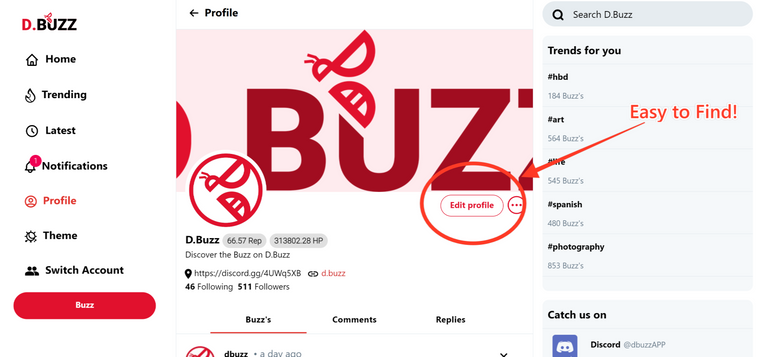 You will bring up to the window with new features to customize multiple parts of your profile.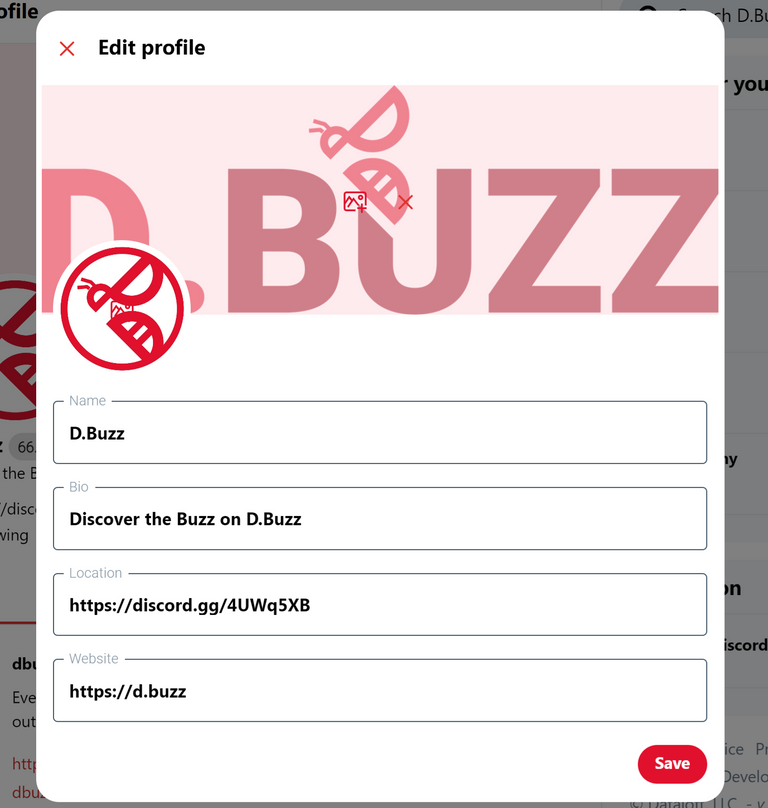 You can upload a new banner by clicking in the center of your banner.


You can upload a new profile image by clicking on the center of your profile image.


You could change your display name (*This not your user name, just your Display name).


You can update your bio.


You can update your location (* Note this is not a clickable link on your profile)


You can update your website ( Note, This IS a clickable link on your profile).


We are excited to see what fun, creative, and colorful profiles people start to design and make!!


---

Alpha of Blog.D.Buzz


Another very exciting announcement is the progression of long-form enhancement to D.Buzz, this is Blog.D.Buzz!


While all the final features are not in place and more options will be added, this is now a usable platform for you to start to generate long-form content.


Login as you would do on D.Buzz with your posting key, and explore the many exciting features and options that are now available.


In time, it will be a seamless transition from short-form to long-form content. For now however please enjoy the alpha version, and as always expect some hiccups as we continue to develop this platform.


---

Full list of Updates


Along with the above updates they're a bunch of additional enhancements and forward progress to D.Buzz. Here are the other notable updates for this week~.


Add ability to filter notification by type.



Now you can filter by, the number of votes, mentions, followers, replies, reblogs, and transfers. This is an awesome way to streamline your follow-ups and connecting.


Add post to Facebook.


Add security features against blatant bot-spam attacks.


Add custom theme for blueberries.


Add get started links found in desktop to mobile view.


Other minor changes.


Fixed page breaking after canceling clear notification using keychain.


Fixed button breaking out of version prompt.


Fixed internal link redirect issue.


Other minor fixes.


---

D.Buzz has come a long way since we first started, and we have not finished our adventure forward yet. As always we have many exciting things in development, and we have a strong team that is growing every day.


We have a commitment to the HIVE platform and to the community to which we serve. Let's keep developing together and make this best content platform on the web 3.0!


---
What do you think of today's updates?


What are you most excited about?


Over and out.


---
---

D.Buzz is ...


Is a censorship-resistant short form microblogging platform that empowers you to share your thoughts in 280 characters or less.


Censorship resistant and built for the community with love.




We strive to have fun and a neutral stance on topics. If you have any concerns with the content, please contact @jacuzzi, who writes and generates the content for our articles, or the @dbuzz team for clarification.