Four Crypto Exchanges Rake In 90% of Bitcoin Trading Volume;
Be Short After $10.3K Bitcoin Price 'Head Fake,' Veteran Trader Warns;
Vitalik Tells CZ to Think Bigger: Crypto Is More Than Just 'Protest' Money;
Bitcoin and Altcoins Consolidating Losses, Upsides Could Be Capped;
Lightning Network Overhaul Could Strengthen Bitcoin Privacy – But Many 'Ifs' Remain;
🗞 Daily Crypto Calendar, June, 3rd 💰
Welcome to the Daily Crypto News: A complete Press Review, Coin Calendar and Trading Analysis. Enjoy!
While bitcoin (BTC) is as a decentralized asset, trading in and out of the biggest cryptoasset remains a relatively centralized process, according to a new report from crypto data provider Coin Metrics.
Although bitcoin is traded against a range of fiat currencies, stablecoins, and other cryptoassets across both centralized, decentralized, and peer-to-peer markets, major centralized exchanges still control an overwhelming share of the market.
More specifically, these exchanges include the major players Coinbase, Bitstamp, Bitfinex, and Kraken.
"Distribution of US dollar quoted spot market volume follows a power law where roughly 90 percent of the volume is concentrated in the top four exchanges in our sample," the report said, adding that institutions interested in getting into bitcoin trading should do so through multiple exchanges "to access the full spectrum of trading activity."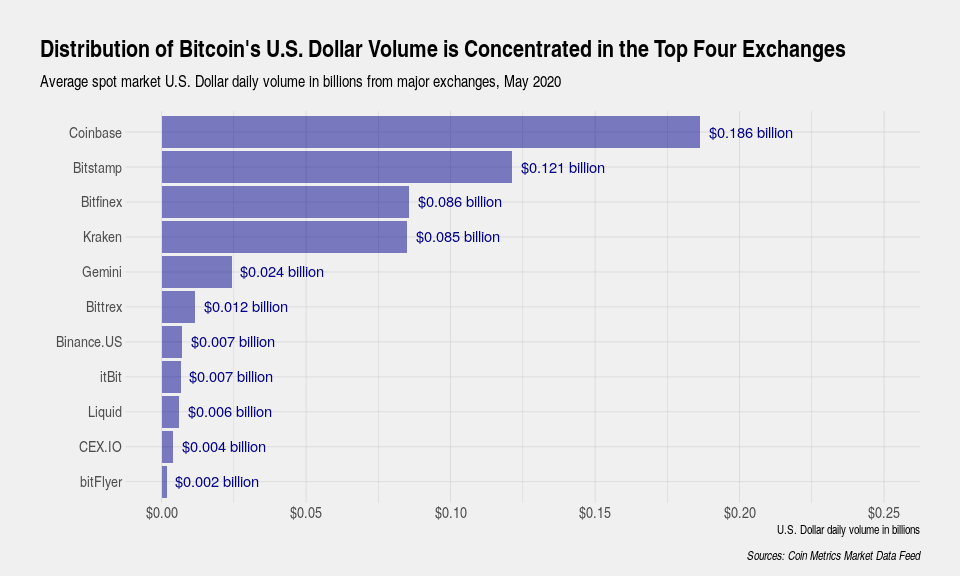 Further, the report also found that although bitcoin's total trading volume is still "minuscule" compared to for example the US stock market, bond market, or the global foreign exchange (forex) market, it is growing fast.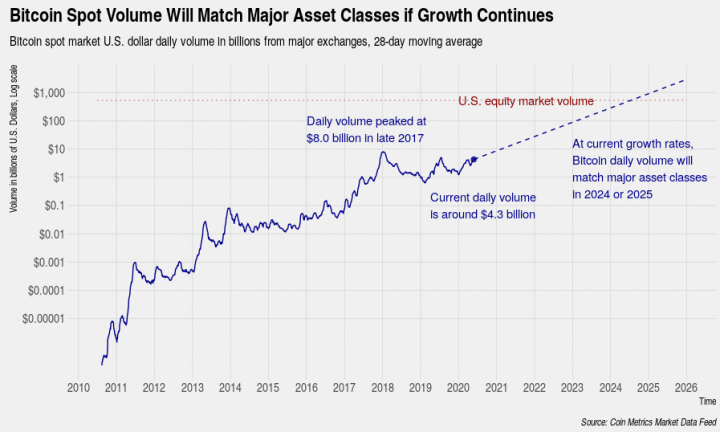 Bitcoin (BTC) hitting highs of $10,300 this week isn't a breakout and investors should brace for losses, renowned analyst John Bollinger has warned.
In a tweet on June 2, the Bollinger Bands indicator creator said that the largest cryptocurrency's brief trip to three-month highs was an anomaly.
Bollinger to traders: Be cautious or short
According to charts showing Bollinger band behavior for BTC/USD this week, the spike above $10,300 took the pair into territory that normally dictates an upcoming bull run.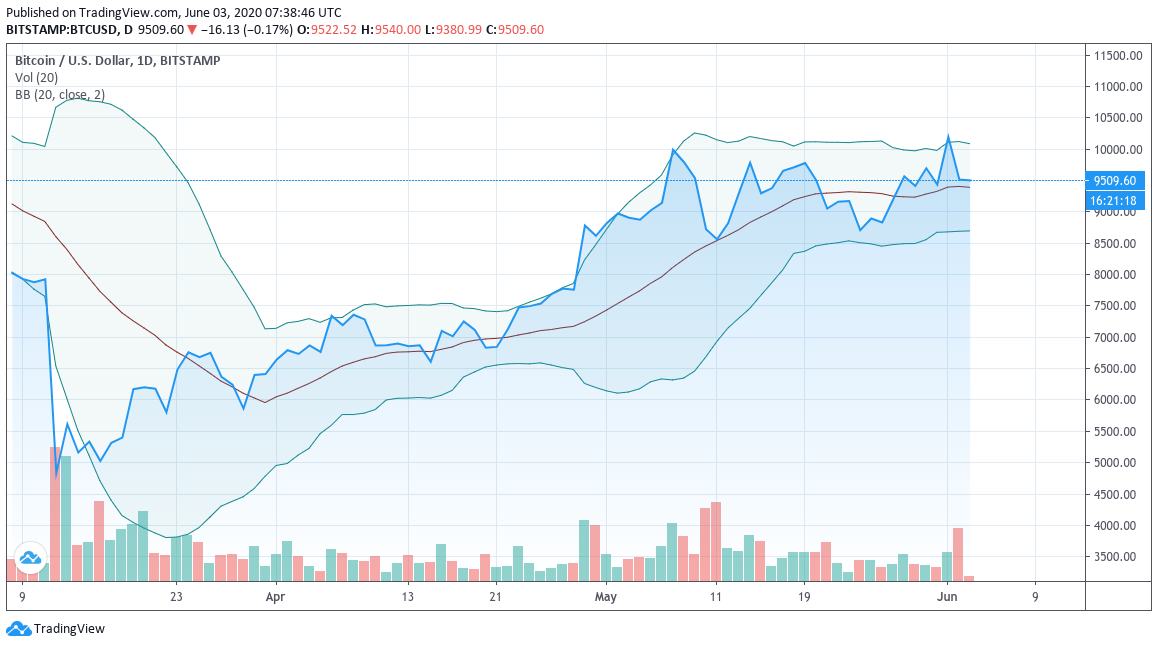 Ethereum co-founder Vitalik Buterin says the current financial crisis is very different to the 2008 Global Financial Crisis that Bitcoin emerged from — and that the crypto community needs to adjust its thinking accordingly.
Writing in a Twitter thread on June 2, Buterin said that some of Bitcoin's most dearly held narratives had not been borne out this time around.
Pandemic and protests
The Ethereum (ETH) co-founder said 2020 is not a repeat of the financial crisis in 2008/2009. Rather, he tweeted, it is a "virus crisis", a crisis of "epistemology" and one of "overbearing policing".
He challenged the idea that the Bitcoin narrative around inflation was an important aspect of the current situation — not least because of the impending spectre of deflation:
"Yes, the money printer did go brrrrr. But that's a relatively small portion of what is going on, and even there inflation is still going down not up."
Bitcoin price nosedived below USD 10,000 and currently consolidating losses.
Ethereum is now trading below USD 240 and XRP is holding the USD 0.200 support.
BCH and LTC also declined more than 5% to trim weekly gains.
Similarly, there was a significant decline in most major altcoins, including ethereum, XRP, litecoin, bitcoin cash, BNB, EOS, TRX, ADA, and XLM. ETH/USD is down more than 5% and it is now (08:30 UTC) trading well below the USD 240 level. XRP/USD is back below USD 0.205, but it is
holding the USD 0.200 support.
Total market capitalization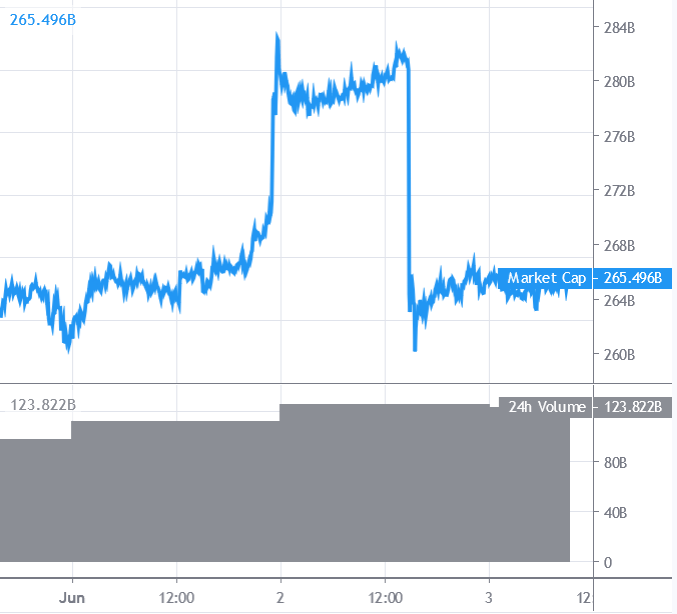 Research is being conducted. Experiments are brewing. Behind the scenes, Lightning Network developers are planning to (eventually) completely rewrite an important part of bitcoin.
Known as Bitcoin's second layer, since most of the action takes place off the blockchain, Lightning is being built out for faster, cheaper and more scalable bitcoin payments. The network is functional today, but it turns out it might make sense to strip out an important part and replace it with new technology to strengthen privacy.
Hashed Timelock Contracts (HTLCs) are an integral piece of the Lightning Network, making it possible to send payments without trusting anyone. Now, developers are exploring replacing them with Point Timelock Contracts (otherwise known as "payment points" or PTLCs), which can do the same thing, they say, but better.
The idea was first proposed by pseudonymous Lightning developer ZmnSCPxj, whose open-source development work is sponsored by Square Crypto, an R&D arm of the Silicon Valley payments unicorn.
🗞 Daily Crypto News, June, 3rd💰

First Block Halving
CryptoAds Marketplace (CRAD)
"CryptoAds (CRAD) listing date: June 3 (Wednesday)"
Don't miss your chance to get answers from our team [CCUniverse -founders] in our Twitter on Wednesday at 9:00 AM (GMT 7:00).
"Theta Guardian Node staking will go live on Theta Mainnet 2.0 on Wednesday, June 3rd!"
"15 Hours left till our AMA session on the #CoinDCX Telegram community to discuss how India is becoming a major territory for our..."
Last Updates


➡️ Publish0x
➡️ UpTrennd
➡️ Minds
➡️ Hive
➡️ Twitter
➡️ Facebook
➡️ Be paid daily to browse with Brave Internet Browser