Bitcoin 90-Day Active Supply Soars to Pre-2017 Bull Run Level: Report;
This Is What EU Wants From Blockchain and DLT;
Huobi Becomes First Major Exchange to Run a Chainlink Node;
DeFi Insurer Nexus Mutual Maxed Out by Yield-Farming Boom;
Stock in Crypto Mining Firms Riot and Hive Massively Outperforms Bitcoin;
🗞 Daily Crypto Calendar, July, 3rd 💰
Welcome to the Daily Crypto News: A complete Press Review, Coin Calendar and Trading Analysis. Enjoy!
An on-chain metric which has been declining since 2017 is now signaling a bullish trend, analysts from Stack Funds say.
"The data provides an indication of two folds. Firstly, the 90d % of Bitcoin active supply has tapered over the past 3 years, from 36% to 17%, suggesting that investors' time horizon has lengthened as Bitcoin are held over longer periods in their wallets," the report states.
"Secondly, prior to the 2017 and 2019 bull run, where Bitcoin hit $20,000 and $14,000 highs against the dollar, there was evidence of steep surges in the 90d % active supply (depicted in the green zones)."
Stack concluded:
"As statistics have shown, a potential run-up in Bitcoin prices can be expected, which has yet to materialise, leading us to believe that the preceding rise in Bitcoin prices could happen sooner rather than later."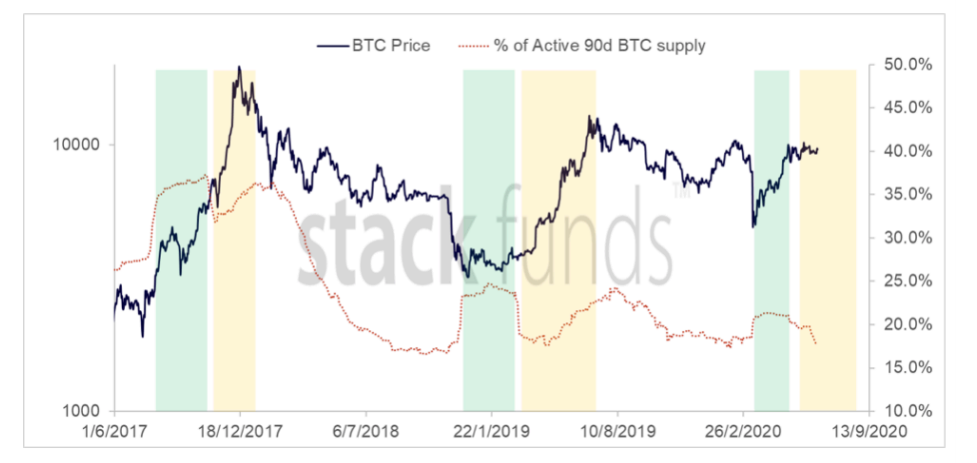 European Union recently rewarded six blockchain / distributed ledger technology (DLT) projects, showing its interest in teams that aim to solve sustainability challenges.
The European Innovation Council (EIC), has awarded EUR 5 million (USD 5.7 million) to six winners of its call to propose ideas for "scalable, deployable and high-impact blockchain solutions for societal challenges." Though there were originally supposed to be five winners, two participants were tied, thus splitting the reward money.
EIC was introduced by the union's executive branch, the European Commission, to support the commercialization of "high-risk, high-impact" technologies in the European Union.
Closing the call in September 2019, the organization received 176 applications from 43 countries. 10% of the proposals came from individuals, 10% from public institutions, and nearly 80% from startups and small and mid-size enterprises.
Huobi has become the first major exchange to run a Chainlink node in an effort to improve data authenticity and integrity.
Major cryptocurrency exchange Huobi will integrate their price data with Chainlink's ecosystem in an effort to improve its own data integrity and provide more accurate price information.
Huobi Wallet CEO Will Huang stated:
"DeFi offers a unique value proposition of providing financial products that are transparent, open, and programmable. We are very excited to accelerate our involvement in this emerging trend by providing Chainlink users access to Huobi Global exchange data, as well as running our own Chainlink Node."
Nexus Mutual is maxed out covering the risks associated with decentralized finance (DeFi) platforms.
"Our product has honestly seen massive interest since yield farming kicked off," Nexus Mutual founder Hugh Karp told CoinDesk in an email. "With potential yields being so lucrative many users are looking to protect themselves against the risk of smart contract failure."
Nexus Mutual provides a way to hedge against the risk posed by smart contracts, with policies that pay out against a failure in the underlying software of a DeFi product within a given time frame.
While shares in Riot Blockchain and Hive Blockchain eclipse Bitcoin's YTD gains, other mining firms have not fared so well — with Canaan crashing nearly 70%.
The share price of Bitcoin (BTC) mining firms Riot Blockchain and Hive Blockchain has produced enormous year-to-date (YTD) gains, with stock in Riot nearly doubling while Hive tripled over 2020 so far.
However, not all mining firms have fared well throughout the COVID-19 pandemic, with Canaan's stock falling nearly 70% since early January, and both Hut 8 and DMG Blockchain seeing scant YTD gains despite experiencing significant volatility this year.
Hive Blockchain has seen a dramatic performance this year, rallying more than 420% from the start of 2020 until mid-Feb, from $0.066 to $0.345. The firm's shares crashed back to $0.118 over the next month as immediate economic fallout from the coronavirus took effect. However, an expansion that saw the Hive double its mining capacity saw its stock rebound to test the $0.033 area by mid-May.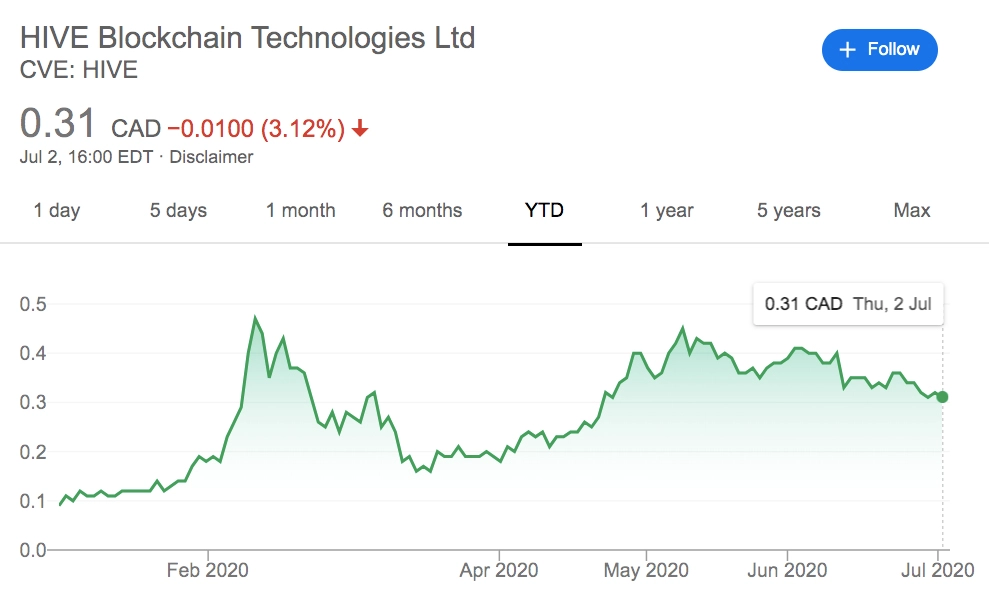 After starting the year trading for $1.22, Riot Blockchain shares rallied to $1.60 by mid-Feb, before crashing to $0.65 in roughly one month. However, Riot produced a strong recovery, gaining over 375% to trade for $3.10 on June 10. The firm's shares have since retraced to $2.29.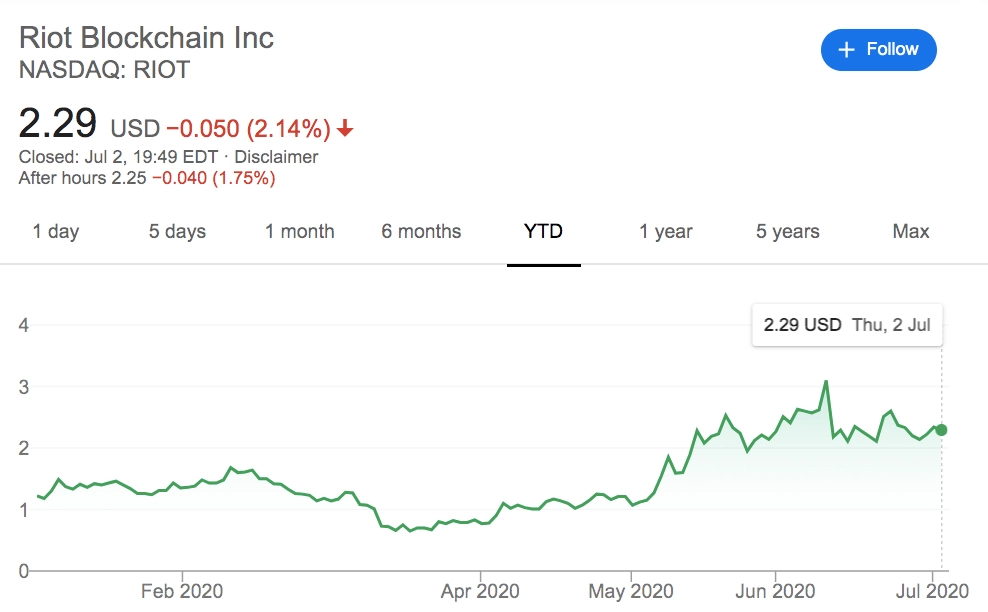 🗞 Daily Crypto News, July, 3rd💰

"Deex launches Witnesses for everyone on the new blockchain!"
"On July 3 at 10:00 am GMT+8, CEO and Co-Founder of PundiX and , CLO & President of @FUNCTIONX_IO will host a video session to talk..."
"Our Security Token Platform Offering Partner, @Talium_fr will be showcasing the platform tomorrow, Friday, at 4pm CET."
"Exciting news! ELF is now available on @ZGexchange . Deposits and withdrawals will be authorized at 14:00 July 3 (GMT+8)."
We're having an AMA with Marija Carola, CMO of Guarda Wallet on July 3rd, 14 UTC.
"Join our AMA from 3-6 July on Reddit to find out more about @NovemGold and get rewarded!"
Last Updates


➡️ Publish0x
➡️ UpTrennd
➡️ Minds
➡️ Hive
➡️ Twitter
➡️ Facebook
➡️ Be paid daily to browse with Brave Internet Browser
➡️ A secure and easy wallet to use: Atomic Wallet