Welcome to the Daily Crypto News: A complete News Review, Coin Calendar and Analysis. Enjoy!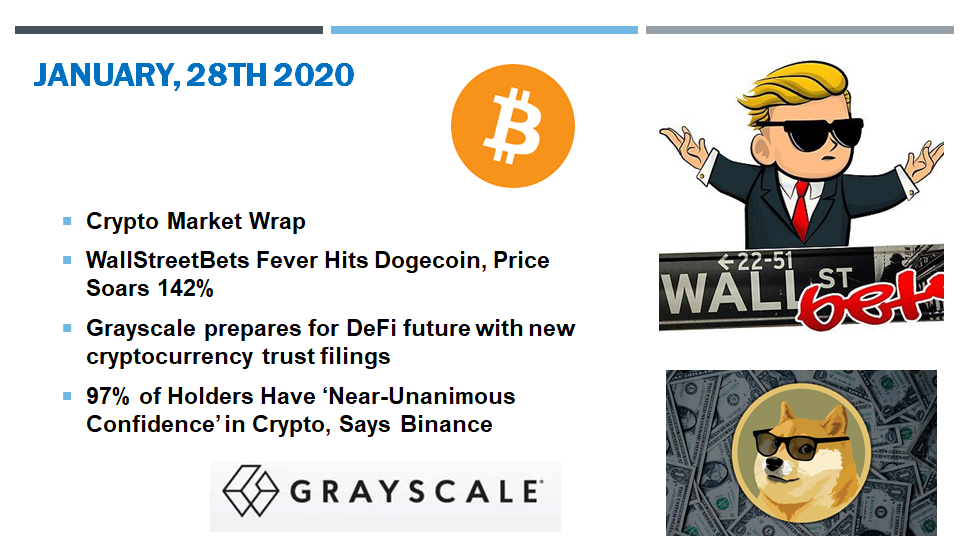 Spot prices in bitcoin are sliding as investors get distracted by other market opportunities. Those include in the decentralized finance (DeFi) ecosystem, which hit a record level of value locked on Tuesday.
Bitcoin (BTC) trading around $31,600 as of 21:00 UTC (4 p.m. ET). Slipping 1.2% over the previous 24 hours.
Bitcoin's 24-hour range: $29,298-$32,939 (CoinDesk 20)
BTC above the 10-hour but below the 50-hour moving averages on the hourly chart, a sideways signal for market technicians.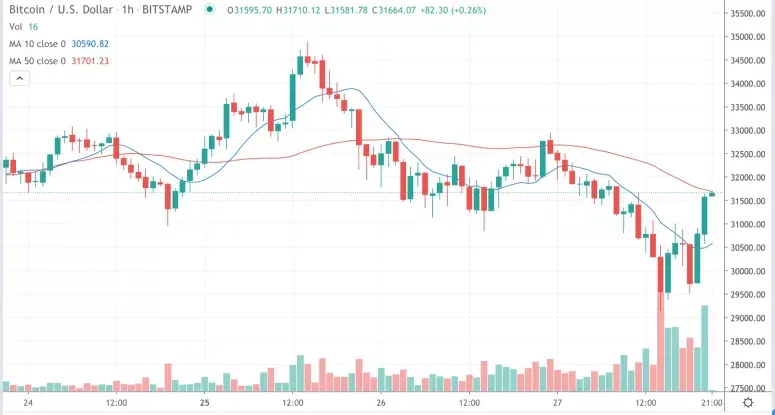 The U.S. dollar index, or DXY, a measure of the greenback versus a basket of other government currencies, is in the green 0.52% at press time after a volatile day and an over 7.3% total decline over the past year.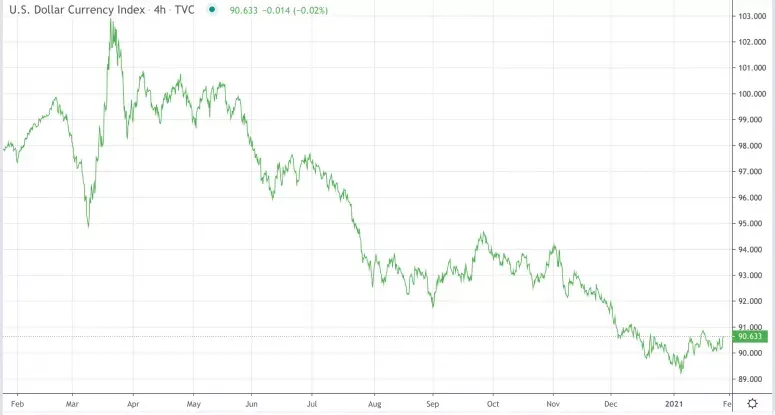 On the institutional side, notional activity on LMAX, known for spot trading by larger-order players, has declined since BTC's last $30,000 price point crossover on Jan. 20. However, it was on an uptrend according to Tuesday's closing data from CoinDesk subsidiary TradeBlock. It's worth noting that over the past month, notional value, which represents the total value of positions, seems to spike nicely with price gains.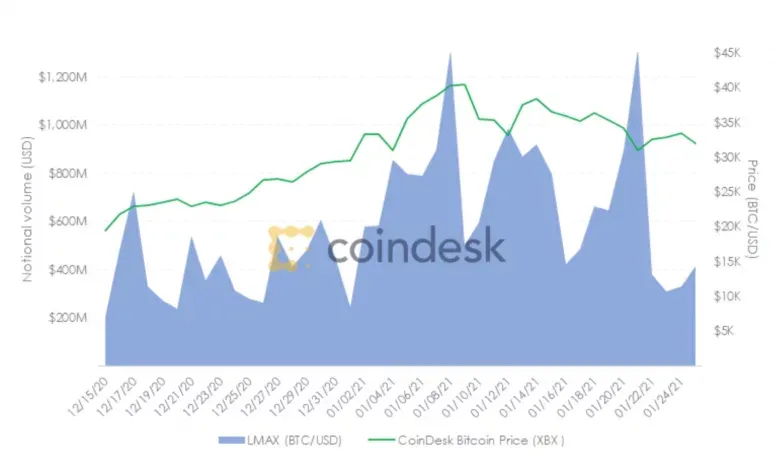 Value locked in DeFi increases over 2,900% in past year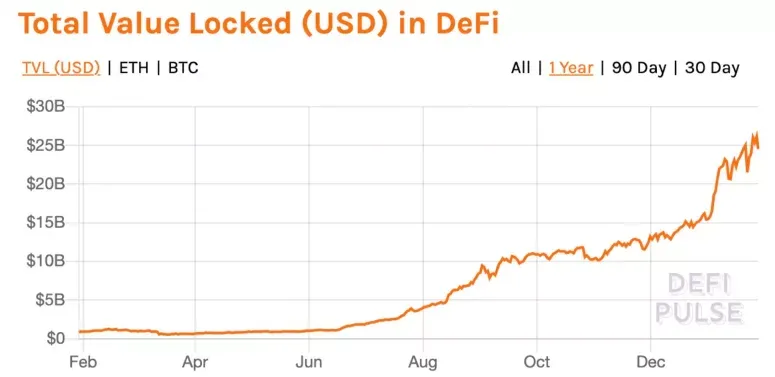 The price of dogecoin (DOGE) more than doubled overnight around the time a popular Twitter account from a WallStreetBets trader mentioned the meme-loving cryptocurrency in a tweet.
The Reddit-based trading community known as r/WallStreetBets discusses stock and options trading and has made headlines in recent days after causing havoc in the financial market by pumping stock and causing major headaches for short sellers.
The "WSB Chairman" Twitter account, which has quickly gained almost 400,000 followers and says it is not associated with the Reddit group, tweeted Thusday: "A lot of you are talking about Dogecoin. What's that? A meme crypto?" In another tweet they asked: "Has Doge ever been to a dollar?"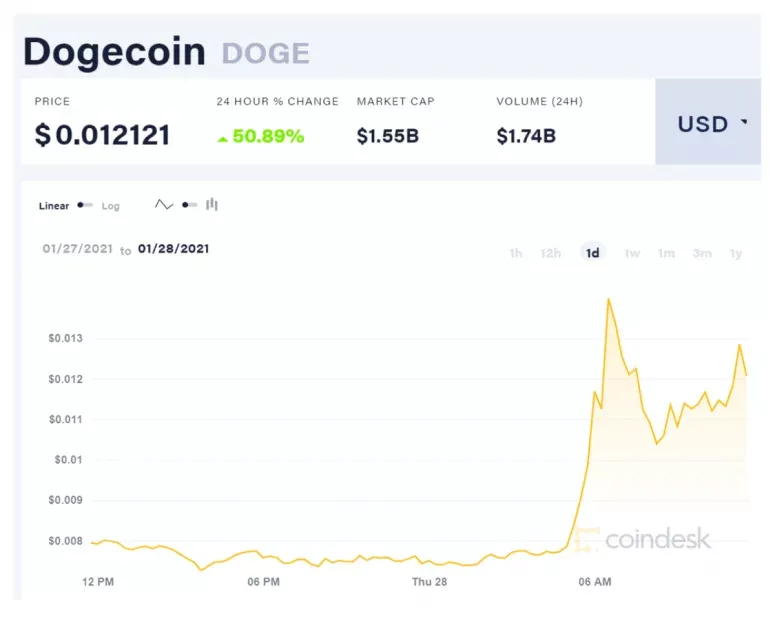 The largest Bitcoin (BTC) and cryptocurrency asset manager in the world, Grayscale, could be set to move into the decentralized finance space after filings for several new trusts were filed in the Delaware corporate registry.
New trust filings for Aave (AAVE), Polkadot (DOT) and Cosmos (ATOM) were filed on Jan. 27. On the same day, Grayscale also registered trusts for Cardano (ADA), as well as privacy coin, Monero (XMR).
Grayscale has since stated that the filings are not indicative of a definite product launch for the five coins mentioned, merely that the firm is laying the groundwork for possible future launches.
"Occasionally, we will make reservation filings, though a filing does not mean we will bring a product to market," the company has told industry media.
The overwhelming majority of crypto holders are confident in digital assets, according to the latest survey report by Binance Research.
More than half of respondents said that they don't consider crypto investing a hobby.
Apart from investment opportunities, distrust of the current financial system is what drives people toward digital assets.
Roughly 97% of crypto users around the world have "near-unanimous confidence" in digital assets, according to the "2021 Global Crypto User Index" published by Binance Research today.
"According to the findings, there is a near-unanimous confidence in cryptocurrencies (97%) amongst users. More than half (52%) do not consider crypto investing as a hobby, but instead as a means of income; for 15% of users, crypto is considered their primary source of income," said the report.
🗞 Daily Crypto Calendar, January, 28th💰

"Poll 1 relates to Network Fee Usage | 1) Mosaic Fees | 2) Namespace Rental Fees | 3) Voting Fee Rewards (Finality voting) Poll runs..."
"The proposal for Cosmos Hub to upgrade to Stargate is live! Details: Cosmoshub-3 to upgrade to Cosmoshub-4 on Thursday, Jan 28th..."
"Thank you for participating and distribution will take place on January 28th 2021"
Aave (AAVE), Cardano (ADA), General Event (CRYPTO), Monero (XMR), NEM (XEM), Tezos (XTZ), XRP (XRP)
"Our speakers are the innovators, thought-leaders, and decision makers of the blockchain industry."
"500 Lucky users have been whitelisted for the Presearch Nodes & New Search Engine Closed Beta so far! Public launch: January, 28th!"
"XT_EXCHANGE will list MATIC... Trade: 16:16 Jan 28 (UTC+8) "


➡️ Youtube
➡️ Twitter
➡️ Hive
➡️ Publish0x
➡️ UpTrennd
➡️ Read.cash
➡️ LBRY
➡️ Spotify
➡️ Be paid daily to browse with Brave Internet Browser
➡️ A secure and easy wallet to use: Atomic Wallet
➡️ Invest and Trade on Binance and get a % of fees back
➡️ Check out my video on Unstoppable Domains and get 10$ off a 40$ domain purchase
➡️ Get 25$ free by ordering a free Visa Card on Crypto.com using this link or using this code qs4ha45pvh