Welcome to the Daily Crypto News: A complete News Review, Coin Calendar and Analysis. Enjoy!
Bitcoin made some gains Friday, but ether hit another brand-new price high ahead of CME's ether futures launching on Monday.
Bitcoin (BTC) trading around $37,751 as of 21:00 UTC (4 p.m. ET). Gaining 0.32% over the previous 24 hours.
Bitcoin's 24-hour range: $36,637-$38,332 (CoinDesk 20)
BTC below the 10-hour but above the 50-hour moving average on the hourly chart, a sideways signal for market technicians.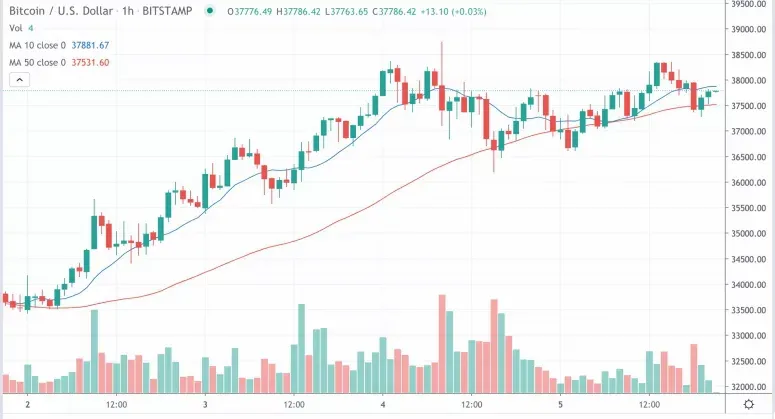 The price of bitcoin is now in the fourth day of an upward trend, going as high as $38,332 at 14:00 UTC (9 a.m. ET) before losing some steam heading into the weekend. It was down to $37,751 as of press time.
"Similar to the last bull run, we are seeing bitcoin initially steal the attention as retail adoption pours in through mainstream attention," said Michael Gord, chief executive officer for trading firm Global Digital Asset.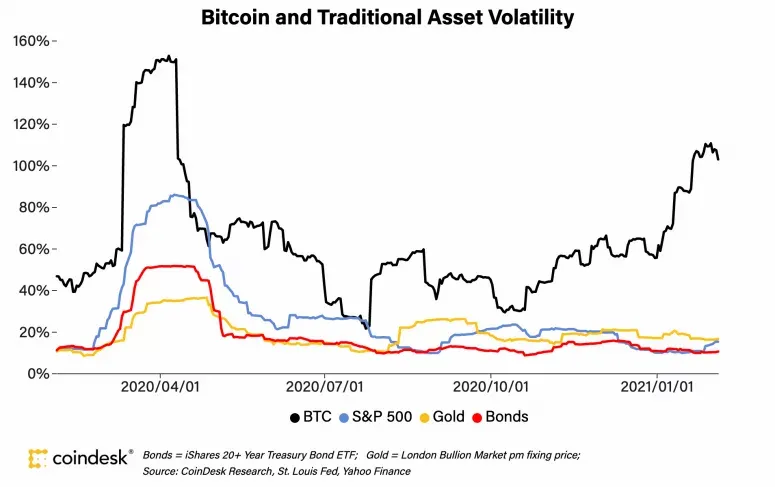 Ether dominance up ahead of CME launch
The dominance of ether, a measure of the asset to the larger $1.1 trillion market cap of cryptocurrencies overall, is now at over 17%. That's a more than 50% increase since the beginning of 2021, according to metrics calculated by charting software TradingView.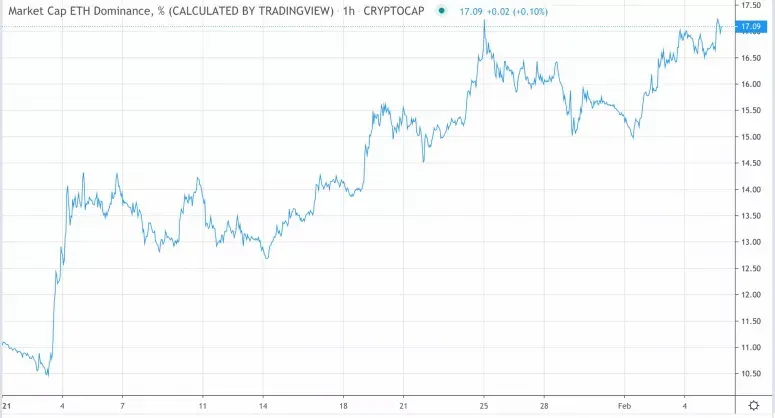 Chad Steinglass, head of trading at CrossTower Capital, told CoinDesk that crypto traders have been scooping up ETH ahead of institutional-friendly CME launching ether futures Feb. 8. "I think that many traders are building positions ahead of the launch," he said.
"The availability of CME-listed ETH futures could be a significant positive catalyst," said Steinglass. "The addition of CME futures will open the door to many potential investors who want to have exposure, but have yet to take any positions due to logistical hurdles."
Crypto exchange Bitfinex claimed Friday it repaid the remaining balance of a $550 million loan to its sister firm, Tether, the issuer of the tether (USDT) stablecoin.
In 2018 the exchange borrowed more than $600 million from Tether, with which it shares executives and ownership. The transaction was made public in April 2019 after the New York Attorney General's Office (NYAG) alleged Bitfinex lost $850 million in customer and corporate funds to payment processor Crypto Capital Corp., and used funds from Tether's reserve to secretly cover the shortfall.
Tether, the most-used stablecoin, has a total market capitalization of $28.31 billion at the time of writing. Data from Glassnode shows that tether's market capitalization more than doubled in just five months.
As of April 30, 2019, the USDT stablecoin was only about 74% backed by fiat equivalents, according to Tether's general counsel, Stuart Hoegner, because of the loan and a credit line Tether opened for Bitfinex to cover the lost funds. Hoegner is also the general counsel to Bitfinex.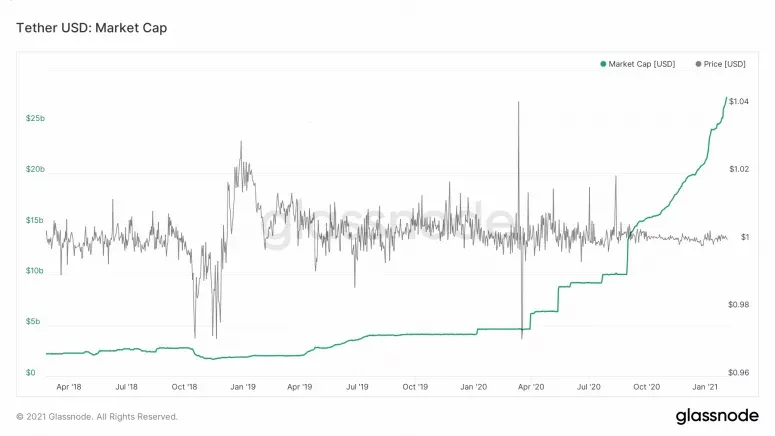 On its way to another all-time high for price, Ethereum hit another milestone.
According to data from blockchain explorer Etherscan, the Ethereum network reached 1 billion transactions today.
The Ethereum blockchain went live in 2015. In May 2017, it broke 100,000 daily transaction for the first time—then 1 million in January 2018 as the price rose to then-record highs above $1,000.
After the bull market gave way to a bearish one, daily transactions cooled, averaging between 500,000 and 1 million per day. But since June 2020, transactions have consistently peaked above the 1 million daily mark, driven upward by the use of decentralized finance applications built atop the blockchain.
DeFi apps such as Aave and Uniswap allow traders to earn interest on their holdings and swap assets without going through a centralized bank or exchange.
Paypal is launching a new business unit dedicated to cryptocurrency services, the company chief executive officer Daniel Schulman announced this week.
In an earnings call on February 3, 2021, Schulman said the existing financial system is outdated and that his firm will be investing a lot of money into blockchain and digital currencies. Schulman explained:
We all know the current financial system is antiquated, and we can envision a future where transactions are completed in seconds, not days; a future where transactions should be less expensive to complete; and a future that enables all people to be part of the digital economy, not just the affluent. We are significantly investing in our new crypto, blockchain, and digital currencies business unit in order to help shape this more inclusive future.
The new crypto business unit is expected to launch later this quarter. The CEO also revealed that customers will be able to use crypto to pay for goods and services at Paypal's 29 million merchants worldwide. This service is expected to be rolled out before the end of this quarter.
🗞 Daily Crypto Calendar, Ferbuary, 6th💰
TomoChain (TOMO)
"TomoChain Halving ETA date: Feb 06, 2021 04:26:36 UTC"

VIDT Datalink (VIDT)
"Feb 6th: VIDT Datalink 2021 Roadmap | Our new roadmap will be presented tomorrow and it is looking goood!"
CryptoKek (KEK)Wabi (WABI)
Don't miss our AMA on Youtube @Cryptokek, where Jayco Joerin (Founder + CEO) will talk about the future of Cryptokek, TA and more!
"WIP-26: Should we use 10K WING as incentives to increase the liquidity of pWING trading pairs?"
"DxSale Network (SALE) | Upcoming listing on 6th FEB 2021"
Electroneum puts greater focus on user experience as new sign-ups show sustained growth.
➡️ Youtube
➡️ Twitter
➡️ Hive
➡️ Publish0x
➡️ UpTrennd
➡️ Read.cash
➡️ LBRY
➡️ Spotify
➡️ Be paid daily to browse with Brave Internet Browser
➡️ A secure and easy wallet to use: Atomic Wallet
➡️ Invest and Trade on Binance and get a % of fees back
➡️ Check out my video on Unstoppable Domains and get 10$ off a 40$ domain purchase
➡️ Get 25$ free by ordering a free Visa Card on Crypto.com using this link or using this code qs4ha45pvh