Welcome to the Daily Crypto News: A complete News Review, Coin Calendar and Analysis.
Enjoy!
Bitcoin's price is slipping while the amount ether parked in DeFi is in neutral.
Bitcoin (BTC) trading around $11,397 as of 20:00 UTC (4 p.m. ET). Slipping 1.3% over the previous 24 hours.
Bitcoin's 24-hour range: $11,313-$11,730
BTC below its 10-day and 50-day moving averages, a bearish signal for market technicians.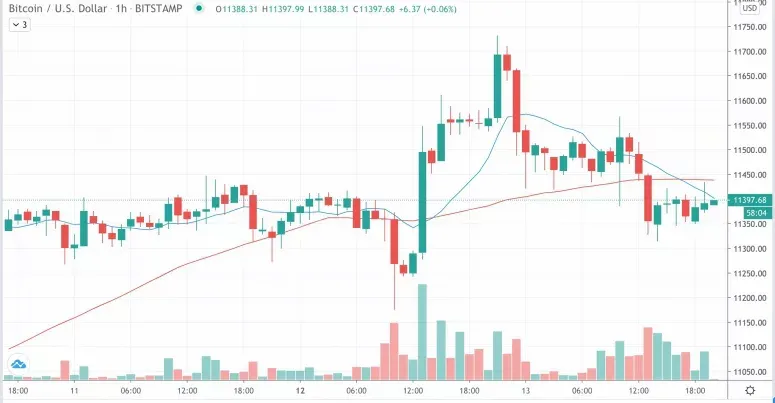 Indeed, bitcoin's implied volatility, which forecasts price gyrations and is used often by options traders to analyze trading strategies, is at a low not seen since July.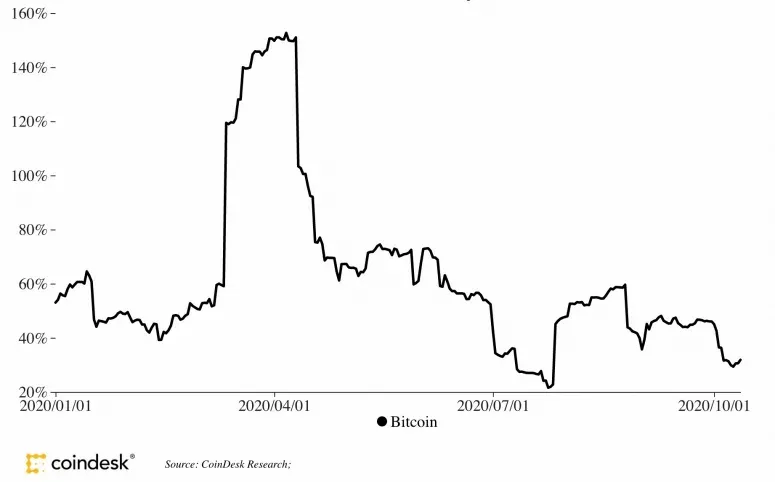 Ether locked in DeFi stalls
Since Sept. 18, the amount of ether "locked" in decentralized finance, or DeFi, has remained relatively flat, averaging around $8.26 billion. Ether holders park the cryptocurrency in various smart-contract based protocols on the Ethereum network and receive a "yield" in return.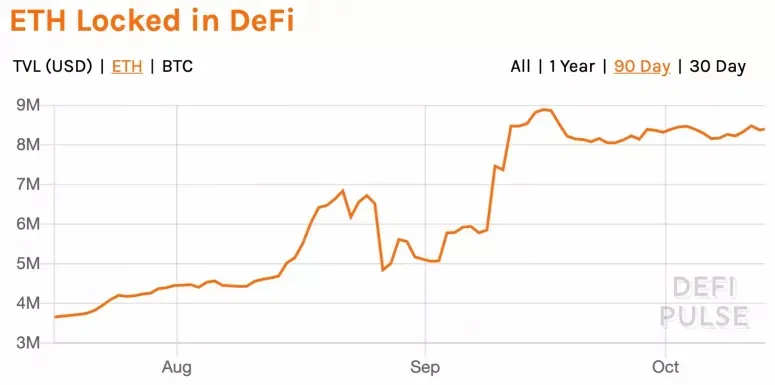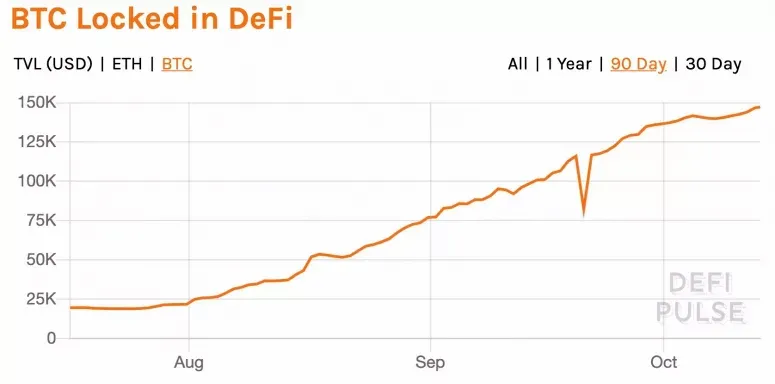 A new report predicts Tether could surpass Ether's market cap by the end of next year, paving the way to mainstream adoption of stablecoins and central bank digital currencies (CBDCs).
According to Bloomberg's Crypto Outlook report for Q4 2020 written by Senior Commodity Strategist Mike McGlone, Tether (USDT) is likely to take the number two position by market capitalization from Ether (ETH) in 2021. The report cited the "stagnant market cap" of ETH, which currently stands at $43.2 billion but remained under $30 billion for most of 2019 and 2020, before getting a boost from DeFi in late July.
USDT's market cap, on the other hand, has seen steady growth since 2017, with just one significant dip in October 2018. The stablecoin began 2020 with a market capitalization of $4.1 billion, "rapidly rising" to $15.7 billion in October.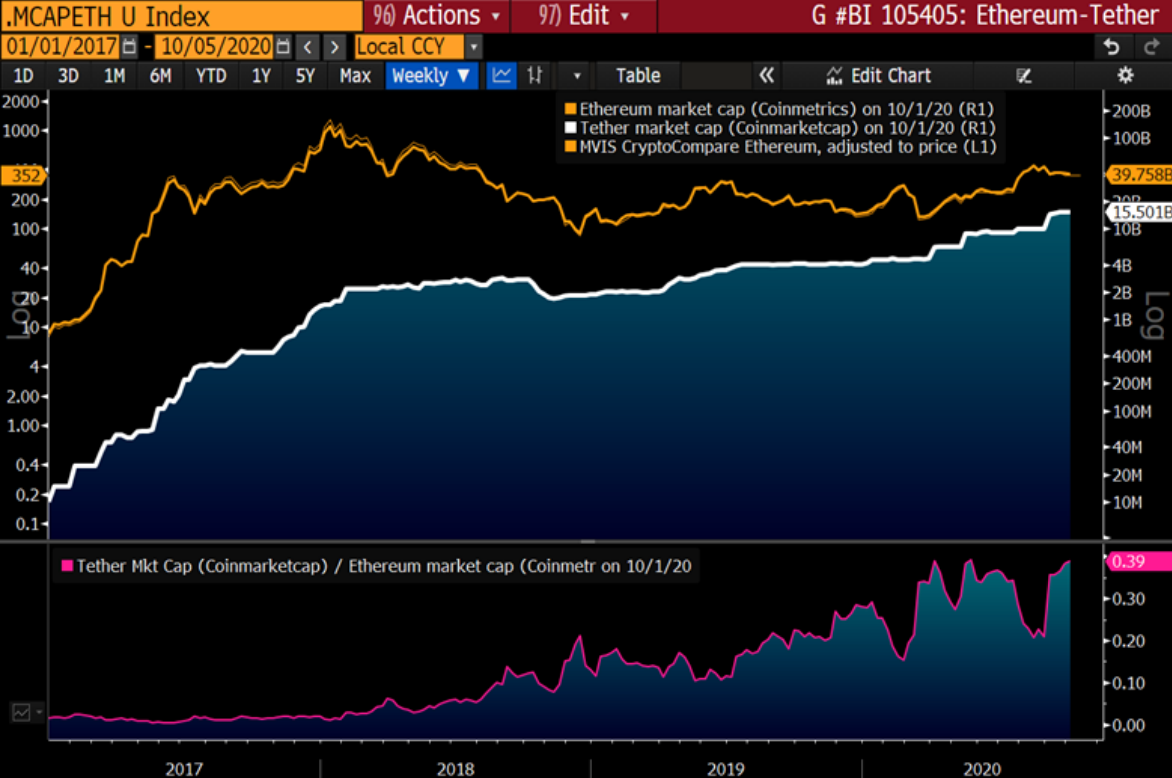 "It should take something significant to stall the increasing adoption of Tether," McGlone stated. "If current trends prevail, the market cap of Tether may surpass Ethereum next year."
Decentralized finance (DeFi) analytics platform DeFi Pulse has launched new safety ratings in alpha to enable users to compare the risks of on-chain protocols. However, the ratings system is still in development and does not factor in all risks, such as smart contract risks.
In partnership with digital asset modeling platform Gauntlet, the grading tool looks at key factors including user behaviour, collateral volatility, relative collateral liquidity, protocol parameters, and smart contract risk. Each project is then given a risk profile ranking them between 1-100.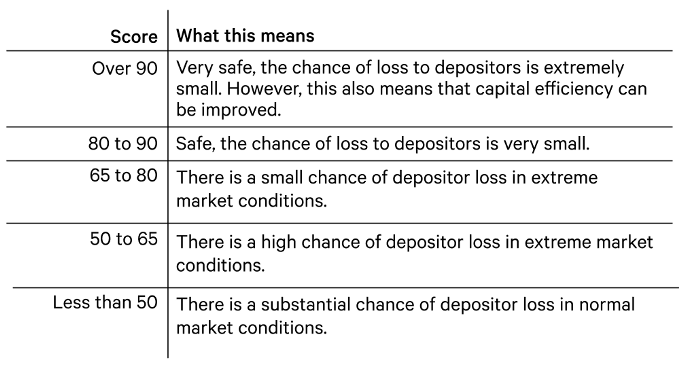 Russia's telecommunications services regulator has blocked access to LocalBitcoins' portal in the country.
Thus far, however, it doesn't seem to have impacted usage.
Russia is the P2P crypto exchange's biggest market
When trying to access localbitcoins.net—a mirror of the .com site focused on serving customers in the country—traders find themselves with a blank page after being censored by the regulator. To access the portal, Russian users must use a VPN that masks their actual location.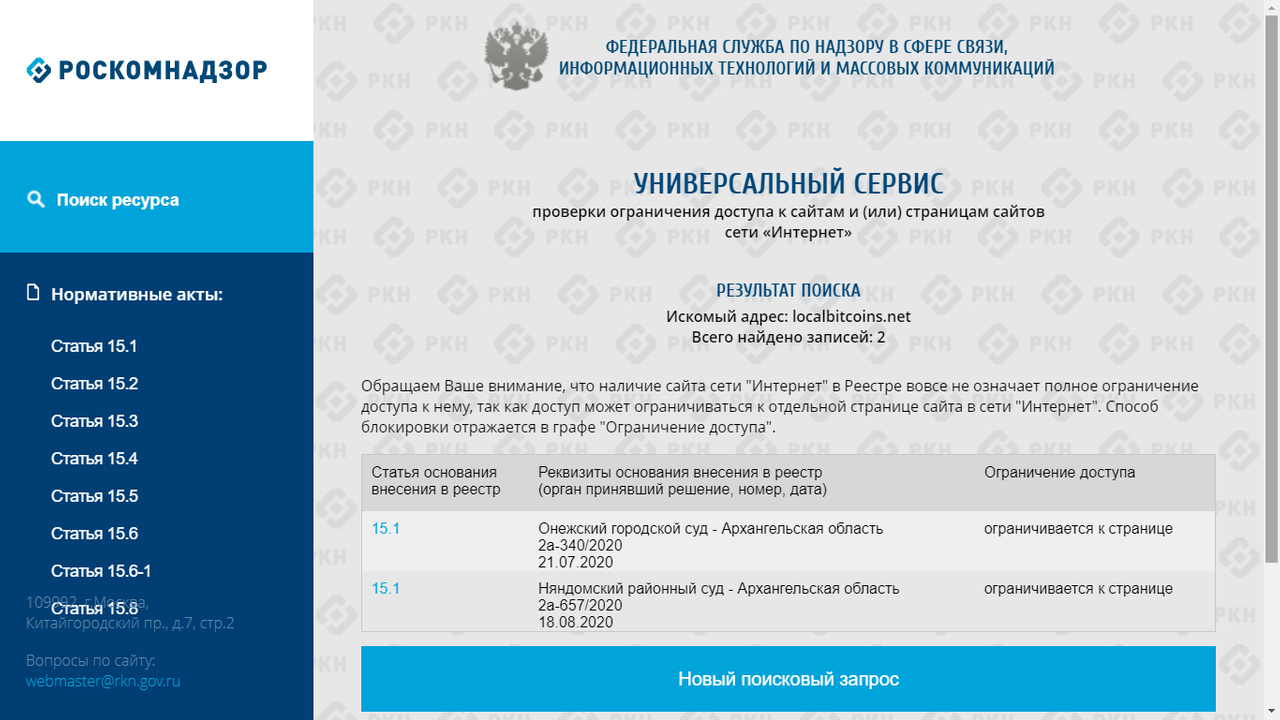 So far, Russian traders seem to have remained quite active on LocalBitcoins, and customer ads on the site have not stopped. This could indicate that traders were already prepared for—or used to—this type of censorship.
🗞 Daily Crypto Calendar, October, 14th💰
"Non-custodial #staking is set to release on the Zilliqa mainnet on 14 October"
"JustLiquidity Farming BNB DeFi Main-Net Launch: latest on the 14th October, 2020"
"Phase 1 will go live on Wednesday, 14 October, at 14:00 UTC."
"Spot Trading: /USDT & /BTC 07:00 Oct 14"
"As we move toward #IOTA 2.0, we invite all the #IOTACommunity to join us for an AMA next Wednesday, October 14th with the IF Team to..."
"ARK Core v3 is launching on our public Development Network this Wednesday, October 14th, 2020."
9 AM-5 PM Gulf Standard Time, Virtual blockchain summit in Dubai.
Last Updates
➡️ Be paid daily to browse with Brave Internet Browser
➡️ A secure and easy wallet to use: Atomic Wallet
➡️ Invest and Trade on Binance and get a % of fees back
➡️ Youtube
➡️ Twitter
➡️ Hive
➡️ Publish0x
➡️ UpTrennd
➡️ Read.cash
➡️ LBRY
➡️ Check out my video on Unstoppable Domains and get 10$ off a 40$ domain purchase
➡️ Get 50$ free by ordering a free Visa Card on Crypto.com using this link or using this code qs4ha45pvh