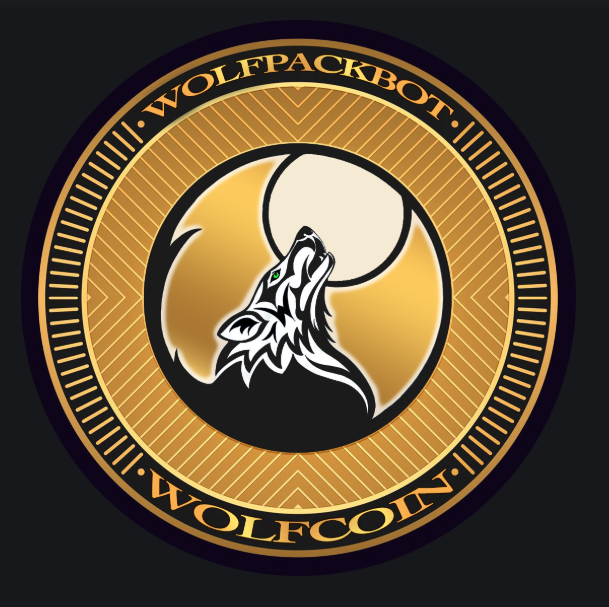 Good morning ladies and gentlemen! Today let us talk about something phenomenal when it comes to trading. I do love trading as well as investing whether for short term or long term.
With Wolfpack bot, it is now possible to be able to make trades like a pro with the use of highly sophisticated trading algorithm made by the Wolfpack bot team.
Here is an update about their Wolfpack bot trading platform video. I was amazed because this is the one thing that I saw getting profits while you are having pre-determined signals and system that automatically closes the position when you are in profit. Amazing isn't it?
Now, let me tell you why Wolfpack bot is a revolutionary product for trading cryptocurrencies and why it is the best for traders out there who do not have time to trade as well.
Features of Wolfpack bot:
A. Wolfcoin--> The Wolfcoin is the native currency of Wolfpackbot. It is the one that is a type of token that is fungible token. It means that it holds the same value whenever you are exchanging it with the top exchanges that are coming for Wolfpack BOT project. It is interchangeable that is why it is simple to use and be able to use it also for exchanging the Wolf coin for the Wolfpack BOT subscriptions which will make your trading automated for you in a profit! Another feature of the Wolfcoin is that it is also a currency that makes you be able to redeem Wolfbox console, Wolfpack BOT, and even their Wolfpack clothing and apparel!
B. Wolfpack bot subscriptions--> This is what we call as for where we would like to use Wolfpack bot in automated trading. Most of the time, we want to have the best profit across all exchanges. There are 3 types of Bot that would make the Wolfpack BOT function every month. Here it is. For sure, the Werewolf Bot is the best because it has an algorithm that makes all exchanges covered.

C. Wolfpack bot console trading hardware--> This is highly advanced trading hardware that is plug-and-play and enables the Wolfpack to unleash the profitability in trades and maximizing every opportunity the bot sees. A wolf hunts on every prey(profit trades).
D. Wolfcoin apparel--> Awhile ago, I talked about redeeming clothing and gears from Wolfpack team using the Wolfcoin. Now that is what we call community. Good job!
E. Proof-of-Work X11 algorithm blockchain--> I do believe still in proof-of-work blockchains because of work, it makes everything around. Hard work plus a promising project makes us be able to see the progress in every project. This type of PoW guys is not that energy-consuming unlike other cryptocurrencies as well.
F. Masternodes--> I dreamt of having masternodes. That is why I challenge myself that I will buy Wolfcoins to be able to be a node as well and have a share of the rewards the Wolfpack BOT project gives. With just 10,000 Wolfcoins, you will be a master node!
WOLFPACK BOT trading platform
I saw this in their video as well as in their website. It automatically calculates and creates trade for you with profit already!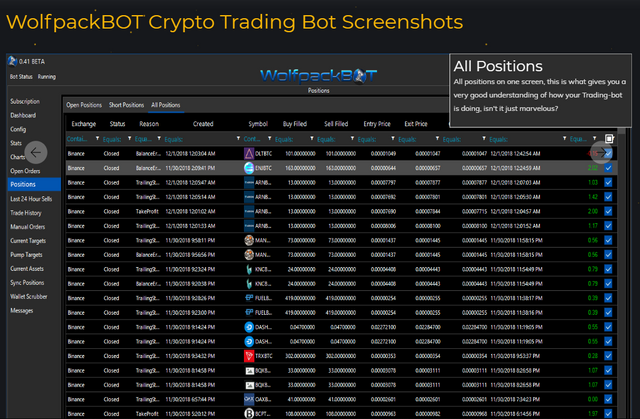 Now guys, let me explain to you the technicalities of Wolfpack BOT as stated on their website.
Multiple indicators--> In this type of trading platform, it formulates based on the most winning odds that would make your money go in-profit in just seconds.

Shorting--> When we buy cryptocurrencies, we only profit one-way which is going long or buying at low then selling at high. It is the opposite of shorting guys, We sell high and then buy-back at low. Having profit when we bring back the cryptos that we borrow from Wolfpack.

Crashing protection--> Because it is a bot, it has tight stops that cuts your losses short and let your profits run.

All trading pairs--> With the Werewolf Bot subscription, it will make possible for you to exploit and profit from all pairs within the exchanges.

Multiple exchanges--> If you would know arbitrage, it goes something like this because different exchanges have different rates for each coin as well.

Candle pattern scanning--> Wolfpack bot has AI(artificial intelligence) that determines and sees chart patterns in an expert accuracy that makes it be able to see and check the profitability of the trade with risk-reward ratio that favors the trader.

Werewolf configurations--> Aside from the default configurations by our Wolfpack team and IT team, you could configure your custom config for your comfort in trading. If you have your own system, then this is the time for you to have this for.
WOLFCOIN utility usage
These are the Wolfcoin and why it is a dynamic and essential in this project.
A. Wolfcoin portal--> It has the widely accepted security practices that make hacking non-existent. With prominent IT team, you will be sure your funds are secure.
B. Mobile apps--> Wolfcoin also is the one that will make the mobile app go around with different charts, and integrations for a seamless connectivity with your trading sessions.
C. Wolfcoin support--> These are their contact information for inquiries and how to use Wolfpack Bot.
Email: support@wolfpackbot.com
Overall for a summary, this is one of the things every crypto trader needs because of their dynamic selection of coins to be traded and will give you profit. I would definitely have some Wolfcoins because this is new to me guys. AI and autonomous internet-of-things are the trends. It will make our lives easier and makes our lives richer in terms of trading.
The wallet is in the website, you may download it depending on your operating system installed on your computer.
For the manuals, here are the links:
Wolfcoin wallet: https://wolfpackbotdownloads.azureedge.net/wolfpackbotdownloadscontainer/pdf/wolfcoin_wallet_manual_en.pdf
Wolfcoin masternodes: https://wolfpackbotdownloads.azureedge.net/wolfpackbotdownloadscontainer/pdf/wolfcoin_masternode_manual_en.pdf
Wolfcoin Sentinel(For Linux)
https://wolfpackbotdownloads.azureedge.net/wolfpackbotdownloadscontainer/pdf/Sentinel_Instructions_Linux.pdf
ROADMAP:
We are here already and we are having progress as we speak.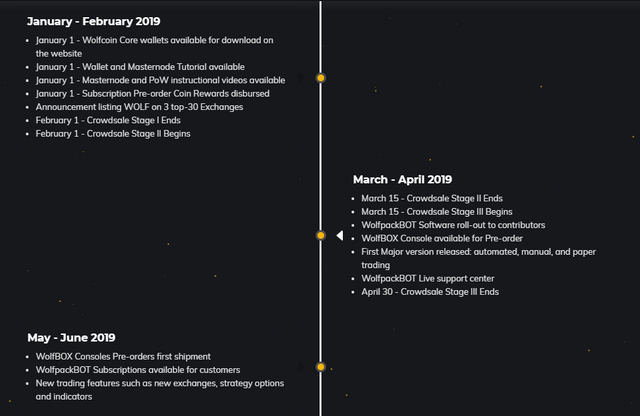 Alright, now let us meet the team: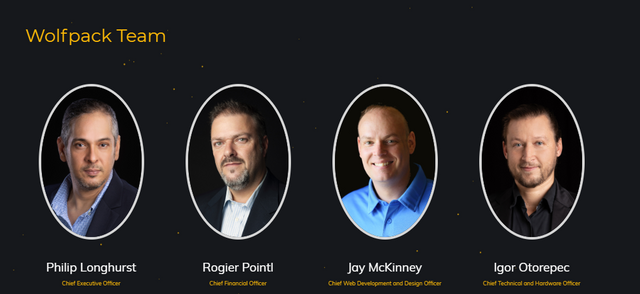 Just by looking at the team and their experience when it comes to software, we know that we are in the right hands. With an outstanding team, means an outstanding project as well. Let us volt in and be with the Wolfpack!
For more information, you may look at their website and other channels online here:
Website: https://www.wolfpackbot.com/
White paper: https://www.wolfpackbot.com/Pdf/whitepaper_en.pdf
Bitcointalk ANN: https://bitcointalk.org/index.php?topic=5115051.new#new
Instagram: https://www.instagram.com/wolfpackbot/
Reddit: https://www.reddit.com/r/WolfpackBOTOfficial
Github: https://github.com/WolfpackBOT/Wolfcoin/releases
Youtube: https://www.youtube.com/channel/UCU37rF6MJ4fo0QFiqqGD9XQ
Pinterest: https://www.pinterest.ph/wolfpackbot/
Discord: https://discordapp.com/invite/HDkDsm8
Facebook: https://www.facebook.com/WolfpackBOT/
Telegram: https://t.me/WolfpackBOT_Discussion
Twitter: https://twitter.com/TheWolfpackBOT
Thank you so much guys for checking this new post of mine. I hope I gave you some insights on this new promising project. Watch out for more ICO reviews by yours truly. Thank you.
Do you like my advocacy? You can donate cryptocurrencies here:
Donate BTC: 19udCJXqMVcAPgK3tNC7VdVjJirSAsanDK
Donate Ethereum: 0xDFD2144eb8CC1212551d50b00b18a2fEfcf6762b
Donate Dash: XkrQAsEgxMkZSrDkgoQhgoAWSVPhfs5Lyd
Donate Doge: DC6pGognFVU4wrt6AJtkmD7mXRKFepnMZQ
Donate Litecoin: LNKorfrjR12h7Ykx3Ros8kZF5UiUqmotav