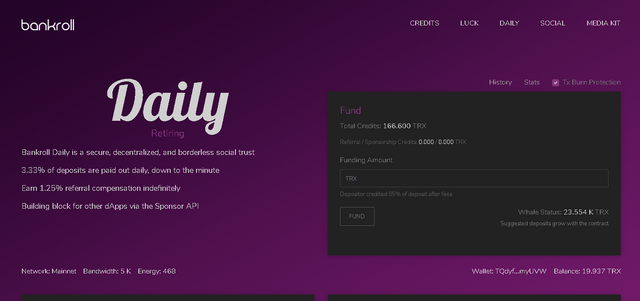 Bankroll is one of those sites that I don't mention too much because I have a feeling that it will be ending soon. I don't want it to end, but from the looks of it, it could be pretty soon. Bankroll is a Tron site where you can fund your account and you get 3.33% daily.
They have a dice game in there and also a Credits section, but I don't use the dice game and wasn't earning much with the Credits section. As you can see I have 166 Tron here and I don't plan on adding any. The reason is in the second screenshot. If you see the contract they have 1.841 million Tron left.
This may seem like a lot, but not if you have been in Bankroll for a while. It had like 80 million at one point and everything looked good, but then it started going down. It was around 30 million a few weeks ago and was at 3 million yesterday. That gives you a better perspective on how fast the contract is going. They have a whale status where as the contract goes lower, more people with higher Tron in Bankroll are limited on their daily withdrawals.
That means they can't take out 3.33 % and can only take out a certain percent. Yeah that will help decrease the daily withdrawals, but it's still going out fast. At this rate it only has 1 to 2 more days before it's gone. I have withdrawn almost 150 Tron so I almost got my Tron back. We will see if it dies or if they can do something to prolong the life.