I started a small crypto altcoin portfolio with the intention to use some of my active and passive crypto earnings, reinvesting them in some 'crypto moonshots' (See Original Post). This is the update for March 2021.
Right now, I just continue to hodl all the altcoins I added in this portfolio where I reinvest some of my online earnings. I'm sure there will be a time where I take profit or even convert everything to Bitcoin or USD in case there are serious signs of a market top. For now, I just continue to buy some more here and there making these monthly posts giving an update. This is how the ones I added last month performed 30 days later...
All went up in value. Morpheus.Network (+104%) | Rarible (+49.6%) | Whale (+25.6%) which is pretty nice even though it all can come crashing down again in a blink. High Risk / High Reward is what to expect from altcoins in general. Being in a bull run, you can pretty much pick no matter what and you will look like a genius.
---
March Added Coins
I added some coins last month and some more today to continue building this portfolio.

I don't have anything with traveling myself but I can see how a combination of many people making mad crypto gains and everyone urging toward traveling once the lockdown situation is under control could make the demand for Travala (AVA) go up like crazy. "Company coins" that have benefits attached to them also tend to do quite well. I bought 20 AVA on Marth 20th for 4.68$ each basically fomoing into a pump.
---

There was a lot of buzz last month on Leofinance.io around the cubdefi.com release. For those wanting to understand what it is about, I made a post explaining it in Human Language (Read cubdefi.com & CUB Token | Easy Explained (No Hype Analysis). So I got 10 CUB as an airdrop from my LEO holdings. Instead of selling them, I put them into this portfolio staking them on the Binance Smart Chain. On March 15th when I staked them, each one was worth 2.94$. I'm not sure yet how to do the calculations counting the rewards but I will figure it out.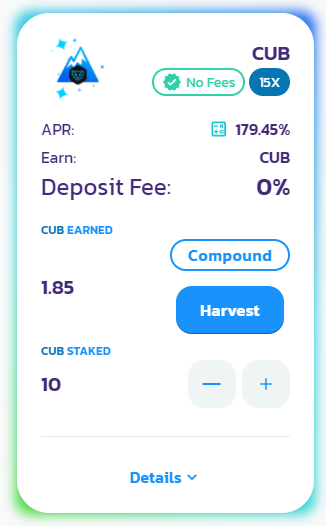 ---

So far I have kept coins that I have in my main portfolio away out of this one. I made a post recently on Wagerr (See Reasons I Bought More Wagerr (WGR) and I ended up using part of the DEC I earned Playing Splinterlands (See How To Earn 100$+ Monthly Playing Splinterlands (Complete Guide) to buy 500 WGR extra since there in an easy bridge direclty withdrawing DEC from the game swapping them for WGR on Cubdefi.com a a fairly low cost. This is one of those coins that can stay low profile or even drop a bit to take off one moment to another as the marketcap is really low. I bought 500 WGR on 21/03/2021 at 0.128$ each.
---

Cardano very much feels like what XRP was in 2017 with all the noobs coming into the space getting into it because it is 'cheap' at 1.22$ with a narrative of being the Ethereum killer. I personally see it as all hype and no product yet being at a crazy high market cap of 40 Billion already. Looking at what XRP did in 2017 there is still quite some margin for growth given how noobs blindly are buying into it. I also could be wrong on my view which made me at least want to get a minimum in this fun portfolio. I bought 100 ADA today with the SCR I cashed out to Hotbit a while ago and paid 1.216$ for each ADA.
---
That's it for now, there are some others (ENJ, MATIC, STX, OGN, WAN, DFI) I'm looking at to possibly add maybe the next couple of days but I haven't made up my mind yet.
Total Buys so far since I started to reinvest some crypto earnings into this altcoin portfolio...

I pretty much started this portfolio at the top of the previous altseason showing a loss at the start but cost-averaging is really powerful in this market and I'm up now even against BTC.
$µ
That's it for this month, from what it looks like at the moment, there is still a lot of juice left in these markets even though I'm quite sure there will be some deep red days along the way.
---
Crypto Exchanges that I am using...





---
Important: By no means take this post and these coins as investment advice. Rather see them as entertainment or motivation to possibly start your own altcoin portfolio growing it over time.

 
Hive: https://hive.blog/@costanza
Leofinance: https://leofinance.io/@costanza
Twitter: https://twitter.com/costanzabets