---
👉ENG VERSION👈

---
Hello friends!
Last week we concluded our trip to the islands of @splinterlands, we collected the seven flags present in this magical world and reached the end of our collection.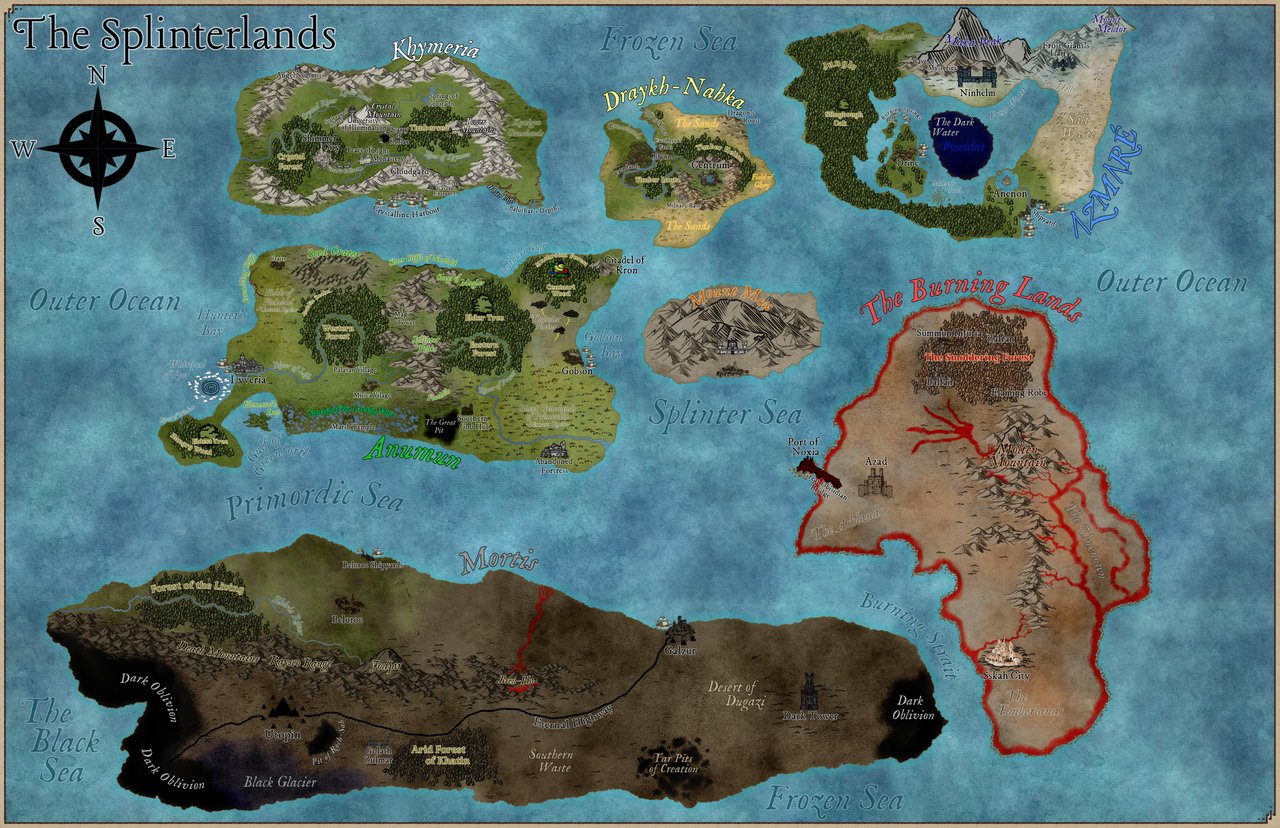 During this trip we came across dangerous and at the same time fascinating monsters, with some I managed to make friends and take wonderful selfies :-) with others, the courage was lacking but I still managed to take pictures from hidden behind a bush or a tombstone or a rock.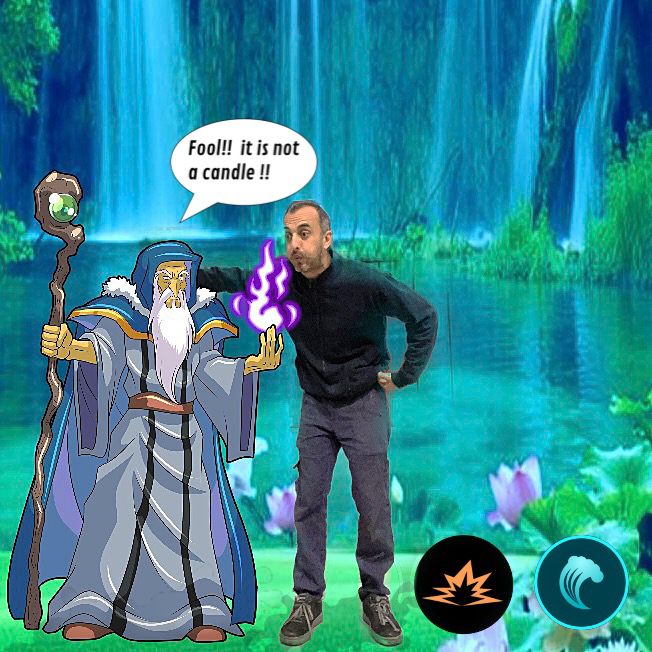 Let's start with the great leaders of the WATER element and the first one that I present to you is ALRIC STORMBRINGER of the island of AZMARE 'territory of the water element.
The big bosses of this island are six and this was one of the most sociable even if I made a fool of myself thinking that what he was holding was a candle ... but I was wrong! :-)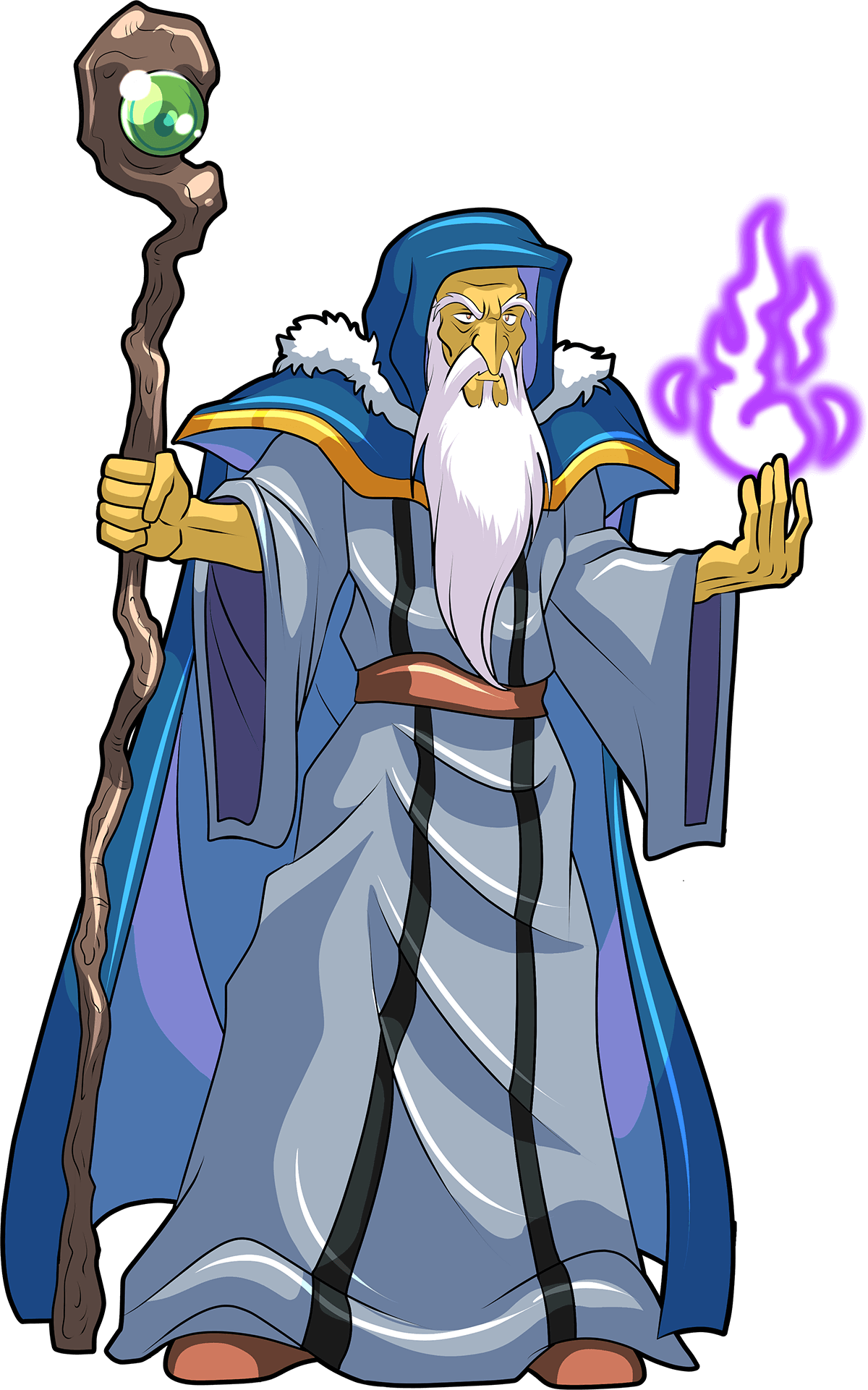 I think this Summoner is at least a thousand years old, he is definitely the oldest on the island.
He is such a powerful teacher that many are his pupils from all over the lands of Splinterlands, his art is not that of bringing destruction and storm but that of channelling magic into a powerful flame.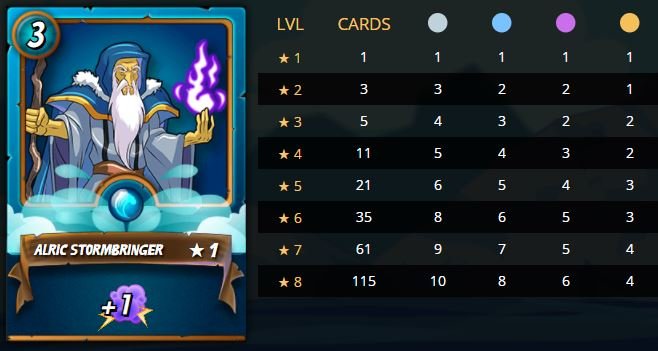 ALRIC STORMBRINGER has the power to increase the strength of his wizard students in battle, he is the wisest of the Summoners on the island and undoubtedly one of the strongest also related to his MANA cost of three.
Legend has it that this Summoner was already present before the "Splintering" and saw the birth of the various islands and the whole world of Splinterlands.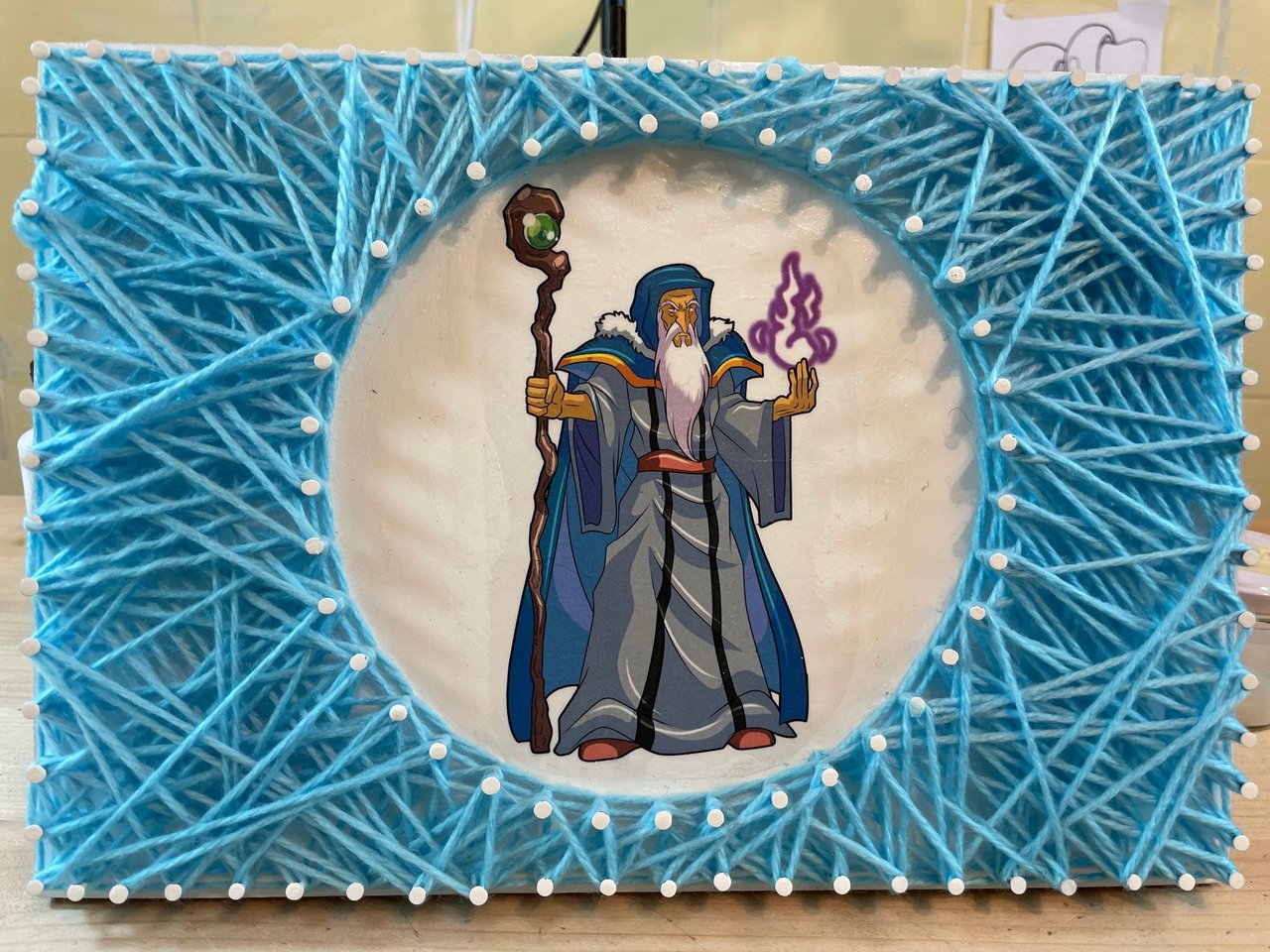 The full video lasts about 4 hours has been brought to just over 10 minutes by speeding up some parts to x2 up to a maximum of x50 is the fourth made of seven elements.
The images are taken from the Splinterlands game.
Recorded and edited by blumela with iPhone 12.
Applications used: Perfect Video - Photoleap - Clip2Comics - Tinipiny Camera.
For this flag, I used the free sample music from the copyright-free Perfect Video application.
USED MATERIAL:
Wooden board 29cm x 21cm
Nails
Twine
White paint
Glue
Glossy protective paint
PERFORMANCE:
STEP 1
I measured the centre of the tablet and made a circle with the compass, inserting our drawing inside.
I also formed a frame of half a centimetre and both in the circle and in the frame I made a point every 1.5 cm, on the points, I will plant the nails and they are used to have a homogeneous distance.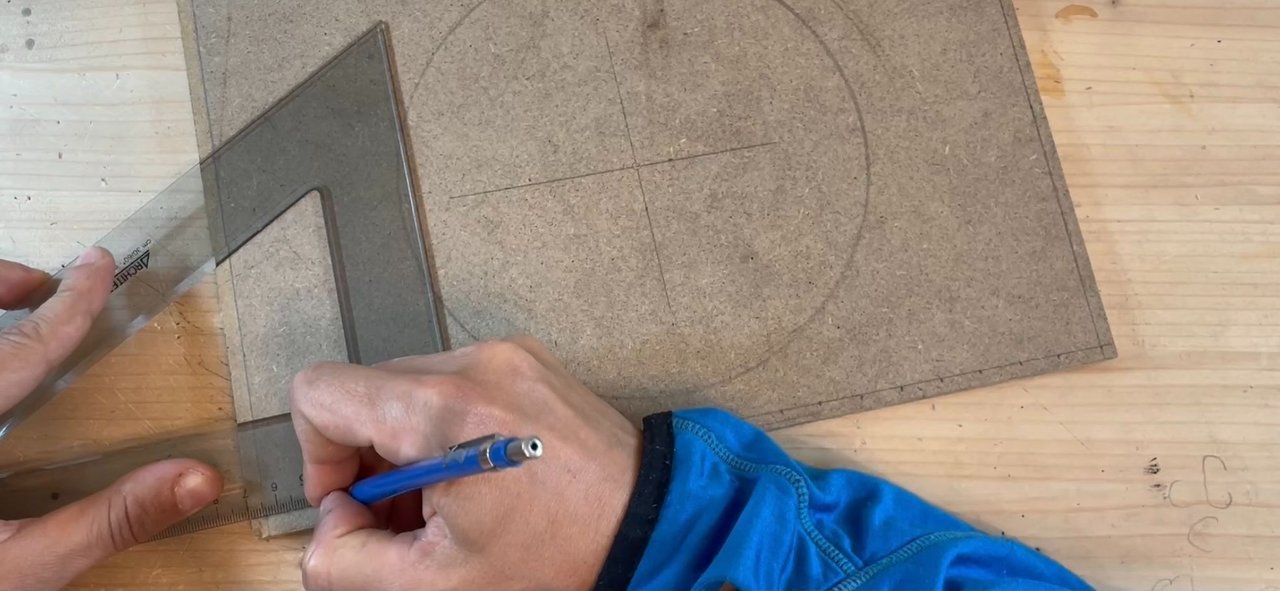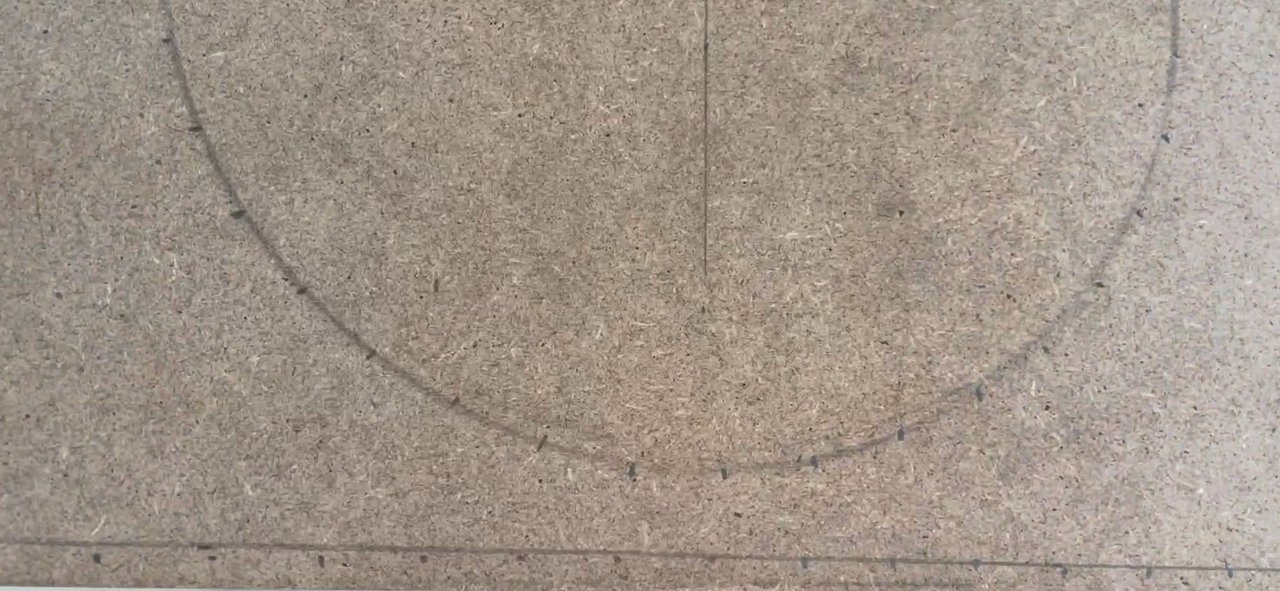 STEP 2
I hammered the nails into both the circle and the frame and painted everything white.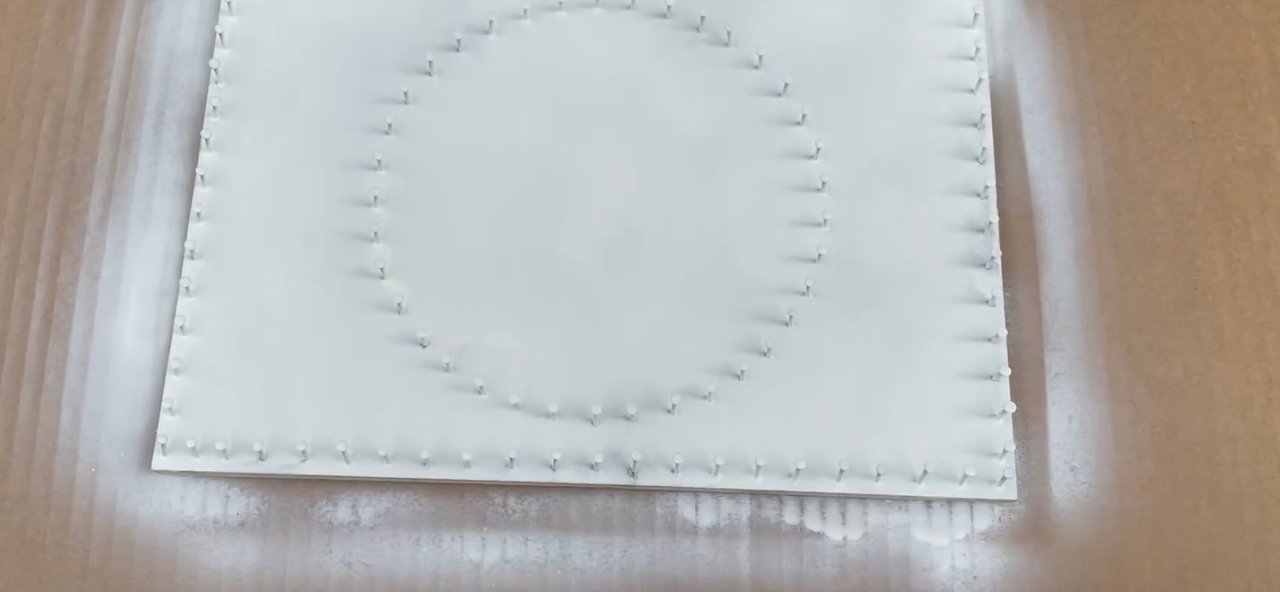 STEP 3
Once the colour was dry, I glued our image inside the circle, being careful not to form air bubbles.
Once the glue was dry I painted everything with a glossy protective varnish.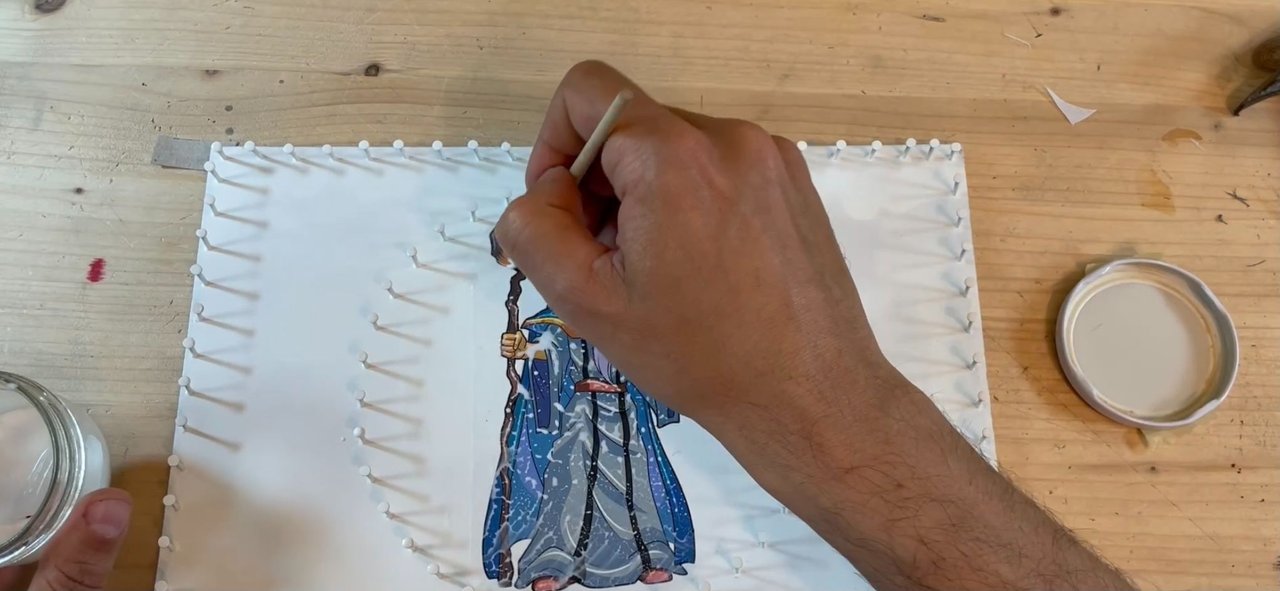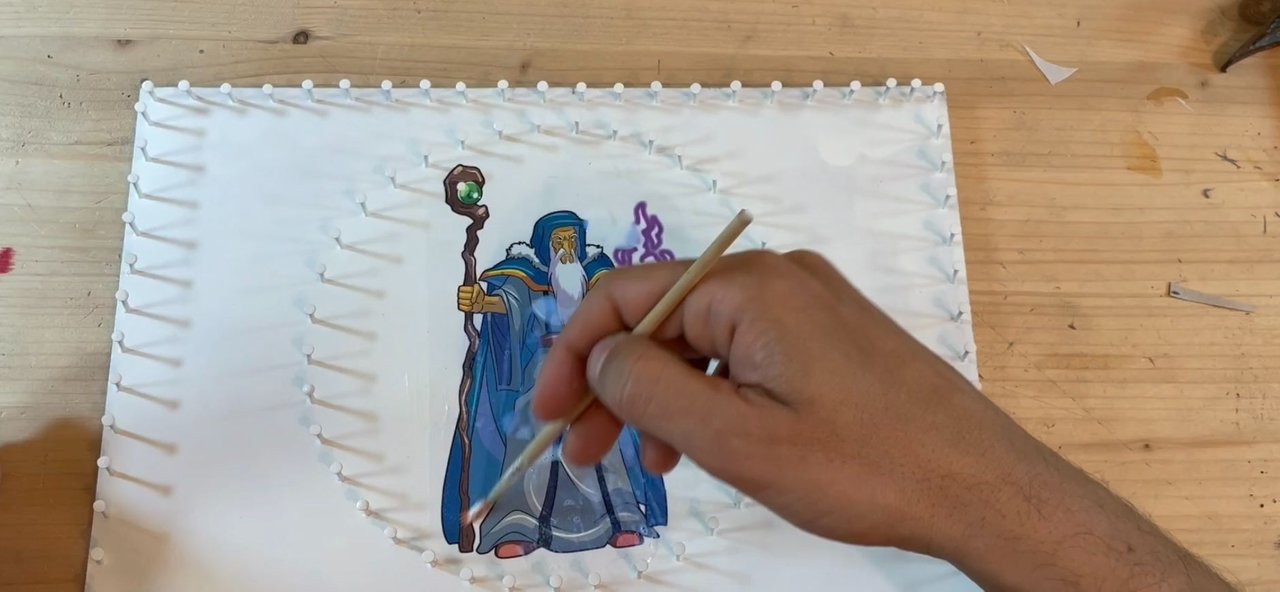 STEP 4
I started weaving the twine first in the contours once clockwise and a second-round counterclockwise.
I then pulled the string from nail to nail all over the board outside the circle until almost all of it was covered.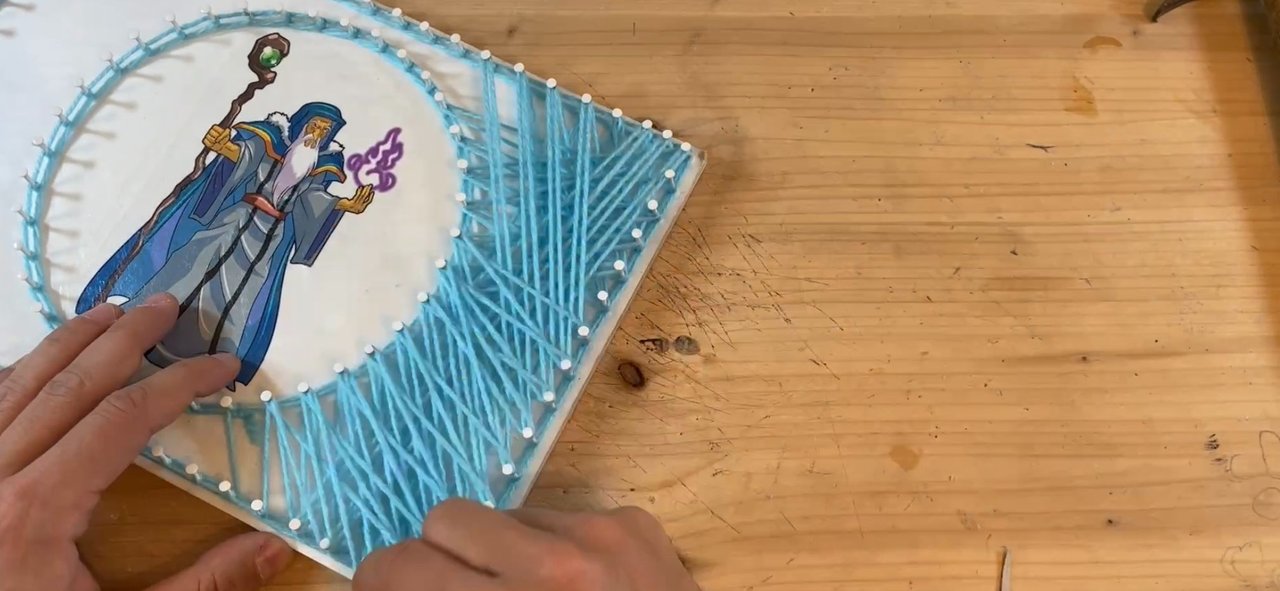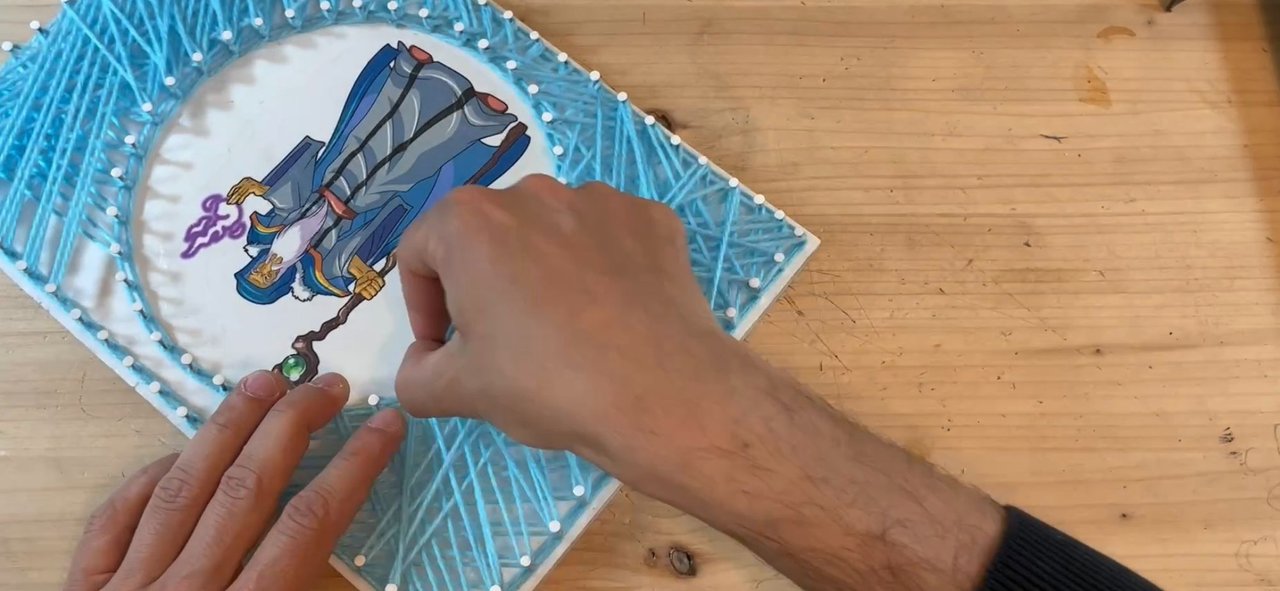 WORK COMPLETED!!!!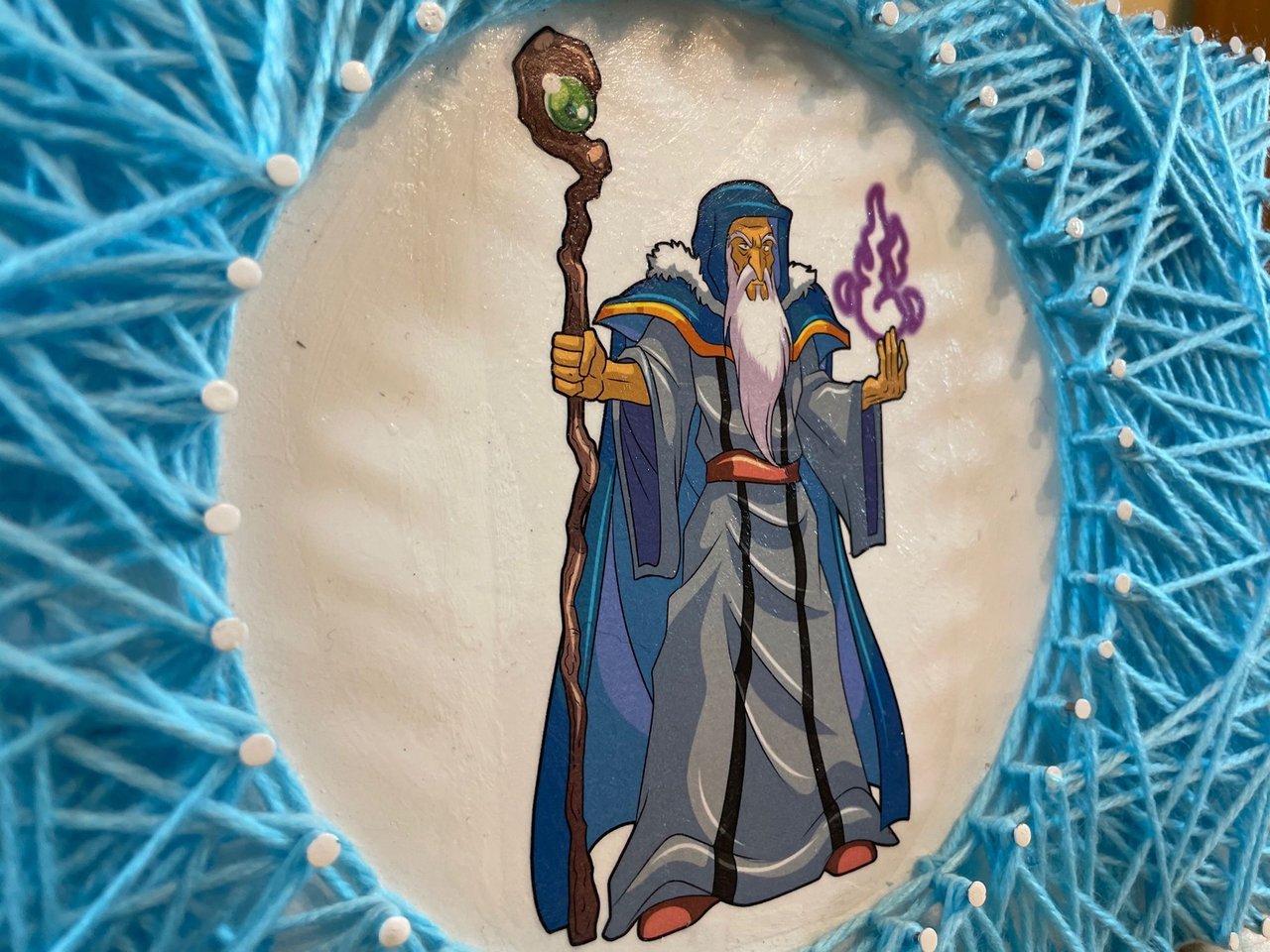 If you haven't tried this game yet my advice is to do it this is my link referral you can use the link if you like it or not but the point is always the one game to try! :-)
https://splinterlands.com?ref=blumela
If you don't like using it;) below !.
Have fun and see you in Battle !!

ISLANDS VISITED:
La bandiera di ANUMUN!


---
---

---
La Bandiera di THE BURNING LANDS

---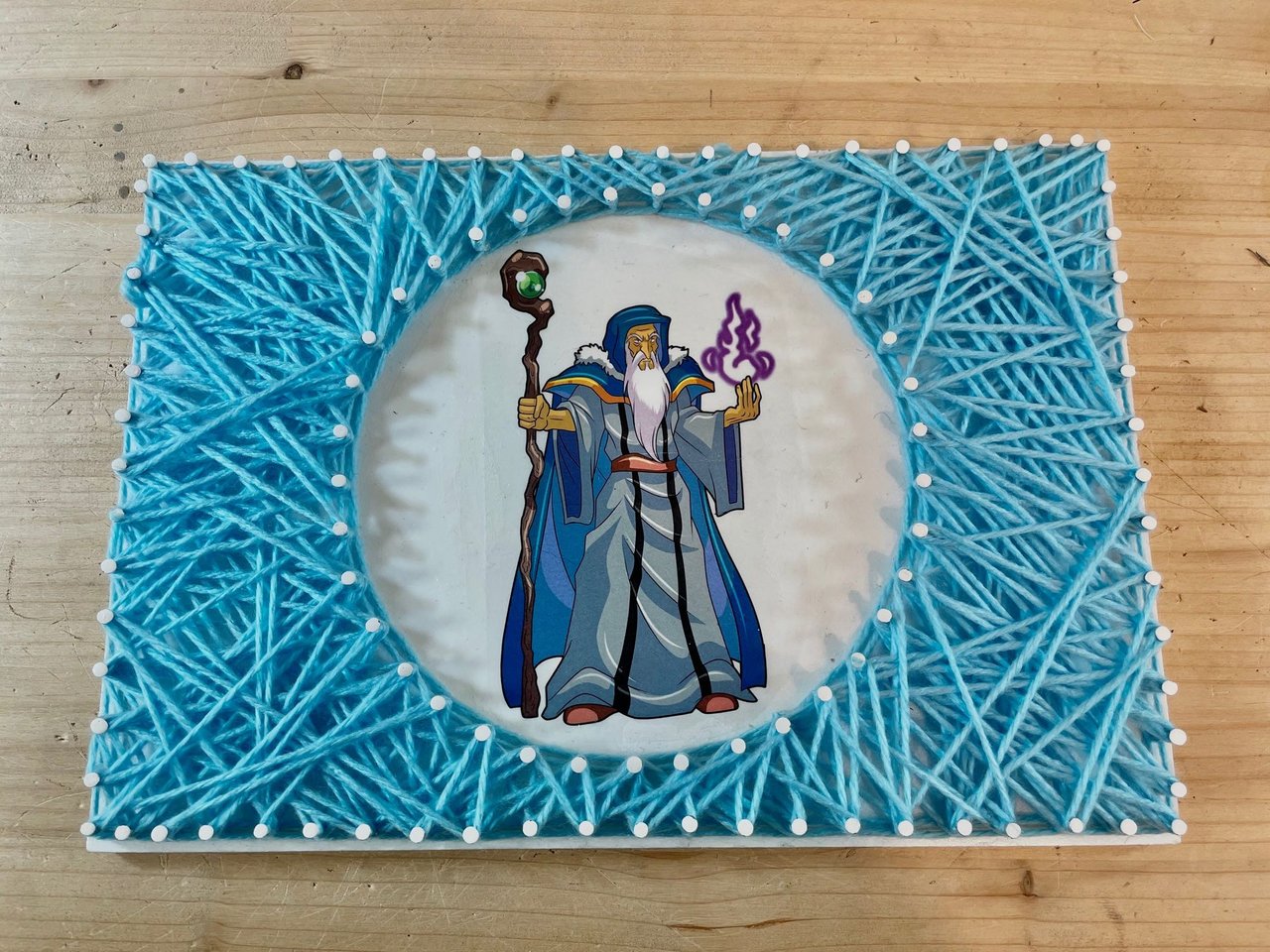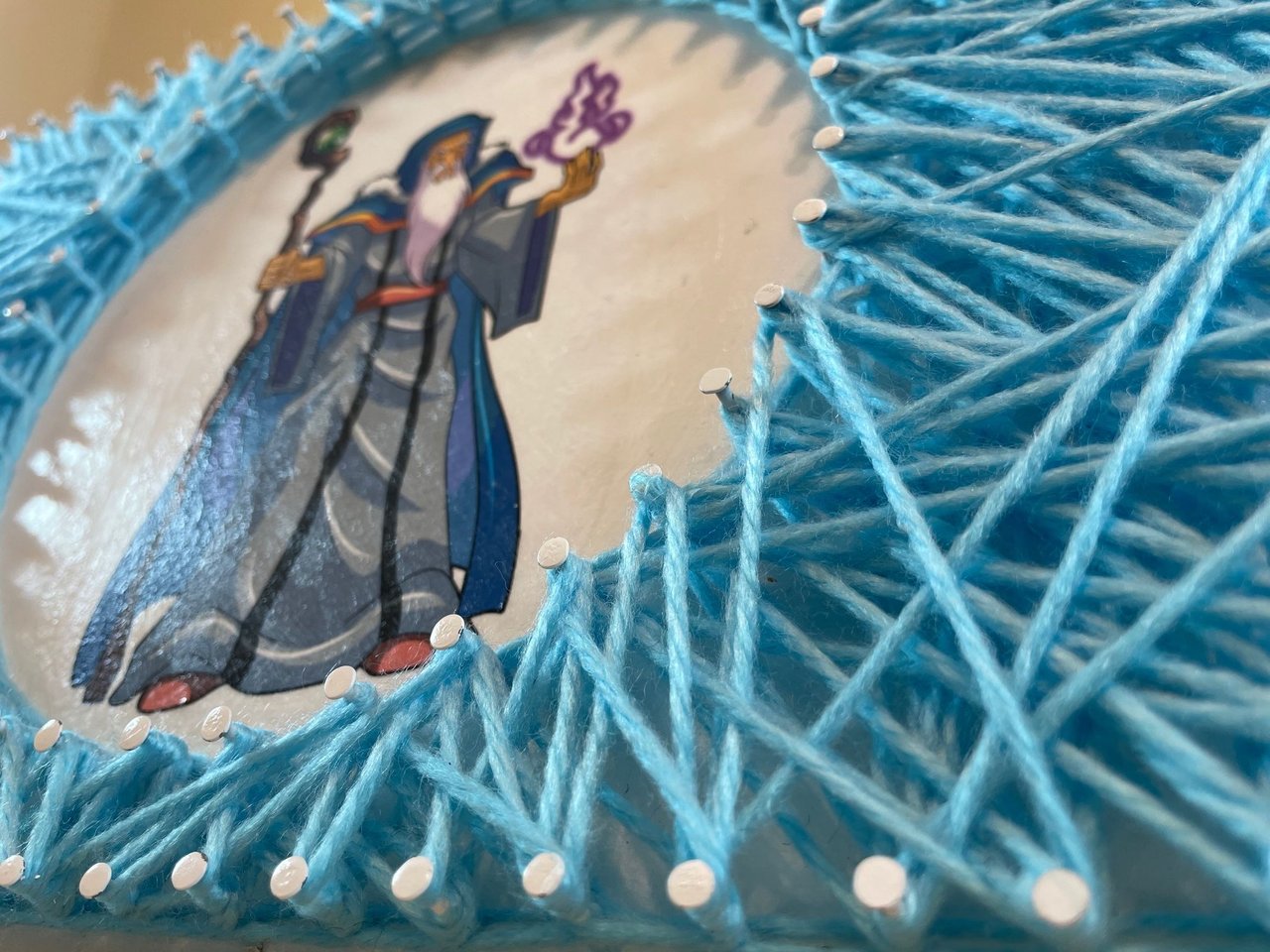 The photos are taken by the author and images from the Splinterlands game or from the Splinterlands source unless otherwise indicated.

---
---
👉ITA VERSION👈

---
Ciao amici!
La settimana scorsa abbiamo concluso il nostro viaggio nelle isole di @splinterlands, abbiamo raccolto le sette bandiere presenti in questo magico mondo arrivando alla fine della nostra collezzione.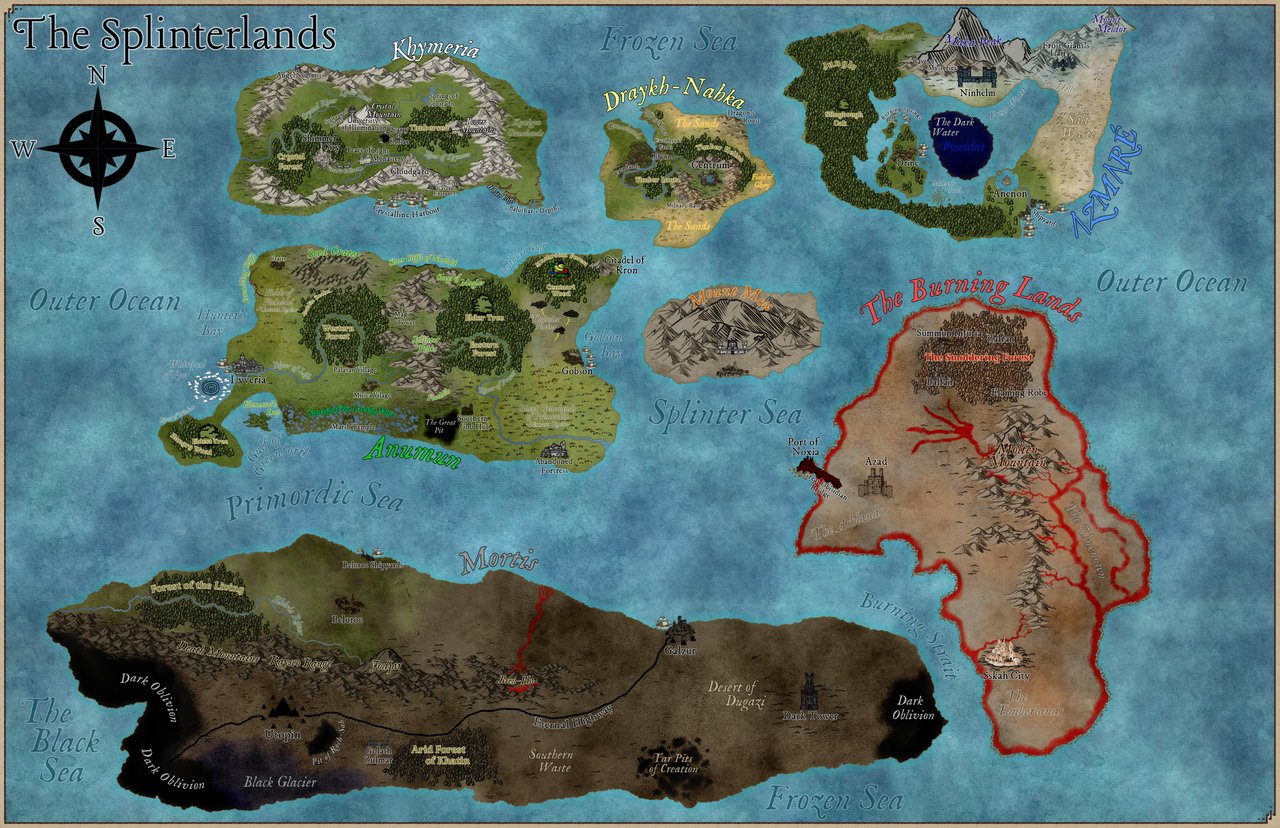 Durante questo viaggio ci siamo imbattuti in mostri pericolosi e allo stesso tempo affascinanti, con alcuni sono riuscito a fare amicizia e scattare meravigliosi selfi :-) con altri il coraggio è mancato ma sono comunque riuscito a fare foto da nascosto dietro un cespuglio o una lapide o uno scoglio.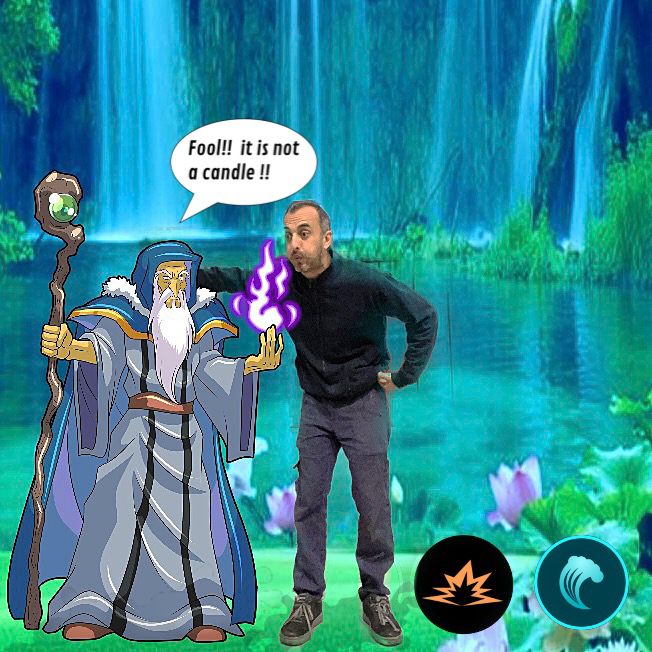 Partiamo con i grandi capi ell'elemento WATER e il primo che vi presento è ALRIC STORMBRINGER dell'isola di AZMARE' territorio dell'elemento acqua.
I grandi capi di questa isola sono sei e questo è stato uno dei più socievoli anche se ho preso dello stupido pensando che quella che avesse in mano fosse una candela... ma mi sbagliavo!:-)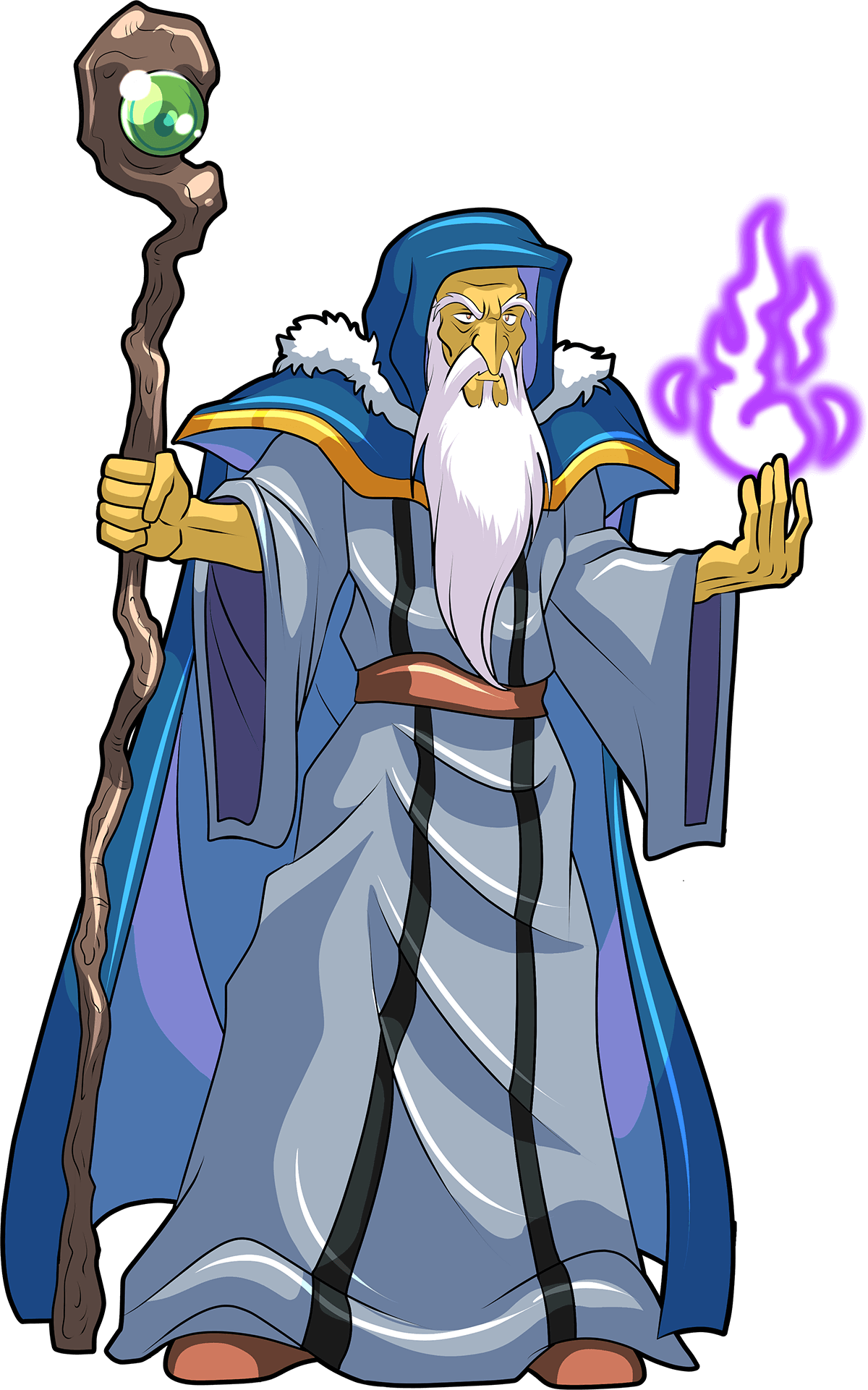 Questo Summoner credo abbia almeno mille anni, è decisamente il più vecchio dell'isola.
E' un potente maestro tanto che molti sono i suoi alunni provenienti da ogni parte delle terre di Splinterlands, la sua arte non è quella di porta distruzione e tempesta ma quella di incanalare la magia in una potente fiamma.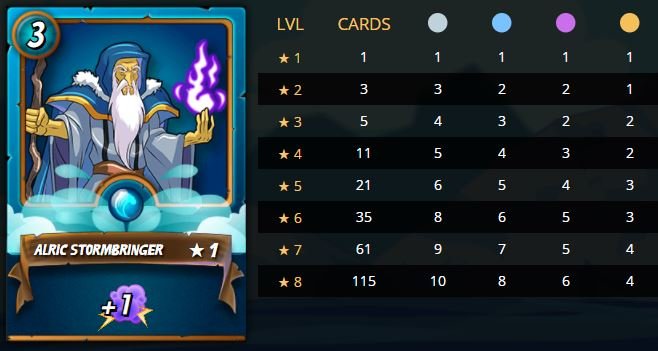 ALRIC STORMBRINGER ha il potere di aumentare la forza dei suoi allievi maghi in battaglia, è il più saggio fra i Summoner dell' isola e senza dubbio uno tra ipiù forti relazionato anche al suo costo in MANA di tre.
La leggenda narra che questo Summoner fosse già presente prima dell "Splintering" e abbia visto nascere le varie isole e tutto il mondo di Splinterlands.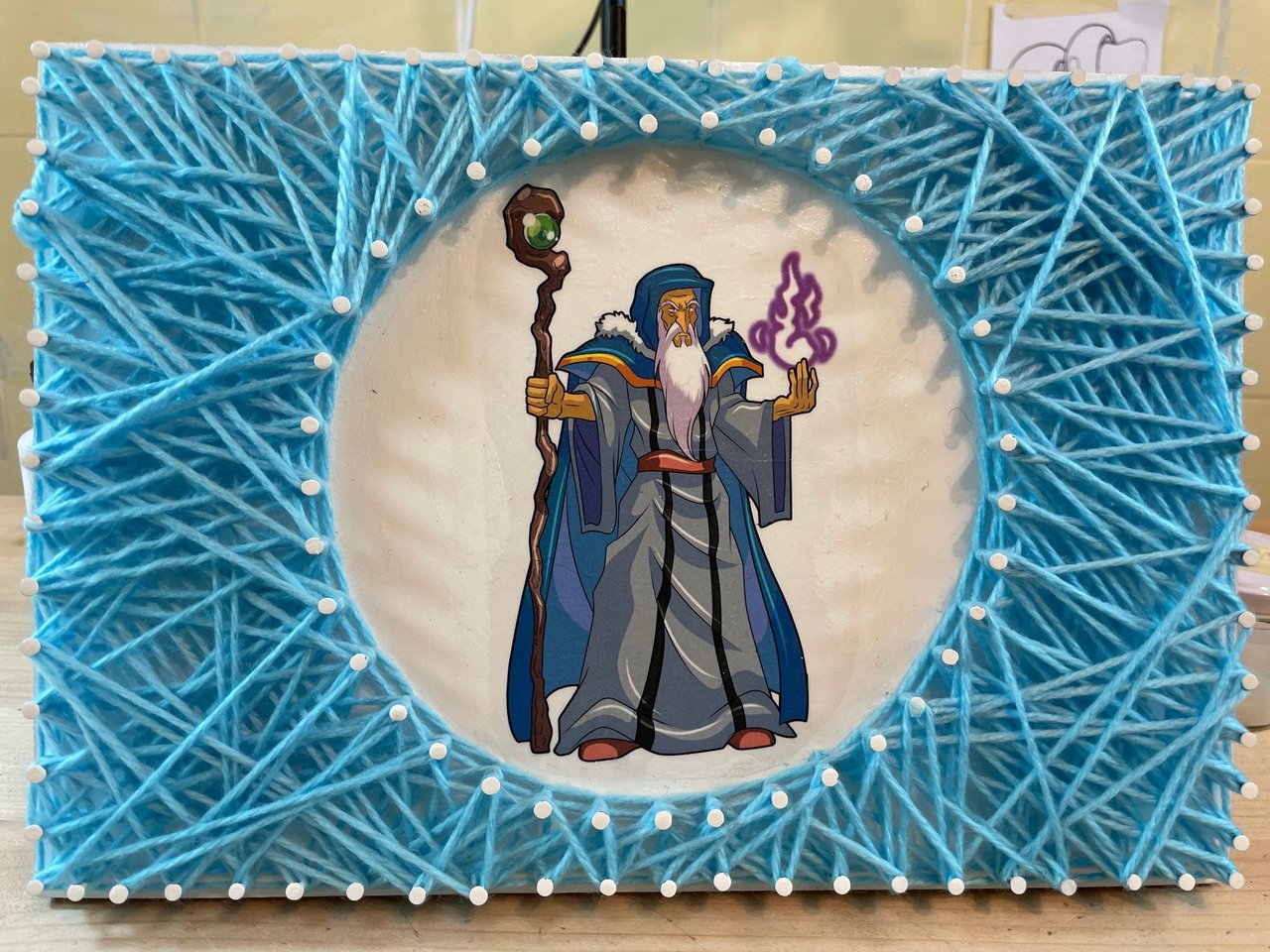 Il video integrale dura 4 ore circa è stato portato a poco più di 10 minuti velocizzando alcune parti a x2 fino ad un massimo di x50 è il quarto realizzato di sette elementi.
Le immagini soon prese dal gioco Splinterlands.
Registrato e montato da blumela con Iphone 12, applicazioni utilizzate: Perfect Video - Photoleap - Clip2Comics - Tinipiny Camera.
Per questa bandiera ho utilizzato la musica campione gratuita dell'applicazione Perfect Video priva di copyright.
MATERIALE UTILIZZATO:
Tavola di legno 29cm x 21 cm
Chiodi
Spago
Vernice Bianca
Colla
Vernice protettiva lucida
SVOLGIMENTO:
STEP 1
Ho misurato il centro della tavoletta e ho fatto un cerchio con il compasso, all'interno inseriro il nostro disegno.
Ho formato anche una cornice di mezzo centimetro e sia nel cerchio che nella cornice ho fatto un punto ogni 1.5 cm, sui punti piantero i chiodi e servono per avere una distanza omogenea.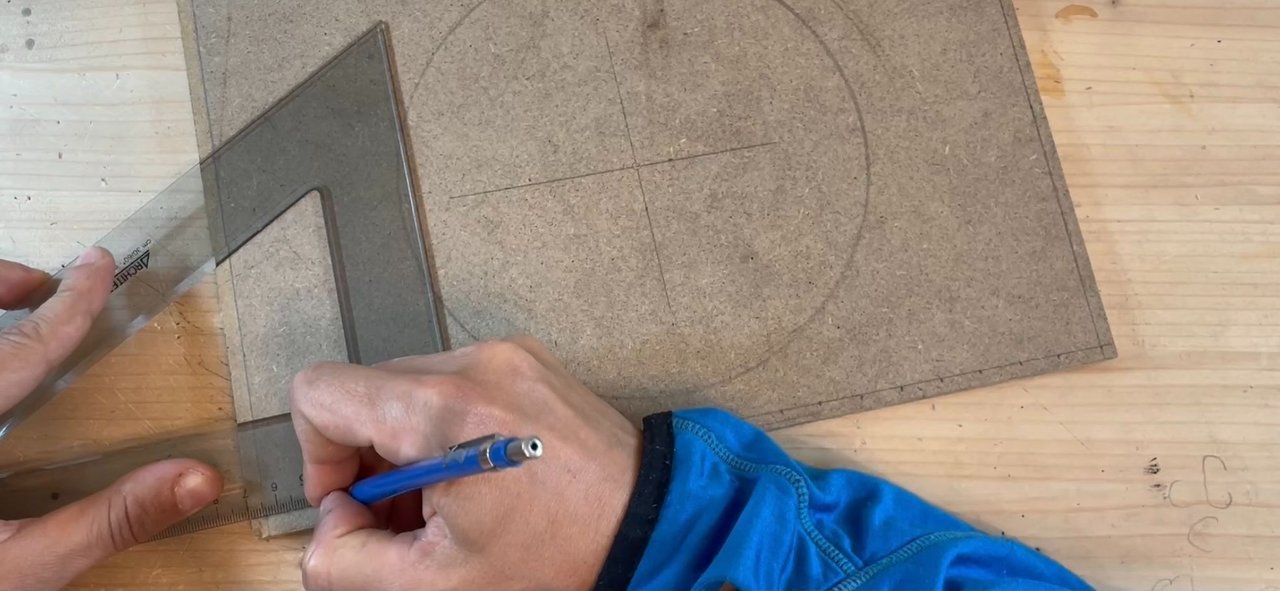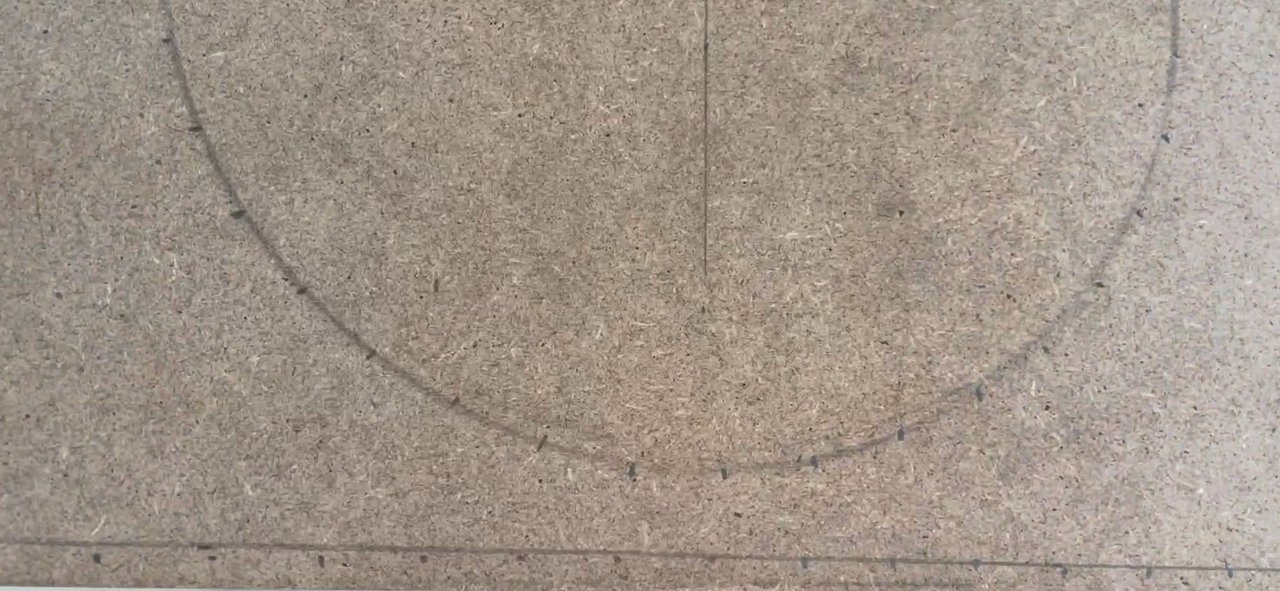 STEP 2
Ho piantato i chiodi sia nel cerchio che nella cornice e ho verniciato tutto di bianco.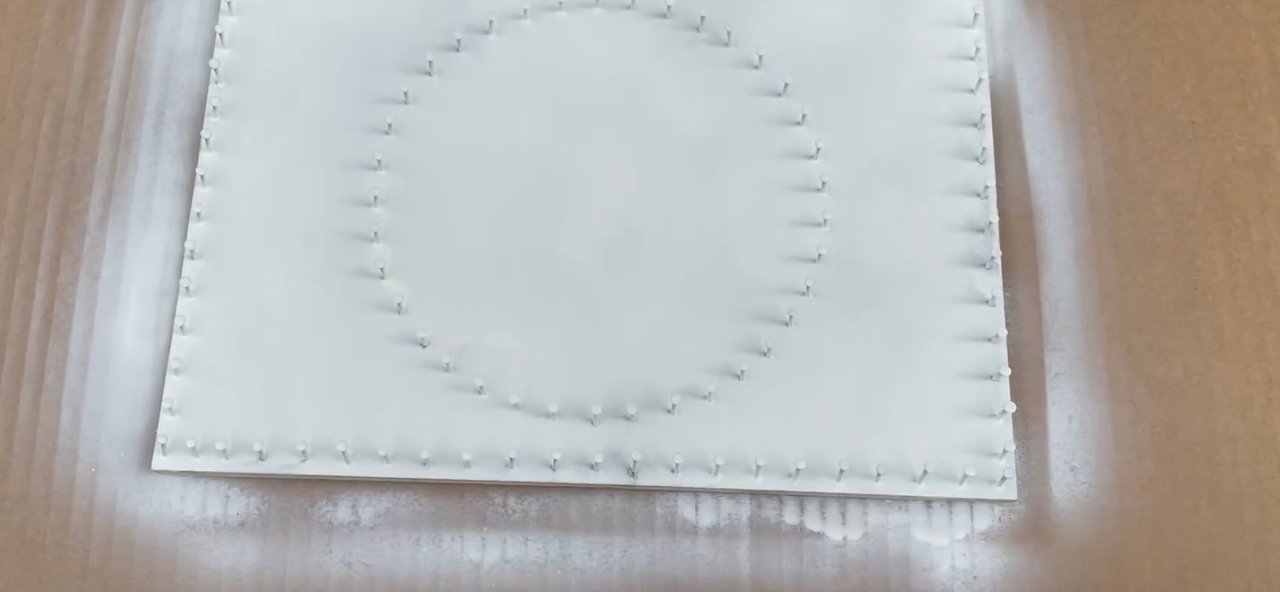 STEP 3
Una volta asciutto il colore ho incollato all'interno del cerchio la nostra immagine stando attento a non formare bolle d'aria.
Una volta asciutta la colla ho verniciato tutto con una vernice protettiva lucida.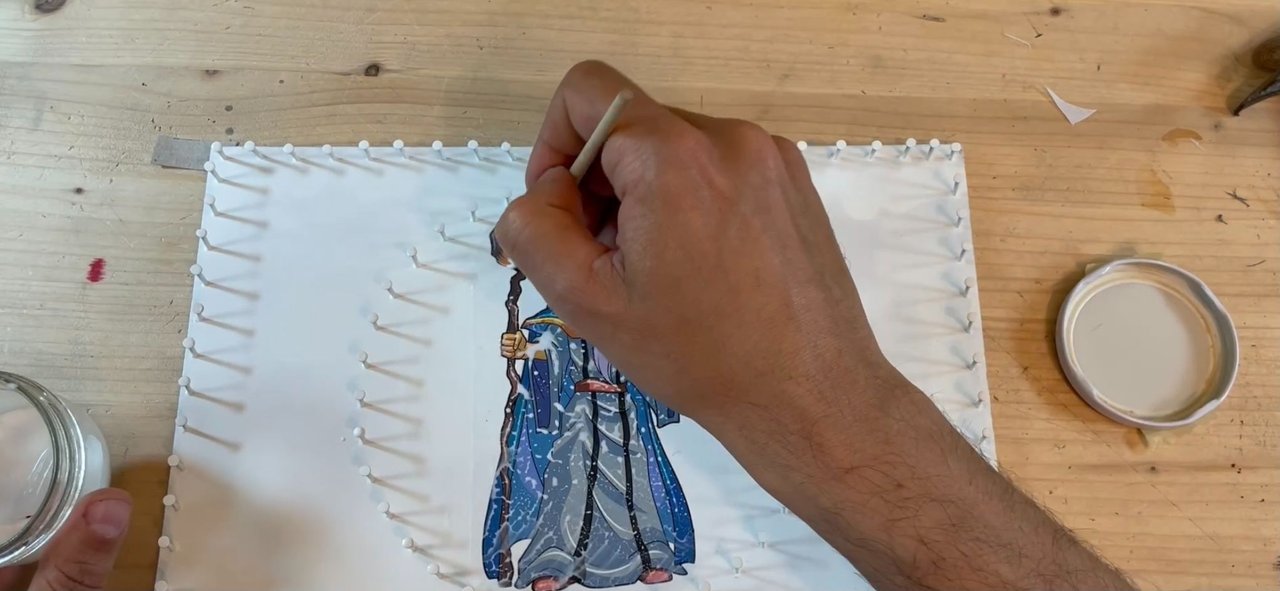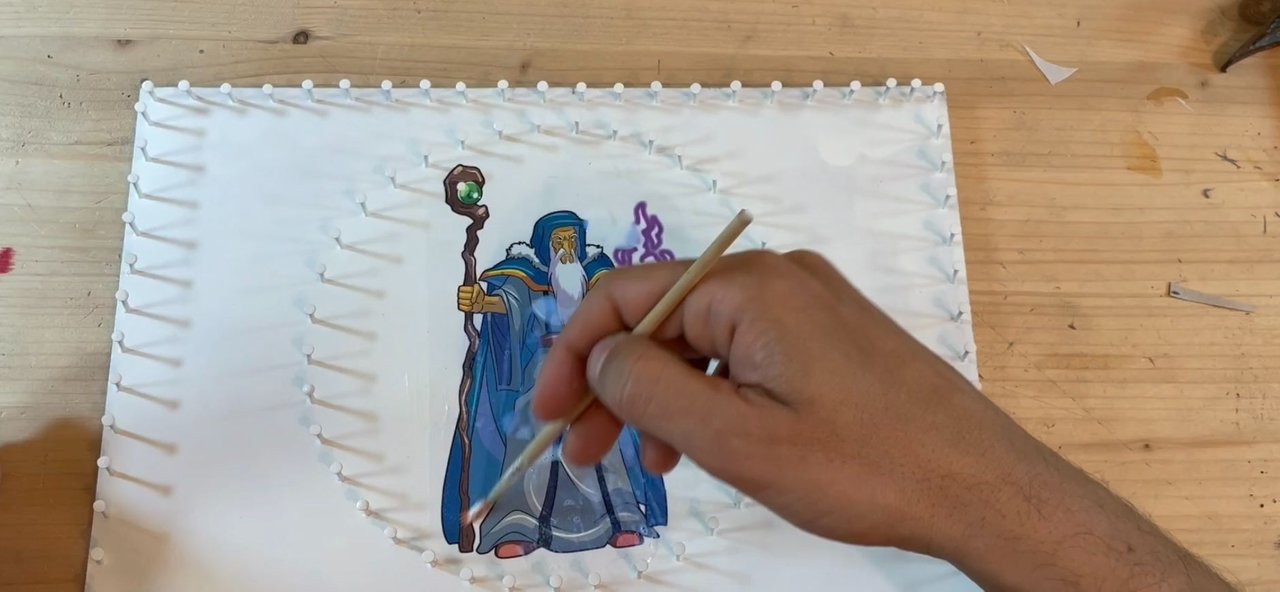 STEP 4
Ho iniziato a tessere lo spago prima nei contorni una volta in senso orario e un secondo giro in senso antiorario.
Ho poi tirato lo spago da chiodo a chiodo su tutta la tavoletta al difuori dal cerchio fino a ricoprirla quasi tutta.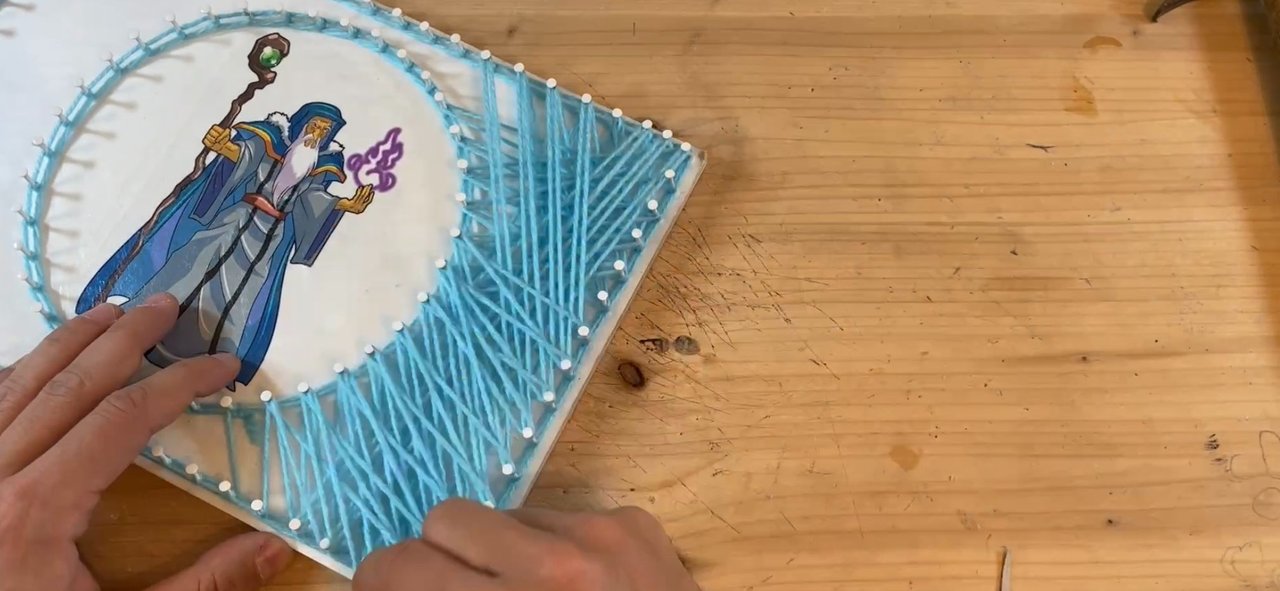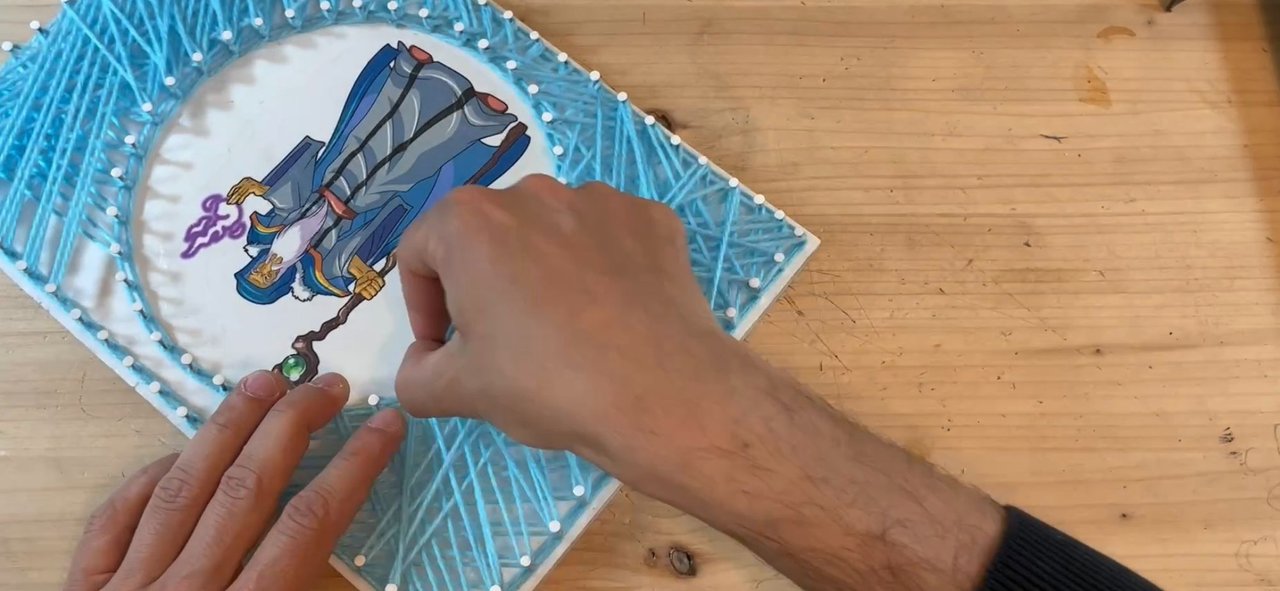 LAVORO COMPLETATO!!!!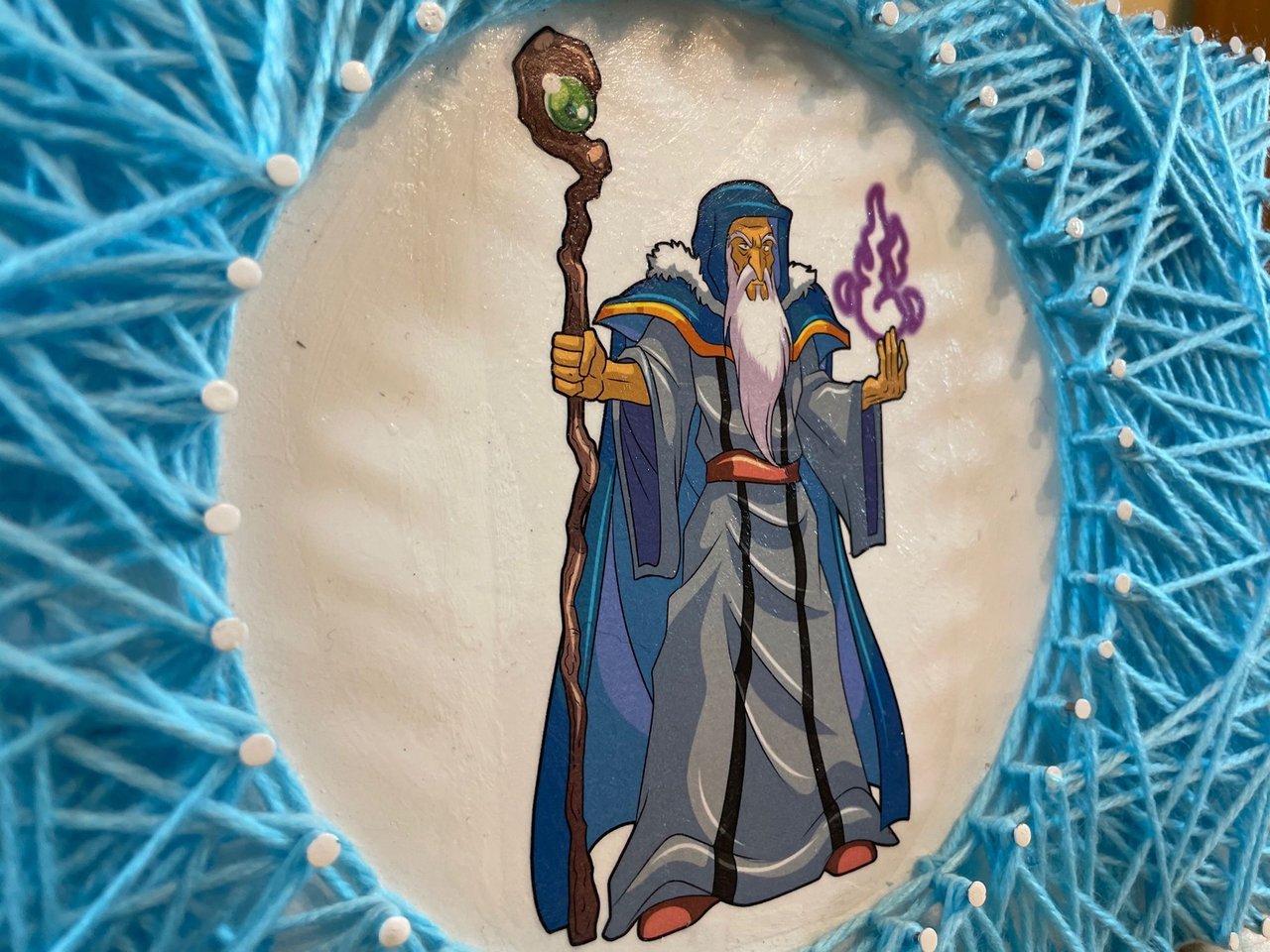 Se ancora non hai provato questo gioco il mio consiglio è quello di farlo questo è il mio link refferal puoi utilizzare il link se ti fa piacere oppure no ma il punto è sempre quello gioco da provare! :-)
https://splinterlands.com?ref=blumela
Se non vi fa piacere utilizzarlo ;) qui sotto!.
Buon divertimento e ci vediamo in Battaglia!!

ISLANDS VISITED:
La bandiera di ANUMUN!


---
---

---
La Bandiera di THE BURNING LANDS

---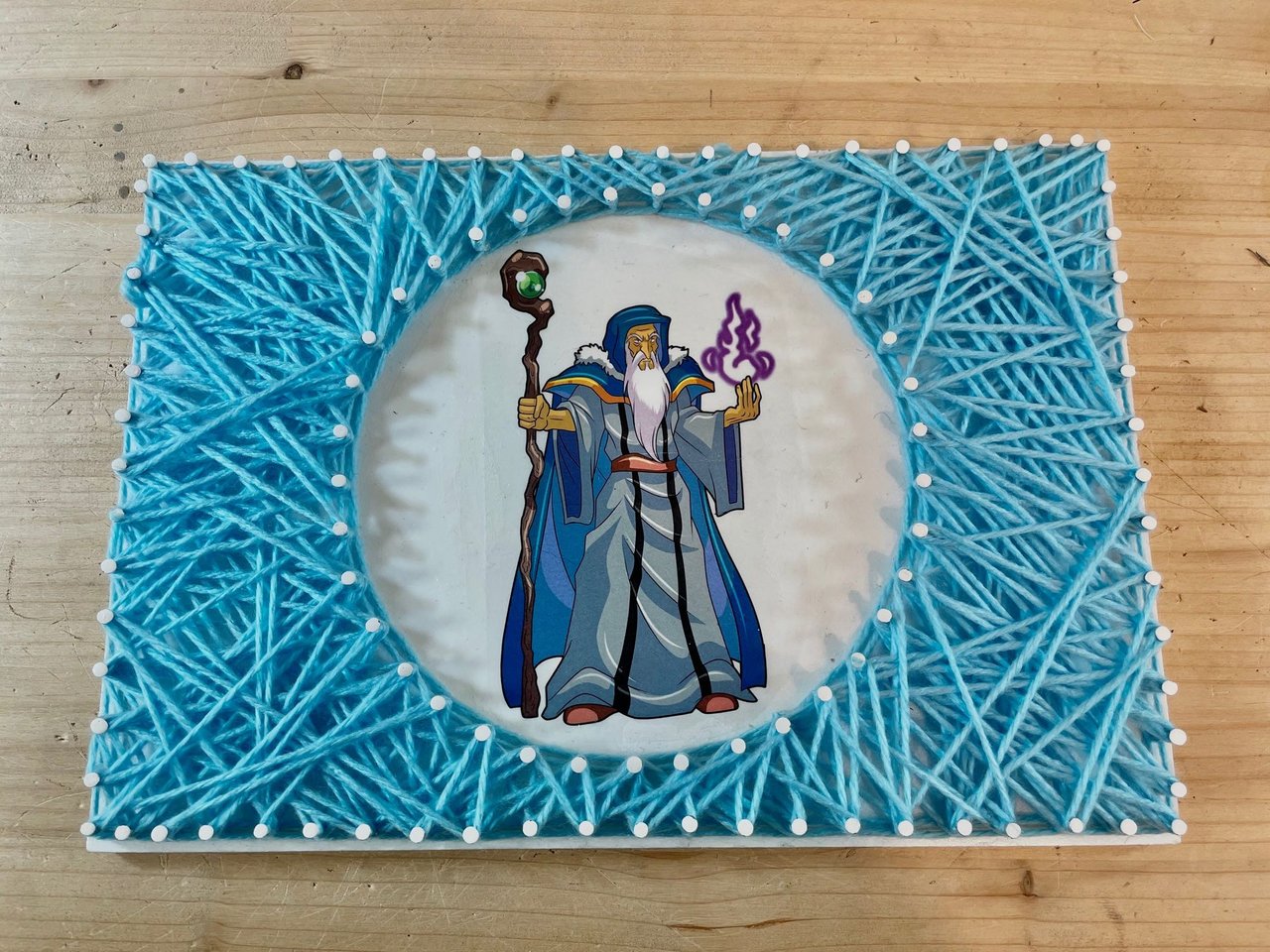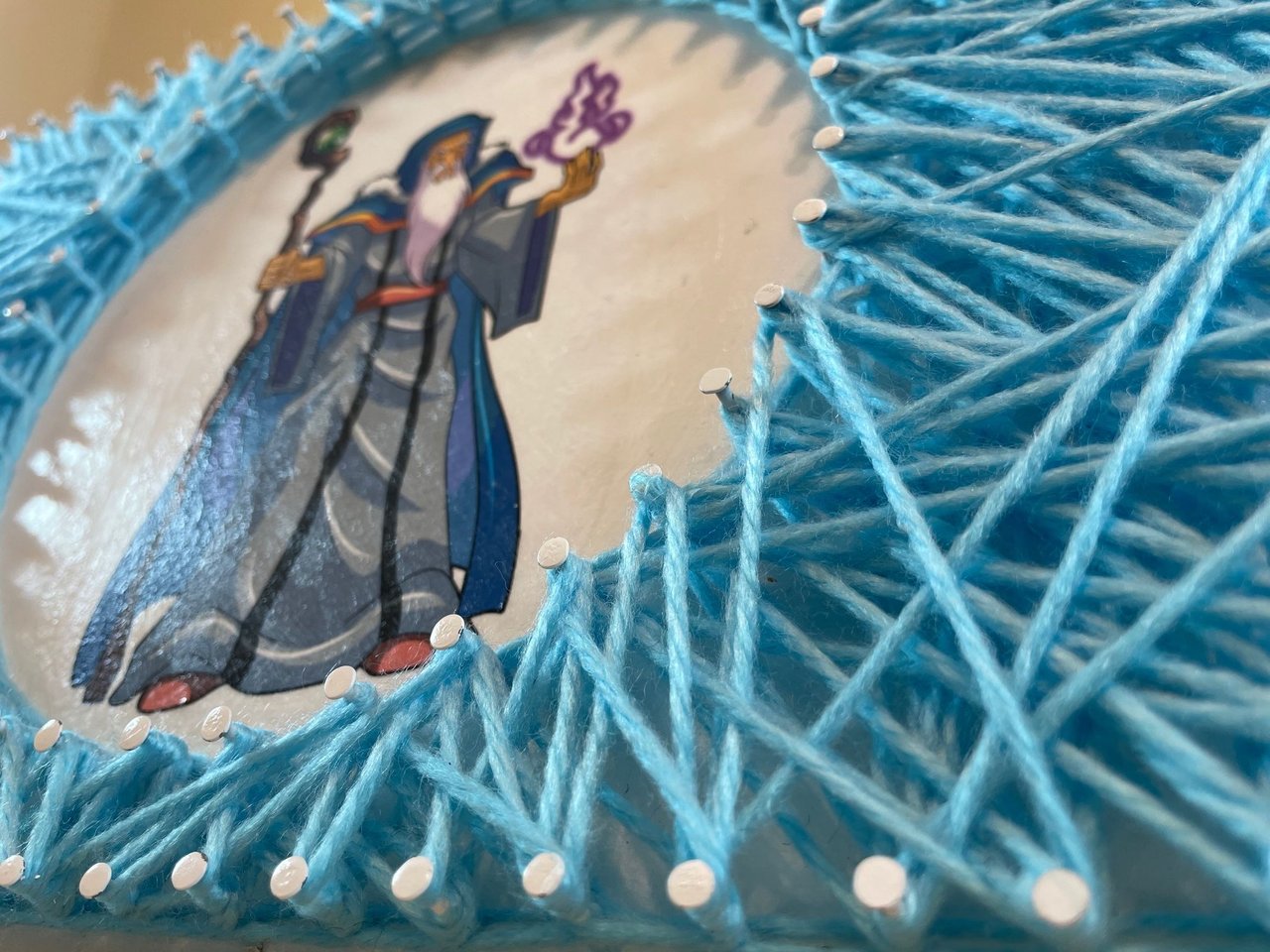 Le foto sono scatti dell'autore e immagini del gioco Splinterlands o di fonte Splinterlands, salvo dove diversamente indicato.

---
▶️ 3Speak