---
---
👉ENG VERSION👈

---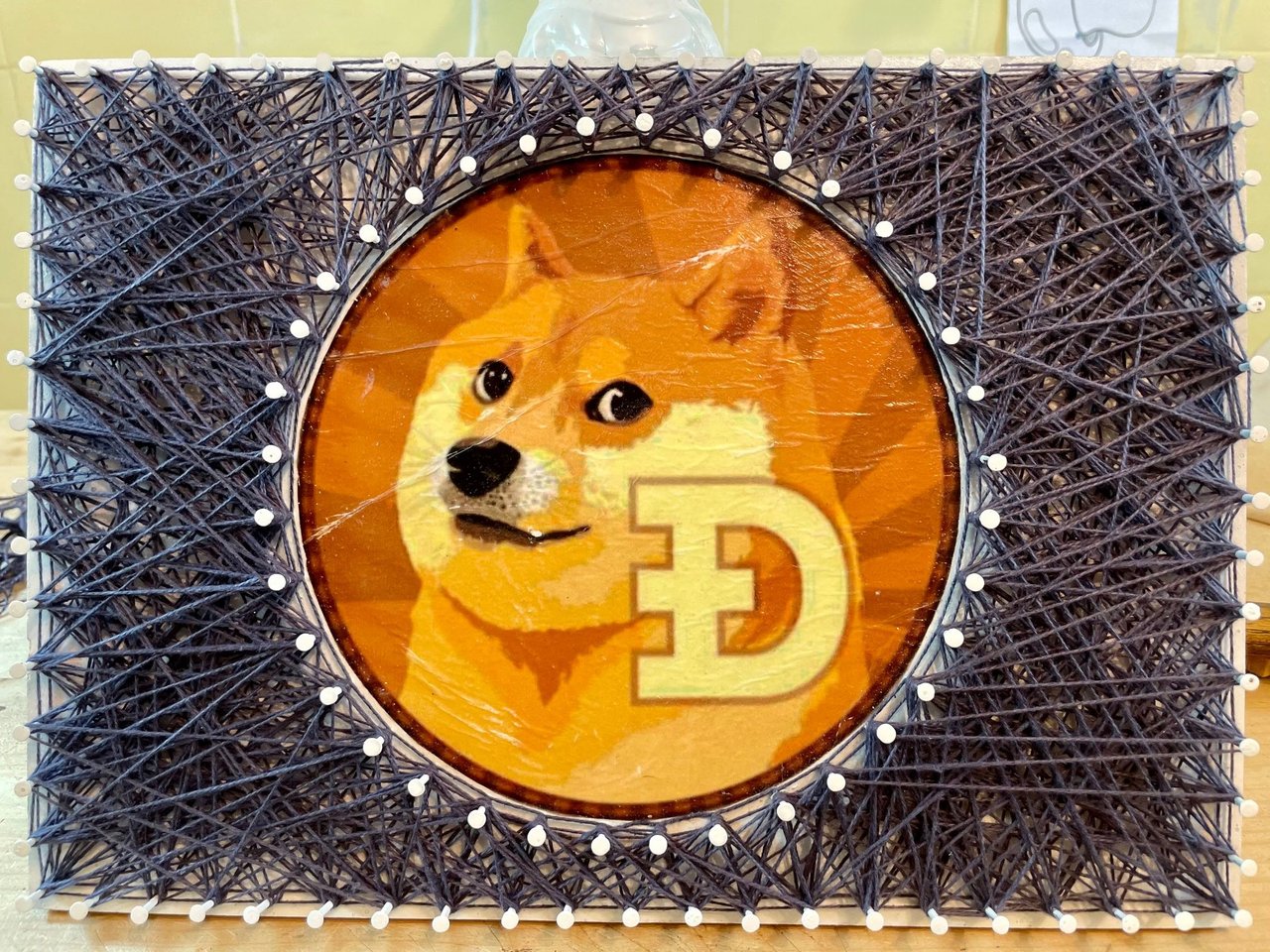 Hello friends, here we are at a new appointment dedicated to the logos of the beloved and hated crypto coins !!
In the first episode, we created the BITCOIN CASH one using colour and masks and lots of nails and twine, in the second we created the @HIVE logo using nails and only twine and then I asked what to do this week.
The idea for the third episode came from my friend @bencwarmer and it's DOGECOIN !!

Perhaps as a joke or perhaps out of euphoria seen the great talk of this coin in this period and the great ups and downs of this coin in charts all over the world, the fact is that I took it seriously and here I am making the logo.
DOGECOIN is a cryptocurrency representing a cute dog a SHIBA INU protagonist of a famous MEME, born perhaps as a joke in 2013 in the last few days it has made a lot of talk about itself and let's take the ball and create the logo with nails and string.
For this logo, I used the DECOUPAGE technique because it is impossible to make it as I made that of HIVE.

LET'S START WITH THE WORK, MATERIAL USED!
Wooden board 31x22 cm
Nails
grey twine
White paint
Glue
Glossy protective paint
Print the image on 30-gram paper.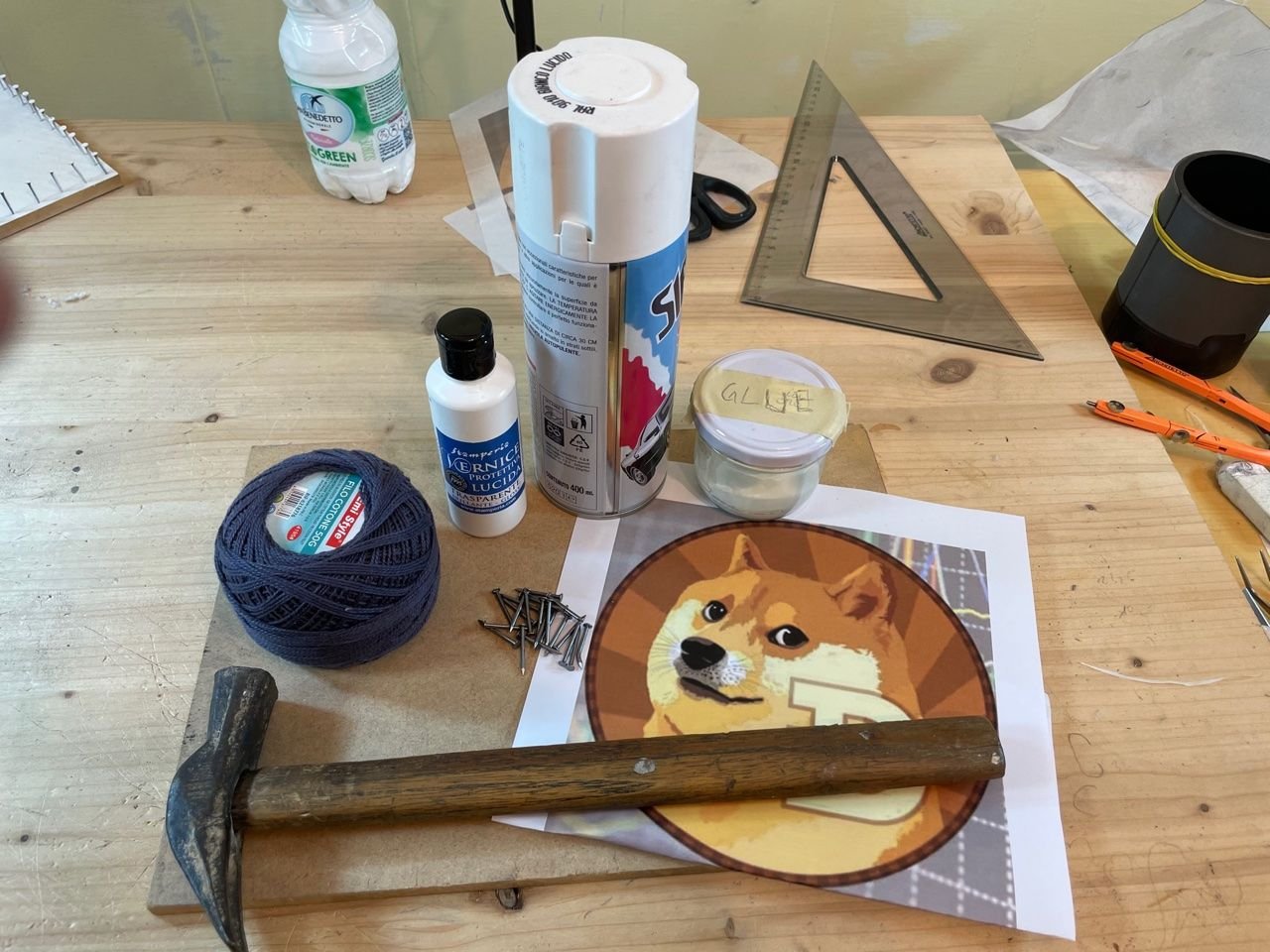 STEP 1
First I drew the centre of the table and drew a circle with a diameter of seventeen centimetres with the compass, exactly like the size of the print.
I then traced a frame all around the board, staying within the border of half a centimetre.
I created a thickness of an abundant centimetre and with the help of this, I made so many points on the circle so that they were all equidistant.
On the frame I helped myself with the team traced a point every 1.5 centimetres.
In this way, we will have the references to drive the nails all equidistant from each other.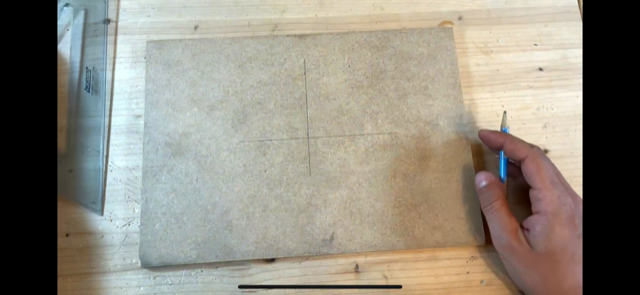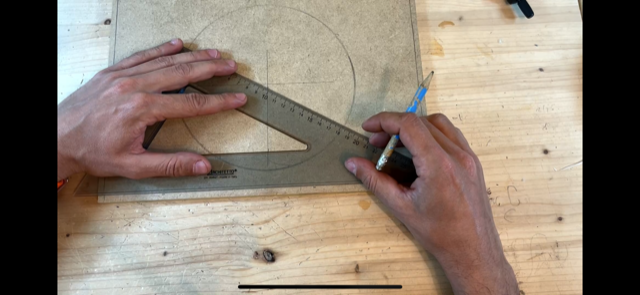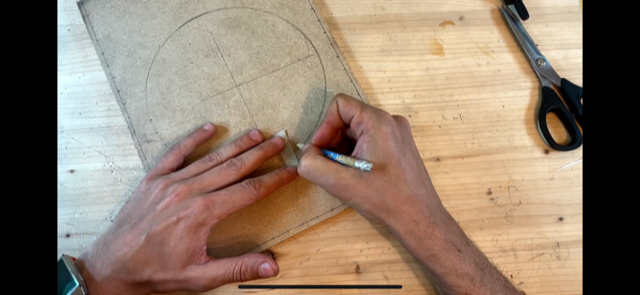 ---
STEP 2
Once we made our path, I drove the nails one for each point previously drawn both on the circle and on the frame.
Once all the nails had been planted, I completely coloured the board white, including the nails.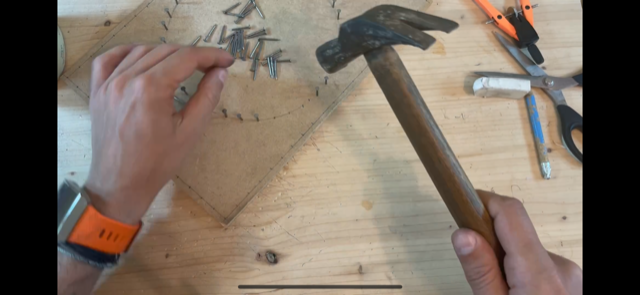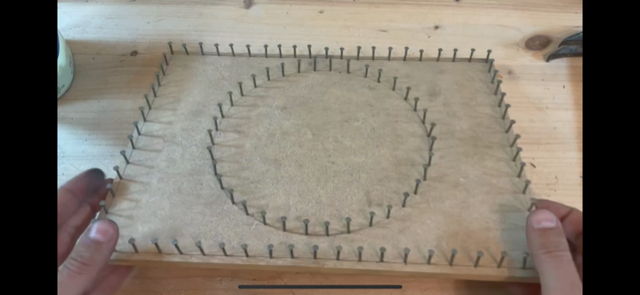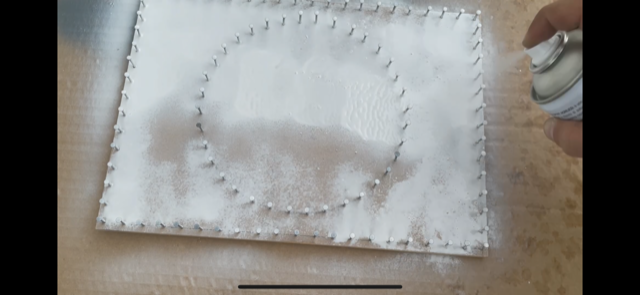 ---
STEP 3
After the paint dries, I cut out my image with a diameter of seventeen, I spread a thread of glue inside my circle on the table while I wait to cover all my area and I glued our DOGECOIN, I then gave a layer of glue too above the image so that it sticks well and once the glue is dry I have given a layer of glossy protective varnish, this makes our figure waterproof and shiny.
(Unfortunately, the printing on thirty grams paper has made some wrinkles but we like it makes it a little old-style :-))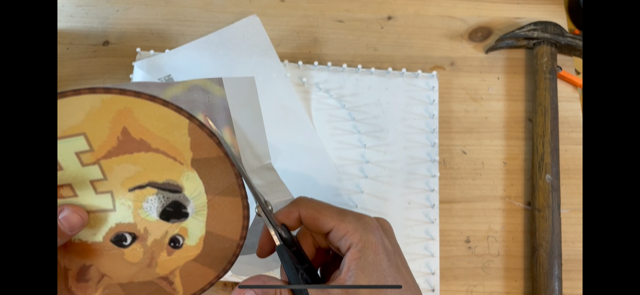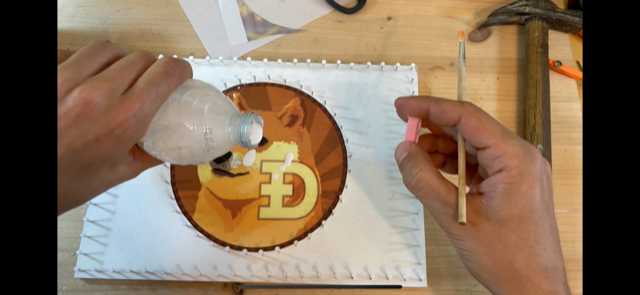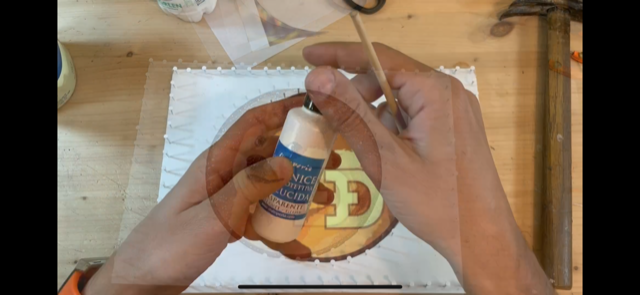 ---
STEP 4
After drying everything I started with the twine, first from the contours of both the circle and the frame bypassing the twine once clockwise and a second time counterclockwise.
Once all the edges have been completed, we start to cover the entire base of the table by pulling the string between the nails of the frame with those of the circle until it covers the entire table or almost.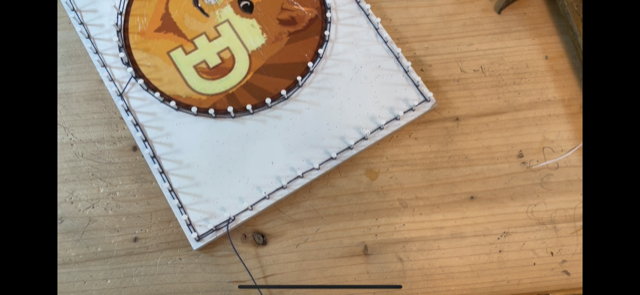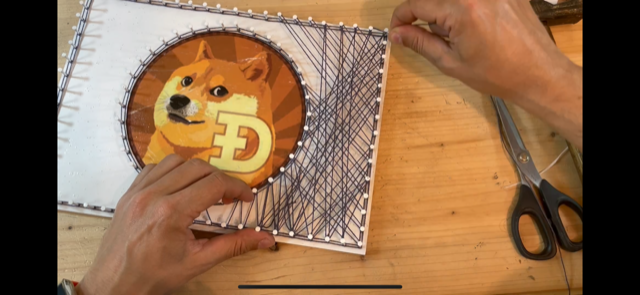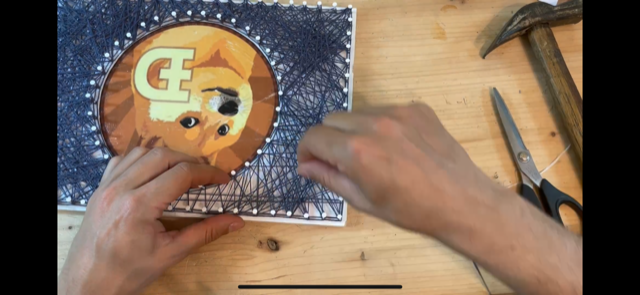 Here is our finished DOGECOIN! @bencwarmer if you like I'll send it to you :-).
We have also come to the conclusion of this third episode dedicated to cryptocurrency logos and I would like to return to my beloved hive world for the next time and I ask you what you would like to realize ... the hive logo is already done but maybe you could try it with a token like STARBITS from @risingstargame or CBMs from @cryptobrewmaster or calmly do both.
Shoot ideas any idea can be one of these two mentioned or even more, I'll see if it is feasible and how to bring it to you in the next episode and GIFT IT!

**

LOGOS MADE:
**
HIVE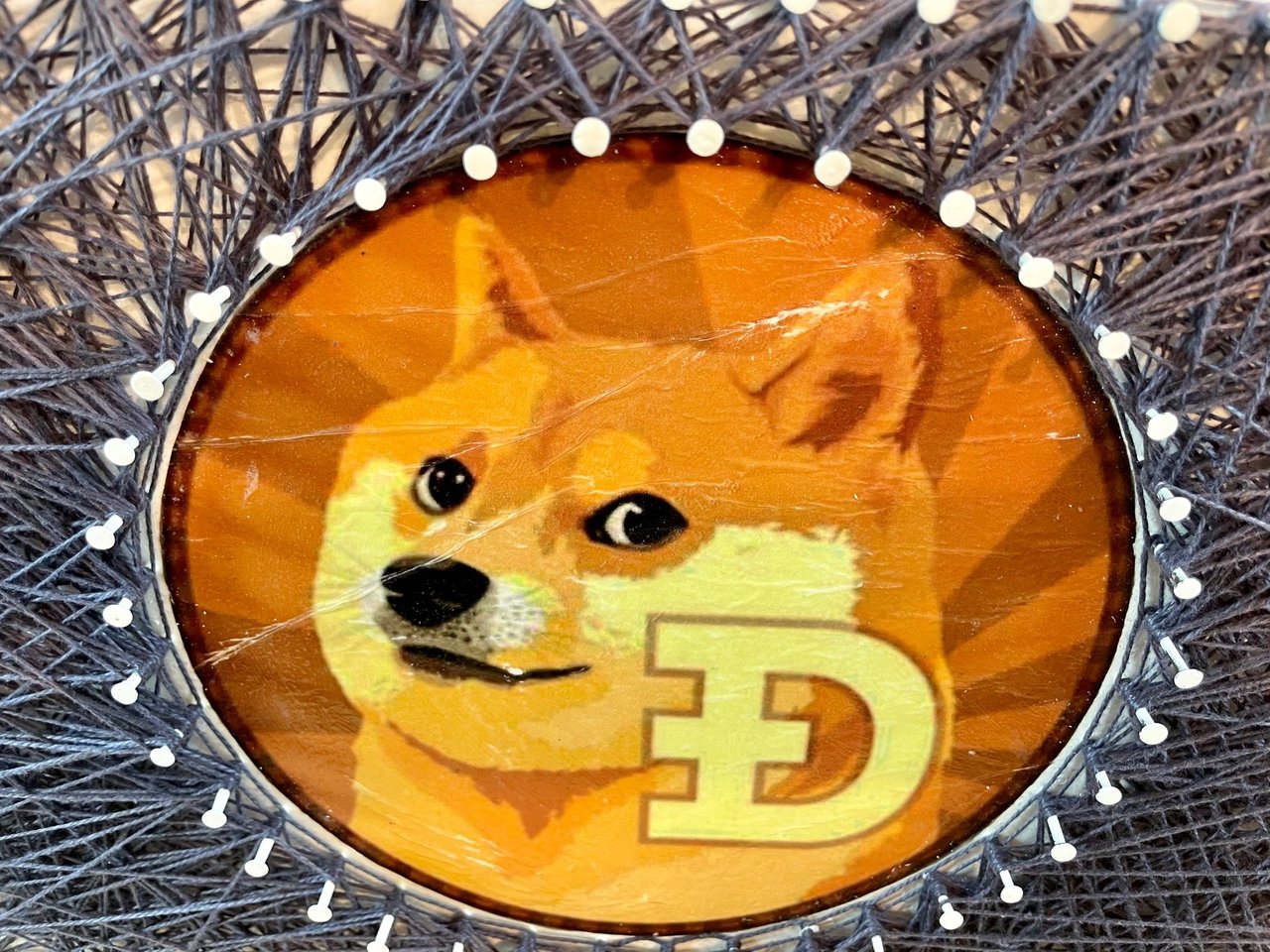 The photos are shots of the author and the dogecoin logo, a video made by the author.

_____-
---
👉ITA VERSION👈

---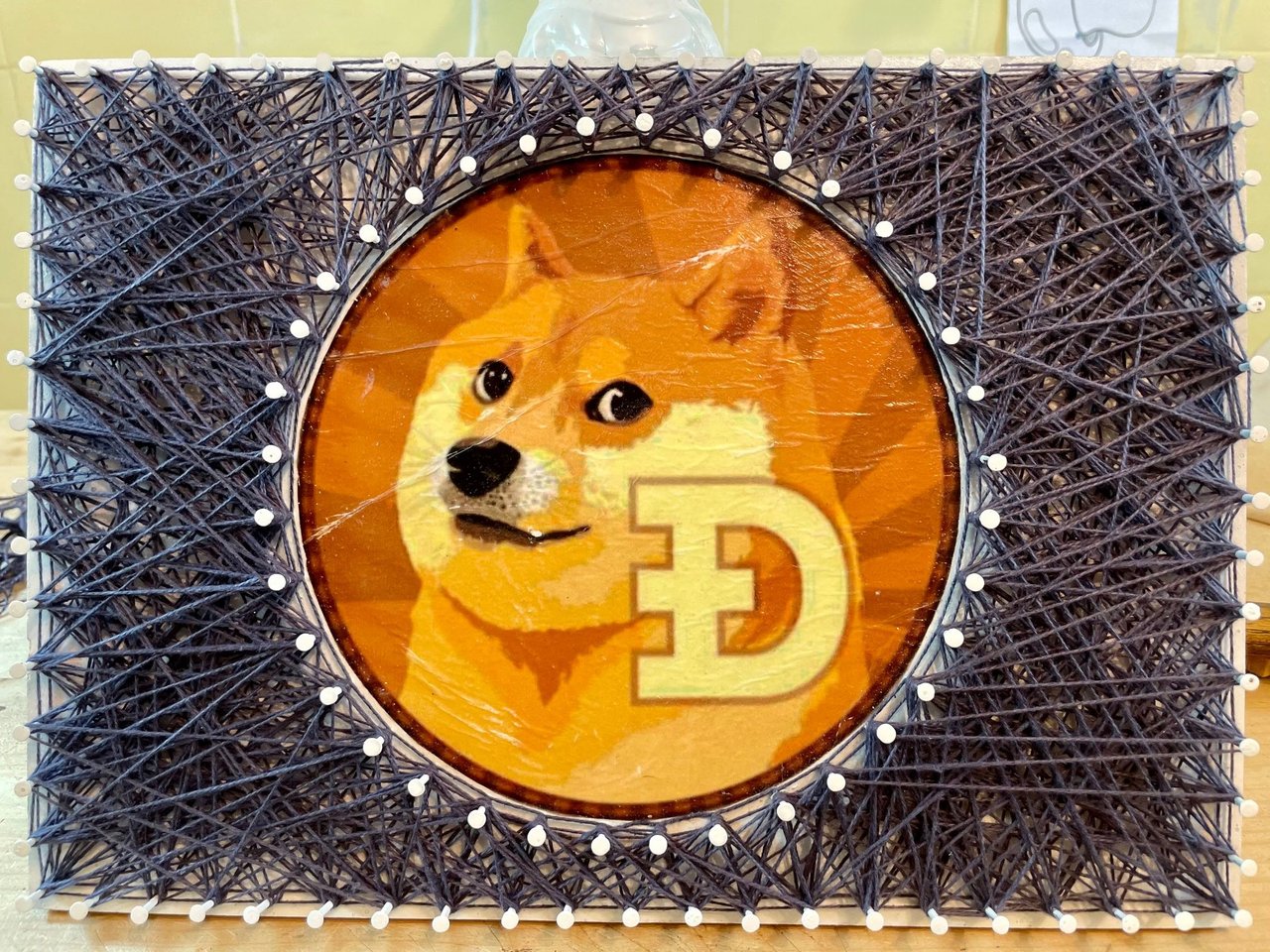 Ciao amici, eccoci a un nuovo appuntamento dedicato ai loghi delle amate e odiate crypto monete!!
Nella prima puntata abbiamo creato quello di BITCOIN CASH utilizzando colore e machere e tanti chiodi e spago, nella seconda abbiamo creato il logo di @HIVE utilizzando chiodi e solo spago e poi avevo chiesto cosa poter realizzare questa settimana.
L'idea per la terza puntata è arrivata dall'amico @bencwarmer ed è DOGECOIN!!

Forse per scherzo o forse per euforia visto il grande parlare di questa moneta in questo periodo e le grandi salite e discese di questa moneta nei grafici di tutto il mondo, fatto sta che l'ho preso seriamente ed eccomi a realizzare il logo.
DOGECOIN è una criptovaluta rappresentante un simpatico cane uno SHIBA INU protagonista di una famosa MEME, nato forse per scherzo nel 2013 negli ultimi giorni ha fatto molto parlare di se e prendiamo la palla al balzo e creiamo il logo con i chiodi e lo spago.
Per queto logo ho utilizzato la tecnica del DECOUPAGE perchè impossibile realizzarlo come ho realizzato quello di HIVE.

PARTIAMO CON IL LAVORO, MATERIALE UTILIZZATO!
Tavola di legno 31x22 cm
Chiodi
spago grigio
Vernice bianca
Colla
Vernice protettiva lucida
Stampa dell'immagine su carta 30 grammi.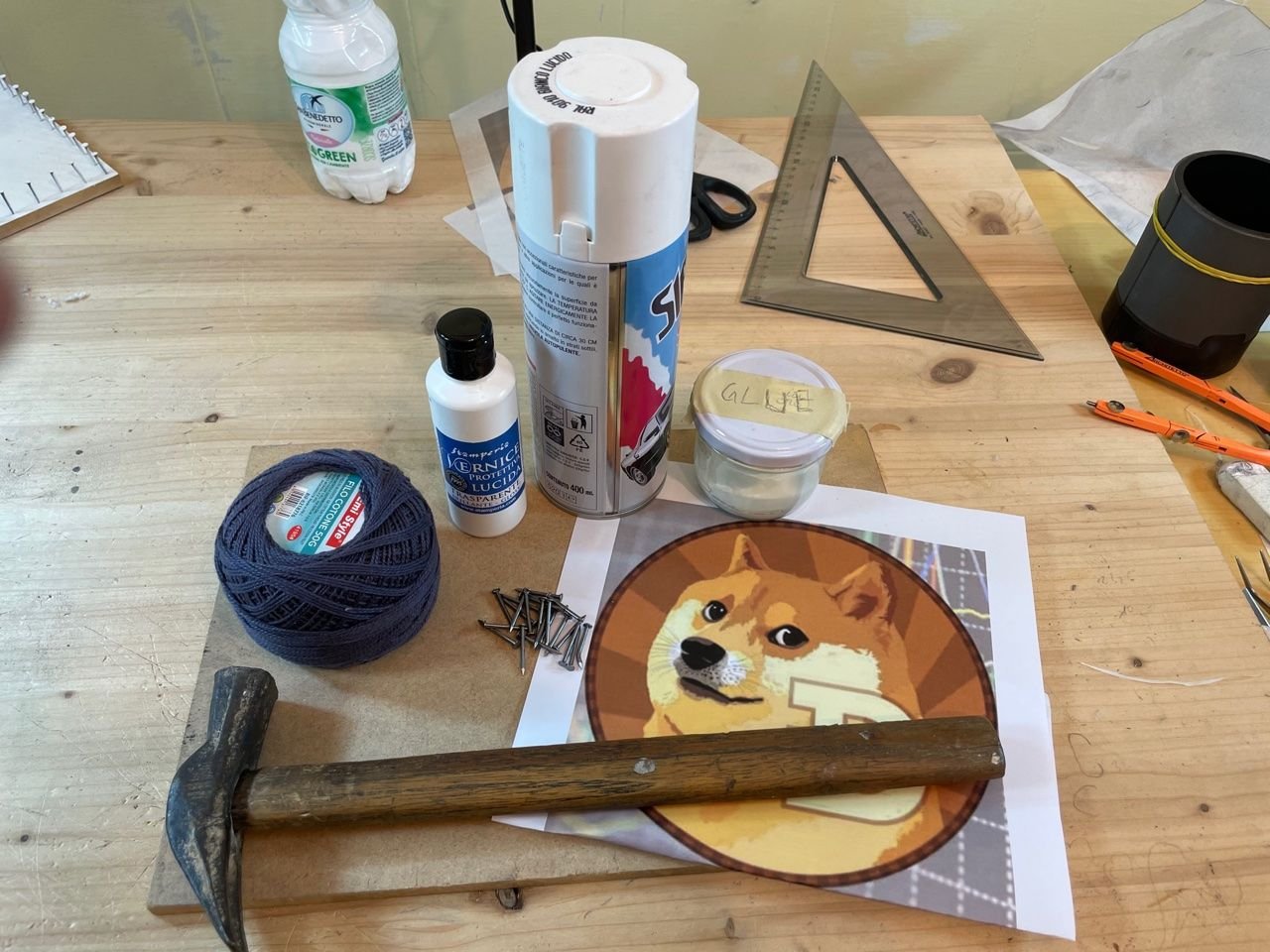 STEP 1
Come prima cosa ho tracciato il centro della tavola e ho disegnato con il compasso un cerchio con diametro diciassette centimetri, esattamente come la dimensione della stampa.
Ho poi tracciato una cornice tutto intorno alla tavola stando all'interno del bordo di mezzo centimetro.
Ho creato uno spessore di un centimetro abbondante e con l' aiuto di questo ho fatto tanti punti sul cerchio in modo che fossero tutti equidistanti.
Sulla cornice mi sono aiutato con la squadra tracciato un punto a ogni 1.5 centimetri.
In questo modo avremo i riferimenti per piantare i chiodi tutti equidistanti fra loro.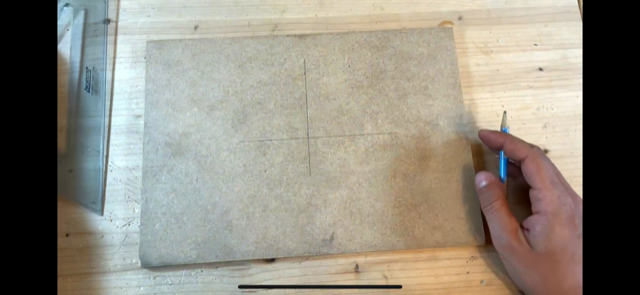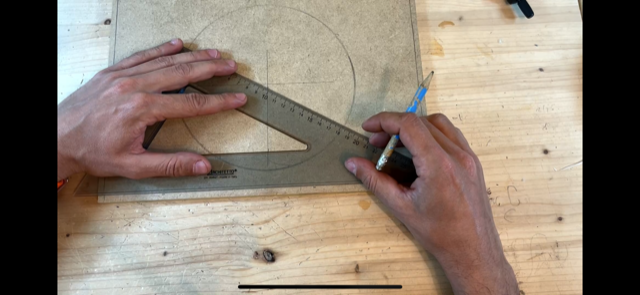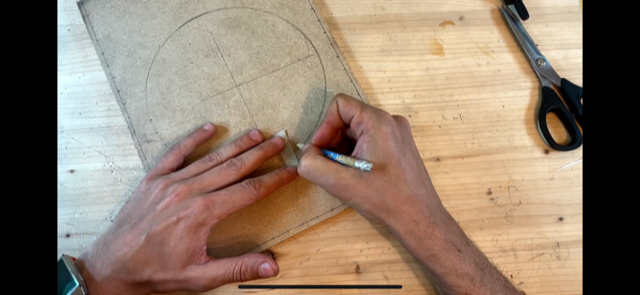 ---
STEP 2
Una volta fatto il nostro tracciato ho piantato i chiodi uno per ogni punto disegnato precedentemente sia sul cerchio che sulla cornice.
Una volta piantato tutti i chiodi ho totalemente colorato di bianco la tavola, chiodi compresi.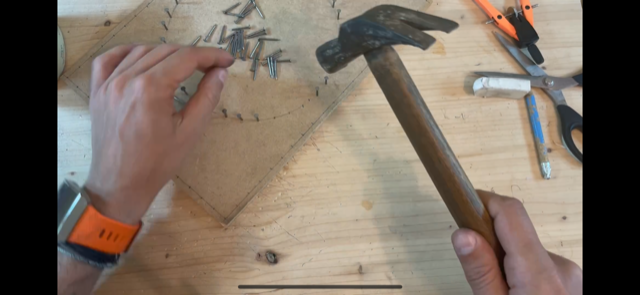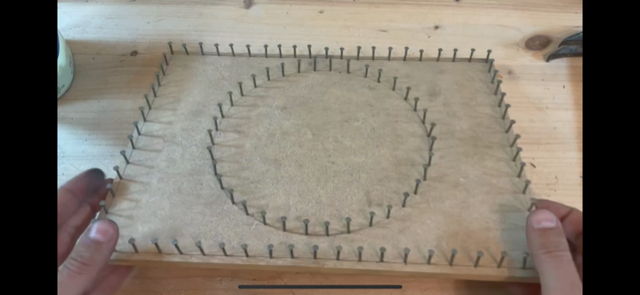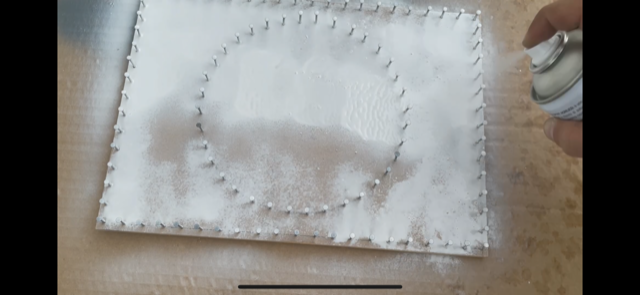 ---
STEP 3
Fatta asciugare la vernice ho ritagliato la mia immagine con diametro diciassette, ho steso un filo di colla all'interno del mio cerchio sulla tavola stando attendo a ricoprire tutta la mia aerea e ho incollato il nostro DOGECOIN, ho poi dato uno strato di colla anche sopra l'immagine in modo che questa si incollasse per bene e una volta asciutta la colla ho dato uno strato di vernice protettiva lucida, questa rende la nostra figura impermeabile e lucida.
(Purtroppo la stampa su carta trenta grammi ha fatto qualche grinza ma ci piace la rende un pò old style:-))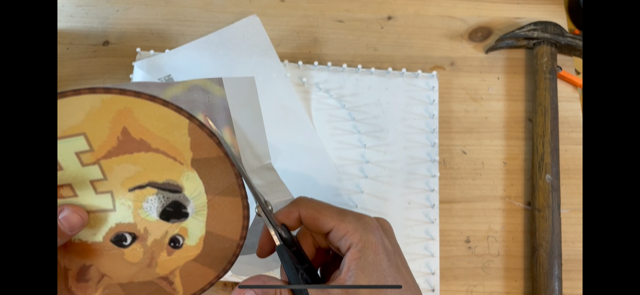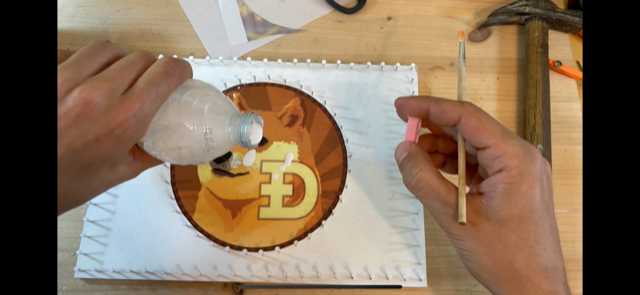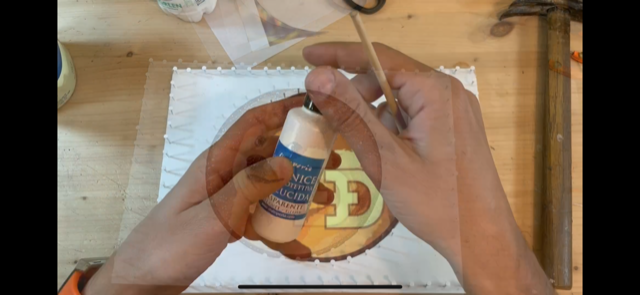 ---
STEP 4
Fatto asciugare il tutto ho iniziato con lo spago, prima dai contorni sia cerchio che cornice facendo passare lo spago una volta in senso orario e una seconda volta in senso antiorario.
Una volta completati tutti i bordi si parte a ricoprire tutta la base della tavola tirando lo spago tra i chiodi della cornice con quelli del cerchio fino a ricoprire tutta la tavola o quasi.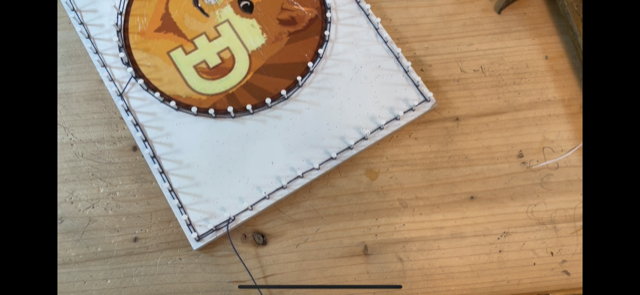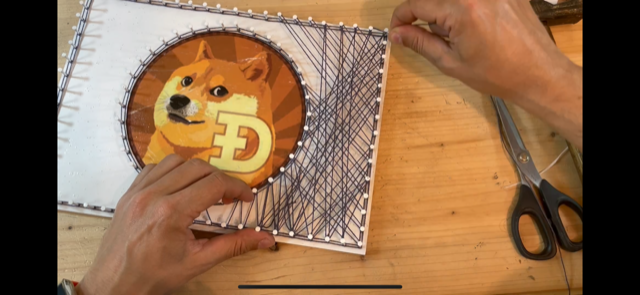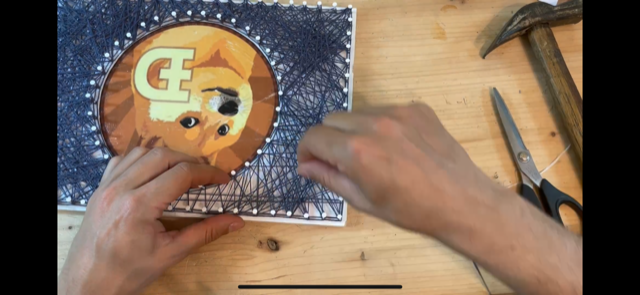 Ecco il nostro DOGECOIN finito! @bencwarmer se tipiace te lo spedisco :-).
Siamo giunti alla conclusione anche di questa terza puntata dedicata ai loghi delle criptovalute e vorrei per la prossima tornare nel mio amato mondo hive e vi chiedo cosa vi piacerebbe realizzassi... il logo hive è gia fatto ma magari si potrebbe provare con un token come quello di STARBITS del gioco @risingstargame o i CBM di @cryptobrewmaster o con la dovuta calma farli entrambi.
Sparate idee qualsiasi idea può essere una di queste due citate o anche altro, vedro se fattibile e in che modo per portarvela nella prossima puntata e REGALARVELO!

LOGHI REALIZZATI:
HIVE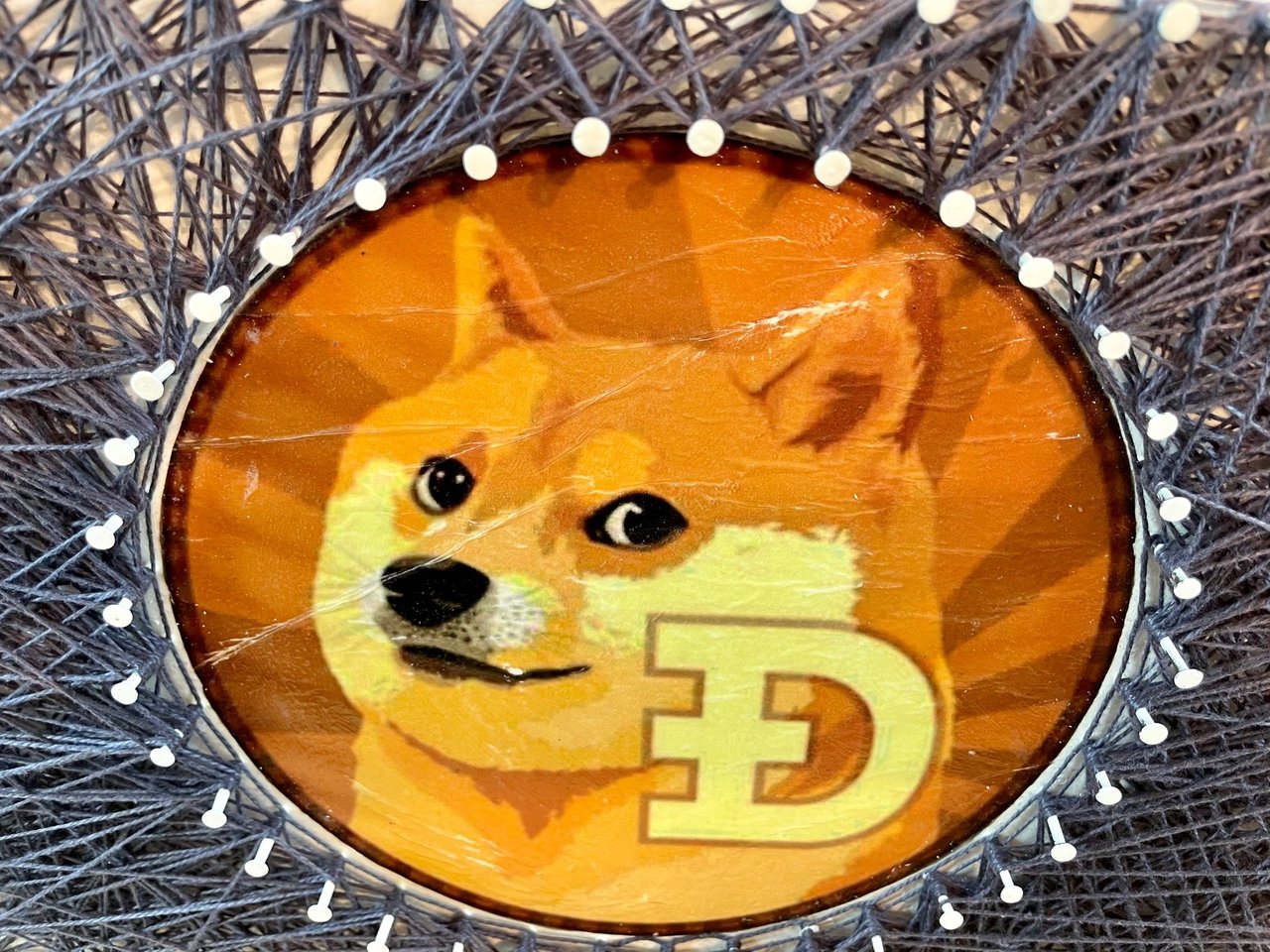 Le foto sono scatti dell'autore e logo dogecoin, video realizzato dall'autore.

---
▶️ 3Speak