---
---
👉ENG VERSION👈

---
Hi guys,
I immediately state that HIVE is my home, it is my family but for a few months now I have known BITCOIN CASH and I have found a lot of interest in this crypto and the platforms that promote it such as READ CASH and NOISE.
On these platforms, I have received a lot of information about BITCOIN CASH and I think it is a very valid crypto currency perhaps underestimated.
In addition to this, I have met many people, many new friends, cultures, different languages, different countries that I didn't even know existed, customs and a lot of information of all kinds ranging from cryptocurrencies to how to manage a beehive of bees, greedy dishes, memes and many others things from good to bad but that enrich my knowledge.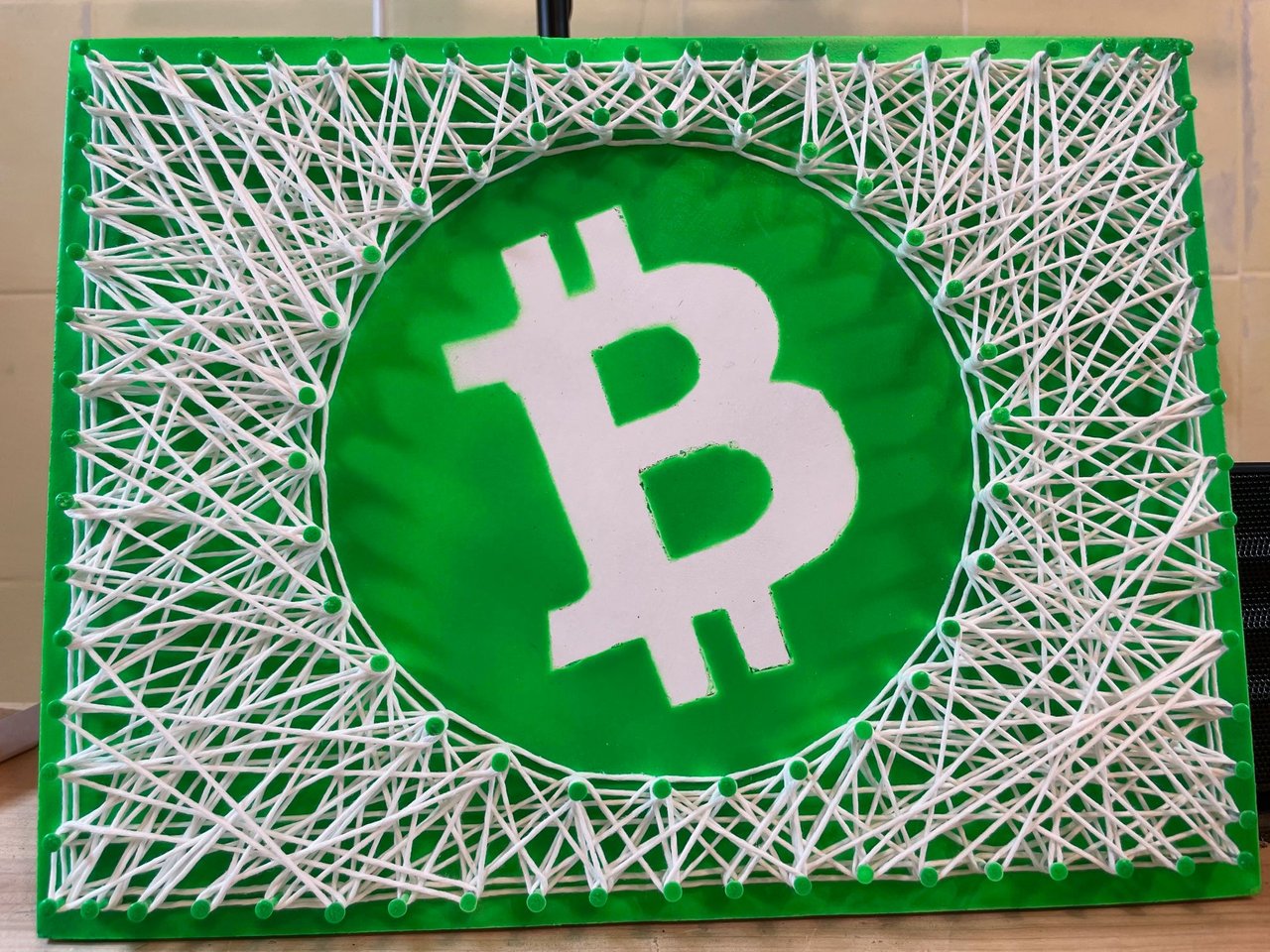 Hence the desire to create a small tribute to this coin and I made the BITCOIN CASH logo in my own way and here is my painting and how I made it.

USED MATERIAL:
Wooden board 29cm x 21cm
Nails
String
White paint
Green Paint
Glossy protective paint
STEP 1
First of all, I got a print of the BITCOIN CASH logo and from this, I made a cardboard mask of the logo, this was then used in the painting phase to create the logo to perfection.
To trace the logo I helped myself with carbon paper.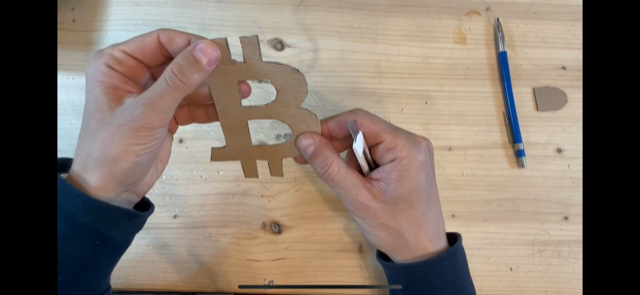 STEP 2
I took a wooden board with dimensions of 29 cm wide, 22 cm high.
I drew the centre of the table and formed a frame of one cm from the edge all around, I hammered in nails and being too close to the edge could break the tablet.
I then traced the points were to drive the nails staying about 1.5 cm of space from each other.
Finally, I planted the nails both in the frame and in the circle made previously in the centre of the tablet, circles that will host our logo.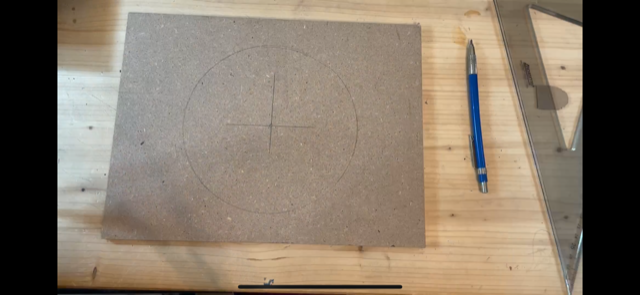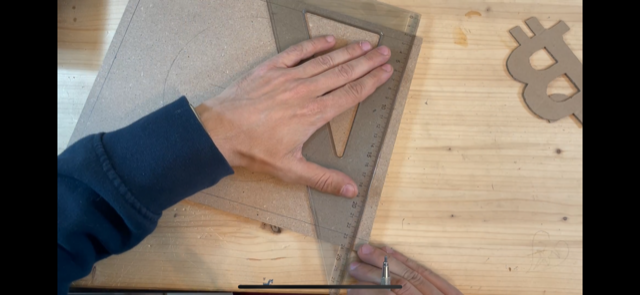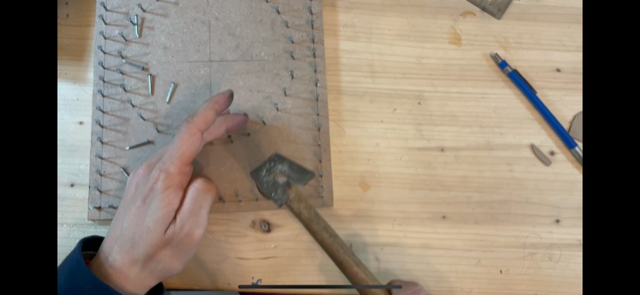 STEP 3
I painted the tablet completely white and waited for it to dry.
Once dried, I placed the logo in the centre by putting some weight on it to prevent it from moving and I painted everything in fluorescent green.
In doing so I took the colours of BITCOIN CASH, once dried I removed the cardboard mask from the centre, which turned out to be all green except for the white logo.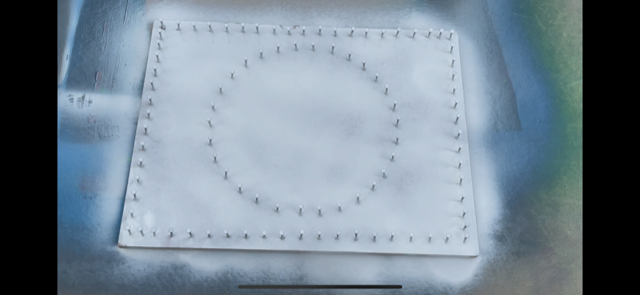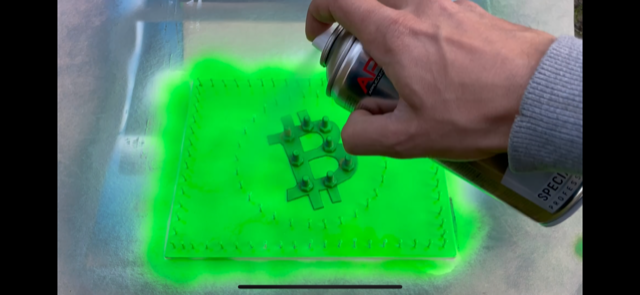 STEP 4
Having obtained our logo, I painted the inside with a protective varnish so that it lasts over time then I started to pass the twine first clockwise then counterclockwise between all the nails and then I started to cover the whole board with the twine making it pass a little at random in the middle of all the nails between the rim and the frame and here is the final result !!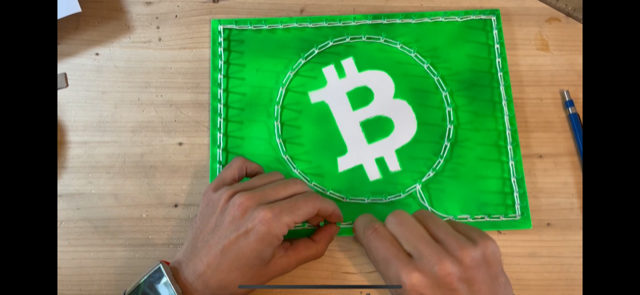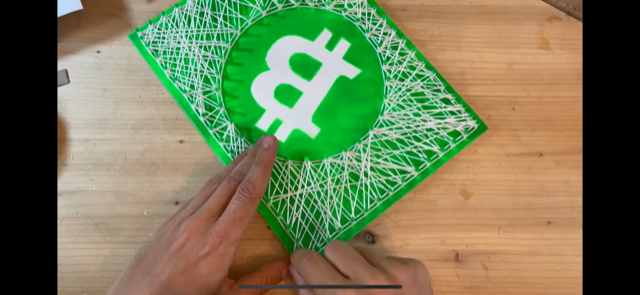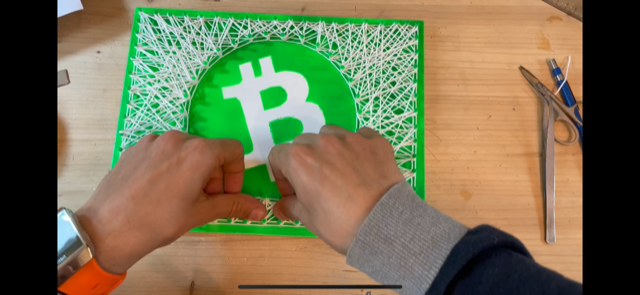 As written above I think it is a slightly underestimated currency, but the desire and the idea to create this framework was given to me by the many users who frequent these platforms and the relationship that is slowly growing with some.
https://read.cash/@BluMela
https://noise.cash/u/BluMela
If you like to pass by these two platforms happy to reciprocate the friendship there too, if you don't like we will always find ourselves here in our beehive inside our beloved home!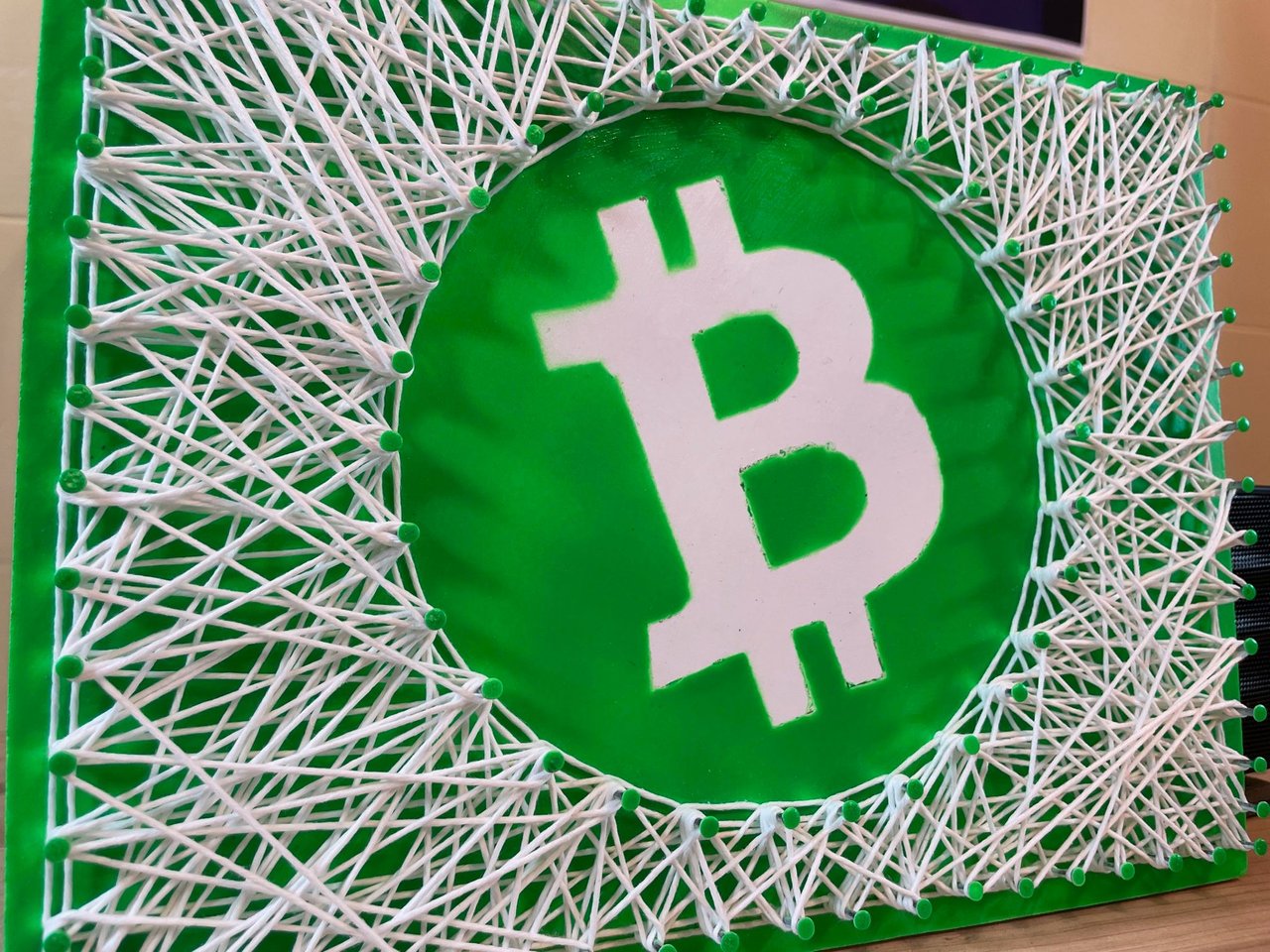 The full video lasts about 4 hours has been brought to just over 10 minutes by speeding up some parts to x2 up to a maximum of x50 is the fourth made of seven elements.
The images are taken from the Splinterlands game.
Recorded and edited by blumela with iPhone 12, applications used: Perfect Video - Photoleap - Clip2Comics - Tinipiny Camera.
For this logo, I used the free sample music from the copyright-free Perfect Video application.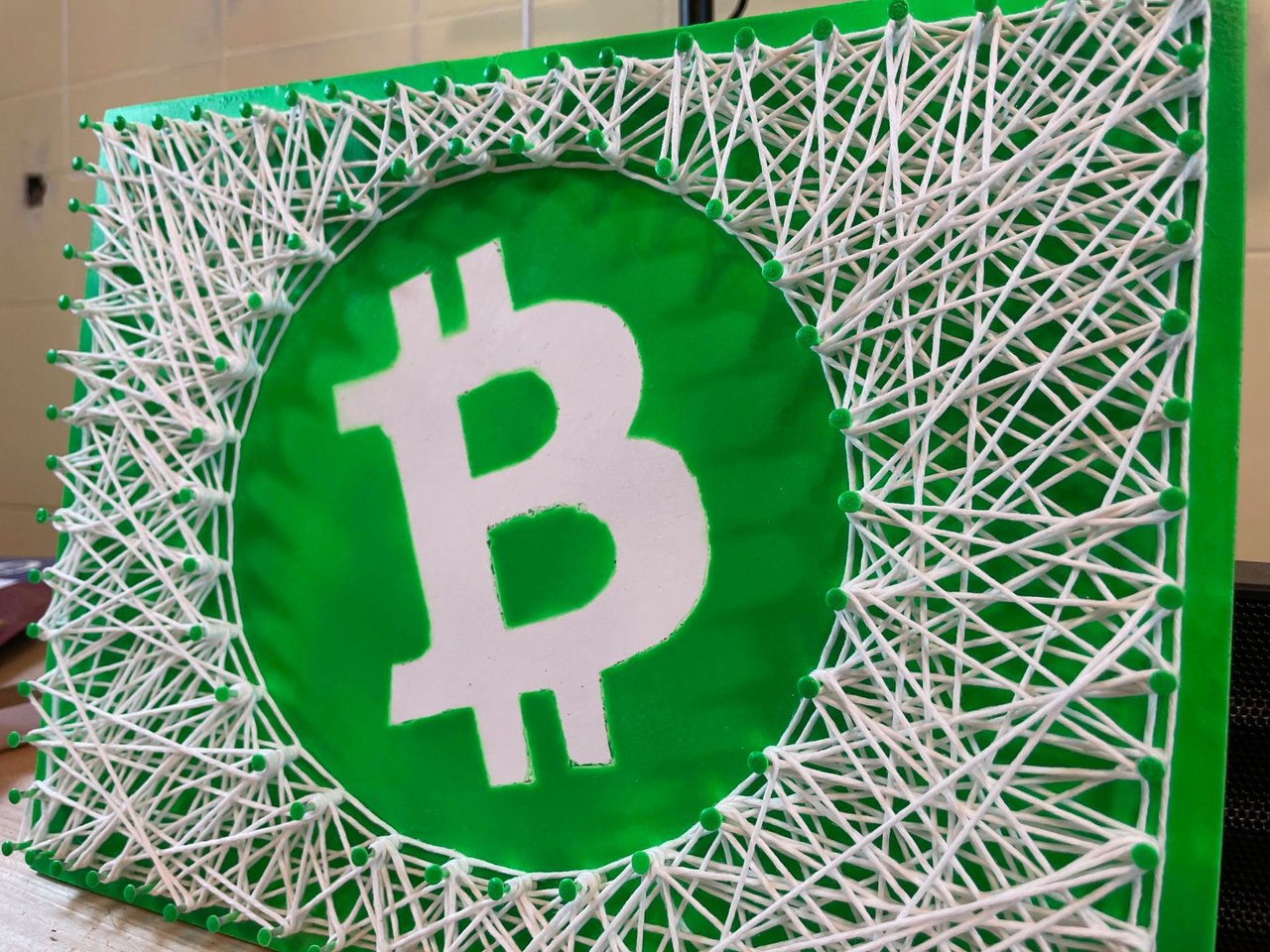 The photos are taken by the author, the video was made by the author.

---
---
👉ITA VERSION👈

---
Ciao ragazzi,
premetto subito che HIVE è la mia casa, è la mia famiglia ma da qualche mese a questa parte ho conosciuto BITCOIN CASH e ho trovato molto interesse per questa crypto e le piattaforme che la promuovono tipo READ CASH e NOISE.
Su queste piattaforme ho ricevuto molte informazioni sul BITCOIN CASH e penso che sia una cripto moneta molto valida forse sottovalutata.
Oltre a questo ho conosciuto molte persone, molti nuovi amici, culture diverse lingue diverse paesi che nemmeno conoscevo l'esistenza, usanze e molte informazioni di ogni tipo che svariano dalle criptomonete a come gestire un alveare di api, piatti golosi, meme e tante altre cose dalle belle alle brutte ma che arricchiscono il mio sapere.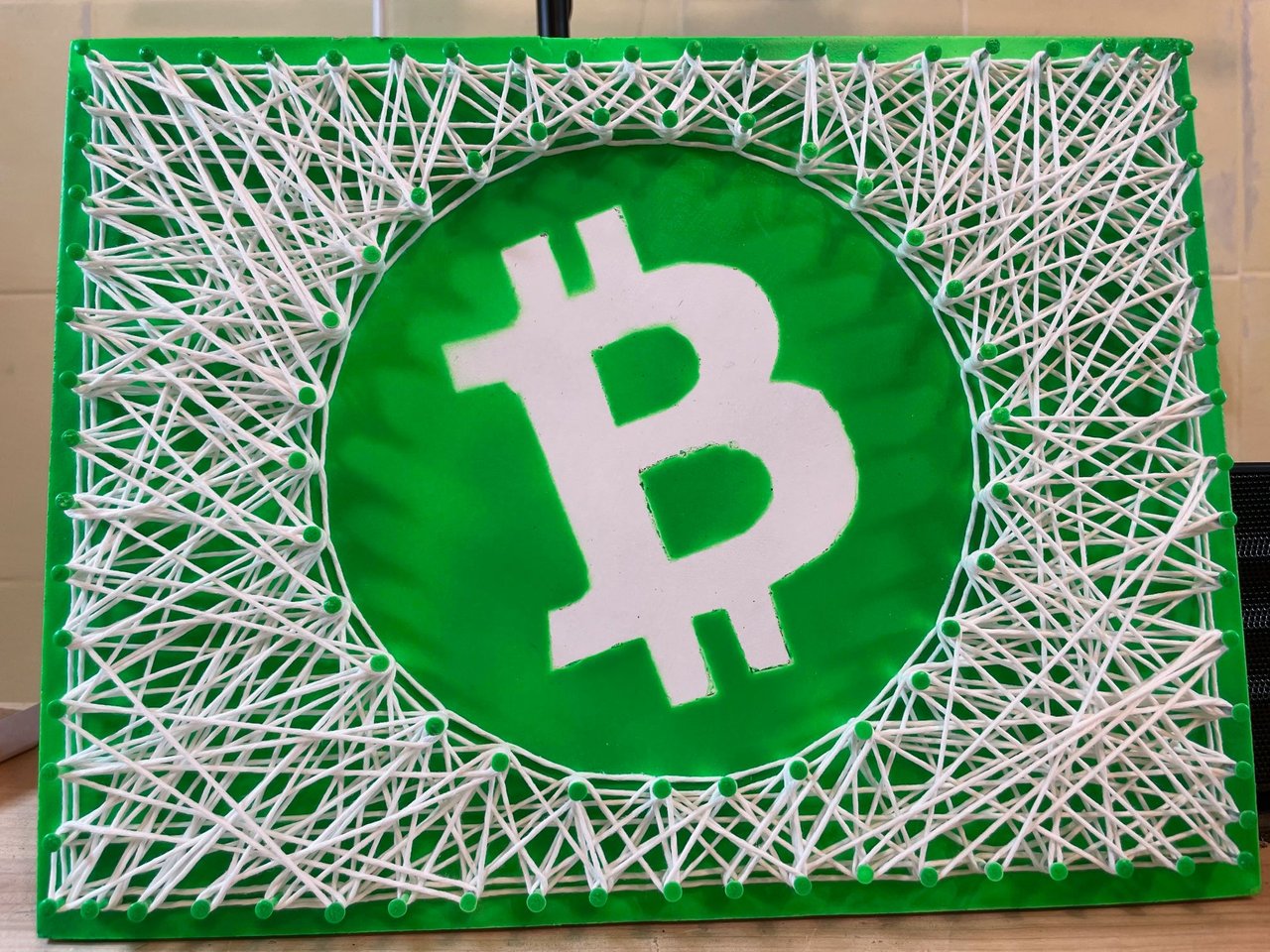 Da qui è partita la voglia di creare un piccolo omaggio a questa moneta e ho realizzato alla mia maniera il logo di BITCOIN CASH ed ecco il mio quadro e come lo ho realizzato.

MATERIALE UTILIZZATO:
Tavola di legno 29cm x 21 cm
Chiodi
Spago
Vernice Bianca
Vernice Verde
Vernice protettiva lucida
STEP 1
Come prima cosa mi sono procurato una stampa del logo di BITCOIN CASH e da questo ho realizzato una maschera in cartone del logo, questa mi è poi servita in fase di verniciatura per creare il logo alla perfezione.
Per ricalcare il logo mi sono aiutato con la carta carbone.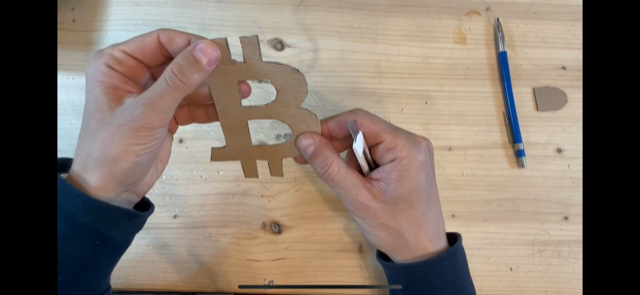 STEP 2
Ho preso una tavoletta di legno di dimensione 29 cm larghezza, 22 cm altezza.
Ho disegnato il centro della tavola e ho formato una cornice di un cm dal bordo tutta in torno, ho piantato chiodi e stare troppo vicini al bordo si rischia la rottura della tavoletta.
Ho poi tracciato i punti dove piantare i chiodi stando circa 1.5 cm di spazio l'uno dall'altro.
In fine ho piantato i chiodi sia nella cornice sia nel cerchio fatto precedentemente al centro della tavoletta, cerchi che ospiterà il nostro logo.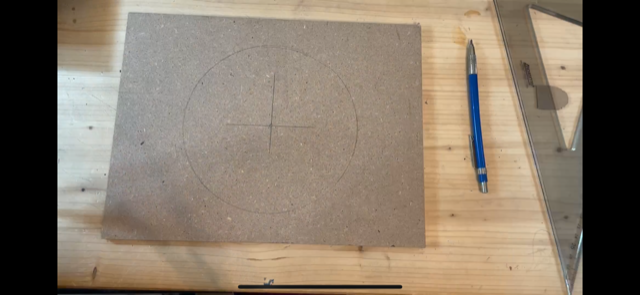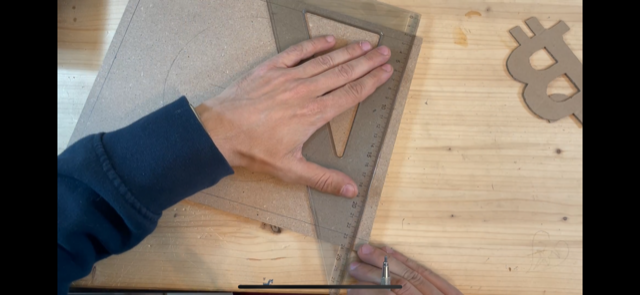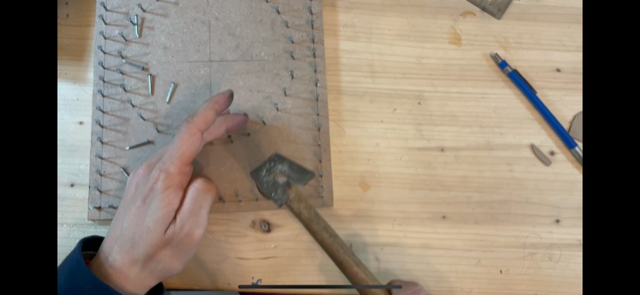 STEP 3
Ho verniciato la tavoletta totalemnte di bianco e ho aspettato che si asciugasse.
Una volta asciugata ho posizionato il logo al centro mettendo qualche peso sopra per evitare si spostasse e ho verniciato tutto di verde fluorescente.
Cosi facendo ho ripreso i colori di BITCOIN CASH, una volta asciugato ho tolto la maschera di cartone dal centro, risultato tutto verde tranne il logo in bianco.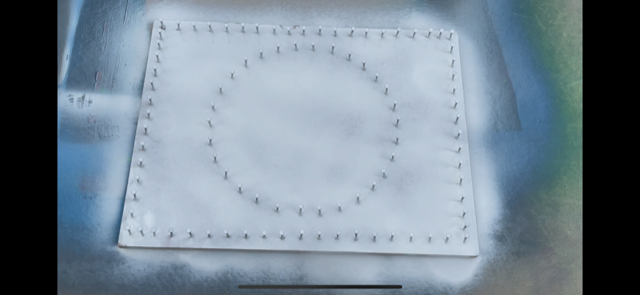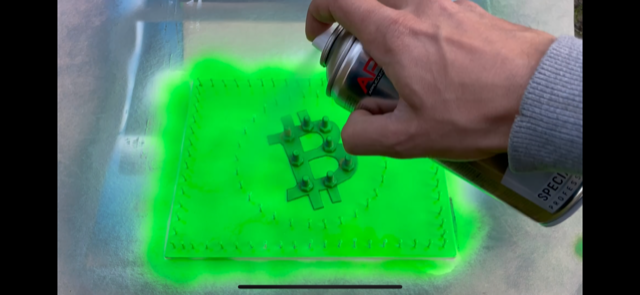 STEP 4
Ricavato il nostro logo ho verniciato l'interno con una vernice protettiva in modo che duri nel tempo poi ho iniziato a fare passare lo spago prima in senso orario poi in senso anti orario fra tutti i chiodi e poi ho iniziato a ricoprire tutta la tavoletta con lospago facendolo passare un pò a caso in mezzo a tutti i chiodi tra cerchio e cornice ed ecco il risulatato finale!!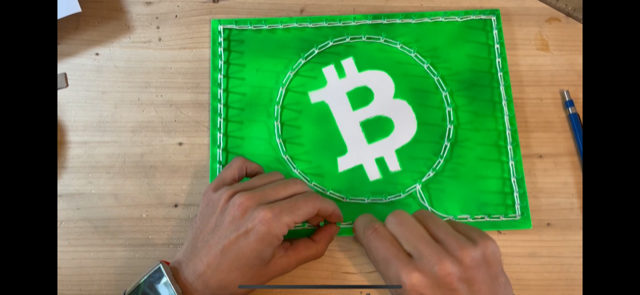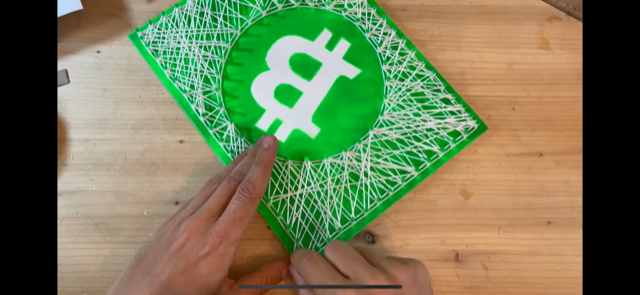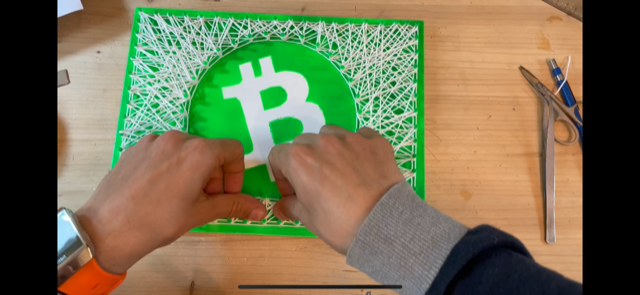 Come scritto sopra credo sia una moneta un pò sottovalutata, ma la voglia e l'idea di creare questo quadro mi è stata data dai tanti utenti che frequentano queste piattaforme e il rapporto che piano piano sta crescendo con alcuni.
https://read.cash/@BluMela
https://noise.cash/u/BluMela
Se vi va di passare da queste due piattaforme felice di ricambiare l'amicizia anche li, se non vi va ci troveremo sempre qui dentro il nostro alveare dentro la nostra amata casa!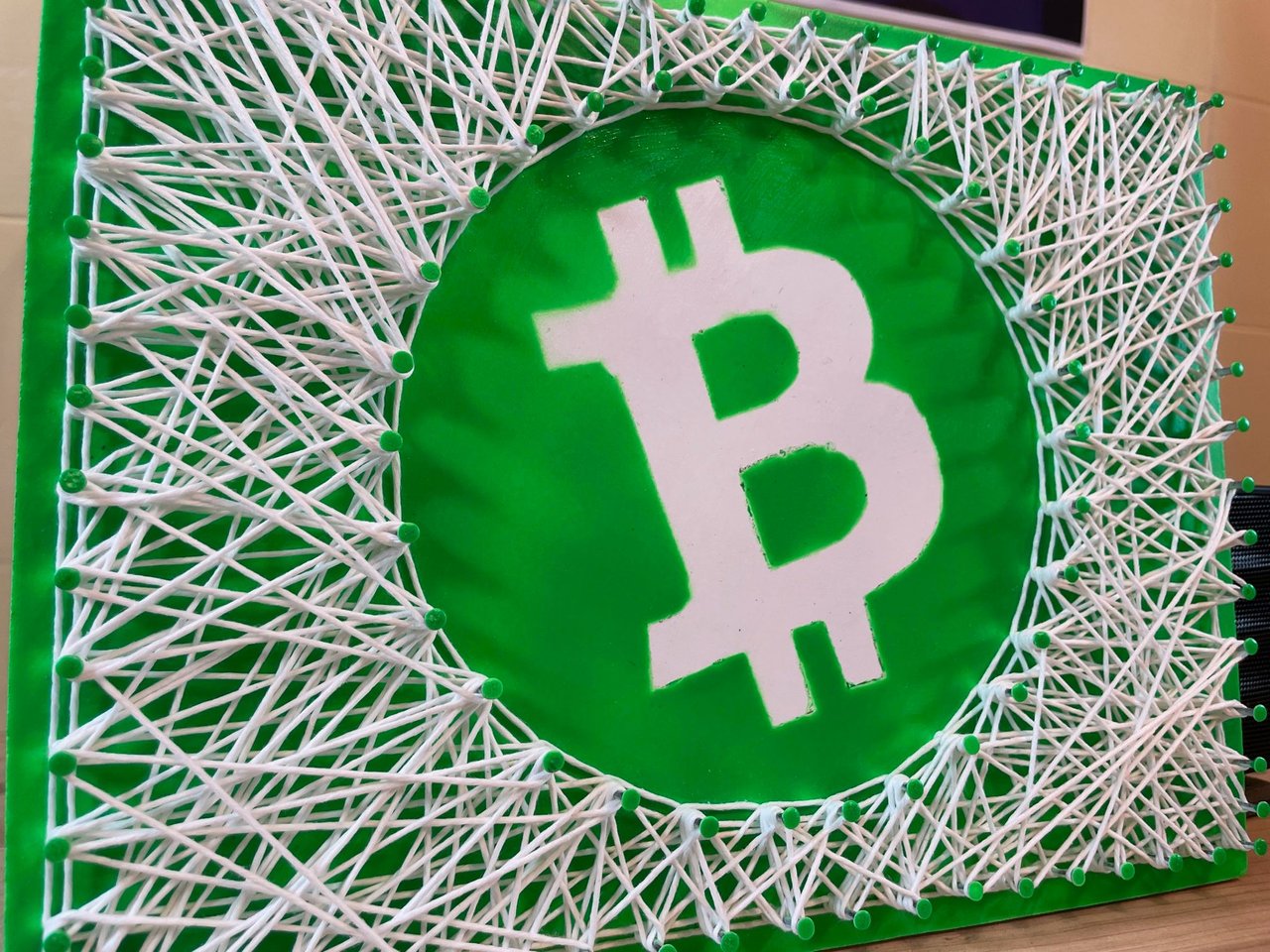 Il video integrale dura 4 ore circa è stato portato a poco più di 10 minuti velocizzando alcune parti a x2 fino ad un massimo di x50 è il quarto realizzato di sette elementi.
Le immagini soon prese dal gioco Splinterlands.
Registrato e montato da blumela con Iphone 12, applicazioni utilizzate: Perfect Video - Photoleap - Clip2Comics - Tinipiny Camera.
Per questo logo ho utilizzato la musica campione gratuita dell'applicazione Perfect Video priva di copyright.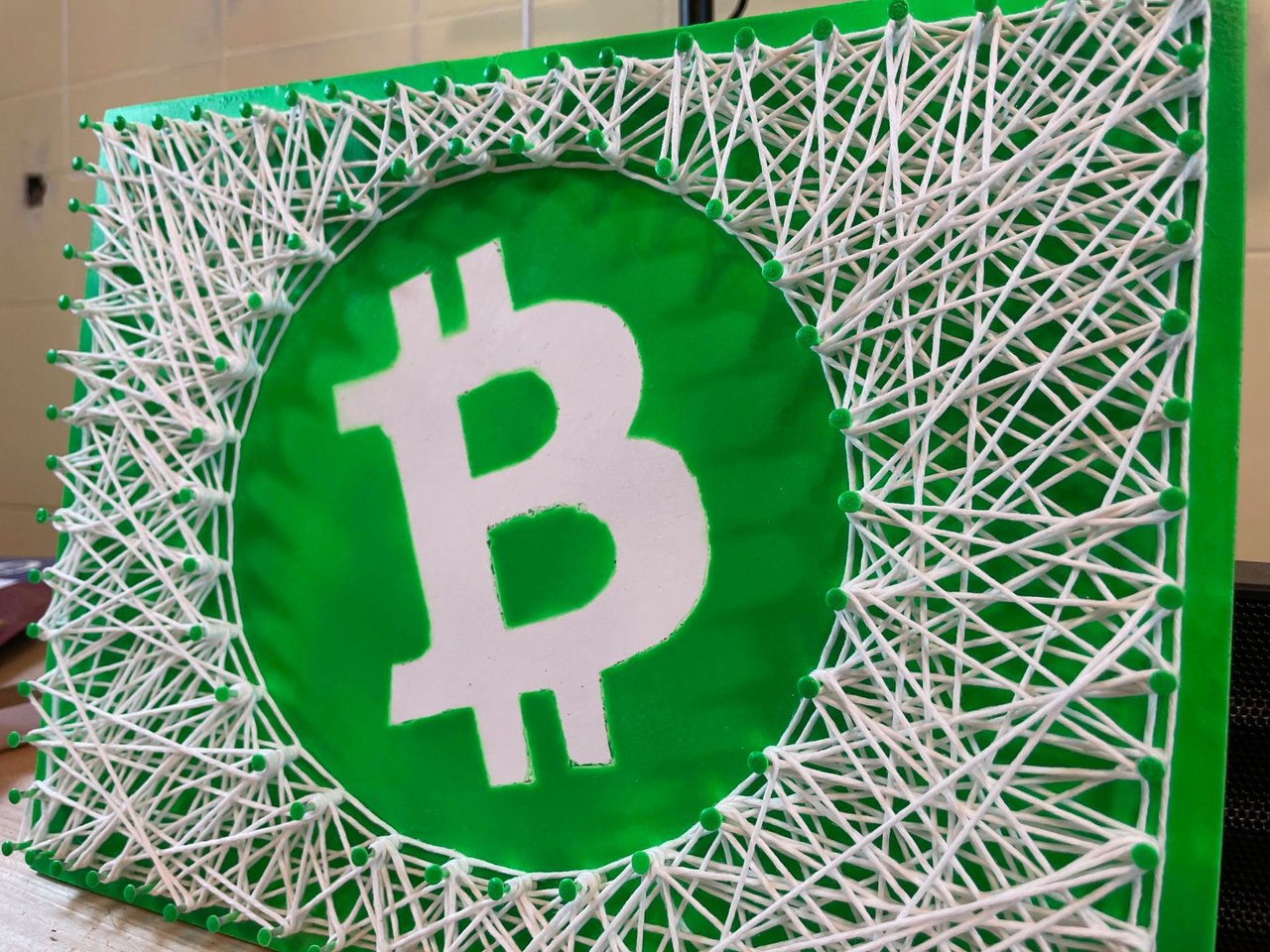 Le foto sono scatti dell'autore, il video è stato realizzato dall'autore.

---
▶️ 3Speak