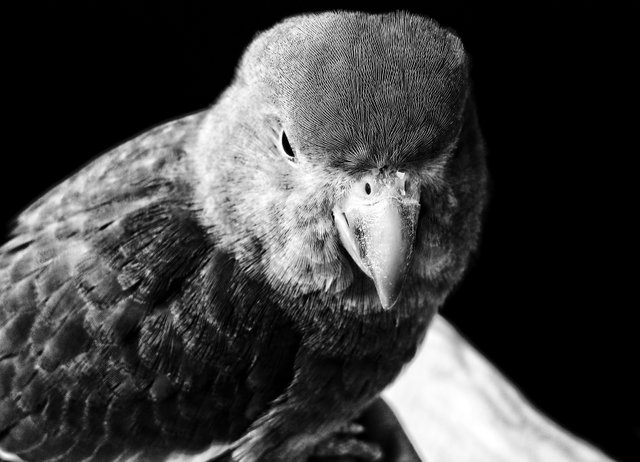 "Piiiii!!"... The screaming parrot wasn't very friendly or happy. "Shut, up! Come here!"... Demanded the little green bird in a very creepy voice. To go near the bird or to no go near the bird that was the dilemma. "Shut up, come here! Shut up, dammit! Come here!"... Kept repeating the grumpy thing over and over again and all I was thinking was Who the hell teach this animal to curse?! I went near Nico, that's his name, and said "sup, what's the matter with you?"...
A creepy laugh came out of the birdie while it was looking at me like a psychopath, "Delicious! Come inside!"... I looked at him with a WTF face... "I'm not going inside your cage!"... told him with a serious face. "Shut up dammit! Get inside here! Delicious!" said the bird with an evil gross voice. I walked away and shouted "What's wrong with this bird?" to my sister. She laughed and said he's a weirdo and sometimes acts like he's possessed by the devil but is because he have dark sense of humor... Dark sense of humor? A bird? An animal with a wicket sense or humor?! The heck she's talking about?! Is an animal, not a person!
"SHUT UP DAMMIT! GIMME A KISS!"... Say whaaaaat?! Now he wanted me to kiss him?! "Hell no! I'm not gonna kiss you! Shut up birdie!" I told him with a mean face. "GET OUT OF HERE, DAMMIT! SHUT UP, DELICIOUS! shouted him and then started to take a bath... I was sexually harassed by a bird.... Nowadays animals are creepy as hell!