Wednesday began for the digital asset market with another wave of price declines. On the night of 25 to 26 August bitcoin (BTC) fell to $ 11,250-11,300. At the time of writing, the coin is trading at $ 11,475 (according to CoinMarketCap).
Other cryptocurrencies from the top ten of the capitalization rating are also showing negative dynamics. Litecoin and Bitcoin SV were hit hardest over the day. The drop in the value of coins in 24 hours exceeded 4%.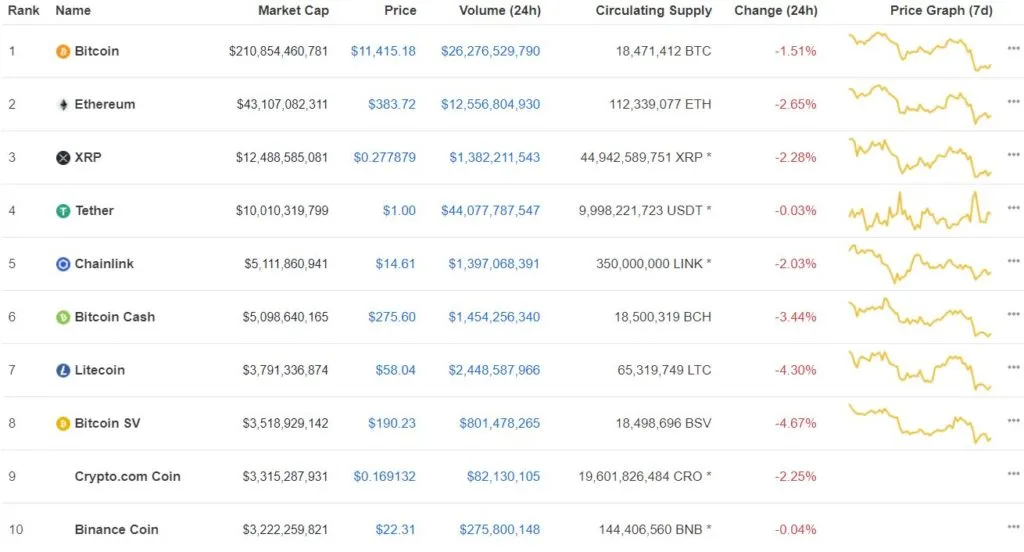 Against the background of a decline in the value of bitcoin, the hash rate of the cryptocurrency continues to move sideways. The indicator recorded an absolute maximum on July 25.
The decline in bitcoin's value has sparked a new wave of comments about where the price will go next. Analysts of a large American investment company Fidelity Investments shared their opinion.
"We started to wake up", - this is how the CEO of the popular exchange of digital assets Binance Changpeng Zhao commented on the new price predictions for bitcoin

It is noteworthy that Fidelity specialists base their analysis on the S2F model developed by PlanB, a popular analyst in the crypto community.
Let me remind you that the S2F forecasting model allows us to assume the trajectory of the cryptocurrency movement, based on the rate of inflow of new BTC into the market and the number of coins that have already entered circulation. According to this model, halving should be the main catalyst for the growth of BTC. The last time the block reward was cut was in May 2020.
According to the logic of the S2F forecasting model, by 2024 BTC will be able to approach the $ 1 million level. At the moment, according to PlanB, the cryptocurrency is entering a phase of active growth. This, he believes, is evidenced by the three red dots appearing on the S2F chart. Color indicators help to recognize the stages in the movement of a coin, within the forecasting model.
In the course of the research, Fidelity analysts came to the conclusion that the logic of the S2F model can reflect the real prospects for further price dynamics. Agreeing with PlanB, the researchers accepted the forecast for BTC to grow to 1 million by 2029.
Let me remind you that BTC recently updated the mining difficulty level.