Bitmain is the world's largest ASIC miner manufacturer. Yesterday, after the announcement of the acceptance of orders in the domestic market, the first batch of Antminer S19 was sold out in less than 24 hours.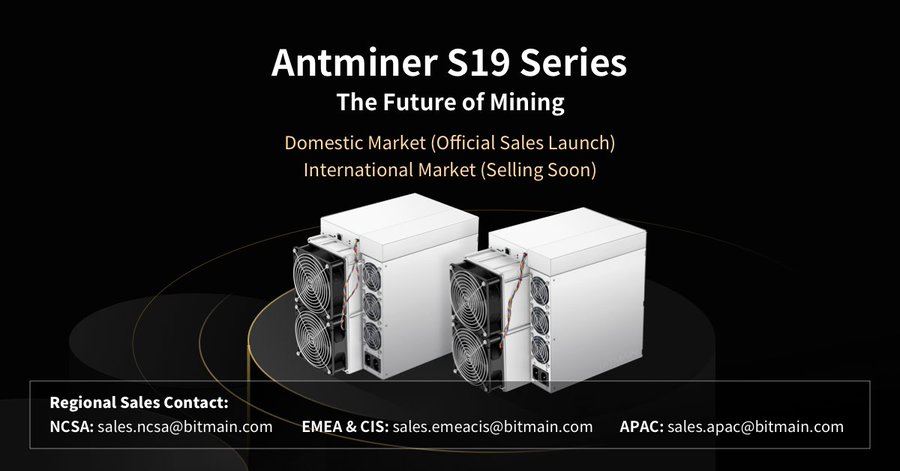 On March 23, Bitmain officially announced that the long-awaited Antminer S19 is coming in for domestic sales. Sales closed the same day.
Delivery of Antminer S19 will begin on May 11
The first version of Antminer S19 will provide miners with a hashrate of 95 teraheshes per second (TH / s), with an energy efficiency of 4.5 ± 5% Joules per terahesh (J / TH). Antminer S19 Pro boasts a hash rate of 110 TH / s with an energy efficiency of 29.5 ± 5% J / TH.
The regular version of the S19 costs about $ 2,180, while the Pro version costs $ 2,920. Representatives of Bitmain promise that international sales will start in the near future.
Customers who managed to participate in the first round of sales will receive an order from May 11 to 20.
Bitmain criticized for leading mining
Given that Bitcoin halving is expected around May 12, the announced S19 shipping dates have sparked a storm of community criticism for Bitmain.
The main complaint is that the company chose this shipment period to use the next generation ASIC and earn on it before halving without competition.
Social Blade analytics CEO Jason Urgo said:
May 11 delivery. Gee, I wonder why you chose this date ?! I thought you guys won't use the maneuvers yourself before sending? Or, this is done to ensure that you can get the most out of it before sending it to customers.
The community supports the criticism of the company. Dua sarcastically remarked:
They do not use it. They just test it for a while to ensure proper quality.
It is noteworthy that the day before the announcement of the supply of new miners, the total hashrate of the BTC network increased by 20%, exceeding the level of 100 quintillion hashes per second after a long decline. Perhaps this is due to the connection of new powerful equipment to the network: