Learn about the history and the rules of the Experiments here.
This article contains affiliate links. If you click on a link in this article, I may earn a small commission at no extra cost to you.
Join BlockFi and put your crypto to work for you!  Don't miss out on up to 9.3% APY and up to a $250 in crypto bonus.
Considering getting into cryptocurrencies? Be prepared for a wild ride.
In fact, I recommend getting your financial house in order first.
Month Thirty Seven – Down 25%
After a more mixed December the 2018 Top Ten Portfolio bounced back nicely, finishing the first month of 2021 completely in the green.  Led by Stellar and Cardano, the 2018 Top Ten are closing in on break even point, now only down -25% as of this report. Speaking of Stellar, it joins Bitcoin and Ethereum as one of only three cryptos to have at least broken even since January 1st, 2018.  Cardano and Litecoin seemed to be next in line.
January Ranking, Movement Report, and Dropouts
Despite a strong month overall, most of the movement in January was downward except for Cardano (up two spots to #6) and Stellar (up four spots to #11).  
All other cryptos either held ground or fell: NEM slipped two to #20, Litecoin fell three slots to #8, and BCH fell three places and is now in danger of dropping out of the Top Ten.
And Dash, man, is having a rough couple of months.  After falling six spots and out of the Top Thirty last month, Dash dropped an additional eleven places in January and is now out of the Top Forty.  
Top Ten dropouts since January 2018: After thirty seven of the 2018 Top Ten Experiment, 40% of the cryptos that started in the Top Ten have dropped out.  NEM, Dash, IOTA, and Stellar have been replaced by Binance Coin, Tether, LINK, and most recently, DOT.  
Interestingly, even with different players, this is the same dropout rate (40%) as the 2019 Top Ten Portfolio. And the 2020 Top Ten Experiment group has performed only marginally better (70% remaining/30% dropout rate).  One month in, the 2021 Top Ten Cryptos remain locked in place.   
For trivia night: Ethereum is the only Top Ten crypto that has climbed in rank since January 2018.   
January Winners and Losers
January Winners –  Gaining +139% and picking up four places in the rankings, Stellar dominated January.  Cardano also performed extremely well, up +126% in one month.   
January Losers –  The L goes to Litecoin this month.  While finishing in the green, its +5% gain underperformed the field.  Second worst performer was Dash, gaining +6% and falling eleven places in the rankings.
Tally of Monthly Winners and Losers
After thirty seven months, the table below gives a good sense of the winners and losers over the life of the 2018 Top Ten Experiment. 
Bitcoin is clearly dominant with the most monthly wins (10).  A bit less obvious, Cardano has the second most victories, amassing  6 monthly wins in just over three years. NEM has lost 8 months, the most out of the 2018 Top Ten Cryptos. And Bitcoin is unique as the only cryptocurrency that hasn't lost a month yet since January 2018 (although it has come close a couple of times).
Overall Update – BTC, ETH, and XLM only cryptos in green, overall portfolio breaks -25%, and Dash in last place.
The 2018 Top Ten portfolio as a whole? Down -25% since January 2018.
But! But things are starting to move very quickly with the 2018 Top Ten.  Over the last few months, the entire portfolio has been rapidly approaching break even point: the 2018 Top Ten were down -75% November 1st, then -50% January 1st, now -25% on February 1st.  
At this rate we will (hopefully, finally) get back to break-even point in the next few months after over three years of waiting. 
This long awaited progress is thanks mainly to BTC (+155%) and ETH (+89%) gains since January 2018.
XLM has now joined the 2018 break-even club.  It seems like the next two dominos to fall are ADA and Litecoin, but we'll have to see.   
-25% is another psychologically important milestone for 2018 Top Ten Portfolio and represents the second highest overall return since the Experiment began.  Only the very first update reported less of a loss (-20%). 
Check out the Monthly ROI a few tables below for a bird's eye view of the 2018 Top Ten ROI journey.  Spoiler alert: it's been mostly painful, until recently.
At the bottom are a couple of cryptos that have lost nearly 90% of their value since January 2018: Dash is down -89% and IOTA has lost -88% over the life of the experiment. The initial $100 invested in Dash thirty seven months ago is worth $10.35 today.
Total Market Cap for the entire cryptocurrency sector:
Ah, that's a pretty picture: for the first time ever, the entire crypto market cap finished a month over the $1 trillion (with a T) mark.
The total crypto market cap added $232B in January.  For the third month in a row this represents a higher level than when the 2018 Experiment started three years ago. Up +75% since January 2018, it is now crushing the 41% return of the S&P over the same time period. Much more on that below.
Bitcoin dominance: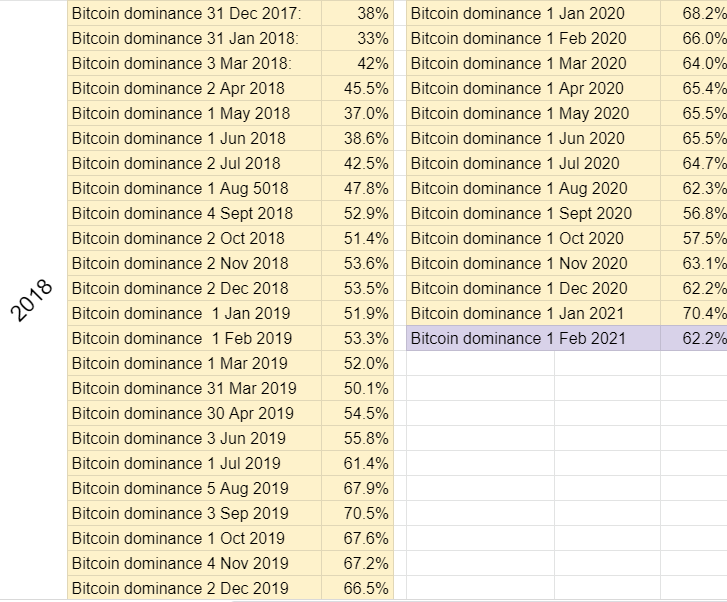 After finishing 2020 way up at 70.4% (barely below the Experiment record level of 70.5% in September 2019), BitDom came back down to earth a bit, finishing the first month of 2021 at 62.2%. If you're new to the space, Bitcoin Dominance is a helpful figure to keep your eye on:  a falling BitDom percentage means Alts are ascendant.
For context, since the beginning of the experiment, the range of Bitcoin dominance has been very wide: from the current 70% high to a low of 33% in the first month of the 2018 Experiment.
Overall return on $1,000 investment since January 1st, 2018: 

The 2018 Top Ten Portfolio gained about $235 bucks (+24%) in January, by far one of the strongest months since the Experiment began thirty-seven months ago.  You'd have to go back to  April 2018 (+26%) to find a better month-end gain.  
If I decided to pull the plug on the 2018 Top Ten Experiment today, the $1000 initial investment would return about $748, down -25% from January 2018.
If you're just joining, you might find it hard to believe that I feel fantastic about being down only -25% after over three years of running the 2018 Top Ten Experiment.  But take a look at the trajectory:
November 1st, 2020: down -75%
January 1st, 2021: down -49%
February 1st, 2021: down -25% 
Breaking even and even profiting on this portfolio now seems inevitable.  Just a matter of when, not if.
This confidence is not characteristic of most of this journey.  The road has been long and oftentimes seemed hopeless.  Here's a look at the ROI over the life of the experiment, month by month, over the last three+ years:
Check out the absolute bottom, back in January 2019 when the 2018 Top Ten Portfolio was down -88%. 
For those just entering the space, hopefully this gives you some perspective as you start your crypto journey.  
Combining the 2018, 2019, 2020, and 2021 Top Ten Crypto Portfolios
So the 2018 Top Ten Crypto Portfolio is on its way up, but still down -25%. After investing another $1000 in the Top Ten in 2019 and 2020 (and just recently, again for 2021!), how are the other Experiments holding up?  Let's take a look:
So overall? Taking the four portfolios together, here's the bottom bottom bottom bottom line: 
After a $4000 investment in the 2018, 2019, 2020, and 2021 Top Ten Cryptocurrencies, the combined portfolios are worth $9,079 ($748+ $3,595 +$3,227+$1,509).
That's up +127% on the combined portfolios.
Here's a table to help visualize:
That's an +127% gain by investing $1k on whichever cryptos happened to be in the Top Ten on January 1st for four straight years. 
Top Ten Approach vs. All-In Approach
But surely I would have done even better if I went all in on one crypto, right? 
Depends on your choice!  Let's take a look.  
I can't do this for all 8,413 cryptocurrencies, but there are five cryptos have begun each of the last four years in the Top Ten: BTC, ETH, XRP, BCH, and LTC. Which one would have returned the most if I didn't go for an Index approach?
Since I started tracking this metric a few months ago, there's been a bit of a back and forth between Bitcoin and Ethereum.  This month? 
ETH, on top, by a landslide.  $4,000 into Ethereum in $1k chunks once a year would now be worth a staggering $24,645. That's up +722%.
In second place, going all in on Bitcoin with $4,000 USD would have yielded +482%, turning the initial investment into $17,450.  
XRP, would have been the worst four year all-in bet, at +57%.  But even that is more than double the return from traditional markets (more on that below).
And the Top Ten Index Fund approach?  
As you might expect, as indexes are designed to mitigate risk, the +127% gains of the Top Ten Index Fund approach fall somewhere in between.  The Top Ten strategy isn't keeping up with ETH, BTC, or LTC, but it is outperforming a hypothetical all-in investment in both XRP and BCH by a healthy margin.
Comparison to S&P 500:
I'm also tracking the S&P 500 as part of the experiment to have a comparison point with other popular investments options. The S&P 500 Index stalled a bit in January, but is still near all time high levels. It is up +41% since January 2018. 
The initial $1k investment into crypto on January 1st, 2018 would have been worth about $1410 had it been redirected to the S&P. That holds up very well compared to the $748 return of the 2018 Top Ten Crypto Index Fund.
But what if I took the same invest-$1,000-on-January-1st-of-each-year approach with the S&P 500 that I've been documenting through the Top Ten Crypto Experiments? What I like to call the world's slowest dollar cost averaging method? 
Here are the numbers:
$1000 investment in S&P 500 on January 1st, 2018 = $1410 today
$1000 investment in S&P 500 on January 1st, 2019 = $1510 today
$1000 investment in S&P 500 on January 1st, 2020 = $1170 today
$1000 investment in S&P 500 on January 1st, 2021 = $1005 today
Taken together, here's the bottom bottom bottom bottom line for a similar approach with the S&P: 
After four $1,000 investments into an S&P 500 index fund in January 2018, 2019, 2020, and 2021, my portfolio would be worth $5,095.
That is up +27% since January 2018 compared to a +127% gain of the combined Top Ten Crypto Experiment Portfolios, a difference of 100 percentage points in favor of crypto.
You can compare against five individual coins (BTC, ETH, XRP, BCH, and LTC) by using the table above if you want. 
The key takeaway?
Using a similar investing strategy, the S&P 500 is currently underperforming XRP, Bitcoin Cash, BTC, ETH, LTC and the 2018 Top Ten Portfolio approach.
Here's a table summarizing the four year ROI comparison between a Top Ten Crypto approach and the S&P as per the rules of the Top Ten Experiments:
The momentum is clearly on crypto's side and the 100% gap is the largest since I've been tracking this metric, even with stocks at all time highs.
Conclusion:
Despite some GameStop and Doge distractions (or maybe because of them?) the 2018 Top Ten had an extremely strong start to 2021, especially compared to traditional markets.  Getting back to -25% feels like a milestone, something that seemed impossible only a few months ago.
It was great to see Stellar join Bitcoin and Ethereum in the green this month.  Hopefully some of the other cryptos will be able to claw themselves back up to break-even point and beyond.  2021 is off to a strong start, it should be a very interesting year for crypto.
To both new and long time Experiment followers: thanks so much for reading and for supporting the project, I hope you've found them helpful. I continue to be committed to seeing this process through and reporting along the way. 
Feel free to reach out with any questions and stay tuned for progress reports. Keep an eye out for my parallel projects where I repeat the experiment, purchasing another $1000 ($100 each) of new sets of Top Ten cryptos as of January 1st, 2019, January 1st, 2020, and most recently, January 1st, 2021.
For those just getting into crypto, welcome! I hope these reports can somehow help you see the highs and lows of what might await you on your crypto adventures.  Buckle up, think long term, don't invest what you can't afford to lose, and most importantly, enjoy the ride!
---
Follow me on Twitter here:
---
Help keep the lights on at the Top Ten Crypto Index Fund Experiments.
Donate directly:
Bitcoin: bc1qqy4tlwydyrm3sjpyyq88es0cu9j9mdvqer3gwv
Ethereum: 0xC04Bc1996320f27c0A6018cB370c9469a9Dd3a4C
ADA: addr1qywnu55t8hpk4c3jf63tj5xywzej0uhwh7yput4u2z3fq7qa8efgk0wrdt3ryn4zh9gvgu9nylewa0ugrchtc59zjpuqlj6stg
XLM: GA5GJ2JDWC3GB3YXEVRBSR7UBLIB2ROIWZ5FEHML5WXGY5N3PAIDEOEA