Hey everyone!
Welcome to this Weekly Challenge, where for once in a long time I may be following the suggestions. This Challenge caught me in the Diamond League, and since this League let you summon Monster at their max level, you'll see a maxed Disintegrator.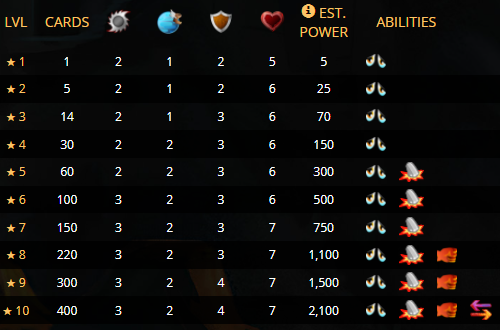 To keep up with the Diamond and Champion League players I rented three maxed Splinters; Earth, Death and Life. I fought two fights with the featured card, using the Life and Earth Splinters, with Chanseus the Great and Prince Rennyn, two Legendary Summoners.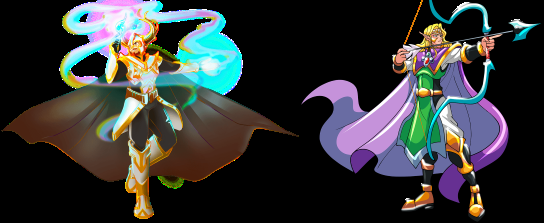 Lore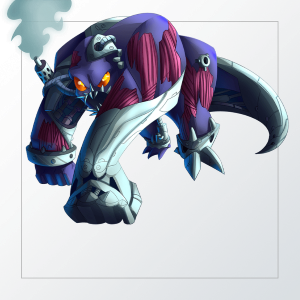 The crazed tinker, Morloth, created the Disintegrator within his lair in the Badlands. Assembling various parts of other creatures together, he spent an age designing and building his masterpiece. The only problem was bringing it to life. He tried taking the fierce lightning from the sky and filling the monstrous body with raw energy but that didn't work and only damaged its limbs. He experimented with molten power from within the ground but that only burnt away its flesh and hide. It wasn't until he had a visit from a cloaked agent of chaos and was gifted the answer to his problems that the engine burst into life.
The pair spoke for days and deals were made, adjusted, broken and presented again. Morloth grew frustrated with how long it was taking, all he wanted was to have more of the sickly, green crystals that the agent had placed within the heart of his creature, bringing it to life. Whether he eventually tired of the bartering and was worn down, or the taint of chaos itself had afflicted him, Morloth agreed to the terms laid out by his visitor. With a large sack of the chaos fuel and the promise of an endless supply in the future, all he had to do was keep his side of the bargain – persecute and destroy the people of Praetoria. He quickly produced more of the misshapen beasts and now, with his pets in tow, he terrorised Praetoria and all its inhabitants.
With the torso of a mountain gorilla, the hind quarters of a crocodile and the mouth of a leach, the Disintegrator is a mismatch of devastating qualities. Its strength is formidable, twisted strands of metal combined with great sinews of muscle. When the heavy forearms and tail strike its foe, it will pummel them into submission without mercy. If that fails to work then the monster's evil jaws will latch onto its prey, numerous splayed fangs locking onto their body as it sucks the life from them. The obscene golem strikes terror into its foes wherever it goes and it has been known to continue to fight even after the yellow glow of life has left it eyes.

Battles
Ruleset

Super Sneak: All Melee attack Monsters have the Sneak ability. Water and Earth Splinters not allowed. Mana cap: 99.
Lineup & Analysis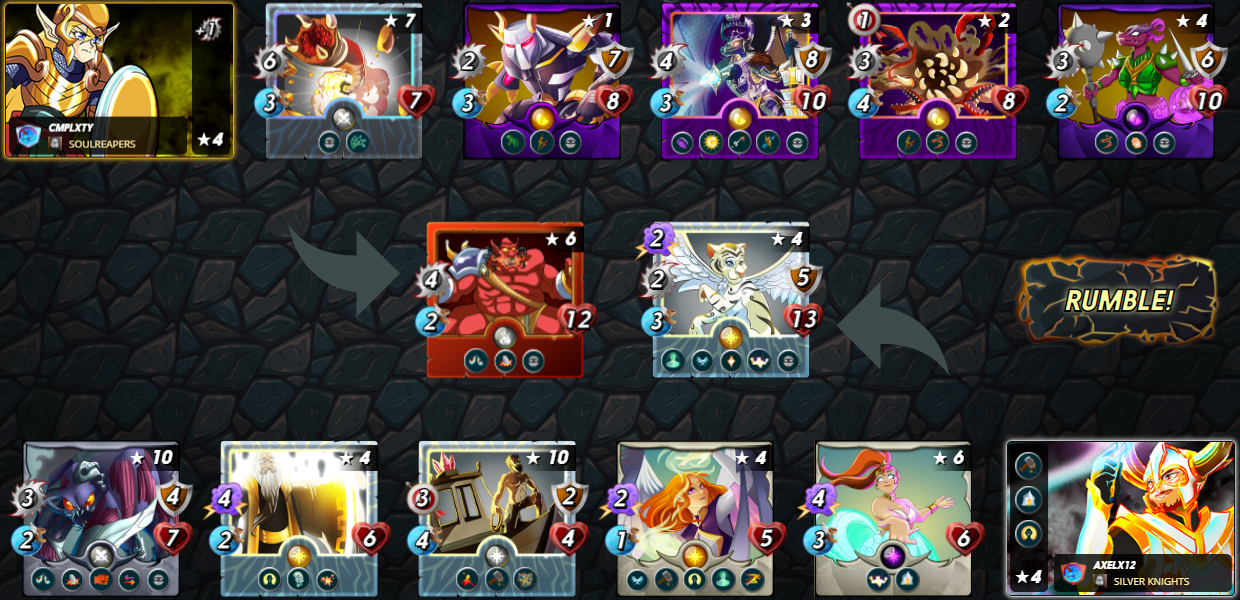 Well, first of all I should say that my Monsters are of a superior level, so I'm already in advantage, but my opponent is using Dragons and although they are not at max level, they are quite dangerous.
Anyways, with such a Mana cap, you can assemble your best team and be as offensive as possible, but I chose a more defensive approach, since the Life Splinter is all about that.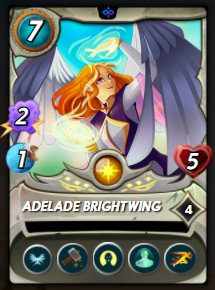 1- Kralus as a tank is great, and I think that it's best ability is Immunity, since he cannot be affected by problematic effects, such as Venom and Affliction.
2- When using Life Splinter I like to use Djinn Renova as a second line tank, because of it's decent health points. She also has a quite strong Magic attack and the ability to heal the back line.
3- My first time using Adelade; I put her there because of her many abilities, being my favourite, "Repair". Also, having an speed boost is important at this levels.
4- I didn't remember that my Summoner can Repair Armor, so I put the Lone Boatman as another armorsmith. Anyways, it was a good call, because he took down the Vigilator, a very dangerous card, specially with this ruleset.
5- Also, my first time using the High Priest Darius; I took advantage of the high Mana cap to summon this expensive card, that brings a quite strong Magic attack with a Blast.
6- And at last, the Disintegrator, which I used because of the challenge, of course. With such a Mana cap there are many other great options, however thanks to the constant resurrections and the Retaliate ability, it was able to inflict damage and hold the back line.
Analyzing this cards at their max level, it doesn't seem that they would've won anyways, since there isn't any Monster with Magic defensive abilities besides the Robo-Dragon Knight, but of course, he is not enough. I think that the dynamic of the battle would've been similar, with a little bit more damage received, but similar.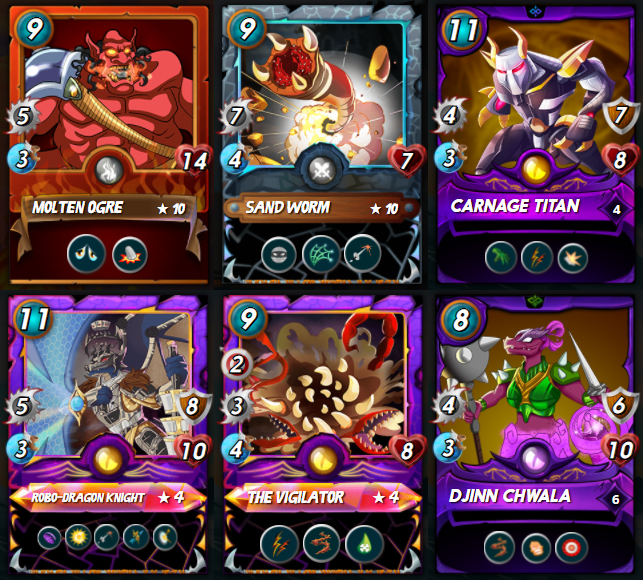 Ruleset

Spreading Fury: All Monsters have the Enrage ability. Lost Magic: Monsters with Magic attack may not be used in battles. Water and Life Splinters not allowed. Mana cap: 23.
Lineup & Analysis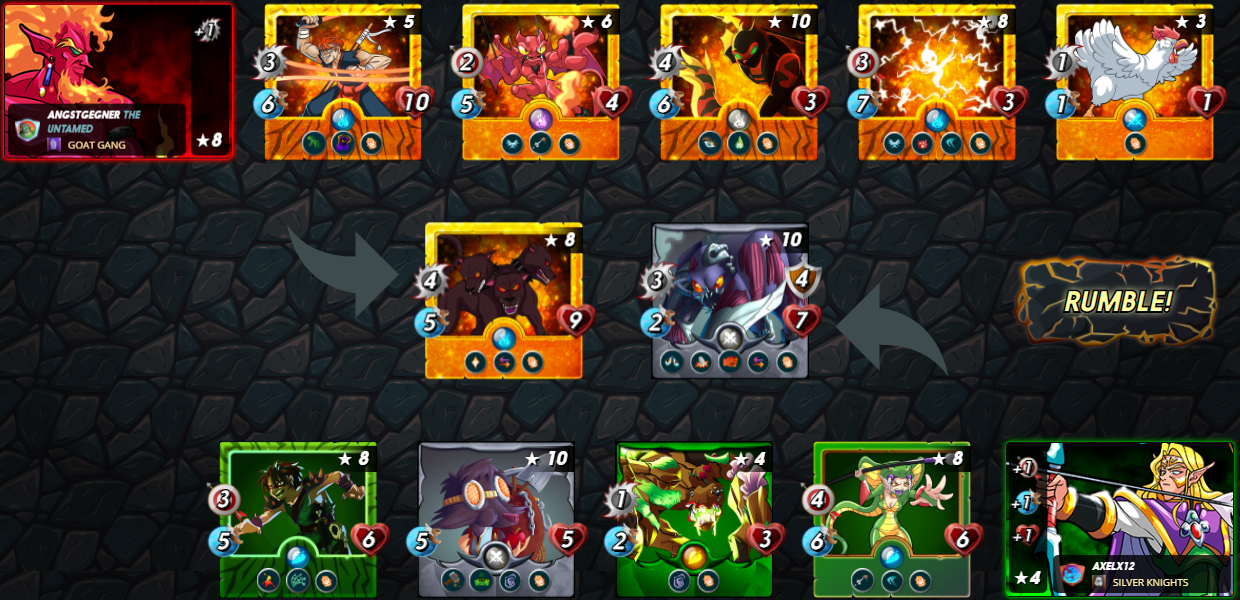 This is what I call a blooper in Splinterlands, since I took a high risk at using the Disintegrator for this battle, but I thought "screw it, let's see what happens", and what happened is that I won. Let's see the lineup.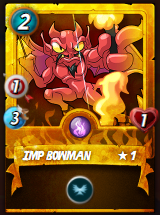 1- As a tank, the Disintegrator, a very bad idea from my point of view, since it doesn't have any great offensive nor deffensive traits. So, it's just there for the challenge. I mean, for 7 Mana points I could've use the Pelacor Mercenary, whose able to heal and evade, for example. Anyways, the Disintegrator's Retaliate effect was useful to take the Cerberus with him.
2- The Javelin Thrower, one of my long time favourites. She's strong and extremely fast with her Dodge ability. The Enrage rule makes her even faster, so I put her as the next tank, since I knew the Disintegrator was going to fall.
3- The Fungus Fiend, a free Mana card, was functional to my strategy, by slowing down my opponent.
4- Since the Disintegrator have Armor, I put the Scavo to make him hold, but it was useless, however he was useful at slowing down the enemy.
5- The Child of the Forest is not a card that I use regularly, but with this Mana cap I needed a cheap and fast Ranged attacker. He was the one, after all, that took down most of the enemy Monsters, starting by the Ranged attackers, which were taken down with one hit.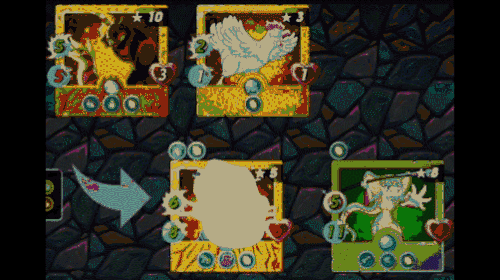 So yeah, the strategy, which was focusing on speed to evade as much as possible, worked, to the limit, but it worked.

About the Disintegrator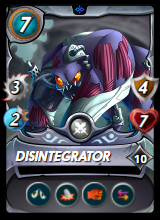 One of the suggested topics in the post Challenge is: "Explain why you put each card in that position and why they are a good fit with the Disintegrator". Unfortunately is hard to assemble a winning team around the Disintegrator, right? There are key Monsters that are the core of a lineup, and there are Monsters that bring support, and from my point of view, the Disintegrator is neither of them. As I said before, not even maxed out, it has something that makes him stand out in the big leagues; average attack, average speed, average health points, without game changing effects, and he is suppose to be thought of as a first line tank, since he cannot attack from other positions.

Do I like the Disintegrator? No, he doesn't bring much to the table for 7 mana. I only use it in low league battles, when you are able to attack from any position, because of his Demoralize effect, but as a tank you are better of with any of the Pelacors, which are cheap Reward cards, but very useful.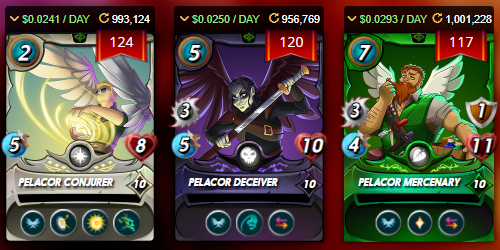 That's it for this Challenge, guys.

If you want a chance to win a Gold Foil Pelacor Mercenary, stop by my giveaway!

Thanks for stopping by!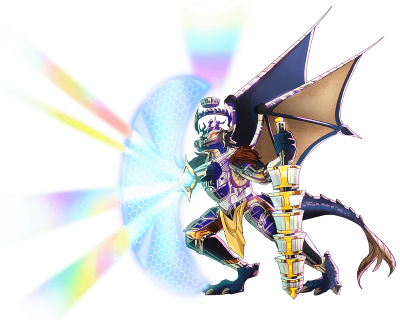 ESPAÑOL
¡Hola a todos!
Bienvenidos a este Reto Semanal, donde por una vez en mucho tiempo estaré siguiendo las sugerencias. Este Desafío me atrapó en la Liga Diamante, y dado que esta Liga te permite invocar Monstruos en su nivel máximo, verás un Desintegrador al máximo.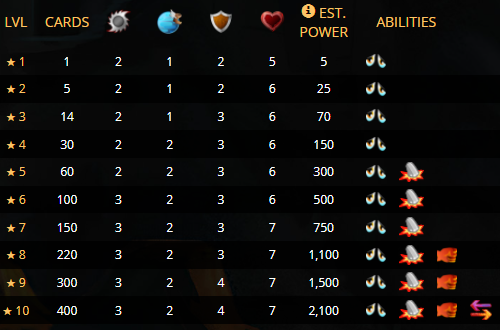 Para mantenerme al día con los jugadores de Diamond y Champion League, alquilé tres Splinters al máximo; Tierra, Muerte y Vida. Luché dos peleas con la carta en cuestion, usando Splinters de Vida y Tierra, con Chanseus the Great y Prince Rennyn, dos Invocadores Legendarios.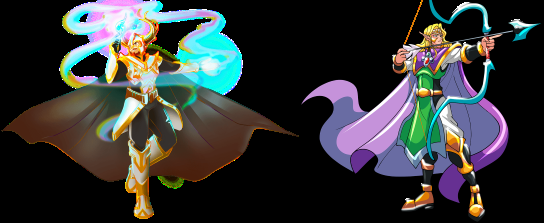 Lore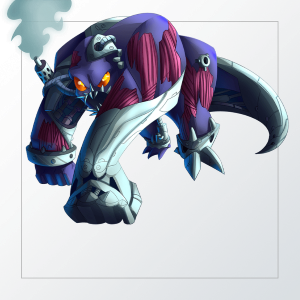 El calderero enloquecido, Morloth, creó el Desintegrador dentro de su guarida en Badlands. Reuniendo varias partes de otras criaturas, pasó una edad diseñando y construyendo su obra maestra. El único problema era darle vida. Intentó tomar el rayo feroz del cielo y llenar el monstruoso cuerpo con energía pura, pero eso no funcionó y solo dañó sus extremidades. Experimentó con el poder fundido del interior del suelo, pero eso solo quemó su carne y su piel. No fue hasta que recibió la visita de un agente del caos encubierto y recibió la respuesta a sus problemas que el motor cobró vida.
La pareja habló durante días y se hicieron tratos, se ajustaron, se rompieron y se volvieron a presentar. Morloth se sintió frustrado por el tiempo que estaba tomando, todo lo que quería era tener más de los cristales verdes y enfermizo que el agente había colocado dentro del corazón de su criatura, dándole vida. Ya sea que finalmente se cansó del trueque y se agotó, o que la mancha del caos mismo lo había afligido, Morloth aceptó los términos establecidos por su visitante. Con un gran saco de combustible del caos y la promesa de un suministro interminable en el futuro, todo lo que tenía que hacer era cumplir su parte del trato: perseguir y destruir a la gente de Praetoria. Rápidamente produjo más de las bestias deformes y ahora, con sus mascotas a cuestas, aterrorizó a Praetoria y a todos sus habitantes.
Con el torso de un gorila de montaña, los cuartos traseros de un cocodrilo y la boca de una sanguijuela, el Desintegrador es un desajuste de cualidades devastadoras. Su fuerza es formidable, hebras retorcidas de metal combinadas con grandes tendones de músculo. Cuando los pesados antebrazos y la cola golpeen a su enemigo, lo someterán a golpes sin piedad. Si eso no funciona, las mandíbulas malvadas del monstruo se engancharán a su presa, numerosos colmillos extendidos se bloquearán en su cuerpo mientras les chupa la vida. El golem obsceno infunde terror a sus enemigos donde quiera que vaya y se sabe que continúa luchando incluso después de que el brillo amarillo de la vida haya desaparecido de sus ojos.

Batallas
Reglas

Super Sneak: Todos los Monstruos de ataque cuerpo a cuerpo tienen la habilidad Sneak. Splinters de Agua y Tierra no permitidas. Límite de maná: 99.
Alineación & Análisis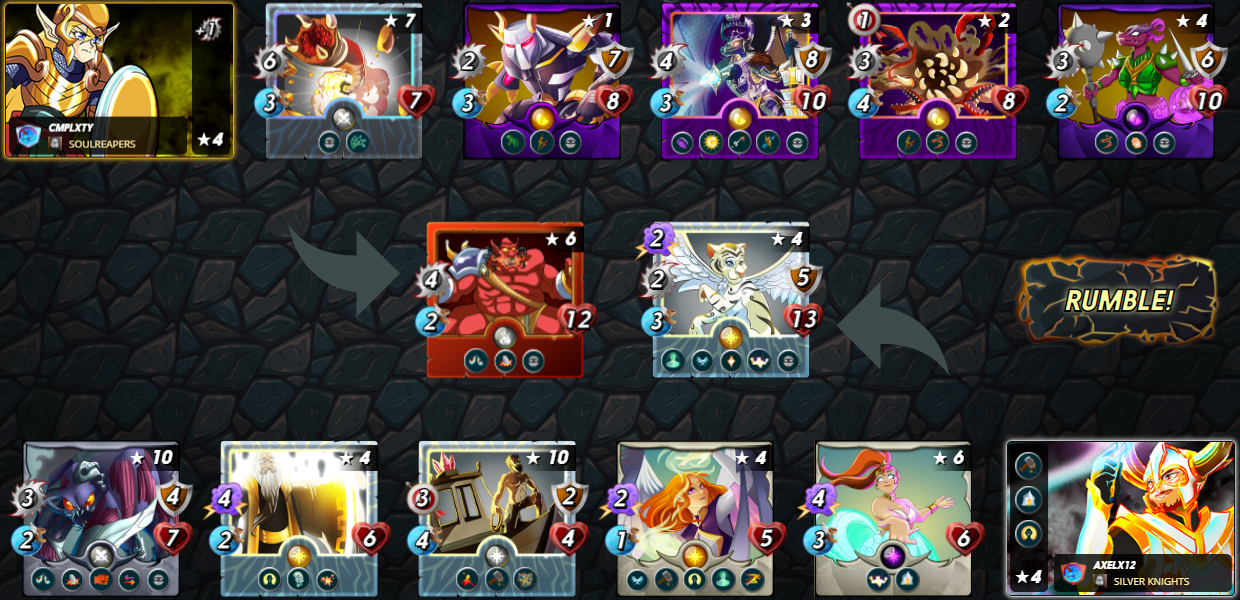 Bueno, antes que nada, debo decir que mis Monstruos son de un nivel superior, por lo que ya tengo ventaja, pero mi oponente está usando Dragones y aunque no están al máximo nivel, son bastante peligrosos.
De todos modos, con ese límite de maná, puedes armar tu mejor equipo y ser lo más ofensivo posible, pero elegí un enfoque más defensivo, ya que el Life Splinter se trata de eso.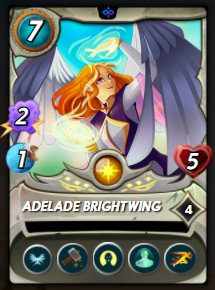 1- Kralus como tanque es genial, y creo que su mejor habilidad es la Inmunidad, ya que no puede verse afectado por efectos problemáticos, como Veneno y Aflicción.
2- Cuando uso Life Splinter, me gusta usar Djinn Renova como tanque de segunda línea, debido a sus puntos de vida decentes. Ella también tiene un ataque mágico bastante fuerte y la capacidad de curar la línea de fondo.
3- Mi primera vez usando Adelade; La puse ahí por sus muchas habilidades, siendo mi favorita, "Reparar". Además, tener un impulso de velocidad es importante en estos niveles.
4- No recordaba que mi Summoner puede reparar armaduras, así que puse al Lone Boatman como otro armero. De todos modos, fue una buena decisión, porque eliminó al Vigilator, una carta muy peligrosa, especialmente con este conjunto de reglas.
5- Además, mi primera vez usando al Sumo Sacerdote Darius; Aproveché el alto límite de maná para invocar esta cara carta, que trae un ataque mágico bastante fuerte con una explosión.
6- Y, por último, el Desintegrador, que usé por el desafío, claro. Con tal límite de maná, hay muchas otras excelentes opciones, sin embargo, gracias a las constantes resurrecciones y la habilidad Retaliate, fue capaz de infligir daño y mantener la línea de fondo.
Analizando estas cartas en su nivel máximo, no parece que hubieran ganado de todos modos, ya que no hay ningún Monstruo con habilidades defensivas mágicas además del Robo-Dragon Knight, pero por supuesto, él no es suficiente. Creo que la dinámica de la batalla hubiera sido similar, con un poco más de daño recibido, pero similar.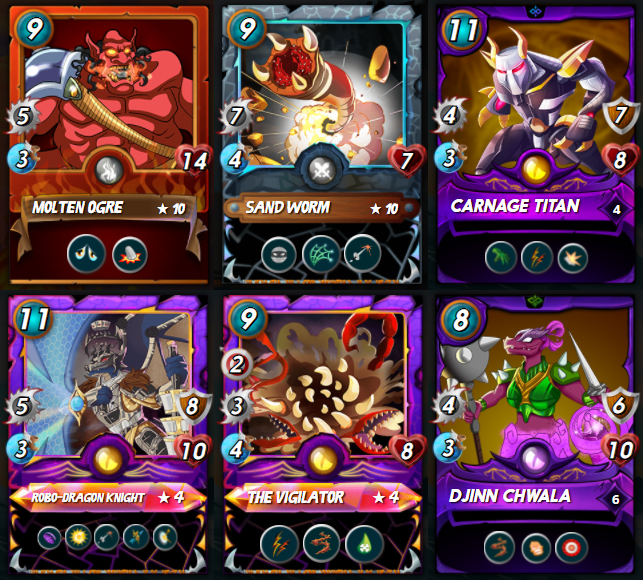 Reglas

Furia Propagadora: Todos los Monstruos tienen la habilidad Enfurecer. Magia perdida: los monstruos con ataque mágico no se pueden usar en las batallas. Splinters de Agua y Vida no permitidas. Límite de maná: 23.
Alineación & Análisis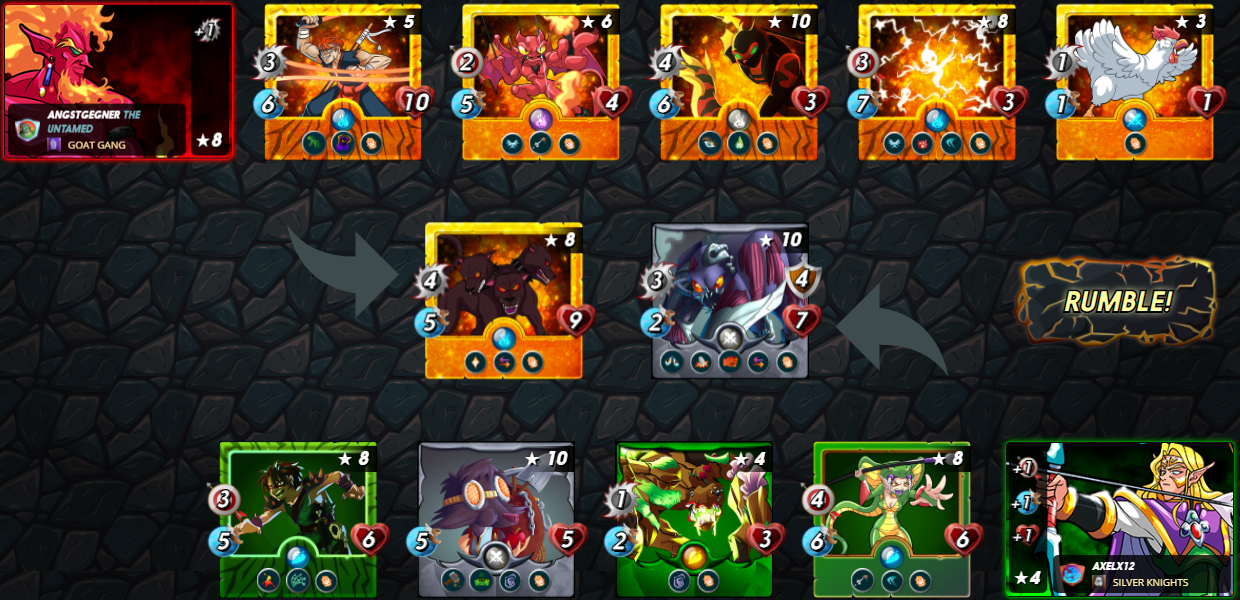 Esto es lo que yo llamo un blooper en Splinterlands, ya que me arriesgué mucho al usar el Desintegrador para esta batalla, pero pensé "al carajo, a ver qué pasa", y lo que pasó es que gané. Veamos la alineación.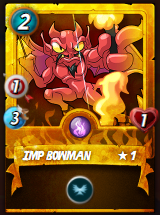 1- Como tanque, el Disintegrator, muy mala idea desde mi punto de vista, ya que no tiene grandes características ofensivas ni defensivas. Entonces, solo está ahí para el desafío. Quiero decir, por 7 puntos de maná podría haber usado el Mercenario Pelacor, que es capaz de curar y evadir, por ejemplo. De todos modos, el efecto de Represalia del Desintegrador fue útil para llevarse al Cerberus con él.
2- El Javelin Thrower, uno de mis favoritos desde hace mucho tiempo. Es fuerte y extremadamente rápida con su habilidad de esquivar. La regla Enrage la hace aún más rápida, así que la puse como el próximo tanque, ya que sabía que el Desintegrador iba a caer.
3- The Fungus Fiend, una carta de maná gratuita, fue funcional para mi estrategia, al ralentizar a mi oponente.
4- Como el Desintegrador tiene Armadura, puse el Scavo para hacerlo aguantar, pero no sirvió de nada, sin embargo, sirvió para ralentizar al enemigo.
5- El Niño del Bosque no es una carta que uso habitualmente, pero con este tope de Maná necesitaba un atacante a Distancia barato y rápido. Él fue el que, después de todo, derribó a la mayoría de los monstruos enemigos, comenzando por los atacantes a distancia, que fueron derribados con un solo golpe.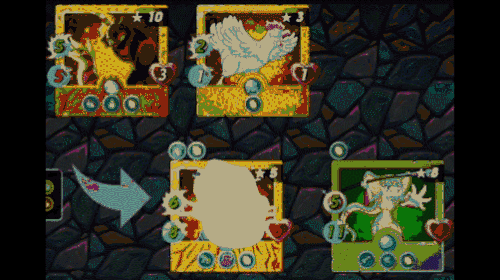 Así que sí, la estrategia, que se centraba en la velocidad para evadir tanto como fuera posible, funcionó, hasta el límite, pero funcionó.

Sobre el desintegrador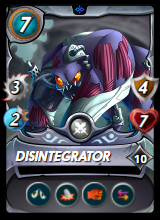 Uno de los temas sugeridos en el desafío posterior es: "Explica por qué colocas cada carta en esa posición y por qué encajan bien con el Desintegrador". Desafortunadamente, es difícil armar un equipo ganador alrededor del Desintegrador, ¿verdad? Hay Monstruos clave que son el núcleo de una alineación, y hay Monstruos que brindan apoyo, y desde mi punto de vista, el Desintegrador no es ninguno de ellos. Como dije antes, ni siquiera al máximo, tiene algo que lo hace destacar en las grandes ligas; Ataque promedio, velocidad promedio, puntos de salud promedio, sin efectos de cambio de juego, y se supone que debe considerarse como un tanque de primera línea, ya que no puede atacar desde otras posiciones.

¿Me gusta el Desintegrador? No, él no trae mucho a la mesa por 7 maná. Yo solo lo uso en batallas de ligas bajas, cuando puedes atacar desde cualquier posición, por su efecto Desmoralizar, pero como tanque te va mejor con cualquiera de los Pelacors, que son cartas de Recompensa baratas, pero muy útiles.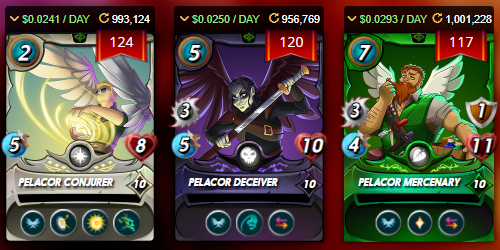 Eso es todo por este desafío, muchachos.

Si quieres tener la oportunidad de ganar un Gold Foil Pelacor Mercenary, ¡pasa por mi sorteo!

¡Gracias por pasar!