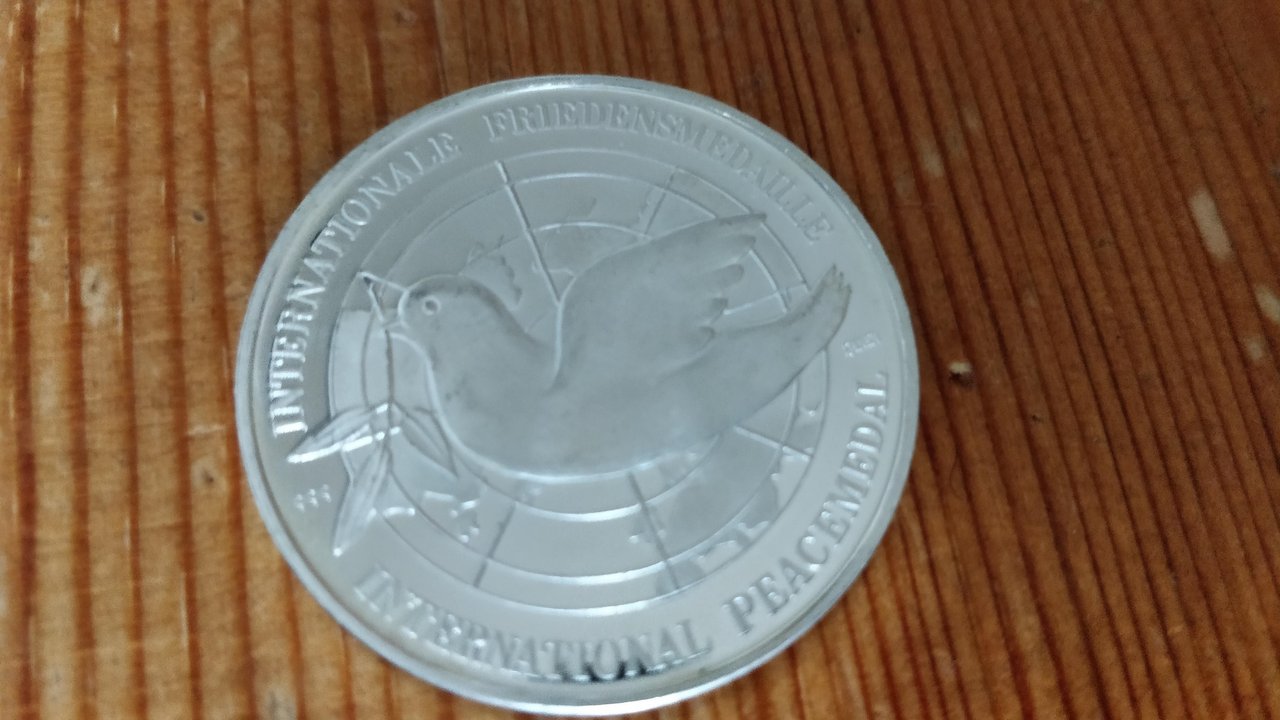 Today, a post about two pieces that arrived together last year to add to my collection of silver bits and pieces. Two different subjects, one of Peace and the other from Classical Music! Both pieces aren't exactly in top condition, but I'm not too fussy when it comes to that... My little collection is more of interesting designs and curiosities that tickle my fancy rather than of mint-grade investment pieces.
So, the front side of this International Peace Medal is of the familiar Peace Dove. It's best described as being a bit cloudy, definitely a little less shiny than the pieces that are bought at mint! Also, there is the 999 marking for the silver, which I hope is correct... and the piece weights in at just under 20 grams.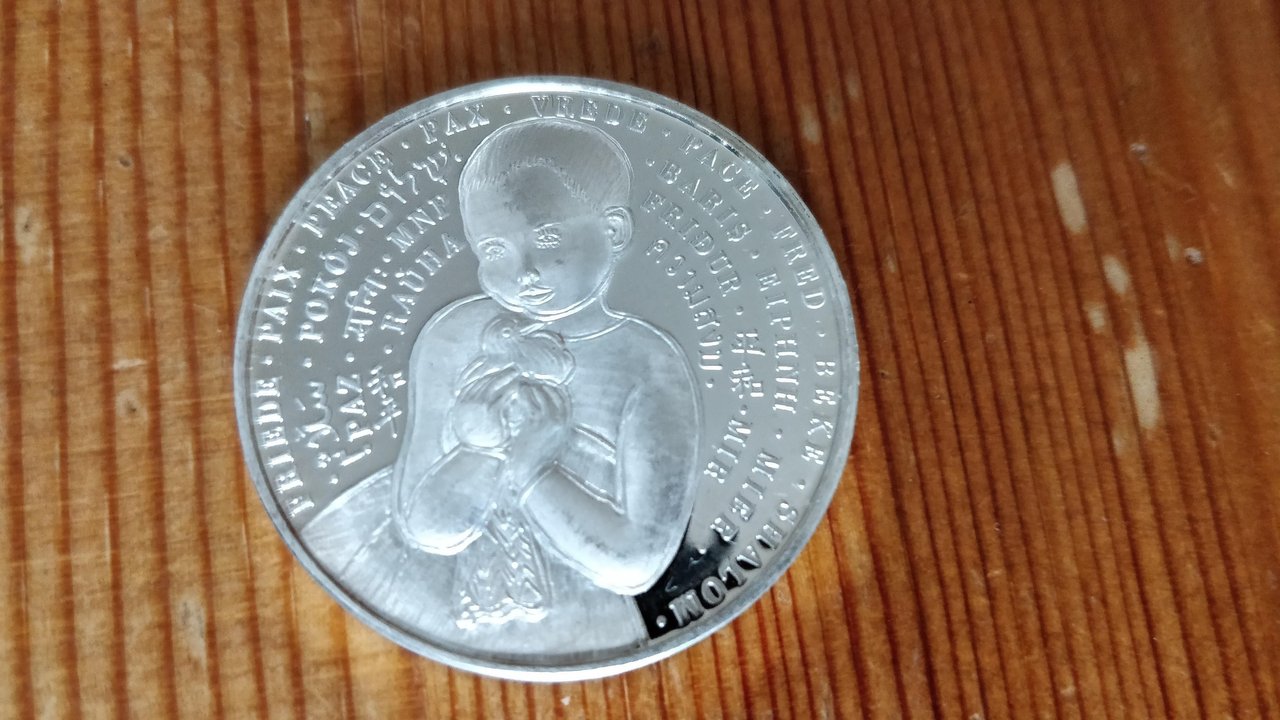 On the reverse is a child cradling the dove in her (his?) hands. Again, the texture is a touch cloudier on the child. Surrounding the child is a collection of the word "peace" in various languages from around the world. Definitely a nice sentiment for the round.
There isn't a Numista entry for this piece, and I've found it a bit difficult to track it down... but the seller did list it as a possible 1979 piece. Plus, I trust this seller... so, I don't think that they would be intentionally deceiving me... unintentionally is a different matter!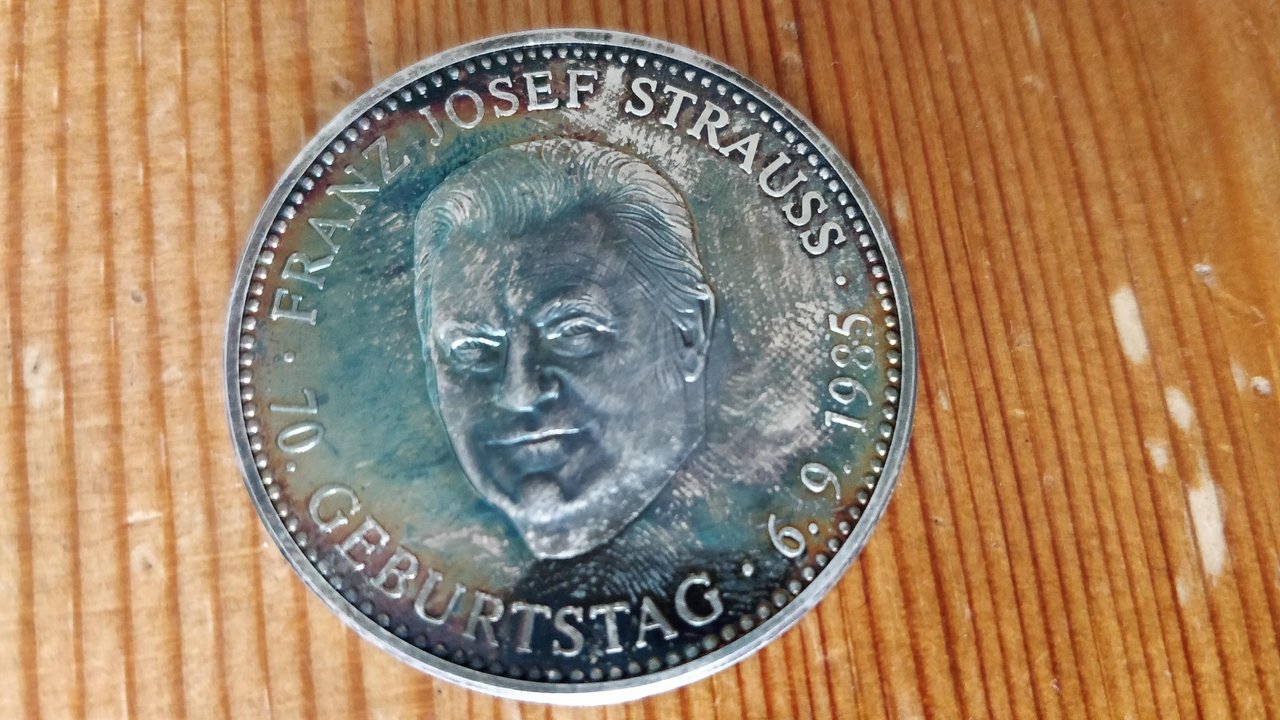 Onwards to the Strauss piece, a 20g pure silver piece from 1985 celebrating the 70th birthday of the NOT CLASSICAL COMPOSER, Franz Josef Strauss! Haha... when I bought it, I was carried away by the name Strauss, and had immediately linked it to the famous composer of Austrian waltzes of the the late Romantic era.
I really should have thought a little bit further about it... as the Strauss that I knew, was definitely NOT 70 in 1985! So, either a forgery, or a lack of knowledge from me... always bet on the latter over the former!
It turns out that this particular Strauss was a German politician and Minister President of Bavaria.... representing the Christian Social Union, and rival to the better known CDU leader, Helmut Kohl!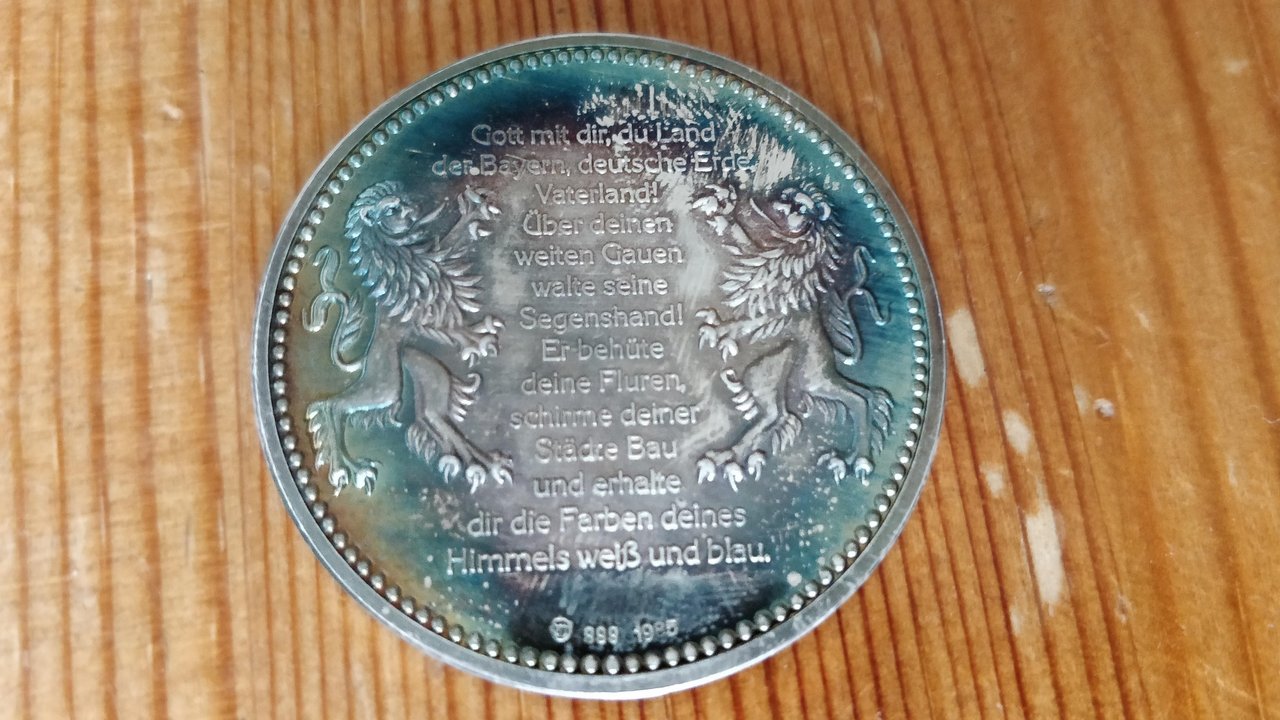 The Bavarian anthem stands on the reverse of the coin... and needless to say, the coin is incredibly tarnished with age and lack of care. So, I was fooled a bit by what I had thought the coin was, no fault of the dealer, just a jumping to conclusions on my part!
However, being such a more recent piece, it was easy enough to find information about the piece on Numista! Oh well... at least I learnt something new and interesting about West German
Looking for a quick and easy way to keep track of your cryptocurrencies? Coin Tracking offers a free service that includes manual tracking or automatic tracking via APIs to exchanges, allowing you to easily track and declare your cryptocurrencies for taxation reports. Coin Tracking can easily prepare tax information sheets that are catered to each countries individual taxation requirements (capital gains, asset taxation, FIFO). Best to declare legally and not be caught out when your crypto moons and you are faced with an unexpected taxation bill (unless you are hyper secure and never attach any crypto with traceable personal information, good luck with that!).
Keep Your Crypto Holdings Safe with Ledger
Ledger is one of the leading providers of hardware wallets with the Ledger Nano S being one of the most popular choices for protecting your crypto currencies. Leaving your holdings on a crypto exchange means that you don't actually own the digital assets, instead you are given an IOU that may or may not be honoured when you call upon it. Software and web based wallets have their weakness in your own personal online security, with your private keys being vulnerable in transit or whilst being stored upon your computer. Paper wallets are incredibly tiresome and still vulnerable to digital attacks (in transit) and are also open to real world attacks (such as theft/photography).
Supporting a wide range of top tokens and coins, the Ledger hardware wallet ensures that your private keys are secure and not exposed to either real world or digital actors. Finding a happy medium of security and usability, Ledger is the leading company in providing safe and secure access to your tokenised future!