Carbon offers much more than most other social networks, including fully encrypted direct messaging, games to win, NFT integration, cryptographic rewards, wallet tracker and much more.

Our characteristics
We all have something that makes us unique and makes us stand out in some way, in carbon we have several features that make the experience more comfortable as they are:
Carbon Play🎮: We have a lot of experience in game development, where we are in charge of creating games exclusively for carbon, in a section called carbon play there is an option that allows us to use multiplayer and with CRBN (Carbon) tokens. You can start your first battle, we already have battle tanks.

Encrypted Messaging🆕: Carbon is a social network and the only one I have known (so far) that has encrypted messaging, that is to say that in the messages you make either with one person or more, they can not read our messages. The messaging key is regenerated every so often.

Leaderboard🏆:The leaderboard ranks the top 300 most active users on the platform, depending on their content and makes the social network more fun and dynamic. Currently I have won position 5 this month. Every month it resets and highlights those who earn the most points for their posts. The points are different from tokens, the points are used for exposure on the platform.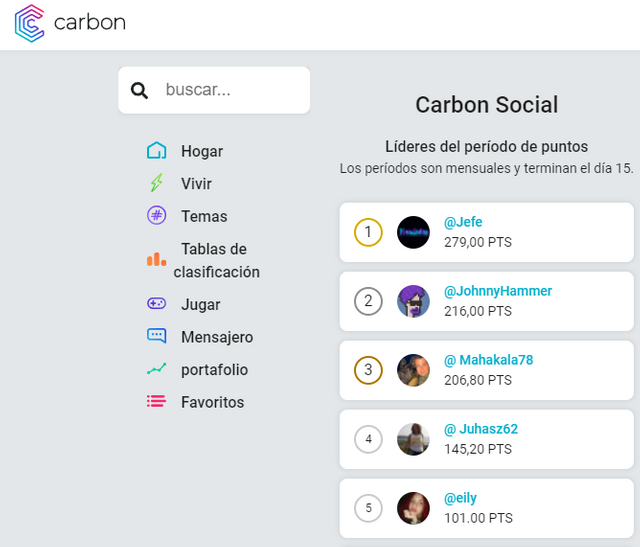 Carbon Live: The live carbon, or live carbon, serves to upload our content for our users, ie we have topics, different topics such as photography, health, pets and others. When we upload content in our carbon live all our followers will see live content as we upload, Yes, like a facebook.

NFT carboniano🎨: They designed a very exclusive series of NFT's called Carbonians - only 100 exist and initially sold out in seconds! They include great utility on the Carbon platform, including free game tickets and monthly lotteries.

Tip💰: Users can send tips with a few clicks to other users, directly from their posts or their profile, the tips will be in the carbon token (CRBN) and can be easily withdrawn on the BSC (Binance Smart Chain on Panqueswap) or Ethereum chains.

NFT Carbonian
NFT carbonians have many advantages on our platform where the team was encouraged to join this new modality to make each carbon battle more interesting, and also unites the carbon community with those art pieces that are currently tokenized on Opensea.
Each NFT is unique and has a monthly benefit for your being a carrier, you will be given 250 CRBN monthly and you will participate in a raffle among all carbonians to win 500 CRBN of which there will be three winners!




It is one of the games that we have on the platform, which allows us to earn income. Currently we have two game modes, where the first one is that you can do a practice mode and carve better your skills as they say to go to war.

The second mode, and my favorite, is where you have to bet a carbon and you can participate in the battles and fight against other users, currently the battle is great but beneficial, there are partners who make teams to play or others play all against ALL.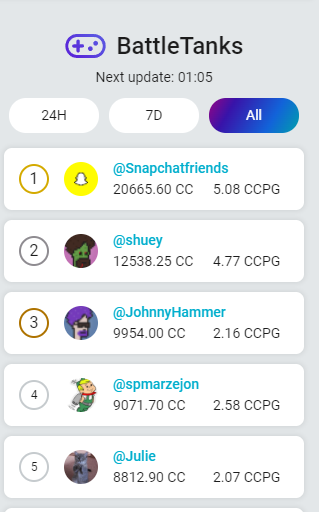 There is a leaderboard where anyone can be one of the first, you just need to be skilled and daring, who loves video games and is not afraid to take risks.
I will tell you how it works, as there are many people here who prefer the Smart Binance Chain because of the low fees, we can withdraw our tokens earned in tanks at Panqueswap.
You press the exchange that is most convenient for you, but for me it is easier to use BSC since the rates are minimal and it is more convenient. Now how do we calculate? simple!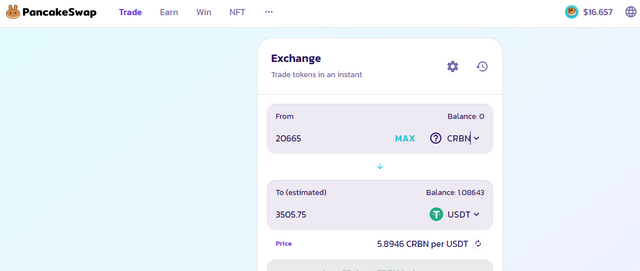 As it says in the image, 5 CRBN is one USDT, that is to say that each 5 Carbon is one dollar. In this way we can calculate the profits obtained by the game in carbon and your dedication to it.

Resources