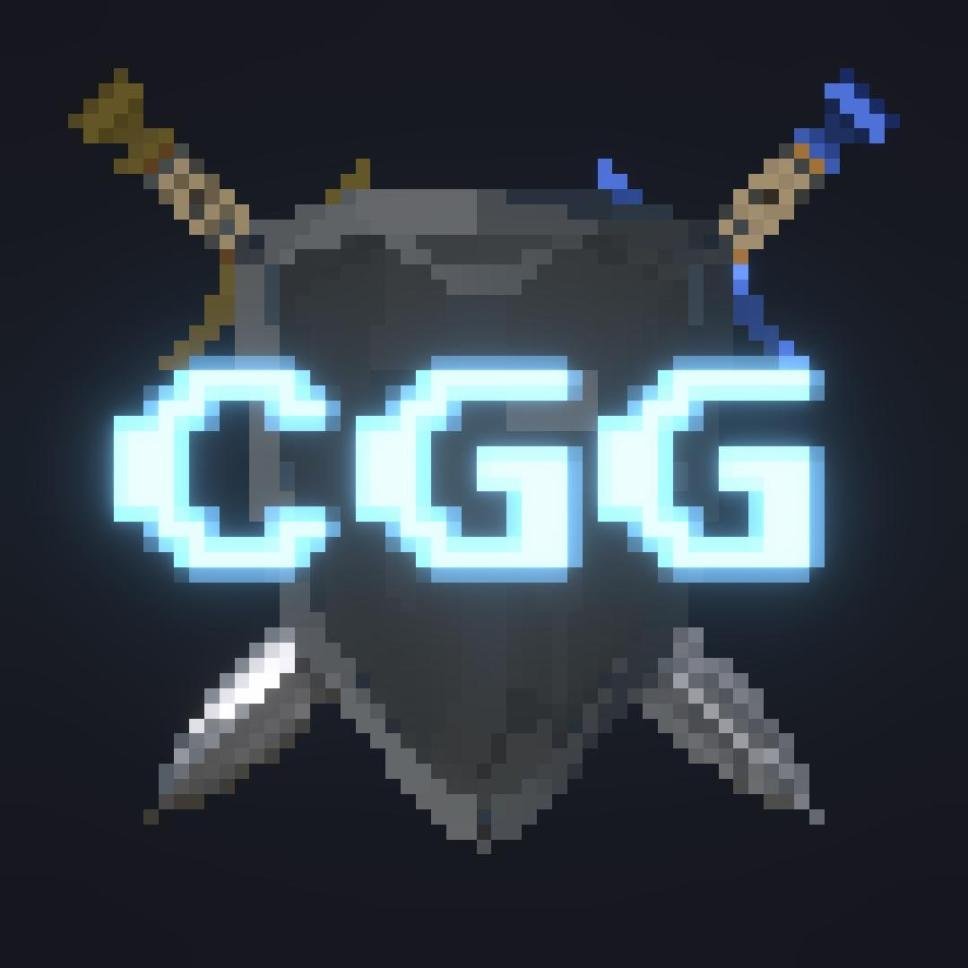 This primer is brought to you by The CryptoGaming Guild. We hope you find it helpful.
CryptoGaming, also known as Play2Earn gaming, is a rapidly evolving subset of the gaming industry that creates new possibilities by utilizing blockchain technology. By leveraging smart contracts, non-fungible tokens (NFTs), and distributed ledger technology cryptogaming has already started to usher in what appears to be a new renaissance in online gaming. From what we have seen in these early months this era will be defined by player controlled assets, the rise of a new generation of developers and studios, and newly possible gameplay powered by blockchain technology.
I've been following the growth of this industry for roughly the past five years since I first got involved in blockchain professionally. The first game I studied in the space was Coindroids and, since then I've been immediately impressed by what is possible when using gamification to educate. The time we spend now educating the public on why blockchain is special and how to use it will accelerate it's world-changing effects. One of the best ways to do this is to wrap your education in a game, we all love fun after all and gaming helps provide a structure to track progress that's engaging to players and keeps them coming back.
While I've not played all or even most of the cryptogames currently available in various forms I've spent the past few months reading and writing about the subject daily and that meant playing as many games as I could. My goal here was simple: Exposure. However, this isn't some get rich quick scheme and I am not looking for golden eggs. The goal has been to try as many products across as many chains and genres as I could to really see what was possible and get in on the 'ground floor' of as many promising games as possible. In the months since I've formed a variety of opinions and, to assist the community in finding Play2Earn gaming experiences that sound fun to them, I wanted to provide a primer on those games here.
Before we get started, Are you looking to hang out with other Crypto-Gamers? Come chat, ask questions, and join the join us over at the The Crypto-Gaming Guild discord! We are looking for game captains and folks who can help organize. If you are interested, please step up!
Now, let's get started!
Rising Star is an idle music game on the Hive blockchain featuring a vibrant community and variety of awesome tunes. It was built by Atom Collector Records—a project which rewards cryptocurrency for listening to new music—and is meant to accomplish the same goal of spreading awareness of new artists. Players simulate the career of a musician starting from a "lowly busker" and eventually rising to fame.
There are two fungible tokens in Rising Star: STARBITS and STARPRO. The former can be directly acquired by completing missions, while the latter follows a more deflationary supply model. There are also many NFTs such as band members, instruments and boosters that can help you when playing the game. All of them are found on the Hive blockchain, the true successor to Steem.
(from Blockchain Gaming)
Getting Started:
One of the many reason we are starting this list with Rising Star is because it's likely the easiest cryptogames to play without making any investment and still find success. Just show up ready to busk and the bandmates, instruments, and starbits will show up in time.
Pros:
Very easy to pick up, minimal investment need, very deep game, extremely active community and development.
Cons:
The gameplay is not gameplay. You are going to need some imagination to help meet this game half-way.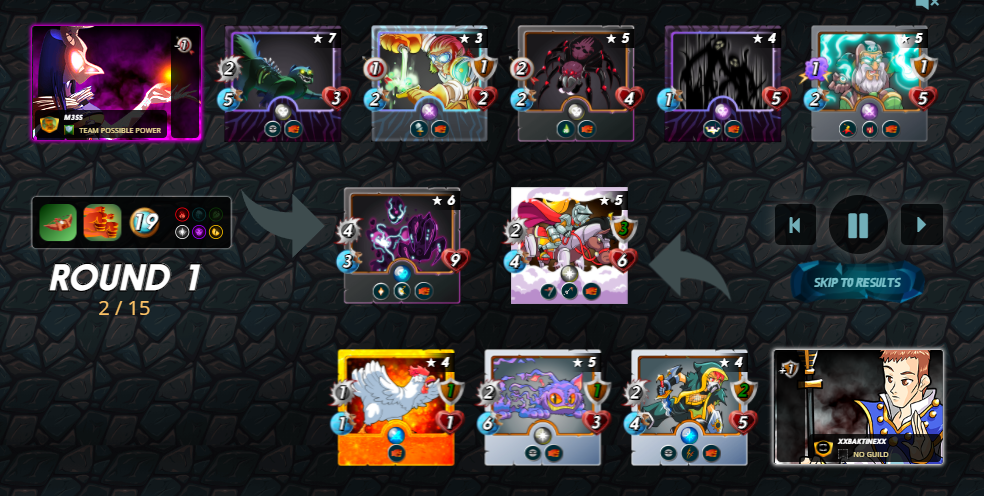 Since the days of the Splintering, the face of the world has been shaped by blood and power. As factions battle for control, primal energies are harnessed and unleashed. Tired of card games that require a huge investment in time to play a single session? The rapid battles in Splinterlands are fast and furious, each game only taking a few minutes. Play, Trade, and Earn anywhere at anytime. Splinterlands is available on both desktop and mobile devices.
(From Splinterlands)
Getting Started:
Splinterlands is the cadalac of the Play2Earn scene as far as I'm concerned and getting started is as easy as spending $10 on the Summoners Spellbook, gaining access to your Starter Cards, and starting to complete quests! There is a rabid community of players writing articles every day about the meta, how to play, and coming releases and the developers here have a fantastic track record. That said, you'll need all the information, study time, and DEC you can here. This game has a fairly challenging learning curve but the ease of play makes learning fun.
In a world of cryptogames trying to 'make it' Splinterlands is already established and a very safe investment.
Pros:
Fully established game with professional developers with a variety of secondary sites feeding the ecosystem. Splinterlands also has many advanced options like card rentals, a tournament scene, guilds, and even a new set coming soon. It's honestly a full game.
Cons:
This one is competitive and without an investment of time, attention, or funds you will move slow in the beginning. I'm also aware that some people just hate TCGs and, while this is not at all your standard TCG, I could see it being boring to some.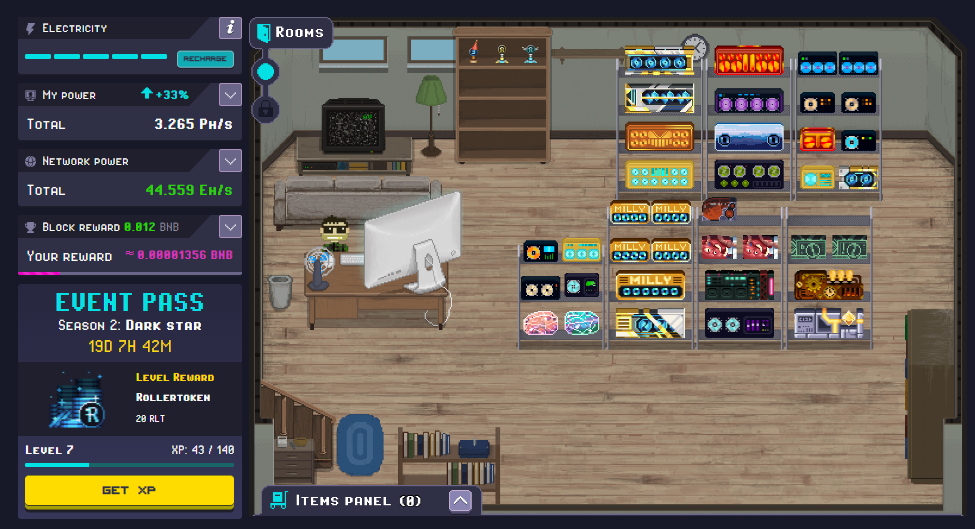 RollerCoin is an online, virtual bitcoin mining game where you compete against your friends to mine bitcoins. It takes the concept of bitcoin mining, but instead of the sophisticated Blockchain and processing algorithms, RollerCoin lets you test your skills, complete missions, undertake tasks, and play games to build your mining empire.
(from RollerCoin)
Getting Started:
OK, guys, this is very important: RollerCoin is a mining simulation. You really need miners to make this a worthwhile experience. I think the best way to get involved in this one is with a $30+ investment so you can get started. it is possible to unlock miners as a fully Free2Play player by completing Seasonal Quests.
Pros:
The Pros here are massive. When RollerCoin is set up and running for you it's a wealth engine producing cryptocurrency every 10 minutes as long as you play a single game a day. This is premium crypto like BTC, ETH, and BNB too! In my opinion every cryptogamer should have a RollerCoin account running in the background at all time if only to fund other projects they enjoy more.
That's how I'm currently using mine. It's farming all the BNB I need to complete my Alien Worlds missions! But more on that soon.
Cons:
RollerCoin trips a lot of new players up by not straight up forcing them to buy a miner to play IMHO. This game is a mining simulation and without the investment of funds or time necessary needed to unlock some miners and get going this is not a good option. Without doing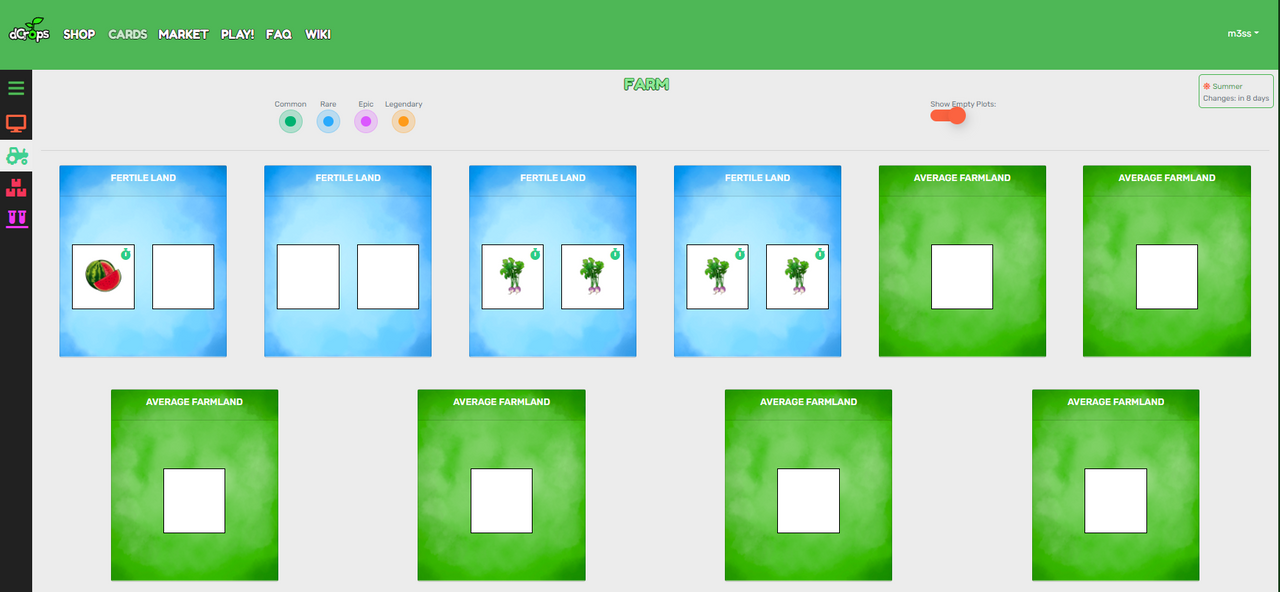 Built on the HIVE blockchain, dCrops is a cryptocollectible game where you are put in the shoes of a farmer. You have complete control of your farm where you can grow various crops. Will you be upto the task? Climb the leaderboard and get rewarded with CROP tokens. Hodl your assets and increase your CROP power to get daily hive rewards. Complete quests to earn mystery seeds and other items!
(from dCrops)
Getting Started:
Easy peasy. Buy some land and some seeds and, when the right season comes monthly, plant your seeds. Each seed will have a timeline it needs to grow then harvest and sell. It's really that easy! dCrops is brand new and just got quests a few seasons ago and has only been running for <5 seasons.
Pros:
If you are looking to get in on the ground floor of an extremely simple game this is a great place to start.
Cons:
Some people so projects like this as so simple they cant honestly be called games. I see them as projects using gamification to to teach the next generation of independent investors DEFI basics. To me, that's really cool.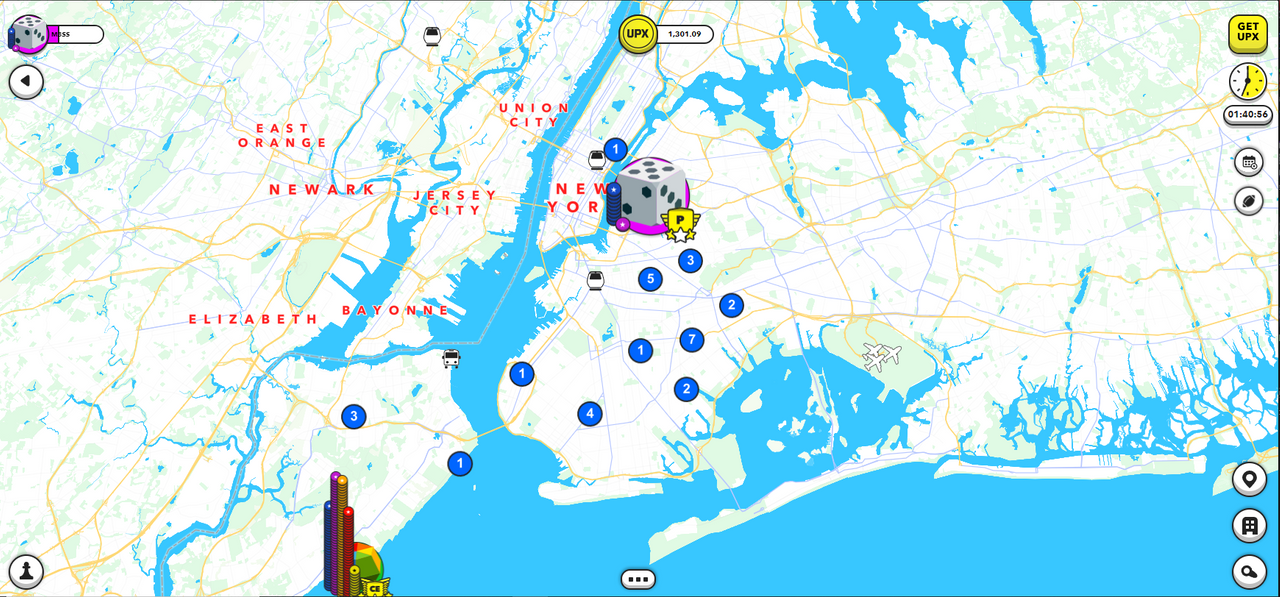 Join the brand new NFT metaverse that is mapped to the real world and quickly becoming the largest and most dynamic blockchain-based economy in existence. Buy, sell and trade virtual properties mapped to real addresses. Build your dream house, start a virtual business and earn UPX coins or U.S. dollars by selling your NFT properties in a free and open marketplace. Make friends in Upland, make friends for life.
(from UpLand)
Getting Started:
Get some properties! To do this you'll need to fund your account via PayPal or crypto OR purchase some properties selling for USD. Thankfully there are plenty of these properties in all the virtual cities.
Starting Hint: Aim at completing Collections so you can increase your total income by flat percentages. This is just as important as expanding your overall portfolio and will help you diversify.
Pros:
With very simple onramps such as PayPal and a large advertising campaign currently running I have a hard time seeing this one not successful in the long term.
Cons:
I don't like real estate games so I've not explored this one much. I don't feel comfortable talking smack about something I don't understand so ... I wont! This is not to say UpLand is perfect, just that I would be a very poor choice of critic as I don't know what I'm talking about.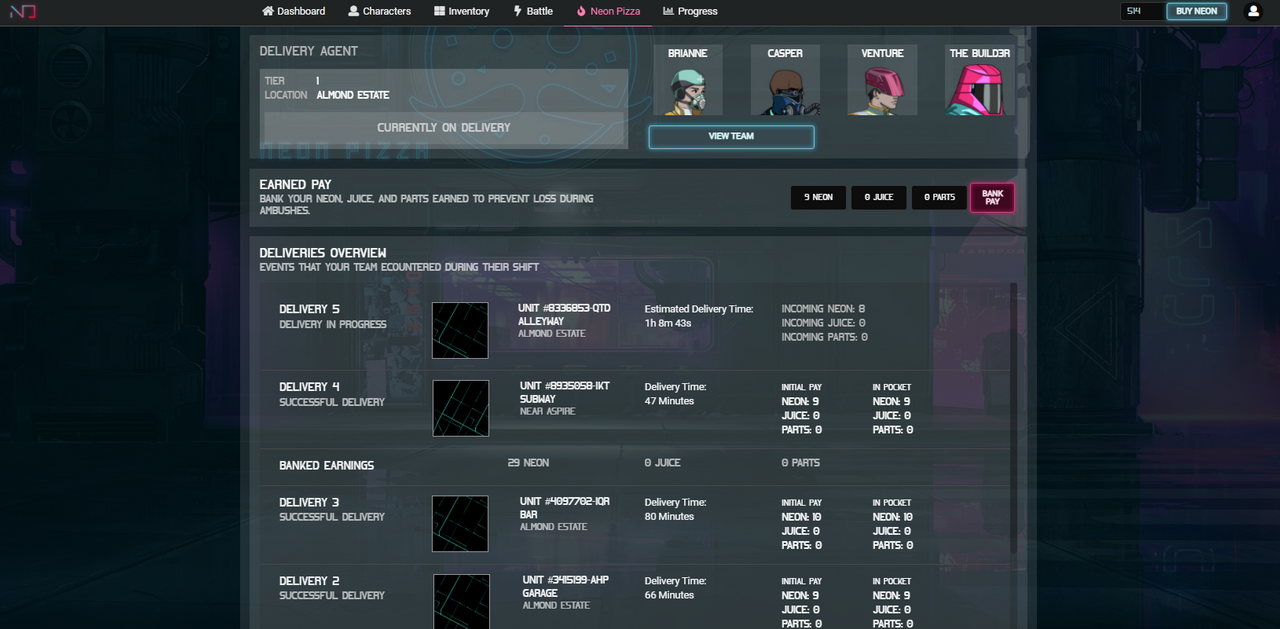 Neon District is a free-to-play cyberpunk role-playing game featuring collectible NFTs on Matic and Ethereum. Players collect characters and gear, craft and level up fully-equipped teams, and battle their teams against other players through the Neon Pizza competitive multiplayer missions or in real-time turn-based combat.
Sounds awesome right? I've been excited about this one for a very long time and it fully launches in Q4 of this year. Until then we have Neon Pizza...
In Neon Pizza, players send their pizza delivery teams out to earn more Neon, Juice, and Parts to buy gear crates and level up characters, armor and weapons. You can choose between being law-abiding members of Neon District and deliver pizzas to hungry citizens, or you can exploit the system and ambush other players to steal their earnings. Or do both! No matter which you choose, you earn plenty of Neon and badges, while climbing the ranks of notoriety in Neon District.
Getting Started:
Make and account, buy 4 characters (of any classes), form a team, and start delivering pizza! Each shift takes 8 hours in real time and your team will automatically deliver that whole time. Simple.
Pros:
Very easy to get started, launching later this year, and assets are currently already selling for ver large amounts on OpenSea. This one seems like a no-brainer to me and always has especially because the mission timer is so long.
Cons:
This is not good gameplay. But we're getting there.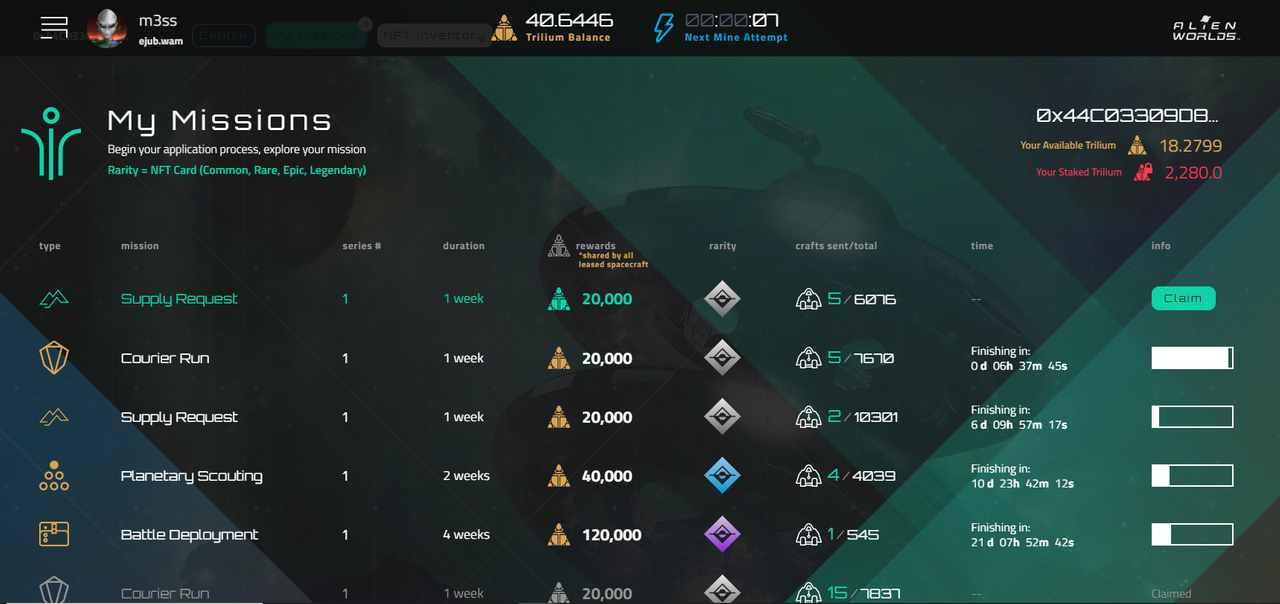 What would you do, if you could create anything in the world?
Join the Alien Worlds simulation of Earth's economy using the Trilium (TLM) game token.
Seek your fortune and thrive in the Trilium and NFT-based Social Metaverse.
Get started by going through the Wormhole…
Welcome to Alien Worlds!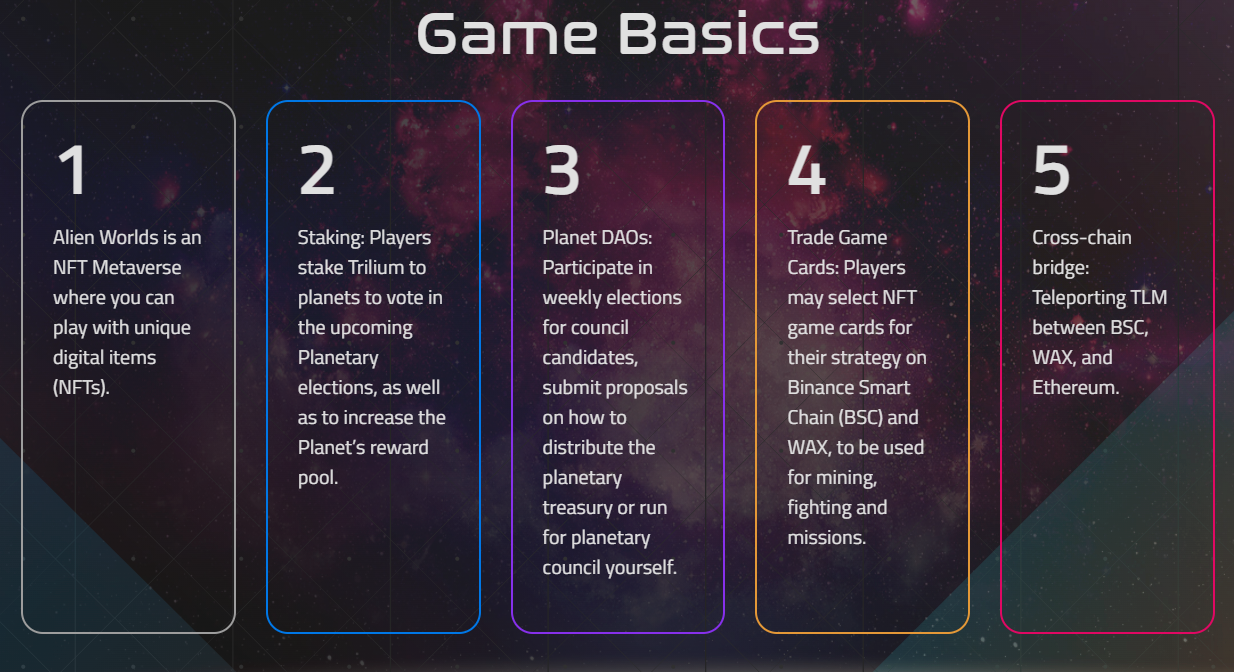 This one is a bit more ambitious.
Getting Started:
There is a lot you can do here but to get in the most basic way just get the best mining tools you can and click that timer button. This will earn you TLM and, while we don't know much about the universe that's coming, I'll bet it will help to have that money in it!
Pros:
You can currently mine, invest in planets, and use TLM to complete multi-week missions. Alien Worlds is currently trying to become the space exploration game we are all chomping at the bit to play and, IMHO, they are in the lead.
Cons:
This one is moving fairly slow and the gameplay is, again, timers. Remember what I said, back in dCrops though. This is really educational programming and, when viewed from that lens, it's damn fun and highly effective.
Free to play Action-Adventure RPG. Explore Talmuth and scour the dark underbelly while you embark on Quests in search of precious relics and save the townsfolk from terrifying beasts!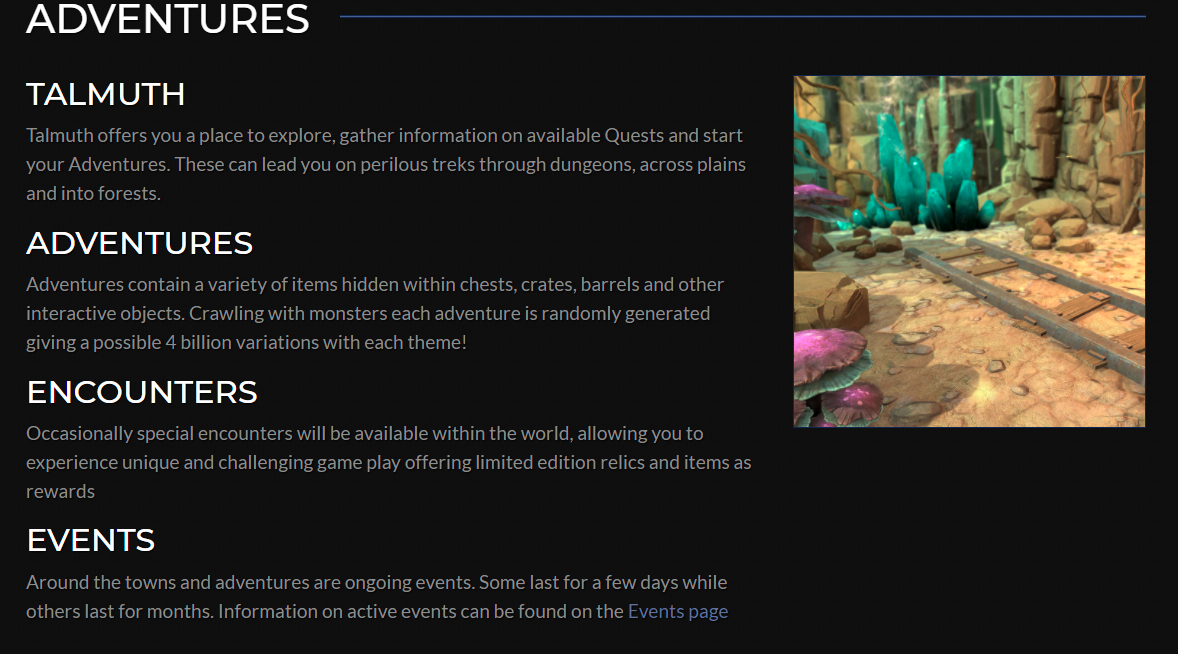 Getting Started:
Folks, have you been looking for a game with fun gameplay? Well look no further, Lost Relics has it! More than any other Play2Earn game in the scene Lost Relics has succeeded in creating what we normally think of when we think of MMORPG games. And, for better and for worse, it's hitting the nail on the head.
While it looks like Diablo what you are really getting here is something closer to RuneScape.
Pros:
The Graphics are amazing when put against other experiances in the same industry. I mean, they exist!
The Gameplay, again, exists. We've got amazing crafting and markets and passable quests and adventures. One of the times when Lost Relics really shines is when it's running events. Make sure to not miss out on those, they are full of opportunity to earn gear, gold, and even ENJIN.
The Grind. If you are the type of person who like running dungeons to find spider silk to turn into fishing poles to sell for profit you are going to love this game.
Cons:
The Grind.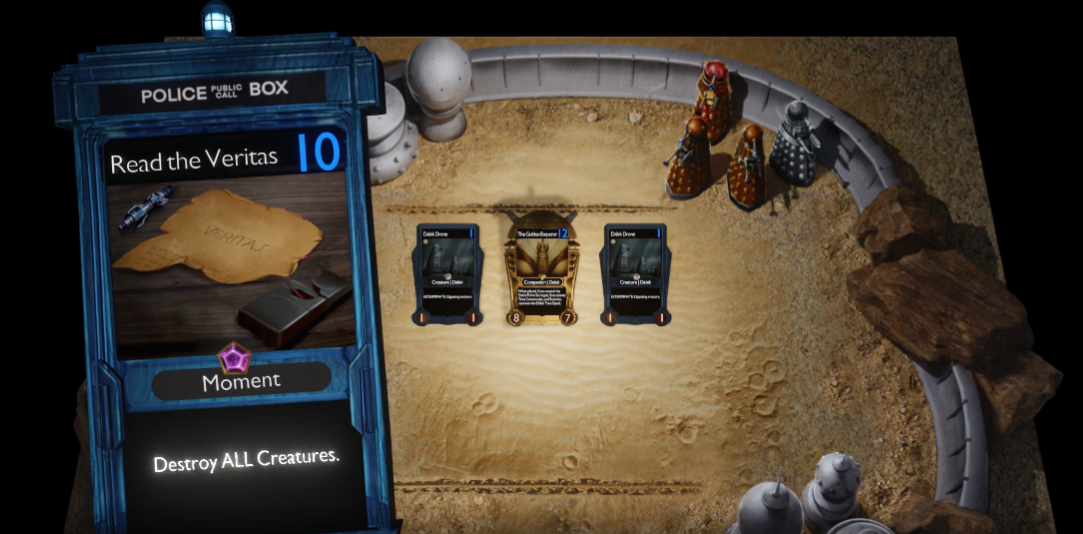 Doctor Who: Worlds Apart is an upcoming free-to-play online blockchain digital collectible card game on a sidefork of Ethereum developed and published by Reality Gaming Group, based upon the BBC television series Doctor Who. The game is set for release in 2022 for PC, Mac and mobile devices.
(from Dr. Who Worlds Apart)
Getting Started:
There is not a ton you can do here but with the massive players involved this one is a success before it's even launched. Unfortunately there is nothing you can yet play but you can log in each day and get 10 Pendaks (the games currency), buy cards, and start learning the rules.
Pros:
The main pro here is that with this IP and BBC, Apple, and Mobile support confirmed this is a sleeping giant.
Cons:
Literally no gameplay this time. Oof
I hope this has been helpful. If there are any games you've been playing and enjoying that I missed here please let me know in the comments. I love finding out about new projects and talking to yall!